One of the top arguments bulls make in the face of high valuations is 'there is no alternative', otherwise known as TINA. The common argument is that low interest rates make decent returns only feasible when investing in stocks. The reality is it never makes sense to buy an overvalued security. Whatever happened to patience? The allegorical waiting for the perfect pitch before swinging the bat. There's no one forcing you to buy stocks based on faulty logic. If you think a stock is undervalued, by all means, make the purchase, but low interest rates aren't a good reason. We say faulty logic because of the mathematical evidence shown in the chart below.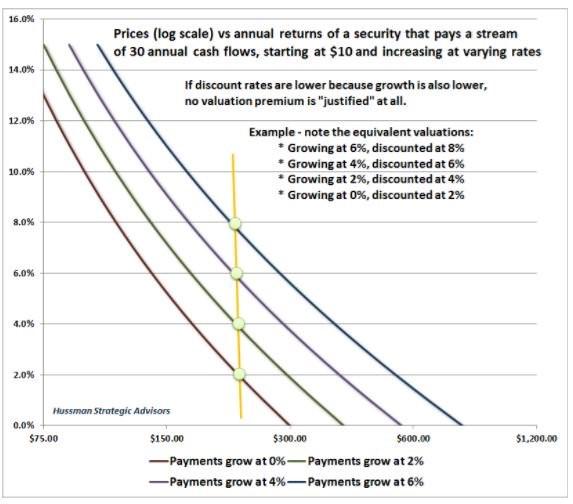 When interest rates are lower because of lower growth, no valuation premium is justified. With the lowest GDP growth per capita in decades for most of this tepid economic expansion, the premium stocks are getting may not make sense. To be fair, stocks have had earnings growth that exceeds GDP growth for the past few years because profit margins are at record highs. Margins usually mean revert. When doing a discounted free cash flow analysis, investors should find a good estimate for normalized margins to get the best understanding of a stock's fair value. Therefore, it only makes sense to buy this market with its expensive valuations if you think such high margins can continue to rise or if you think the economy will accelerate.
Even though we explained why low interest rates don't justify paying high valuations if economic growth is going to remain low as it has been in this expansion period, many 'mom and pop' investors are buying into the 'TINA' narrative. There is a 'fear of missing out' combined with the fact that most people don't want to put money in a CD which has a low yield. It's worth explaining the concept of inflation to those afraid of a CD with a low interest rate. If inflation stays at 1.7%, as measured by the CPI, the low rates are more tolerable than they would be in the 1970s when inflation was in double digits. However, on a relative basis, a CD may still be a better option than sitting in cash.
The chart below shows the historical percentage sum of equities held by households divided by total financial assets. As you can see, the percentage is at the second highest rate in the past 65 years. It's about 5% off the peak from the early 2000s because people don't want to buy low yielding government bonds and investing in real estate is off putting to many after the housing bust of 2008.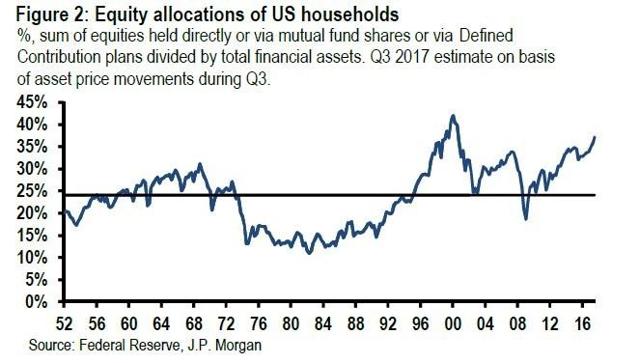 The excessive investment in stocks has led to volatility reaching extremely low levels. On Monday, the S&P 500 broke the record for the longest streak (242 days) without a 3% correction. Selloffs are now called microdips as buying the normal 5% dip hasn't worked anymore because they barely exist. 2.8% is the largest selloff in 2017. That's the second lowest max decline for a year. There have been multiple months this year which have broken records for the lowest average VIX. Realized volatility is even lower than the VIX as it mostly has stayed in the mid-single digits this year. The chart below shows the lack of volatility in this bull market exceeds what happened in the 1990s. As you can see, the number of consecutive days without a 1% intraday move reached 64 earlier in 2017 which was the longest streak since 1962. The current streak is about to break the mid-1990s peak for the second time.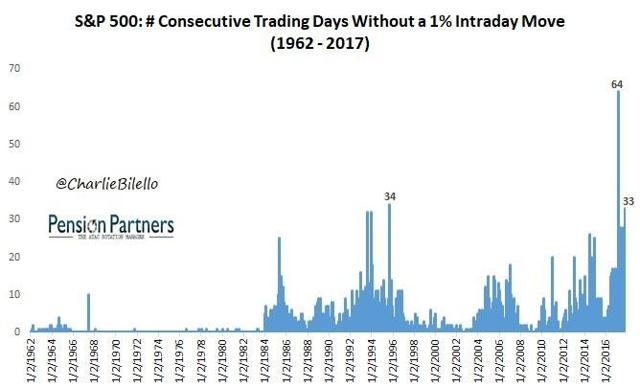 Determining the point in the business cycle we're in helps to figure out when the next recession will occur. When expecting higher volatility in an expansion, you're talking about having a 10% correction instead of a 2% dip. When a recession comes, the next bear market, which is by definition a 20% drop, will be catalyzed. The credit markets are a great signal for the timing of the cycle. Credit card default rates are increasing for most firms. As evidenced in the chart below, the US is seeing weaker loan demand for the first time since the financial crisis.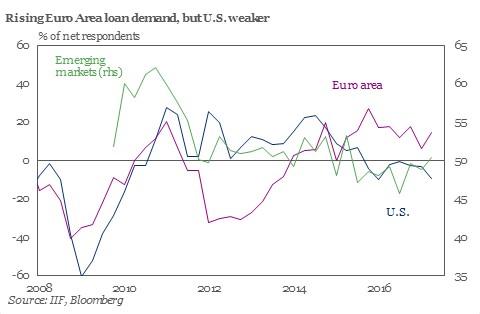 The weakness started in 2015. That doesn't mean this is a false indicator because from 2015-2016 there was a sharp drawdown in manufacturing and energy. The Cass Freight index in that period fell more than any other period in the past two cycles besides recessions. It was weaker than mid-cycle weakness, but stronger than a recession. This means that if the credit demand falls significantly lower than that a recession could be coming.
While low growth and low inflation don't signal an all clear for buying stocks at elevated valuations, that doesn't mean increases in inflation are good. Technology has grown to be the largest sector in the S&P 500 because of behemoths like Amazon, Apple, Alphabet, Facebook, and Microsoft. Technology stocks are the most hurt by increases in inflation, so the S&P 500 would in theory be adversely affected by accelerated inflation. As you can see from the chart below, the M2 money velocity has had a strong correlation with year over year CPI growth. The M2 velocity recently started moving upward, so this might mean the stretch of low inflation is about to end.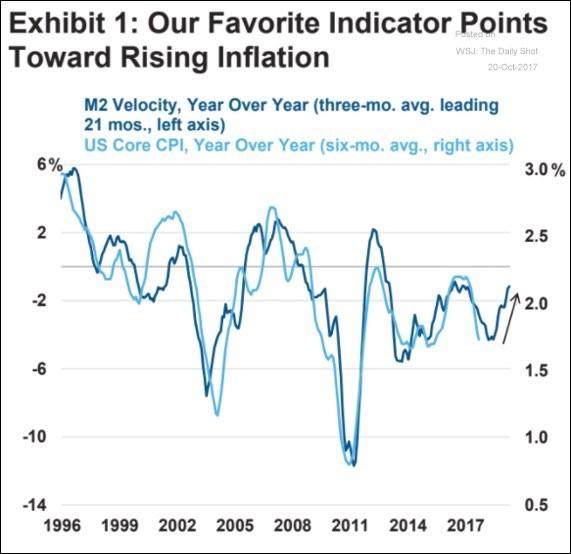 Conclusion
These are some of the best arguments that we can make on the bearish side. If any of these assessments resonate with you, consider selling stocks. It definitely makes sense to sell tech stocks if you think inflation is about to increase. To be clear, we aren't saying this is the next tech bubble. It's not a bubble because earnings are driving stocks up instead of speculation. However, inflation hurts tech the most because the sector's high future earnings growth need to be discounted more heavily.
Sources
Disclaimer: This content is for general informational and entertainment purposes only and should not be construed as financial advice. You agree that any decision you make will be based upon an independent investigation by a certified professional. Please read full disclaimer first on timemoney.com/disclaimer/
Disclosure: I/we have no positions in any stocks mentioned, and no plans to initiate any positions within the next 72 hours.
I wrote this article myself, and it expresses my own opinions. I am not receiving compensation for it. I have no business relationship with any company whose stock is mentioned in this article.