Pandora (P) stock shed about a fourth its market value on Friday (11/3) after the company reported sub-par third quarter numbers alongside a weak fourth quarter guide. Pandora stock is now down nearly 60% in 2017, versus a 16% gain for the S&P 500. We believe this decline will continue, as Pandora continues to lose in the streaming music game to Spotify, Apple (AAPL) Music, SoundCloud, and even YouTube (GOOG).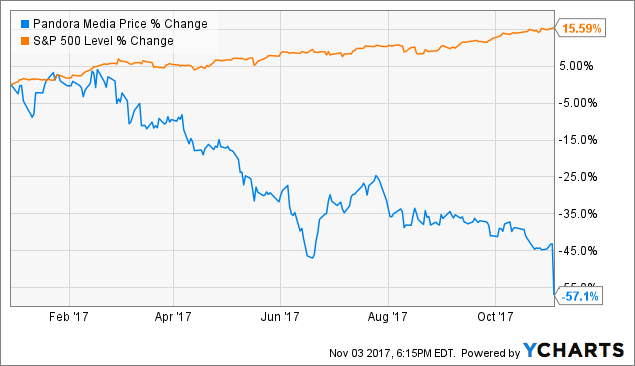 P data by YCharts
Our thesis on Pandora hasn't changed all that much since our last report. Nobody wants to buy Pandora stock. Its yesterday's favorite streaming music platform, and there may be no room for it in tomorrow's music streaming world. There is now more data to corroborate that thesis.
Active listener trends continue to be ugly. Pandora had 78.1 million active listeners 2 years ago. That number dropped to 77.9 million one year ago, and 73.7 million today. Over the past 24 months, then, Pandora has seen its active listener base decrease by more than 5%.
Pandora is about the only player in the streaming music space with that problem. Spotify has essentially doubled its user base to 140 million active listeners over the past 2 years. SoundCloud has a massive 175 million-and-growing active listener base.
Things aren't prettier on the paid subscriber front. Pandora is actually growing there, but Pandora only has 5.2 million subs (roughly 7% of active listener base) and is growing that small base at only ~100,000 new subs per month. Spotify, meanwhile, has 60 million paying subs (>40% of total user base) and is growing that much larger base at a rather robust 2 million new subs per month (50 million at beginning of March to 60 million at end of July). That means Spotify is growing its paid user base at 20x the rate of Pandora.
Moreover, Apple Music hit 20 million paying subs a year and a half after launch. Pandora will be exceptionally lucky to hit 10 million in that same time frame.
In a nutshell, its easy to see that Pandora is getting squeezed out of the game it invented. This isn't too dissimilar from Fitbit (FIT) on the wearables side or Blue Apron (APRN) on the meal kit side. All 3 companies proved out value in a rapidly growing space, but then failed to fend off rising competition.
Pandora stock is finally starting to be valued in this depressed way. The trailing sales multiple of roughly 0.85x is now in-line with Fitbit's trailing sales multiple. But that doesn't mean its time to "buy the dip" in Pandora stock. Profitability concerns are only growing. Revenue growth is expected to actually turn negative next quarter. The ugly user growth trends aren't showing any signs of reversing.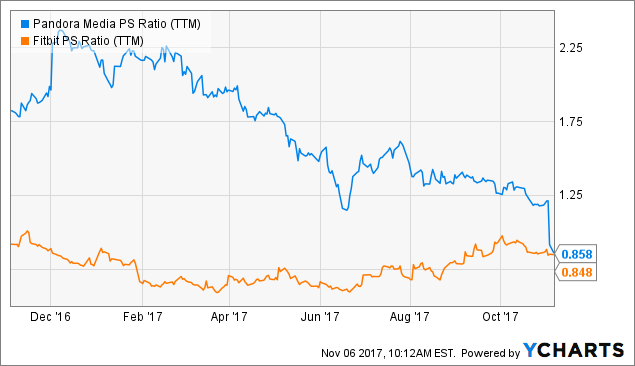 P PS Ratio (NYSE:TTM) data by YCharts
All in all, there remains little reason to buy this name. Investor demand will remain weak, despite the stock trading at all-time lows. Its not a bargain at 0.85x trailing sales because the growth narrative is entirely broken. Consequently, so is the stock.
We like to bottom fish. But not here.
Disclosure: I am/we are long GOOG. I wrote this article myself, and it expresses my own opinions. I am not receiving compensation for it (other than from Seeking Alpha). I have no business relationship with any company whose stock is mentioned in this article.