I've spent the past 5 weeks reviewing earnings in the search of strong dividend growth stocks. Instead of solely focus on their dividend yield or history, I put my primary focus on their growth abilities. This quarter I've found 3 companies showing double-digit increases this quarter that has maintained this pace for the past 5 years:
AbbVie (ABBV) - 12.16% Dividend CAGR over 5 years
Starbucks (SBUX) - 23.36% Dividend CAGR over 5 years
Lockheed Martin (LMT) - 11.70% Dividend CAGR over 5 years
#1 AbbVie - Dividend Increase of 10.94%
AbbVie is a spinoff from Abbott Laboratories (ABT). Since 2013, ABT is concentrating on diversified products including medical devices, diagnostic equipment and nutrition products, while AbbVie would operate as a research-based pharmaceutical manufacturer. ABBV is a research-based specialty biopharmaceuticals company with a broad portfolio of medicine-including leadership in immunology and virology and a pipeline of breakthrough therapies.
Back in 2016, I wrote that I was scared the company would fail surviving Humira's patent expiry. This immunology drug represents over 50% of ABBV sales. As patents were about to expire, ABBV pulled-out a rabbit out its hat with a patent settlement with Amgen (AMGN): "Under the settlement, Amgen will pay AbbVie royalties on sales of its Humira copycat. Humira is AbbVie's most important drug, bringing in 69% of total sales in the second quarter. Humira is an anti-inflammatory med."
This drug also entered new markets with penetration rates under 25% such as rheumatoid arthritis, psoriasis, and Crohn's disease. This will enable ABBV to continue show growth from its all-star drug for years to come: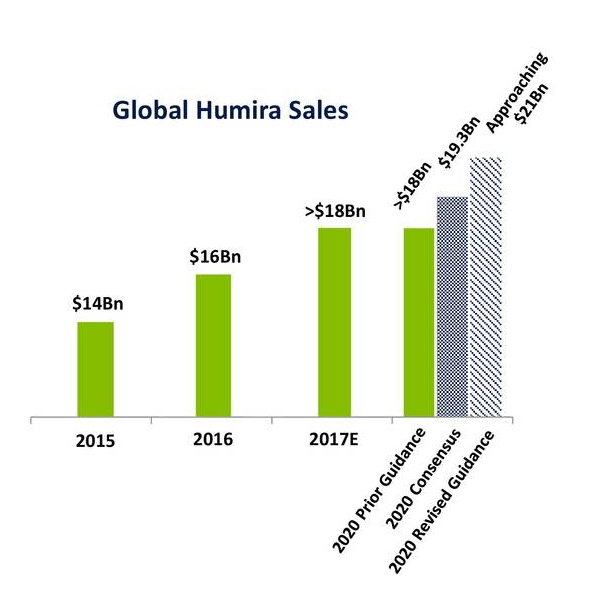 Source: ABBV Quarterly Presentation
This smoother worries around eventual patent expiry as ABBV will have more time (and more cash flow) to develop its immunology and cancer drug pipelines.
As for dividend perspectives, ABBV is a dividend aristocrat with over 25 years of dividend increase. The company's current situation looks very good for future increase as both payout and cash payout ratios are around 50%:
Source: Ycharts
#2 Starbucks - Dividend Increase of 20%
Starbucks is one of the recent success stories in the consumer space. Founded in 1971 by the opening of the first coffee shop at the iconic Seattle Pike Market, it now operates 22,519 stores in 75 countries. Starbucks is known for its stellar customer experience and its variety of beverages. It has built a reputation of listening to its customers and using technology (Facebook, Twitter, mobile payment) to continuously improve its in-store experience.
Unfortunately, the company has been left aside on the stock market. During its 2nd quarterly update, SBUX announced weaker than expected margins as a result of closing all its Teavana stores. The company had bought Teavana for $612M in 2012. Assets impairment dragged margins down by 110 points and EPS by 8%. This was definitely not the quarter the market was looking for.
Most recently, its 3rd quarter didn't create any hype either. Comparative sales were only +2% on U.S. soil (+3% excluding Harvey's impact). However, China same store sales were up 8%. Starbucks will continue to maintain a strong position in U.S. and find additional growth in China. The famous coffee maker now shows 13.3 million active members of their Starbucks Reward Membership program. This program enables SBUX to get closer to its clientele and gather data on their consumption habits.
Similar to ABBV, Starbucks dividend perspectives look very solid. The company has both payout and cash payout ratios around 50%. This is quite a feat as Starbucks maintained a 23.36% Dividend CAGR over the past 5 years.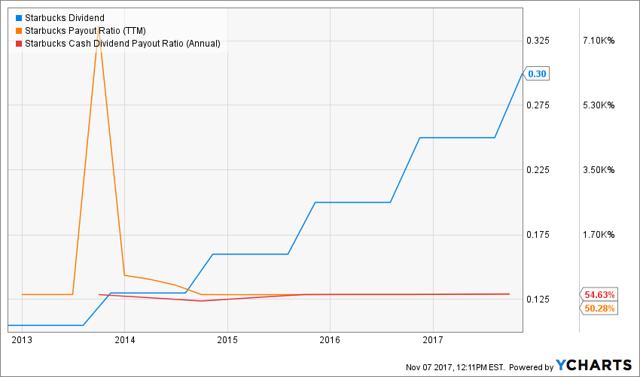 Source: Ycharts
Upon their latest dividend increase update, I've updated dividend discount model with the following numbers:
Input Descriptions for 15-Cell Matrix

INPUTS

Enter Recent Annual Dividend Payment:

$1.20

Enter Expected Dividend Growth Rate Years 1-10:

10.00%

Enter Expected Terminal Dividend Growth Rate:

7.50%

Enter Discount Rate:

10.00%

Discount Rate (Horizontal)

Margin of Safety

9.00%

10.00%

11.00%

20% Premium

$128.22

$76.32

$54.11

10% Premium

$117.53

$69.96

$49.60

Intrinsic Value

$106.85

$63.60

$45.09

10% Discount

$96.16

$57.24

$40.58

20% Discount

$85.48

$50.88

$36.07
Please read the Dividend Discount Model limitations to fully understand my calculations.
SBUX is clearly trading at an interesting price right now. Don't miss this opportunity.
#3 Lockheed Martin - Dividend Increase of 9.89%
Since the acquisition of Sikorsky Aircraft helicopter division, LMT seems to grow from all sides. In the latest quarterly earnings, management declared a record backlog and now expects to make over $50 billion in sales this year. Both revenues and earnings have been forecasted higher during this call. This morning I shared with you how the market sometimes gives more importance on guidance than actual results. Here's another proof that we are dealing with a bipolar beast as LMT is down while telling the world it will do better this year. The company benefits from a solid business model with various growth vectors: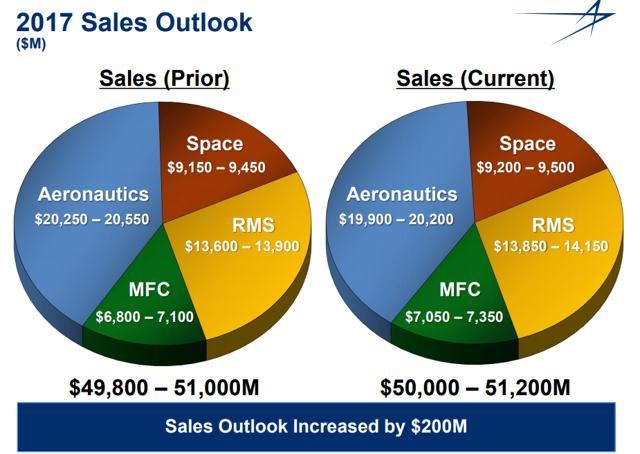 Source Q3 2017 LMT presentation
LMT dropped by about 4% after its earnings were published. LMT posted sales increased, but lower earnings. However, management kept its guidance for the end of the year. The company benefits from robust backlog of $104 billion and is allowed to explore international market. Additional contracts in India would not be a surprise in 2018. LMT shows the smallest PE ratio among Raytheon (RTN)(26), Northrop Grumman (NOC)(22.38) and United Technologies (UTX)(18.16).
LMT dividend perspectives look as solid as my two other found. Then again, payout ratios are around 50% and hasn't been affected by previous strong dividend growth policy. Therefore, you can expect additional increases in the future. After all, LMT is part of the Dividend Achievers list already. The Dividend Achievers Index refers to all public companies that have successfully increased their dividend payments for at least ten consecutive years. At the time of writing this article, there were 265 companies that achieved this milestone. You can get the complete list of Dividend Achievers with comprehensive metrics here.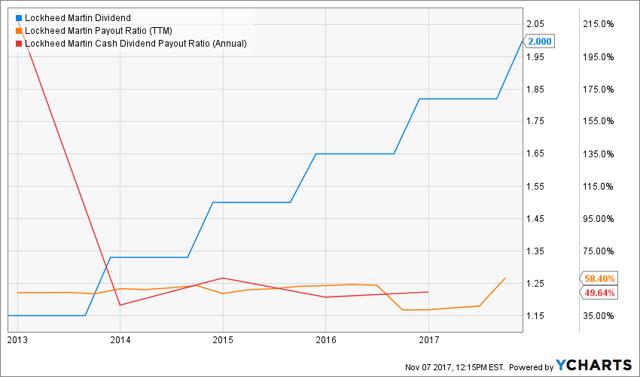 Source: Ycharts
My Favorite Pick at the Moment
Since both ABBV and LMT stock soared over the past 12 months, I would put my $2 on SBUX if I had to enter in a new position now. AbbVie may represent the strongest stock appreciation potential, but I'm afraid there is a little too much hype around the stock right now. As for Lockheed Martin, this stock is currently fairly valued and show little short-term upside potential.
Starbucks will continue to develop the Chinese market while improving their menu and store size in North America. Its proximity with its customers gives them a unique competitive advantage and allows SBUX to move faster and adapt to its clientele evolving tastes.
I am currently building a $100K dividend growth portfolio with the commuted pension value I received after I quit my job. I've chosen SBUX to be part of this portfolio and provided my exclusive subscribers with a complete analysis. They actually get 1 new buy based on strong dividend growers each week. You can learn more about my findings at "Dividend Growth Rocks." Enjoy the 14-day free trial to get my best picks.
Seriously, if you made it this far, it's because you liked what you read. Don't be a stranger; leave a comment and tell me what you think! I'm asking you one more thing; click on "follow" button (it's orange, you can't miss it!) and you will get notified each time I write a great piece like this one.
Disclaimer: The opinions and the strategies of the author are not intended to ever be a recommendation to buy or sell a security. The strategy the author uses has worked for him and it is for you to decide if it could benefit your financial future. Please remember to do your own research and know your risk tolerance.
Disclosure: I am/we are long LMT, SBUX. I wrote this article myself, and it expresses my own opinions. I am not receiving compensation for it (other than from Seeking Alpha). I have no business relationship with any company whose stock is mentioned in this article.
Additional disclosure: I hold LMT, SBUX in my DividendStocksRock portfolios.