I have never been a Facebook (FB) bear. But I have always been a Facebook skeptic. For well over a year, I have argued that the company's stock seemed priced for perfection. I often passed on the opportunity to buy shares, choosing not to get involved with the social media giant for fears of a painful pullback that I believed would happen once growth in Menlo Park started to slow down. Now, fast-forward a few quarters since I started covering the company, and I am a FB shareholder at last.
How did I arrive at my decision to buy the stock now, after so many months of reluctance and following a 12-month stock price run of nearly +50%? To answer that question, I need to take the reader through a brief journey.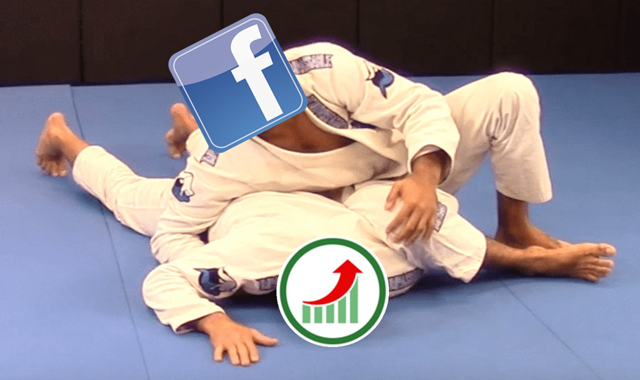 Credit: image from BJJ Fanatics and logos by Facebook and DMMR
Love and hate: my Facebook story
In the early part of 2016, when FB traded just north of $100/share, I issued a cautious statement about how much scale and growth had been priced into the stock at that point. Back then, I calculated that the company would need to produce $10 in EPS in a steady, mature state for me to justify buying shares at those levels. And although I appreciated Facebook for the dominant name that it was in social media, I just could not make the math work.
The company responded to my skepticism by maintaining growth momentum for longer than I expected and improving margins quarter after quarter. The results were manifested in eight straight quarters of all-around earnings beats since the publishing of my first FB article. During the period, revenues grew at no less than +45% each quarter, and annualized earnings rose at an even faster pace (see five-year chart below).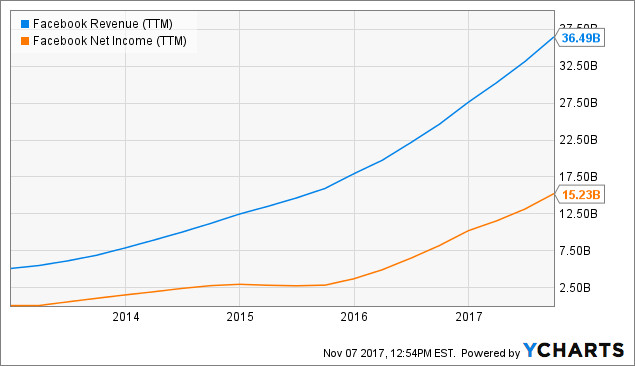 FB Revenue (TTM) data by YCharts
In hindsight, I believe I underestimated Facebook's "three-in-one" proposition. The company has developed into more than a single industry-leading online platform, but into three instead: Facebook proper (including Messenger), the trendy Instagram and the under-monetized WhatsApp. I was probably right that the 3.5 billion MAU (monthly active users) that I believed would be necessary for Facebook to produce the long-term earnings target that I had set for the company (up from only 1.3 billion in 2015) couldn't have come from a single platform. But I was wrong by not seeing that the feat could very well be achieved by a portfolio of highly-popular platforms instead.
Today, and much sooner than I expected, Facebook has 2.1 billion monthly users, and has been growing that metric at a consistent mid-to-high teen pace (see below).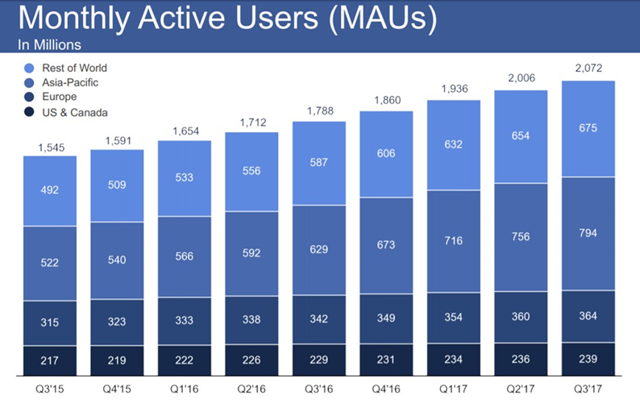 Source: Facebook's earnings slides
By the time I started to feel more comfortable about the company's prospects in the context of its relatively rich stock price, Facebook caught up with my skepticism. In February 2017, I published an article discussing how the company seemed to be "entering adulthood", after the management team warned that decreased growth in ad load would result in top-line momentum waning in the second half of the year.
Despite not seeing the "transition into adulthood as a bad thing", I chose to stay away from the stock yet again. I feared that a more paced Facebook could scare away growth-biased investors, and that shares could suffer in the short term. If I were to buy FB, I needed to lower the probabilities that I would be joining the party ahead of negative catalysts and a potential stock price pullback. However, my more pessimistic predictions, as presented in my August article, did not materialize beyond a minor hiccup in late September.
Giving in to FB
And thus we arrive at what I believe to be a major inflection point -- at least for me, as a (now former) Facebook skeptic. On the first day of November, the company delivered a monster quarter that put to rest my concerns that ad load growth, more modest as I expected, could cause much of a top-line drag. The +35% increase in ad prices in 3Q17, for example, gave me confidence that Facebook has been doing an increasingly good job at finding value for advertisers and absorbing some of that benefit for itself. In the end, I believe the ad load scare was not much more than a shift in revenue growth drivers, from decelerating growth in ad impressions to improved monetization efforts.
Sure, Facebook's management team has now introduced another potentially bearish narrative to the Facebook story: ramped up investments in security in 2018 that should weigh on operating costs and slow down earnings growth. But I feel much more comfortable that the executive team will be able to manage the situation well, especially since the opex investment is a lever over which the company should have a high degree of control.
Parting thoughts on Facebook stock
So at $178/share, I became a FB shareholder this month. I purposely chose not to jump all in and dollar-cost average my investment over the next few months, in yet another of my trademark risk-averse moves. But I am happy with the deal that I got.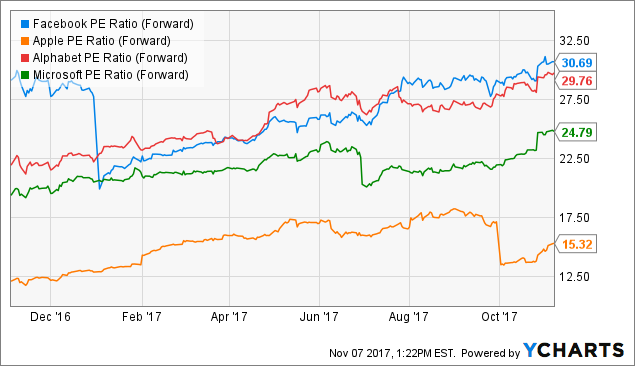 FB PE Ratio (Forward) data by YCharts
| | | | |
| --- | --- | --- | --- |
| Ticker/Company | Forward P/E | LT EPS Growth | Forward PEG |
| FB - Today | 30.7x | 27.3% | 1.1x |
| FB - Oct 2016 | 31.0x | 35.2% | 0.9x |
| Apple (AAPL) | 15.3x | 8.9% | 1.7x |
| Alphabet (GOOG) | 29.8x | 19.2% | 1.6x |
| Microsoft (MSFT) | 24.8x | 12.1% | 2.0x |
FB is today the cheapest stock among its key peer group on a forward PEG basis (see above). With forward P/E only an inch into 30x territory and the business doing better by the quarter, I believe my move to get into the stock this month was the right one -- even if $178 today might look a lot less appealing of an entry point than last year's $102.
Here's to hoping that FB will continue to outperform in the next few years, perhaps as well as it has in the past several ones.
Note from the author: If you have enjoyed this article and would like to receive real-time alerts on future ones, please follow D.M. Martins Research. To do so, scroll up to the top of this screen and click on the orange "Follow" button next to the header, making sure that the "Get email alerts" box remains checked. Thanks for reading.