This idea was discussed in more depth with members of my private investing community, REIT Beat. Become a member today
As a kid I always admired reading H.G. Wells and I was especially fond of 'The Time Machine'.
As you may recall, 'The Time Machine' was popularized by the concept of time travel by using a vehicle that allows an operator to travel purposely and selectively forwards or backwards in time. The term "time machine", coined by Wells, is almost universally used to refer to such a vehicle.
The Time Traveler tests his device with a journey and the machine uses various levers and similar to the character in Wells' novel, the Time Traveler theorizes that intelligence is the result of and response to danger.
Today, I am going to become the so-called 'Time Traveler' in hopes of conquering Mr. Market's fears of Tanger Factory Outlets (SKT). It should be no one's surprise that this well-known Outlet Center REIT has seen shares slide by some -35% YTD.
Many REIT investors have become disenchanted with Tanger fearing that the retail apocalypse is unfolding before their eyes. Daily headlines appear on most all investment websites suggesting "Malls are Dead", "Amazon Rules the World", or "Brick and Mortar is Dead".
To conquer the hysteria, I decided that I would take a seat in the Tanger Time Machine to travel to places imaginable by many. By doing so, I feel confident that I will have a competitive advantage that will allow me to defeat Mr. Market and put an end to the skepticism that seems to exist within the Mall REIT sector.
So buckle up and get ready for this amazing journey inside the Tanger Time Machine…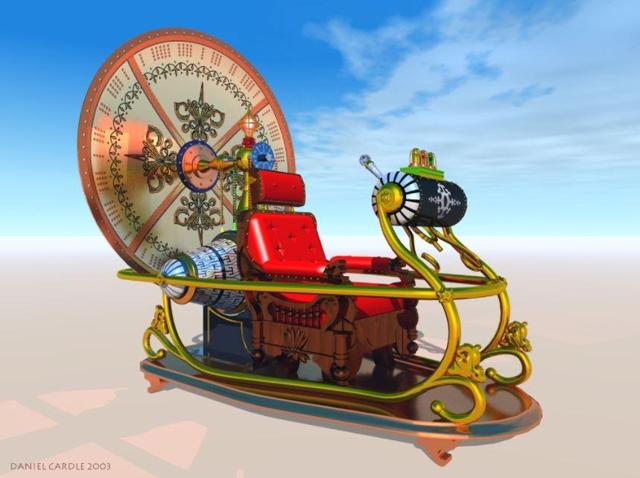 Going Back in Time
To start the journey, I am going back in time to 1981 when Stanley Tanger opened the Burlington Manufacturer's Outlet Center in Burlington, North Carolina.
According to the company's website, Tanger "pioneered the Outlet Industry by building the country's first authentic outlet shopping center…and this was not only the beginning of Tanger Factory Outlet Centers, Inc., but also of a thriving retail venue – the Outlet Industry, which has grown to hundreds of outlet centers worldwide today."
In June 1993, it became the first publicly traded outlet company when it was listed on the New York Stock Exchange, shortly after Steven B. Tanger (current Chief Executive Officer as of 2009) joined forces with his father Stanley in 1986 as the company's fourth employee. Under their leadership, the company prospered and grew to 13 outlet centers by 1992.
Then, in 1993, Tanger led the way again by becoming the first outlet center developer to be listed on the New York Stock Exchange as a publicly traded Real Estate Investment Trust (REIT). Shares are traded under ticker symbol SKT.
Tanger's Best Price Promise, an Outlet Industry first was originally instituted in 1995. The program offers Tanger shoppers an instant cash refund of the difference if they should find an item purchased at Tanger advertised for less. The Best Price Promise gives Tanger's customers confidence that they are getting a great deal each and every time they shop.
In October of 2010, Stanley K. Tanger, the company's Founder, died at the age of 87, surrounded by his family. Mr. Tanger's name was synonymous with outlet centers and he was known as a dynamic businessman, philanthropist, mentor and friend.
As Donald K. Ngwe, Assistant Professor of Business Administration at Harvard Business School, explains:
"Outlet stores offer attractive prices at locations far from central shopping districts. They form a large and growing component of many firms' retailing strategies, particularly in the fashion industry."
Through policy simulations, Ngwe discovered that the firms use outlet stores to serve lower-value consumers who self-select by traveling to outlet stores from central shopping districts. The firm sells older, less desirable merchandise through outlet stores to prevent cannibalization of regular store revenues by means of exploiting the positive correlation between consumers' travel sensitivity and taste for new products.
Ngwe found that the rate of new product introduction in regular stores would fall by 16% if outlet stores were closed down while variable profits would decline by 23%. "These results imply that the existence of outlet stores may enable firms to improve quality in their regular channels, thus counteracting brand dilution effects." As Ngwe writes:
"Outlet stores are a fixture of the American retail landscape. These brick-and-mortar stores offer deep discounts in locations far away from most consumers. Firms operate outlet stores in addition to regular stores, which are located in central shopping districts.

Outlet stores operated by different firms are often agglomerated in sprawling outlet malls off interstate highways. As of March 2014, there were 201 outlet malls in North America, which generated an estimated $31-42 billion in annual revenues (Humphers 2014). This is a large and growing portion of the total retail sales in clothing and clothing accessories, which amounted to $241 billion in 2012."
When Stanley Tanger set out to build his first outlet property, he knew that stores could provide benefits as a tool for price discrimination. Even as the Outlet Center has evolved, the stores allow the retailer to serve lower-value consumers without lowering prices faced by its regular store clientèle.
Prices are low in outlet stores, but not low enough to attract consumers who value quality and convenience the most. Outlet stores may actually enable the retailer to improve its regular store products, which typically form the basis of a fashion brand's image. As Ngwe explains:
"Outlet stores constitute a single aspect of a consolidated selling strategy that has become standard among fashion goods firms. Other parts of this strategy include price skimming, targeted coupons, and loyalty programs. Many of these components operate on the intertemporal dimension of durable goods demand."
Back in 1999, Warren Buffett snapped up around 5.3% of Tanger, according to sources, Buffett's original purchase was for around $8.7 million and the purchase was made individually by Buffett, not through his Berkshire Hathaway Inc. (NYSE:BRK.A) (NYSE:BRK.B).
That's interesting, isn't it? Buffett owns shares in Seritage (SRG) – see my article HERE – and Berkshire Hathaway owns shares in STORE Capital (STOR) – see my article HERE.
So I am sure you are asking the same thing as I am? Why doesn't Buffett own Tanger now?
The Current Tanger
As noted above, Tanger is not a traditional Mall REIT; instead, the North Carolina-based company owns 44 outlet centers in the U.S. (22 states) and Canada. The company commenced operations over 34 years ago in Burlington, North Carolina, when the outlet industry was unknown.
This original concept was aimed to connect bargain-hunting consumers with brand-name manufacturers and Tanger's pioneering platform was the spark for the flaming retail sector that shoppers commonly refer to as the outlet center sector.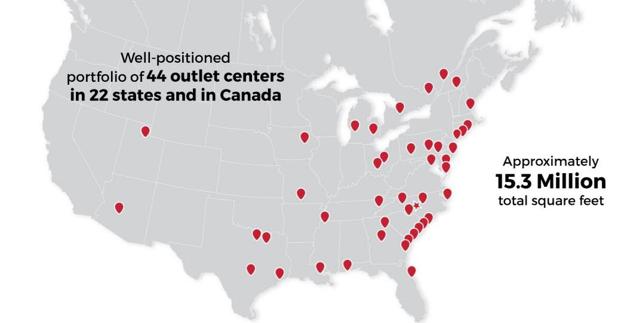 As the retail industry evolved, Tanger was the first to grasp the retail distribution channel in which goods could enjoy a longer life cycle than the traditional clearance concept.
Uncommon to malls that are costly to build (upwards of $100 million), and with significantly higher operating costs, Tanger set out to create a differentiated retail model that could provide both scale and low-price brand recognition aimed to meet the demands of the bargain-hunting consumer. Tanger is the ONLY "pure-play" outlet center REIT, and as you can see below, there are NO department stores in the portfolio: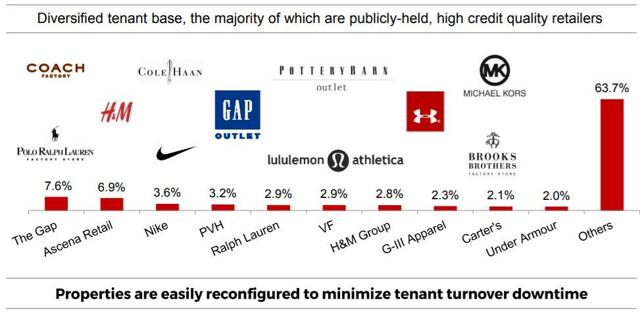 Lauren Thomas (yep, my rock star daughter), retail analyst at CNBC, wrote:
"Ascena — the parent of clothing companies such as Ann Taylor and dressbarn — saw its shares plunge more than 30 percent earlier in the week, after it adjusted its second-half outlook to reflect worse-than-expected business conditions.The specialty retail sector is in a period of unprecedented secular change that is disruptive to traditional business models"
On the recent earnings call, Tanger's CEO, Steve Tanger, explained:
"We are not at risk of having large department store boxes go dark or having to put a tremendous amount of CapEx into re-tenanting lease spaces because we have no department stores.

Our properties generally have standard bay depths so we're more easily reconfigured by moving the demising walls that divide suites to make them larger or smaller as needed. Our industry is not overbuilt."
I view Tanger, and other Outlet REITs, as more of a hybrid between a shopping center and self-storage property. Although outlet stores do lease space to many conventional mall tenants, I am not keen with the comparison to malls. Outlet properties are "plain vanilla" by design so this means that when a tenant vacates a space, it is a matter of ripping out carpet and adding new paint.
In other words, it's a virtual zero vacancy model…
Now in Q3-17, Tanger reported consolidated portfolio occupancy of 96.9%, compared to 96.1% on June 30, 2017. As you can see below, Tanger's occupancy has been at 95% or higher since it was a public company.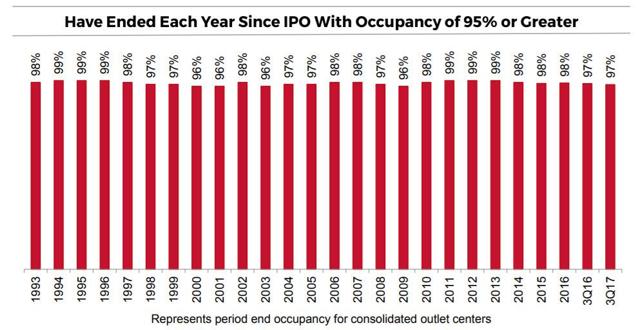 Drilling down to the property level, you can see that Tanger's wholly-owned portfolio saw varied results, but the company generally sees higher occupancy levels in Q4. I am not concerned with the modest occupancy declines, as Tanger is in line with historic norms.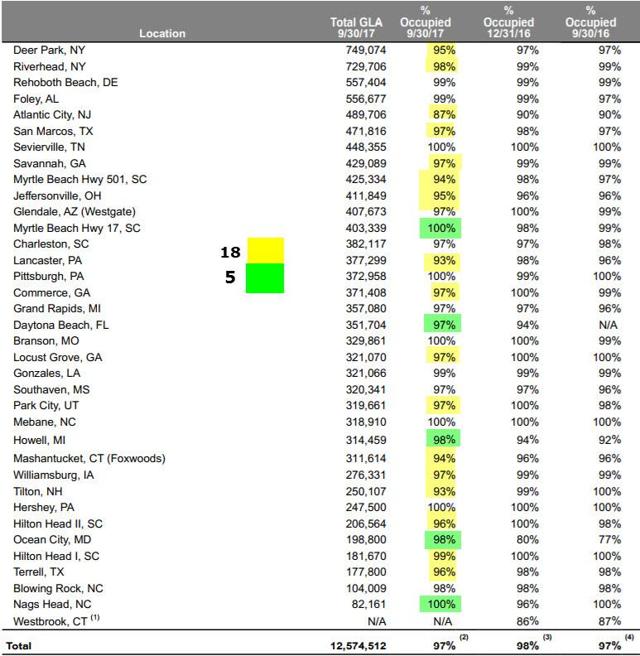 Upon examination of the JV portfolio, we can see that Tanger has similar occupancy trends:

Major re-merchandising efforts at 5 Tanger Outlet Centers are expected to be completed by the end of 2017. The company projects a yield of approximately 8% on the $20.6 million planned capital investment for these projects.
Enhancing the tenant mix has historically increased shopper traffic, driven demand from additional tenants, increased rent spreads on future renewals and increased overall outlet center productivity. Tanger does not plan to re-merchandise any centers in 2018.
Also, to-date, Tanger has executed 8 leases to re-tenant approximately 150,000 square feet in these centers with desirable high-volume retailers. These new stores required the consolidation of 24 storefronts with an average size of 6,200 square feet to create new storefronts with an average size of approximately 18,700 square feet.
As of Q3-17, stores had opened for 6 of these 8 leases. Although these sought-after tenants typically require a lower relative cost of occupancy, re-merchandising with the high-volume brands that resonate with the consumer has been a successful long-term strategy for Tanger.
Average tenant sales productivity for the consolidated portfolio was $381 per square foot for the twelve months ended September 30th.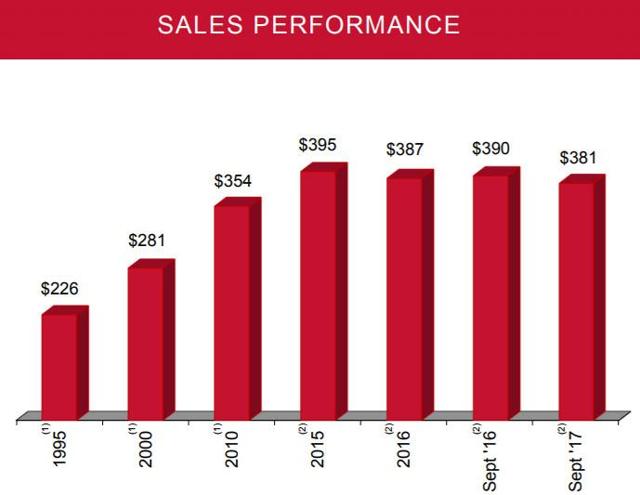 Same center tenant sales performance for the twelve months ended September 30th decreased 0.9% for the overall portfolio compared to the twelve months ended September 30, 2016.
Tanger recaptured approximately 166,000 square feet within its consolidated portfolio during the first nine months of 2017, including 24,000 square feet during Q3-17, related to bankruptcies and brand-wide restructurings by retailers, compared to approximately 60,000 square feet during the first nine months of 2016 (42,000 square feet of which was during the third quarter).
Tanger recaptured a total of 105,000 square feet and 157,000 square feet during 2016 and 2015, respectively, within the consolidated portfolio related to bankruptcies and brand-wide restructurings by retailers.
Tanger now expects to recapture approximately 200,000 square feet during 2017, up from an estimate of 157,000 square feet on August 2, 2017. Tanger raised its guidance for 2017 year-end consolidated portfolio occupancy to be between 96.5% and 97.0%.
Tanger continues to have the lowest cost of occupancy among all public Mall REITs and most of the company's tenants report that outlet stores remain one of their most profitable and important retail distribution channels.
Tenant Occupancy Cost: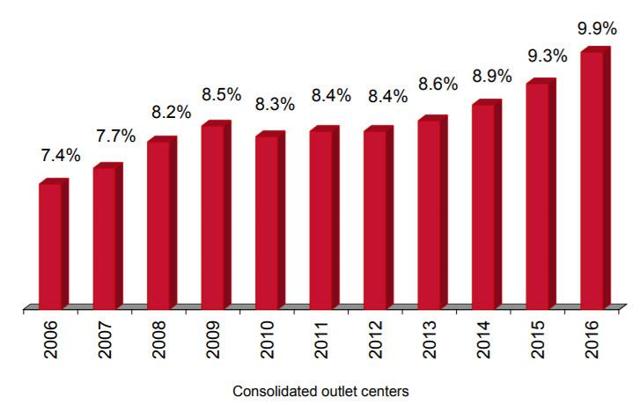 Tanger continues to maintain a "Fortress" balance as the company has continued to push out debt maturities, with coverage ratios that support A-rated metrics.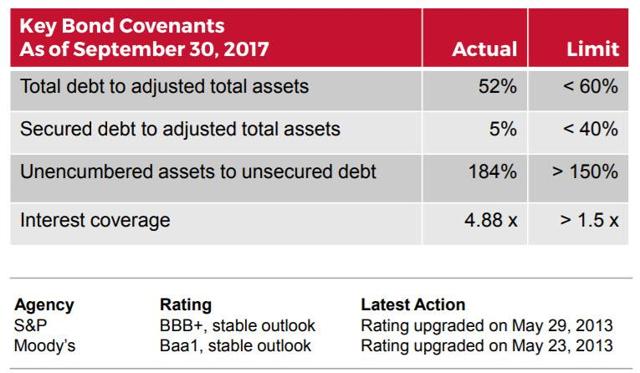 Tanger completed a public offering on July 3, 2017 of $300 million of 3.875% unsecured senior notes due July 15, 2027 and on August 2, 2017, and used the net proceeds and unsecured lines of credit borrowings to redeem $300 million of outstanding 6.125% unsecured senior notes due June 1, 2020.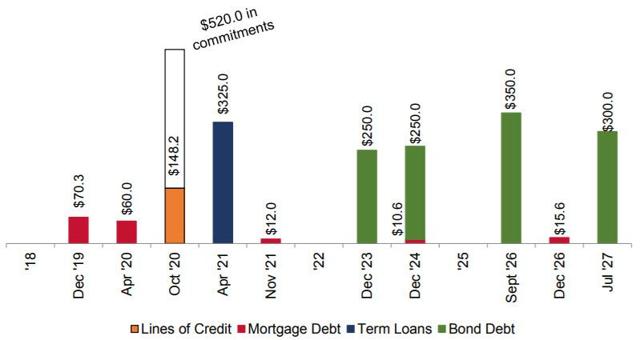 The company's debt-to-total market capitalization ratio is 42% and total outstanding floating rate debt is $278 million, representing less than 16% of total debt outstanding, or less than 7% of total enterprise value. Tanger's unused capacity is $366 million under the $520 million unsecured lines of credit.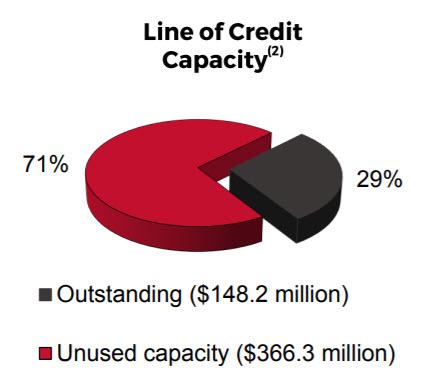 The weighted average interest rate is 3.30% and the weighted average term to maturity of outstanding debt, including extension options, is approximately 6.5 years. Approximately 91% of the company's consolidated square footage was unencumbered by mortgages.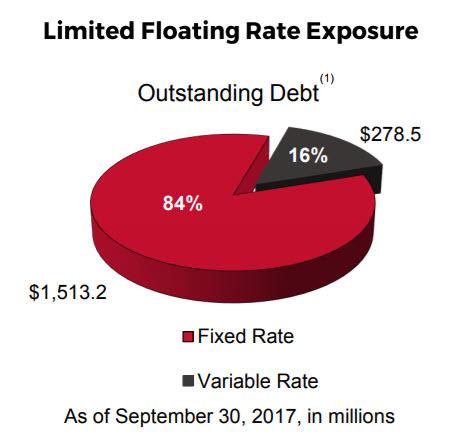 Tanger expects AFFO to exceed the dividend by more than $100 million in 2017; with an expected AFFO payout ratio in the mid-50% range, the dividend is well covered.
To maintain the strong and flexible leverage profile, Tanger prefers to use internally generated cash to fund any further purchases under the share repurchase program. The redemption make-whole premium and the completion of the two projects that will open later this year will consume the remaining cash flow for the balance of the year.
At Q3-17, Tanger's AFFO available to common shareholders per share increased 2.3% compared to the prior-year period. AFFO available to common shareholders was $179.7 million, or $1.80 per share, for the 2017 period and $177.5 million, or $1.76 per share, for the 2016 period.
Tanger is revising its net income, FFO and AFFO per share guidance for 2017: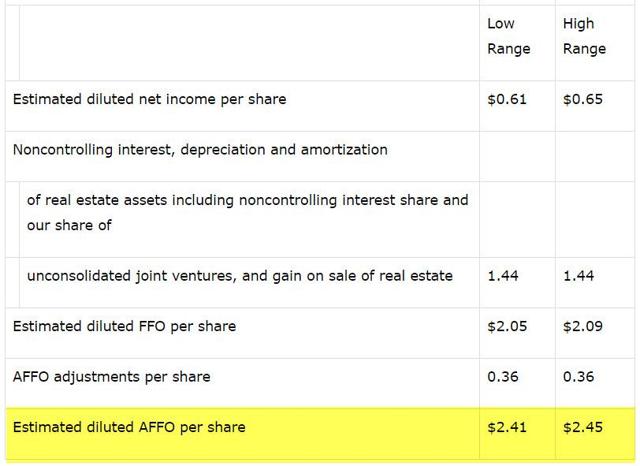 Other key guidance assumptions are as follows:
Same center net operating income growth between 1.5% and 2.0%, excluding 5 outlet centers undergoing re-merchandising efforts (between 0.5% and 1.0% including these centers).
Tanger has tightened its previous range given the anticipated impact of the hurricanes on variable rents and an increase in the expectation of space to be recaptured during 2017 to 200,000 square feet from 157,000 square feet at the end of the second quarter.
In addition to the effect of hurricanes on the days that stores are closed, traffic and tenant sales were impacted as much as a week before the storms and for several weeks following the storms. During the third quarter, four additional tenants filed bankruptcy.
It's also important to note that Tanger recently opened a new center in Fort Worth, Texas, that was 93% leased, which is an extraordinary achievement in a challenging retail environment. We estimate Tanger's WACC (weighted average cost of capital) to be ~6.5% and this suggests that Tanger's development pipeline continues to generate wide investment spreads (of around 300 bps):

Tanger plans to allocate free cash flow in 2018 to increasing the dividend, paying down variable rate debt and buying more stock. Steven Tanger, CEO, explains in the press release:
"We are proud to say that we have raised our well-covered dividend each of the 24 years since becoming a public company."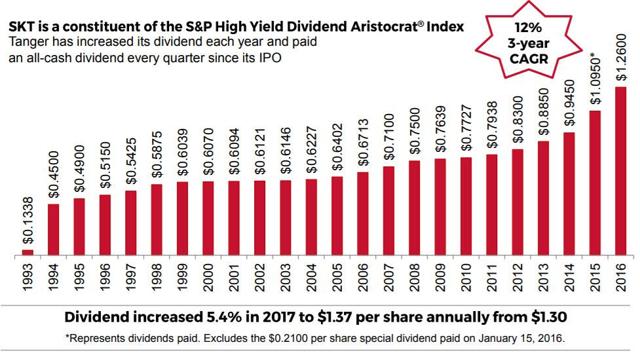 The Future for Tanger
Steve Tanger commented:
"Outlets remain an important and profitable channel of distribution for our tenants, as evidenced by our high level of occupancy, which was 96.9% as of September 30, 2017. For 56 consecutive quarters our same center net operating income has increased, a feat accomplished by very few public REITs. Given the outlet channel's appeal with retailers and our fortress balance sheet, we believe Tanger is well-positioned to weather the current headwinds in the retail environment and emerge stronger when the retail cycle turns positive."
As you can see below, FAST Graph (consensus) forecasts Tanger to normalize earnings in 2018. The company has maintained discipline through the chaos by focusing on its balance sheet and prudent development practices. The market has definitely slowed and Tanger is adjusting to the environment.

As illustrated below, Tanger is trading well below the closest peers, Simon Property Group (SPG) and Taubman Centers (TCO):

Yesterday, Lauren Thomas with CNBC reported:
"General Growth Properties (GGP) more than 17 percent Tuesday amid chatter that Brookfield Property Partners has been in talks to acquire the U.S.-based retail real estate investment trust. Brookfield notably holds a 35 percent stake in GGP. And GGP's portfolio consists of mainly "Class A" malls, or those that draw the most sales per square foot.

Representatives from GGP and Brookfield didn't immediately respond to CNBC's requests for comment."

Meanwhile, CBL (CBL) investors are still feeling the pain of the company's announced dividend cut last week…

What does all of this mean?
CBL "cut the cheese" and GGP is feeling "the tease"…
Alas, Tanger is not a traditional mall, and as my time machine revealed, this pure play Outlet Center REIT has evolved into a highly defensive dividend machine that is capable of growing dividends without breaking a sweat.
While all of the mall peers are panicky over this big gorilla…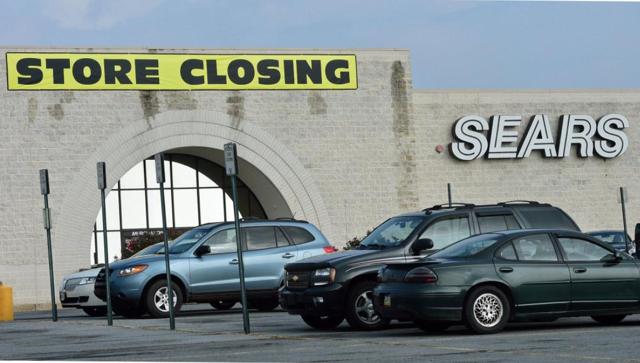 Tanger has ZERO exposure…to Sears (SHLD)
But yet Buffett has a bet on Sears' revival, or perhaps its reincarnation... and Buffett's prized investment vehicle, Berkshire Hathaway, has a few chips riding on STOR's Net Lease model…
So riddle me this… why not TANGER?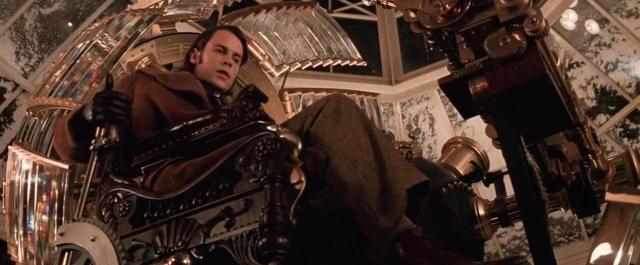 But do we really need this "Time Machine" or instead do we simply need a weighing machine. Ben Graham explained:
"In the short run, the market is a voting machine but in the long run, it is a weighing machine."
The market behaves like a popularity contest in the short term. Stock prices change rapidly based on the environment, while the underlying value doesn't change.
People could chase fads and there could be various ways a stock might be manipulated in the short term. Traders could also move in and out based on a number of factors that have little to do with the value of the company.
In other words, market psychology is hard to predict and thus a value investor should avoid getting on to the short-term fads. Eventually, the fads fade out and frauds get found out. What remains is the true value.
Ladies and Gentlemen, this is the weighing machine: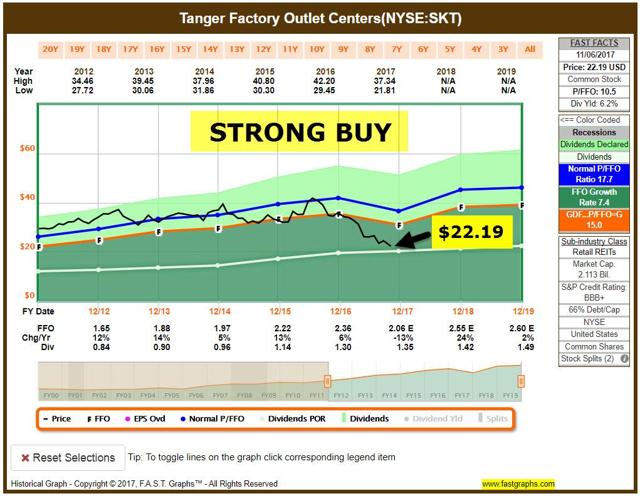 That's All Folks! I am maintaining a STRONG BUY on shares in Tanger and in a few days I plan to provide premium subscribers with a detailed research paper on the company. As always, thank you for reading and joining me on my 3,000 word article called the Tanger Time Machine.
From The Intelligent REIT Investor:
As any portfolio manager recognizes, the key to building a successful portfolio is to maintain adequate diversification across property types. REITs have consistently outperformed many more widely known investments. Over the past 15-year period, for example, REITs returned an average of 11% per year, better than all other asset classes.
By maintaining a tactical exposure in the brick-and-mortar asset class, investors should benefit from my REIT research. After all, I am the #1 ranked analyst (1+ million page views every 90 days) on Seeking Alpha with an exceptional 5+ year track REIT record.
Subscribe Today - For This Limited Offer
I will soon be launching a weekly podcast called "Show Me The Money," in which I will be providing sector updates and valuable REIT retirement investing strategies. I encourage all of my followers to post comments, as I try extremely hard to maintain an informative presence within the Seeking Alpha community.
Note: Brad Thomas is a Wall Street writer, and that means he is not always right with his predictions or recommendations. That also applies to his grammar. Please excuse any typos, and be assured that he will do his best to correct any errors if they are overlooked.
Finally, this article is free, and the sole purpose for writing it is to assist with research, while also providing a forum for second-level thinking. If you have not followed him, please take five seconds and click his name above (top of the page).
Sources: F.A.S.T. Graphs and SKT Q3-17 Presentation and Supplemental.
See my recent Taubman (TCO) article HERE.
Disclosure: I am/we are long APTS, ARI, BRX, BXMT, CCI, CHCT, CIO, CLDT, CONE, CORR, CUBE, DLR, DOC, EPR, EXR, FPI, GMRE, GPT, HASI, HTA, IRM, JCAP, KIM, LADR, LAND, LMRK, LTC, MNR, NXRT, O, OHI, OUT, PEB, PEI, PK, QTS, RHP, ROIC, SKT, SPG, STAG, STOR, STWD, TCO, UBA, UNIT, VER, VTR, WPC.
I wrote this article myself, and it expresses my own opinions. I am not receiving compensation for it (other than from Seeking Alpha). I have no business relationship with any company whose stock is mentioned in this article.