The majority of La Nina events are associated with a warm early winter for U.S. energy areas and a cold second half. However, the extreme brush fires out west, active hurricane season and especially non-oceanic teleconnections, have to be taken into account in the big picture What are teleconnections?
A teleconnection in atmospheric science refers to climate anomalies being related to each other at large distances (typically thousands of kilometers).
Teleconnections were first noted by the British meteorologist Sir Gilbert Walker in the late 19th century, through computation of the correlation between time series of atmospheric pressure, temperature and rainfall. They served as a building block for the understanding of climate variability, by showing that the latter was not purely random.
Indeed, the term El Niño-Southern Oscillation (ENSO) is an implicit acknowledgment that the phenomenon underlies variability in several locations at once. It was later noticed that associated teleconnections occurred all over North America. The one most influential in the sudden-change towards colder weather for U.S. natural gas (UNG) areas, is the Western Pacific Oscillation Index. For more of a discussion of what this is and why this has helped natural gas prices to rally the last couple days, please click here.
If the WPO index remains negative well into November/December, this could be much more bullish than originally thought for natural gas prices and put a floor in natural gas stocks. The risk, over the winter is to the long side of the market, though occasional brief warm spells and still large supplies of natural gas from shale, will create volatility, and occasional sharp price sell-offs. But the medium term trend, especially later this winter, is probably to buy breaks.
Which equities often rally if the winter is cold? You can download a free report, here. As far as natural gas stocks, I would expect that many of these will find a floor and have the potential to rally by late winter---Again, as has been the case for many recent years, natural gas is not the weather market it once was prior to the shale boom, but still traders will be paying very close attention to forecasts.
Gulfport Energy (NASDAQ:GPOR)
▪Rice Energy (NYSE:RICE)
▪Range Resources (NYSE:RRC)
▪Southwestern Energy (NYSE:SWN)
In the 1980s, improved observations allowed to detect teleconnections at larger distances throughout the troposphere. Concomitantly, the theory emerged that such patterns could be understood through the dispersion of so called Rossby waves due to the spherical geometry of the Earth. This is sometimes called the "proto-model".
Anyway, all of that scientific gibberish aside, it is not only La Nina, but many other teleconnections that will drive energy markets in the winter weeks ahead. What can the current state of a weak La Nina teleconnection tell us about rain and snowfall the next three months? The map I produce, in house, below gives a "suggestion." These analog years below should not necessarily be used to predict price moves in natural gas, heating oil and other commodities, however. The reason? Outside non-weather factors of course, but teleconnections such as the WPO index will dictate winter weather in the northern hemisphere and summer weather for crops in Argentina, Brazil and Australia in the months ahead.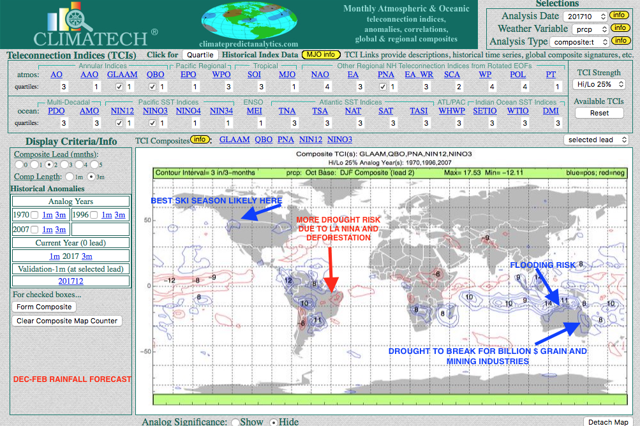 Disclosure: I/we have no positions in any stocks mentioned, and no plans to initiate any positions within the next 72 hours. I wrote this article myself, and it expresses my own opinions. I am not receiving compensation for it (other than from Seeking Alpha). I have no business relationship with any company whose stock is mentioned in this article.