It has been proven time and again that using the "wisdom of the crowds" works.
My favorite example is the results collected from the game show 'Who wants to be a millionaire?' During the game participants are offered to consult a friend (whom they consider to be an expert) or ask the crowd, that is the studio audience. The data show that asking the expert results in a 65% success rate while the crowd is right 91% of the time.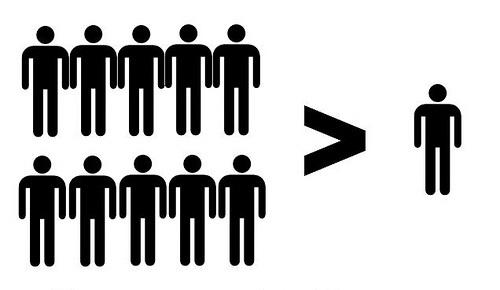 The idea of using crowdsourcing in order to improve service and product ratings has become mainstream. Companies like TripAdvisor, Yelp, IMDB and Zagat have become extremely popular.
More recently this idea has entered the financial world with companies like eToro, Motley Fool, Estimize, Vetr. It is also worth mentioning two pioneers in this field, Marshall Wace and what is now called TIM group.
What all these Fintech companies have in common is the idea of using crowds and their knowledge in order to offer improved financial ratings and market predictions.
The logical question to ask is whether this approach can help in identifying winning funds?
Before we answer this question let's review the current status of fund selection.
A recent study by Morningstar has confirmed that using only quantitative tools, that are based on past performance, isn't the right strategy. Using conventional and quite popular mutual fund rating tools might help you justify your choice (in case you are managing other people's money), but it isn't a winning strategy to say the least.
The same study showed that ratings that were based on qualitative analysis worked 70% of the time. However, doing qualitative analysis demands more manpower to compete.
There are plenty of traditional fund rating firms: Morningstar, Lipper, Citywire (ranks managers) and many more. They all base their ranking mainly on past performance. Since they employ a relatively small number of analysts they find it impossible to review, on a continuous basis, critical factors such as the incentives and motivation of the management team, capacity and limitation on size, active share, etc.
It's time for a fund rating platform
Due to the difficulty of addressing these types of factors on an ongoing basis the industry could benefit from a platform that could use the collective knowledge of investment advisors to create better fund ratings.
The greatest advantage that a user generated fund rating platform brings to the market is the possibility to grow to scale more rapidly and effectively. This is done by moving from the current rating model where fund selectors work in silos to a more centralized approach in which their views are shared on a dedicated platform.
This change can be compared to the traditional encyclopedias that were created through costly, complex, and difficult to manage supply chains of academic experts, writers, and editors. Using a platform model, Wikipedia has built an information source comparable to Britannica in quality and scope by leveraging a community of external contributors to grow and police the content.
Besides the natural human desire to share, which has worked very well for platforms such as Wikipedia, how else can you incentivize investment advisors to participate?
One way of attracting users to a user generated fund rating platform is by offering them to build a proven track record in terms of fund selection.
Ranking the raters can be done by simply comparing their ratings to the actual performance of the fund from then onwards.
This leads us to the question of what do investment advisors and fund selectors have in common?
Neither has an independently proven track record to present to prospective and existing clients.
This lack of track record has led many clients to choose cheaper solutions known as Robo-Advisors.
A user generated fund rating platform offers to combat the robo alternative by offering investors a way to select investment advisors or Fund Selectors that have been proven to add real value. The platform ranks the individual raters in terms of their talent in selecting funds, i.e., it ranks the raters.
Their fund selection track record enables them to test their analysis, and if they choose, they are able to present their proven track record to existing and potential clients or receive better pay as an employed fund selector or asset allocator.
We have taken into account that putting people's professional ability online for everyone to see can be risky. For that reason we have put in place a policy that enables our users to remain anonymous.
However, the assumption is that once advisors build a successful track record, they will probably be interested in showing their performance and at that stage they will probably decide that sharing their identity publicly is beneficial.
Therefore, investment advisors or fund selectors can either:
Start building a track record, be successful and have a competitive advantage.
Start building a track record and constantly improve until they are successful.
Do nothing.
Obviously doing nothing is very risky. Imagine two years down the line and many of your co-workers or competitors have created a proven track record. They can be compared while you can't even enter the playing field. Since a long term track record will become a valuable asset to hold it makes sense to start building one today.
Disclosure: I/we have no positions in any stocks mentioned, and no plans to initiate any positions within the next 72 hours.
I wrote this article myself, and it expresses my own opinions. I am not receiving compensation for it. I have no business relationship with any company whose stock is mentioned in this article.