Medical supply distributor Owens & Minor (OMI) simply has fallen off a cliff of late: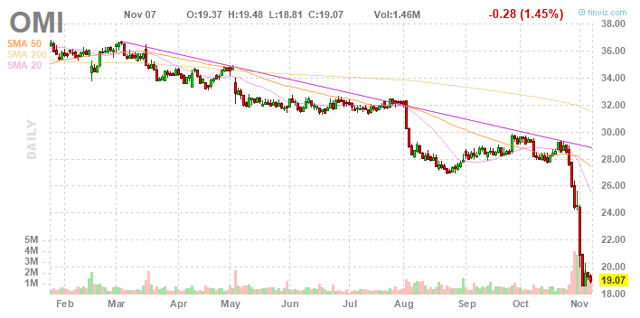 source: finviz.com
And it sets up an interesting situation for OMI stock. All hope isn't necessarily lost. Even though the company pulled down full-year EPS guidance after its Q3 report last week, it still trades at just 11x the midpoint of that guidance. Two recent acquisitions haven't contributed much, if anything, to earnings yet. The company still is estimating as much as $100 million in cost-cutting benefits coming in 2018 and 2019, against full-year EBIT in the $185-$190 million range this year. The business looks like a mess right now - but EPS still could, and maybe even should, grow over the next few years.
There's a solid 5.4% dividend yield as well, for those who buy the "get paid to wait" argument or traders willing to bet that some investors will chase that yield. "Falling knife" concerns apply here, obviously, and OMI actually is at its lowest levels since 2006. But there are pillars for a case to, if not step in and buy OMI, at least cover the short I recommended back in September. Fundamentally, OMI looks like it's in the range of being "cheap enough".
But I thinking it's worth sticking with the short for another quarter. There are a host of problems here - and almost nothing in the way of good news. Cost savings realized this year already have been more than offset by margin pressure. The International business had an ugly Q3 after what looked like a solid first half. Both acquisitions already have created reason for skepticism. And the business is on its way to being 5x levered, or close to it.
More broadly, there was nothing in Q3 to suggest that the recent trend is reversing. And so it seems wisest to keep betting on that trend, until it reverses - if it ever does.
An Ugly Third Quarter
Really, there wasn't a single bit of good news in OMI's Q3. Revenue fell 3.7% year over year, the company's third straight miss on the topline. Last year's loss of Kaiser Permanente as a customer (Kaiser migrated to rival Cardinal Health (CAH)) had an impact. But on the Q3 conference call, management cited difficulty in getting new business as a driver, and also admitted, as CEO P. Cody Phipps put it in the Q&A, that "it's taking us longer to onboard new business than we thought."
Proprietary products revenue - a big driver for the company and a way to get better margins and diversify away from market weakness - declined over 6%. The international business continued a strong year on the top line, but it reversed to an EBIT loss thanks to increased salesforce hiring and other investments.
Consolidated adjusted operating income declined 17.5%, as margins compressed to 2.08% from 2.43% the year before. Margins did improve on a sequential basis, but the company cited continuing pressure in the market. To be fair, O&M isn't the only one struggling. CAH trades at a four-year low after its earnings report Monday, AmerisourceBergen (ABC) has shed 20% of its value since August, and McKesson (MCK) is just off a post-election low.
There's an argument that the quarter was better at least on a sequential basis. EBIT margins did rise Q/Q, and the 17%+ drop in operating income compares favorably to the 25% decline in the first half of the year. But that's clearing a low bar indeed. End markets are a mess, competitive activity appears to be ramping up, and the international and private-label businesses that were supposed to offset some of the pressure in the core business are flailing. There's been discussion about Amazon.com (AMZN) entering the medical space (along with every other industry, and presumably a couple mankind hasn't invented yet) but the YTD decline in OMI isn't necessarily from investor concerns looking forward. This has been an awful year, and even if Q3 was not quite as awful as Q1 and Q2, the difference is in degree, not kind. Owens & Minor is struggling badly.
What Changes?
So the simple answer is to stay short until there's a sign of the trend changing. And what has to be concerning coming out of Q3 is that the efforts that are supposed to change that trend simply aren't working. Doing the math here, between synergies and acquisition contributions, earnings should be able to rise at some point in the near future, even maintaining a pessimistic outlook toward organic growth. But looking closer, it's no longer clear that's the case, particularly after the performance so far this year.
Cost Savings
The company's RBT (rapid business transformation) initiatives were guided to drive $100-$150 million in cost savings over three years, starting this year. In fact, they still are, with Phipps maintaining that guidance in the Q&A of the Q3 call. By year-end, the run-rate savings are supposed to reach $40-$50 million.
Again, it's a big number: 2016 adjusted EBIT was $224 million. Everything else equal, $40 million-plus a year would suggest $0.46 in incremental EPS each year - 20%+ growth from 2016's $2.05 in adjusted EPS.
But those savings have not just been offset, but been swamped, by margin pressures so far this year. It's not clear how much of the savings have been harvested to date, but through nine months operating income is down $40 million year over year, or about 22%. Backing out those savings, EBIT has fallen by roughly a third.
Clearly, the market as a whole has taken a leg down. But it's not as if O&M growth suddenly came to a halt. Margin compression is a multi-year problem: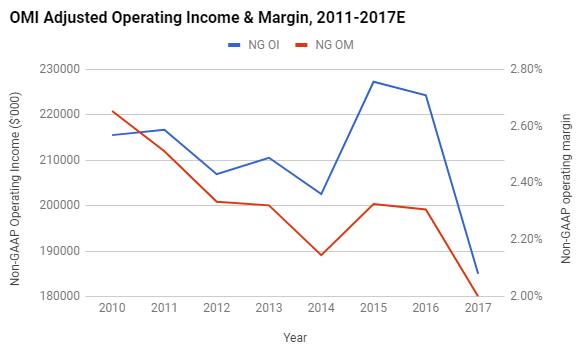 source: author from OMI press releases; 2017 figures estimated
Non-GAAP operating income rose $8 million between 2011 and 2016 despite a series of acquisitions. The pricing pressure has been consistent the entire time - now it's accelerating. And if Amazon enters the space, then OMI, which is much smaller than Cardinal Health in particular, looks like the first victim.
And so the question is how much, if any, of the $60-$110 million in 2018-19 cost savings will make it to the bottom line. Original 2018 guidance, post-Q2, suggested a nice rise in EPS, thanks to some of the savings and the benefits of the Byram acquisition that closed on August 1st. That guidance was pulled after the company announced its acquisition of Halyard's S&IP (surgical and infection prevention) business on the same day as Q3 results. But it seems highly likely that, Halyard aside, it too will be pulled down, and the net benefit from RBT will be smaller than management had hoped.
Acquisitions
O&M spent $380 million in cash to acquire Byram, which should contribute ~$0.10 in 2018 EPS according to guidance last quarter. Byram specializes in home delivery of medical supplies, with part of the rationale for the acquisition the ability for O&M to diversify away from its reliance on acute care facilities.
Here's what Phipps said about Amazon on the Q3 call:
With respect to Amazon, our view is this: Amazon is a formidable competitor in any distribution business. What we're trying to do is focus more on our strategy...My own personal view is, the part of the industry that's most at risk from Amazon is the part that looks most like a consumer purchase. And so stuff that flows - small orders, small parcel deliveries into either physician offices or direct to patients in the home, where there's not some sort of Medicare, Medicaid payment to it. Those are the areas where Amazon has a very compelling business model.
Now, there's a case that Byram's nearly 50-year history and its relationship with insurance carriers is a differentiation from the strengths Phipps ascribes to Amazon. Still, the company - according to its own CEO - spent a third of its current market cap on a business whose niche seems threatened precisely by the company everyone is afraid of.
As for the Halyard business, its products (surgical drapes, gloves, gowns, wraps, etc.) are supposed to help the private label business. But management said on the Q3 call that it was expecting low single-digit revenue growth - and CFO Richard Meier said in the Q&A that "the business has been a little soft over the past couple of years [emphasis mine]."
Out of the gate, there are questions about both purchases. And it's worth noting that both clearly are efforts to get away from the core distribution business (even if the Halyard deal does double down somewhat on acute care). It's tough to have too much confidence in that business when the strategy is based on finding other areas in which to invest.
Private Label and International
The other two efforts to diversify away from U.S. acute care end markets don't seem to be working, either. Proprietary Products revenue fell 6% in the quarter, and is down 4% for the year. Margins there, too, have compressed 360 bps, driving EBIT down 38%.
The International business probably isn't big enough to move the needle anyhow, driving barely 4% of revenue. But that business has run at a modest loss YTD (under $1 million).
Doing the math, there's a case for upside to earnings, and potentially OMI shares. But simply looking at recent results, and the health of the market, there's also a case that continued pressure on the legacy business is going to offset most, if not all, of that upside.
Valuation
Pro forma numbers right now look like they could move OMI higher. 2017 EBITDA, pro forma for the cited contribution from Byram (including synergies), should be $260 million or so, modeling in a modest decline in Q4. (The midpoint of full-year guidance actually implies a Y/Y increase in Q4 adjusted EPS, from $0.52 to $0.54. I'm loath to trust that guidance, however.)
Halyard is supposed to add $80 million, and another $40-$50 million in synergies. Cost savings could potentially add another $100 million. The total - holding everything else constant - could reach $485 million or so. Even assuming no cost savings reach the bottom line - an assumption it appears management still isn't willing to make - the figure would be $385 million.
Against a pro forma enterprise value of $2.67 billion, that implies an EV/EBITDA multiple as low as 5.5x and in the range of 7x even in what appears to be a modestly bullish scenario. In other words, if the acquisitions work, but the legacy business doesn't, OMI would trade at 7x - and EPS could be in the $2.75 range by my numbers (depending on how D&A works out), implying a ~7-8x pro forma P/E multiple.
There's three problems there, however. The first is that trusting the numbers seems foolish at this point. I'm not close to ready to model in full guided contributions from Halyard's business, which seem to require some level of turnaround by O&M. (O&M already distributes the product, which limits revenue synergies.) Cost savings could reach $100 million - or be closer to $60 million, based on the current range. And there's still the erosion in the underlying business which, cost savings aside, at best isn't improving.
The second problem is that the rest of the space is almost as cheap. CAH trades at under 8x EV/EBITDA, and ABC under 9x. Both stocks are at 12x EPS based on guidance for their respective upcoming fiscal years. It's not as if OMI is going to rebound to the 15x EPS/9-10x EV/EBITDA multiples it received earlier this year without a significant inflection point in the core business.
And the third problem is that debt is becoming an issue. Moody's is placing O&M debt under review for a downgrade, and projecting a pro forma leverage ratio over 4.5x once the Halyard acquisition closes. (For what it's worth, the bond markets don't appear to care: the 2021 senior notes still yield just 3.1%.) I'm not quite ready to project a restructuring in the next five years, but that leverage has accelerated the recent decline in OMI equity and will continue to do so if this doesn't get turned around.
Admittedly, there's a fundamental case to move on, because OMI can look very cheap at some point in the next few quarters, even if only one or two of its potential catalysts play out. But from a 'feel' standpoint, it still seems potentially early to cover. Numbers aside, this is a highly leveraged, declining business facing what looks like secular pressure. And it's trying to spend itself out of its hole with the $1.1 billion spent on Byram and the Halyard unit, along with much smaller investments overseas.
That's a combination that usually doesn't work. And with no other reason for shorts to get nervous, it's not nearly enough to change course even after the recent declines.
Thank you for reading this Seeking Alpha PRO article. PRO members received early access to this article and get exclusive access to Seeking Alpha's best ideas. Sign up or learn more about PRO here.
Disclosure: I am/we are short OMI.
I wrote this article myself, and it expresses my own opinions. I am not receiving compensation for it (other than from Seeking Alpha). I have no business relationship with any company whose stock is mentioned in this article.