Quick Take
WatchGuard (WGRD) intends to raise $75 million in a U.S. IPO, according to an S-1 registration statement.
The firm provides mobile video solutions for law enforcement and guarding with software and integrated hardware devices.
WatchGuard is transitioning its focus from in-car to body-worn systems, as market demand grows.
I'll provide an update when we know more about the proposed IPO terms.
Company
Allen, TX-based WatchGuard was founded in 2002 to provide mobile video solutions for law enforcement and security guard operations.
Management is headed by founder and CEO Robert Vanman. He was previously owner of Stalker Radar and President of Radar Sales.
The primary investor in the company is CEO Vanman and there are no known institutional investors. Vanman doesn't intend to sell shares in the IPO.
Technology
WatchGuard has developed new, innovative products that deliver the most compelling video evidence for law enforcement.
Below is a brief overview video of WatchGuard's Car Video System:
(Source: WatchGuard Video)
The company sells a variety of body-worn, in-car and on-motorcycle hardware devices that are paired with its software system for uploading, storage and management of video for operational and evidentiary purposes.
Market
According to a 2016 market research report by Freedonia, law enforcement and guarding with software and hardware device market in the U.S. is forecasted to reach $1.2 billion by 2020,
This represents a CAGR of 3.5% from 2016 to 2020.
This market growth is due to the increasing number of guards and law enforcement officers which are forecasted to contribute to a rising amount of equipment sales per officer.
The company stands to further benefit from the rising adoption of expensive, high technology products such as license plate readers, stationary cameras, body cameras, conducted electrical weapons, and drones.
Competition
Major competitive vendors that provide WatchGuard include:
In-Car video market:
L3
Panasonic
Coban
Digital Ally
Body-Worn camera market:
Axon
VIEVU
Panasonic
Reveal Media
L3
Digital Ally
Motorola
(Source: WatchGuard S-1)
Management says that there is growing "demand for high-quality video solutions that provide both the general public and law enforcement greater transparency and accountability in law enforcement incident reporting."
Financials
WatchGuard's recent financial results can be summarized as follows:
Growing

topline

revenue although at a slightly decreasing rate: 29%
High and stable gross margin at 57%
Increasing cash flow from operations at $16.9 million through Sept 30, 2017
Below are the company's operational results for the past two and ¾ years (Audited GAAP for full years):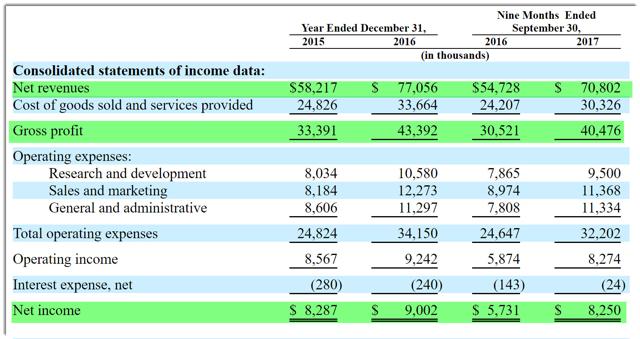 (Source: WatchGuard S-1)
Revenue
Through Sept 30, 2017: $70.8 million, 29% increase vs. prior
2016: $77 million, 32% increase vs. prior
2015: $58.2 million
Gross Margin
Through Sept 30, 2017: 57%
2016: 56%
2015: 57%
Cash Flow from Operations
Through Sept 30, 2017: $16.9 million cash flow from operations
2016: $8.2 million cash flow from operations
2015: $8.3 million cash flow from operations
As of September 30, 2017, the company had $2.5 million in cash and $41.4 million in total liabilities. (Interim unaudited)
IPO Details
WatchGuard intends to raise $75 million in gross proceeds from an IPO of its common stock.
Management says it will use the net proceeds from the IPO as follows:
We intend to use the net proceeds we receive from this offering for [i] the repayment of the outstanding balance under the TCB Revolving Facility, [ii] the repayment of the TCB Construction Loan, [iii] financing ongoing construction, furnishings and equipment costs related to our new headquarters and [iv] general corporate purposes, including additions to working capital and capital expenditures.
The balance on the TCB Revolving Facility was $9.5 million as of September 30, 2017, and the TCB Construction Loan was made in the total amount of $24.8 million to finance the construction of its headquarters and main production facilities.
So the combined balances to be repaid with the IPO proceeds total $34.3 million, leaving approximately $35 million in cash for the firm's future growth initiatives.
Listed managers of the IPO are Barclays, SunTrust Robinson Humphrey, Oppenheimer & Co. and Cowen.
Commentary
WatchGuard is in the process of transitioning the focus of its business from law enforcement and security guard in-car video recording systems to body-worn systems.
Presumably, this transition is to take advantage of what management perceives as a better growth opportunity within the U.S. market for wearable recording devices in the aftermath of numerous high-profile police controversies.
I tend to concur. Looking at inventory write-offs in the S-1, management is getting rid of outdated products as it moves toward more modern equipment offerings.
In fact, the firm stated that in 2015 it sold 9,284 in-car systems vs. 6,389 body-worn systems; in 2016, that relationship flipped as it sold 12,643 body-worn cameras and 10,720 in-car systems.
However, WatchGuard faces fragmented competition in a noisy market as well as local police agencies under the ever-present budgetary restraints of having to 'do more with less.'
Financial performance has been impressive, with strong topline revenue growth, stable gross margins and increasing cash flow from operations.
The company appears to be financially well-managed and well-positioned to take advantage of the trend to body-worn systems integrated with evidence retention software.
Although we don't know the terms of the IPO, I'm impressed with what I've seen so far about management's performance and the correct focus of WatchGuard.
I'll provide an update when we know the details of the IPO.
Expected IPO Date: Undisclosed
Disclosure: I/we have no positions in any stocks mentioned, and no plans to initiate any positions within the next 72 hours.
I wrote this article myself, and it expresses my own opinions. I am not receiving compensation for it (other than from Seeking Alpha). I have no business relationship with any company whose stock is mentioned in this article.