Welcome to the 48th entry in our Runner of the Year (ROTY) series.
Our model account utilizes a full-position size of $10,000 and can hold up to 10 positions. Trades typically occur in quarter increments ($2,500) with cost averages calculated at the day's close. The model account is primarily for referential purposes, so no matter a reader's account size, they can easily follow along and scale trades accordingly.
Author's note: Readers are encouraged to pay close attention to each entry in the series, as positions could be added to or sold at any moment for a variety of reasons (material events, red flags, swapping out for a more promising stock, etc.).
Expect one to three editions of ROTY to be published each week, depending on developments and trades.
Stocks mentioned in ROTY editions at times experience significant volatility, especially on days articles are published. Readers are encouraged to avoid the urge to impulse-buy, taking the time to evaluate ideas for themselves, doing due diligence, and only making trades as part of their own plan. ROTY is not about blindly following, but instead aiding readers in becoming better traders/investors as they make their own decisions.
Current Snapshot of ROTY Model Account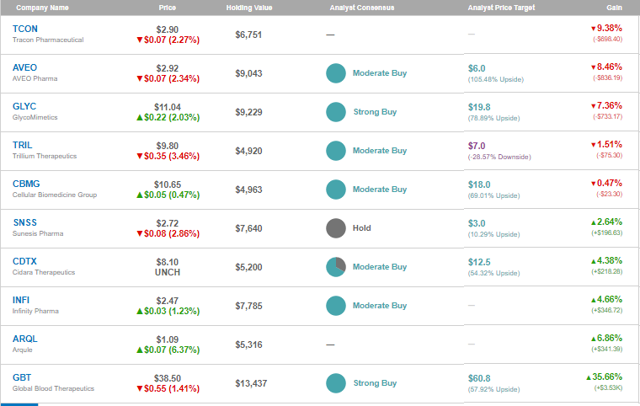 Above: Basic View
Below: Detailed Version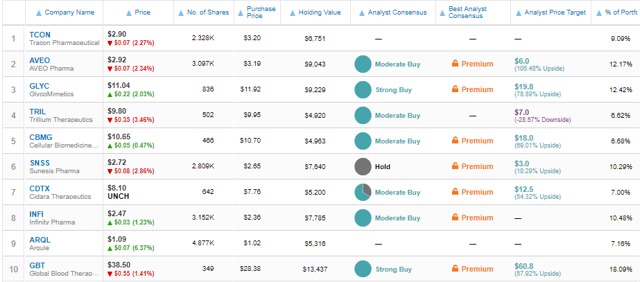 Performance Since We Started Tracking

Keep in mind that all trades take place at the day's closing price when an article is published for the sake of transparency.
While the benchmark (S&P 500) above is automatically included in TipRanks, readers should be aware that I don't care much for the use of portfolio benchmarks. For me, the past decade or so, it's only been about absolute returns, consistent profits, and learning from my rough patches.
Current ROTY Contenders

Remember that the Contenders List consists of stocks that are potentially setting up for a big move and/or have interesting catalysts coming up. They are not official ROTY ideas, but we keep an eye on them in case it appears one or more are setting up nicely (chart/fundamentals).
General Commentary
When a stock doesn't act as you thought it would, or a thesis appears not to be playing out as anticipated, it's time to sell. For many, selling losers in your portfolio can be quite difficult. It can feel as if surrendering, especially if you are only slightly in the red or still showing a mild profit.
However, as I explained to a reader recently, my mentality is that one should only be invested in one's best ideas. Continually (every week) reevaluate your current holdings and technical action for any material developments or changes.
Another way to think of it is to ask yourself the following questions:
If I didn't already own this stock, would I be buying it now?
What could go wrong? How could I lose money? What is the probability of that outcome?
Are the price and volume action reflecting renewed interest by buyers? How is the stock acting relative to competitors or a corresponding index?
Updates on Model Account Positions
Tracon Pharmaceuticals (TCON)- The company's third quarter results proved quite telling, with near-term catalysts announced in the form of DE-122 data and results from the phase 1b/2 trial of TRC105 and Votrient in patients with angiosarcoma potentially driving upside. Due to management's commentary, I am slightly optimistic on DE-122's chances in wet AMD. I also note that top-line PFS data from the randomized phase 2b TRAXAR study of TRC105 and Inlyta in patients with advanced or metastatic renal cell carcinoma has been pushed back to early 2018. This suggests to me that patients are taking longer to progress, and there is a higher chance of positive results.
GlycoMimetics (GLYC)- The company provided its third quarter update, and I am encouraged that FDA discussions concerning the design of a phase 3 study continue to progress.
Infinity Pharmaceuticals (INFI)- The company provided its third quarter update. While risky, I look forward to SITC data and hope that prior safety concerns prove unfounded. If data is encouraging, this becomes an oncology play that is attractive across multiple time frames due to continued readouts throughout 2018. These include results from the monotherapy expansion cohort as well as data from the combination dose escalation and disease-specific expansion cohorts in the first half of next year.
ArQule (ARQL)- The company raised another $9.5 million in a private placement consisting of Series A Convertible Stock and warrants. It appears to me that some institutional investors really want in on this one.
Sunesis Pharmaceuticals (SNSS)- The company filed for a $100 mixed shelf offering. I wouldn't read too much into it.
Today's ROTY Model Account Trades
1. Selling our entire position in Cellular Biomedicine Group (CBMG)- This was more of a run-up play based on interest in the CAR-T sector, but it hasn't shown the strength I was looking for. As stated in my prior thesis, I didn't plan on holding through results as risk is much higher here.
Final Thoughts
With weakness in the biotech sector and considerable volatility in our other positions, I am in no rush to replace our sold position with other stocks. I plan on continuing scans and trying to be more methodical in my selections, showing patience and taking more time to reflect prior to taking action.
Keep in mind that my objective for readers is to make their own decisions, trading their own plans, and adapting ROTY to fit their own needs and objectives. If you don't agree with some of the holdings in the model account (or they simply don't appeal to you), consider substituting ideas from your own research while still implementing the overall strategy.
Feel free to ask questions, as we strive to have an ego-free atmosphere where readers bounce ideas off each other and contribute their own DD. The ROTY community consists of both expert and novice traders/investors who are quite generous with their time and knowledge.
In the end, the goal is to constantly improve, booking more profits and especially managing risk and emotions. We learn from losers and winners alike, knowing that if we stick to the process and analyze our trades, the end result is a growing brokerage account.
*Each position entails its own unique risks, from binary catalysts to disappointing data, competition to dilution. Weakness in the biotech space, as well as ideas with a lack of near-term catalysts, could also contribute to increased volatility.
**All positions in the ROTY model account are established at the closing price on the day this article is published for the sake of transparency.
Author's note: My goal is to bring to readers' attention undervalued stocks with catalysts that could propel shares higher, as well as provide a fresh perspective on stocks you may already be aware of. I also touch on planning trades and risk management, as those are two areas I feel are often neglected. If you found value in the above article, consider clicking the orange "Follow" button and getting email alerts to receive my latest content. My sincere appreciation for readers who add value and join the discussion in the comments section, as well as those who share my work with others who could benefit from it.
Disclaimer: Commentary presented is not individualized investment advice. Opinions offered here are not personalized recommendations. Readers are expected to do their own due diligence or consult an investment professional if needed prior to making trades. Strategies discussed should not be mistaken for recommendations, and past performance may not be indicative of future results. Although I do my best to present factual research, I do not in any way guarantee the accuracy of the information I post. Investing in common stock can result in partial or total loss of capital. In other words, readers are expected to (and encouraged) form their own trading plan, do their own research and take responsibility for their own actions. If they are not able or willing to do so, better to buy index funds or find a thoroughly vetted fee-only financial advisor to handle your account. I am in a collaborative relationship with The Biotech Forum/Bret Jensen.
Disclosure: I am/we are long AVEO, TCON, TRIL, CBMG, INFI. I wrote this article myself, and it expresses my own opinions. I am not receiving compensation for it (other than from Seeking Alpha). I have no business relationship with any company whose stock is mentioned in this article.
Editor's Note: This article covers one or more microcap stocks. Please be aware of the risks associated with these stocks.