Aurinia Pharmaceuticals (NASDAQ:AUPH)
Pipeline Research and Valuation
Current Price: $5.82
1-Year Price Target: $10.00
2020 Price Target: $26.00
Sector: Biotechnology
Investment Type: Speculative
What Is Voclosporin?


Voclosporin is an analog of the immunosupressor, cyclosporine, and is currently being tested by Aurinia for treatment of lupus nephritis. The drug was originally composed of equal parts cis and trans geometric isomer of an amino acid-1 modified cyclosporine. Later, Roche (OTCQX:RHHBY) would modify the manufacturing method, yielding a predominantly trans isomer. The addition of a trans isomer enables the functional benefits of volclosporin over legacy CNIs, contributing to the drug's greater potency and efficacy in lower doses. This is also important to keep in mind when it comes to the debate regarding patent protections.
The Opportunity in LN, DES, and MCD/FSGS
Lupus Nephritis (LN)
Aurinia has identified the United States, Europe and Japan as their major markets for Lupus Nephritis, targeting $1.4 billion in peak sales potential between these three regions. The total patient population for these regions are in excess of 252,000 patients, which is a well-defined market.
In a Phase IIB study, Aurinia proved voclosporin's efficacy in increasing remission rate in LN patients from 49.4% in the control group to 69.7% (low dose) and 65.7% (high dose) in the Voclosporin group with a low p=0.007 significance at 48 weeks. Similar results were recorded at the 24-week checkpoint. There are concerns regarding dose adverse effects, however, this has been observed in various cyclosporine trials and is characteristic of the drug.
The 13 deaths recorded during the clinical trial appear to raise concern regarding the safety of voclosporin, but all deaths were observed by the FDA to be unrelated to the treatment. Additionally, 85% of those deaths occurred in Asian countries, where Lupus is a far deadlier disease due to the low quality of medical care relative to other countries and testing locations.
A central complaint among current LN patients taking CellCept is the side effects of the large steroid taper they have to take in conjunction with the treatment. Voclosporin effectively lowers the necessary steroid taper, improving the patient's experience and the safety profile of the treatment. The improved compound leads to quicker, longer response time due to the improved potency of the drug.
And these great results make sense given the chemical properties of the molecule. Cyclosporine has proven to show efficacy in improving the remission rate of LN patients, and Voclosporin is simply an improvement upon the already proven compound. The molecule is mostly the same, with a predominant trans-isomer yielded from Roche's adjusted manufacturing process. This property gives the molecule its improved functionality over cyclosporine.
Dry Eye Syndrome (DES)
Aurinia plans to treat Dry Eye Syndrome with their ophthalmic solution they're calling VOS. Dry Eye Syndrome is estimated to effect nearly 20 million people in the US, the market continues to grow with an aging population. While the rest of Aurinia's pipeline is subject to patent extension approval, the VOS solution is completely patent protected through 2031.
Most investors are focused on the potential Voclosporin has in LN, but I think the opportunity in DES is even more enticing. If VOS really does perform in a way that management describes, and they're able to bring this to market, there is no doubt this will consistently do in $1 billion+ in annual sales. If they capture a similar market share as Restasis, this has the potential to bring in nearly $2 billion in peak sales.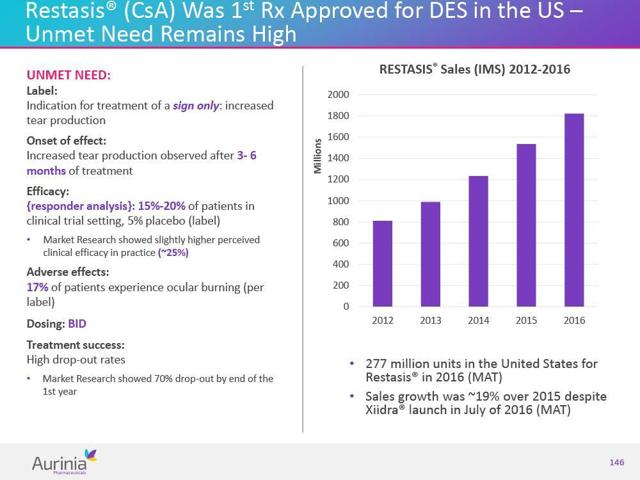 The DES market is currently dominated by Allergan (NYSE:AGN), and their treatment known as Restasis. Restasis did $1.6 billion in sales in 2016, capturing approximately 50% of the entire dry eye market ($3.4 billion), a market which is expected to grow to $4.5 billion by 2020, when Aurinia expects to receive regulatory approval for use in DES. As successful as Restasis is, the treatment has flaws that Voclosporin aims to resolve.
About 15-20% of patients on Restasis experience a burning sensation in their eyes, and the treatment can take anywhere from 3-6 months to actually increase tear production in the patient. Additionally, less than 1/3rd of patients on the treatment experience any improvement at all, and cannot use Restasis as an effective treatment. There is a large unmet medical need that Voclosporin aims to meet.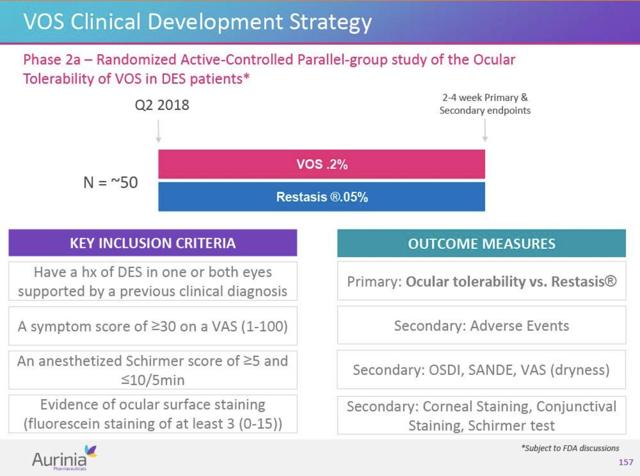 Voclosporin has already proven efficacy in canines, and Aurinia has partnered with Merck Animal Health to market and sell Voclosporin. Additionally, the company observed greater efficacy and safety in a small scale 30-person trial when compared with Restasis. They hope to achieve the same positive results in their Phase IIa study set to begin in early 2018, with the goal of bringing the drug to market in 2021. According to data presented at a recent R&D day, Aurinia announced that Voclosporin is 4 times as potent when compared to Restasis, due to the chemical properties which allow for a higher concentration of the active ingredient in the administered solution.
This also allows for lower, and less frequent, dosing, with Voclosporin only being needed once daily when compared to Restasis which needs to be taken twice daily. These advantages all contribute to the value of Voclosporin in this indication. The share price didn't react to this news, and I don't believe the market is giving any significant value to this pipeline indication which has the potential to come close to or even exceed sales in LN.
There isn't enough data to conclusively say whether or not this will be successful, but management has expressed that they explored several other indications, and are only pursuing the indications which showed the highest early clinical promise.
Minimal Change Disease (MCD) and FSGS
MCD and FSGS are Nephrotic syndromes that affect approximately 60,000 Americans. The disease damages the kidneys and leads to a condition known as proteinuria. Normally, kidneys filter most protein that passes through, but in this condition, the kidney cannot properly filter proteins, leading to elevated levels in urine. For patients with MCD or FSGS, proteinuria can lead to long-term kidney damage and failure.
Voclosporin has shown early efficacy and statistical significance in decreasing protein levels. The same benefits exist over cyclosporine as in other indications, and the improved potency of the compound allows for lower dosing and an improved safety profile.

The current treatment for MCD/FSGS carries hyperkalemia as a side effect, leading to elevated levels of potassium in the blood. Based on early clinical data, Voclosporin is able to show efficacy in addition to maintaining normal potassium levels. When dealing with kidney disease, it's incredibly important to keep the kidneys as healthy as possible as to not create long-term damage, and Voclosporin appears to show early promise in delivering these results.
Aurinia's Patent Issue – Short Thesis De-bunking
When a biotech company has a blockbuster drug that is set to make billions in peak sales, the amount of time the company has to bring in cash flow is limited by their patent length. Once patents expire, the company loses exclusivity in the space and generics can come in and undercut them. Aurinia has a portfolio of patents for Voclosporin, however, those patents expire in 2022.
This means that Aurinia has very little time to bring in profits before their market could be taken by generics, and the company would not be able to provide a substantial return to its investors. This is a real concern, and it makes Aurinia's shares look expensive and risky given they have additional hurdles beyond receiving regulatory approval from the FDA.
This may seem like a death sentence for Aurinia, but the FDA implemented a program meant to incentivize companies to participate in risky clinical trials to bring a new drug to market. This is called a Patent Term Extension, and would give Aurinia an additional 5 years of exclusivity and allow for sales through 2027. Europe has a similar patent extension program to protect European sales for another 5 years beyond 2022. If the company receives regulatory approval for Voclosporin, they have 60 days to file for a Patent Term Extension, and management has expressed a high level of conviction in their chances of success.
Beyond this, due to the change in manufacturing by Roche, Aurinia can claim a New Chemical Entity extension, which would also add 5 years to the life of the patent. This wouldn't be an additional 5 years, but if they fail to receive the Patent Term Extension, this is something they could fall back on. The company will also be conducting a pediatric study for voclosporin, for which they will be awarded an additional 6 months of exclusivity regardless of the outcome.
They have the ability to extend their sales for another 4 years in the EU if they can receive an extended patent extension which would give Voclosporin exclusivity in the EU through 2031. Due to how the chemical properties of the drug were modified with Roche's manufacturing process, they could be awarded an additional 607 days of exclusivity in the US, extending their exclusivity through 2029.
This has the potential to allow Aurinia to collect ample amounts of cash flow in this period of time to obtain new pipeline assets and build out their business beyond Voclosporin. If Aurinia isn't bought out after good Phase III data, you can expect to see the experienced management team led by CEO David Glickman participate in M&A and asset purchases to create long-term shareholder value.
Patent Short Thesis Conclusion
To this date, this has been the main bear thesis for Aurinia and contributes to the large number of shares sold short (>25%). This is also the reason the company is trading at an ~$500 million valuation when they have a multibillion-dollar drug in Phase III with great data, and additional pipeline indications that could generate billions in peak sales. The uncertainty of receiving approval from the FDA and the additional uncertainty of not receiving a patent term extension is baked into the price of the stock and has pushed the stock down to a point where the shares can be considered criminally undervalued.
Management Working To Protect The IP Of Voclosporin
Outside of Aurinia seeking a 5-year extension on their patents for voclosporin, management is taking precautionary steps towards protecting the IP of Voclosporin to maximize value and sales potential.
The drug itself is not easy to manufacture, and the process requires specialty equipment. Few facilities own the proper equipment necessary to produce the molecule and the largest, Lonza, has a long-term exclusivity agreement (through 2030) with Aurinia. The COO, Michael Martin, of Aurinia believes other manufacturers wouldn't be able to compete as far as production volume and quality, creating a technological moat around the IP.
The company also holds what they are calling "trade secrets" regarding the method of production and precise temperature measurements that would take extensive research for generics companies to manufacture. Aurinia will be applying for manufacturing patents this year, which would further protect Aurinia from generics taking market share.
This means that Aurinia could add a few years of strong sales beyond their patent extension expiration in 2028 as generics struggle to replicate voclosporin and produce at scale. This also serves as a positive for Aurinia if they don't receive a patent extension for voclosporin, as they could have strong sales well beyond the 2022 patent expiration if the manufacturing process is as complex as management is claiming. This of course is speculation, but it bodes well for Aurinia in the worst-case scenario they aren't given a patent term extension for Voclosporin.
Valuation
It's difficult to accurately value a clinical stage biotech as sentiments shift and new information becomes readily available. The model I'm using is based on discounted cash flow using market estimates and historic information. I tried to keep my projections relatively conservative as the price can get easily inflated with overly-optimistic assumptions. Aurinia currently has enough cash to make it through approval in 2020, so I'm assuming they will have no net cash in 2020 when Voclosporin receives a decision.
Valuing Lupus Nephritis Cash Flows
This indication is where the company has focused a majority of its time and resources and where I'm most confident they will receive approval. The patient population for LN in the United States, Europe, and Japan are approximately 85,000, 134,000, and 33,000 respectively. Based on current treatment prices for LN, I believe Aurinia can charge between $30,000-50,000 annually for the treatment. For the purposes of this model, I'll be using $30,000 as the treatment cost.
This price is discounted by 65% in the EU to account for the strict drug pricing regulations set in place. If approved, Voclosporin will be the best available treatment for patients and will allow Aurinia to quickly take market share, and we estimate Voclosporin will capture 30% of the LN market at peak. This could easily exceed 50% but I'm staying consistent with conservative estimates. This would result in peak international sales of $1.48 billion in peak sales for the drug, in line with management expectations.
Projected LN Sales

Next, we have to analyze the patent issues. Currently, the company has patent protection through 2022 without any extension. However, management and investors such as myself, are confident that Aurinia will qualify for the Patent Term Extension in both the United States and Europe for an additional 5 years, providing cash flow through 2027. In Japan, that patent extension is 8 years. In Europe, Aurinia can receive an additional extension through 2031.

Aurinia's Projected Value Upon FDA Approval In 2020
Aurinia currently has approximately $200m in cash on their balance sheet, but they expect to use this cash to fund various clinical trials so I'm assuming zero net cash in 2020. After accounting for R&D, SG&A, and tax provisions, I can use the company's free cash flows for an accurate stock valuation. The table above shows the value of those cash flows given 3 periods of exclusivity Aurinia could possibly receive. These price targets are for 2020, when the drug is scheduled to receive regulatory approval.
A discount rate of 20% could be considered high in this context, but there is still uncertainty to price in regarding management's ability to meet sales goals. Choosing a discount rate for a clinical stage biotech company is fairly arbitrary and I don't intend for this to be an accurate projection of WACC, so using a higher value keeps our estimates fairly conservative. LN is a historically difficult indication to receive approval for, but the threat of competition disrupting the market adds to the uncertainty of Aurinia being able to deliver those cash flows.
Valuing Aurinia's New Pipeline
Dry Eye Syndrome
Projected Sales

Dry Eye Syndrome is expected to be a $3.6 billion industry in the United States when Voclosporin will reach the market. With the current market leader, Restasis, losing its patent protection in the past week, there is room for a new market leader to emerge. This model has Voclosporin priced about 20% below the current standard of care for DES, at $4,000 annually.
At peak, it's likely that Aurinia can capture 30% of the DES market given its improved efficacy and safety, translating to peak sales exceeding $1 billion. The projection of 30% market share has the potential of being too reserved, as Restasis currently accounts for ~50% of the DES market and carries unfavorable side effects.
Aurinia plans to bring Voclosporin to the DES market by 2021, lagging LN by one year. Given the company has patent protection and exclusivity through 2031, this has the potential to have massive returns for shareholders.
Minimal Change Disease/FSGS

Sales Projections


Minimal Change Disease is a relatively small market but, similar to Lupus Nephritis, there are no approved treatments for the indication. The high demand should allow Aurinia to easily begin to capture market share, generating revenues after launch. Aurinia is planning to take this indication to market in 2022, so this will have virtually no value to shareholders in the event that Aurinia does not receive a patent term extension.

2020 Price Targets

Out of the 3 indications Voclosporin aims to treat, MCD/FSGS has the least supporting clinical data, and is still in its early stages. However, in the long run, this indication could add an additional 8% to the share value and would further prove Voclosporin as a leading class CNI.
Conclusion
It's important to remember that this is a clinical stage biotech company with one primary asset. Although I have confidence that the company will be successful in bringing these drugs to market, this should still be treated as a speculative investment. If things do not go as planned for Aurinia, you will likely lose most, if not all of your investment.
With that being said, I think Aurinia shares provide a great risk/reward given the current valuation, management experience, and pipeline potential. The short thesis bears are clinging to is fundamentally flawed, and I can't imagine there will be many people shorting the stock as we approach upcoming catalysts and data readouts. If you have the risk tolerance to add a speculative biotech to your portfolio, Aurinia has the potential for huge returns.
Disclosure: I am/we are long AUPH.
I wrote this article myself, and it expresses my own opinions. I am not receiving compensation for it (other than from Seeking Alpha). I have no business relationship with any company whose stock is mentioned in this article.