Priceline Group (PCLN), Expedia (EXPE) and TripAdvisor(TRIP) had a rough couple of weeks as each reported earnings. The chart below clearly shows that Wall Street was not happy at all with the earnings reports and really punished the group.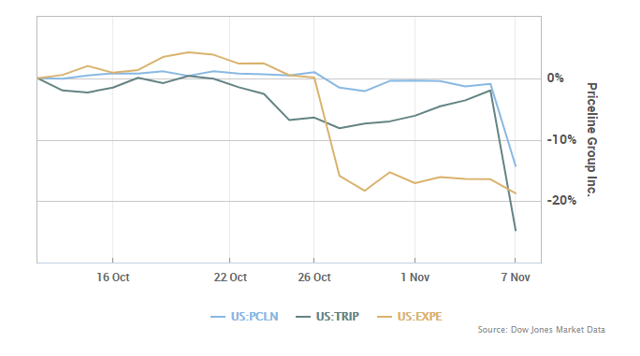 Executives of the companies have been blaming the current industry "Ad Wars" as the reason for the problems in the industry. All three companies are spending heavy on performance-based marketing as the preferred strategy going forward according to Expedia's Chief Financial Officer Alan Pickerill, who recently said the following during the company's recent 3rd quarter conference call.
"We continue to lean into performance-based marketing channels and are ramping up investments in our hotel market management sales force, both of which put pressure on our bottom line performance near term, but both of which we believe are the right investments for the long-term"
On the Priceline conference call, its Chief Financial Officer Daniel Finnegan guided lower in the near term for similar reasons, which caused the company's stock to do this:

This is what he actually said:
"Chief Executive Glenn Fogel just discussed steps we are taking to optimize the efficiency of our performance advertising spend, which we forecast will have a modestly negative impact on top-line growth for the coming quarters,"
Then finally TripAdvisor released the following in its recent earnings release:
"Recent partner bidding trends and our reallocation of dollars away from online channels with short-term payback will cause click-based and transaction revenue growth to slow further in Q4."
Which caused its stock price to do this:

Obviously, there are problems in the industry in the short term according to each management team, but we believe that the reason for much of this carnage is simply that all three stocks are overbought according to our Friedrich Research, as we show what each company's Quantitative Analysis Chart looked like prior to each earnings release.
First, let's begin with Expedia whose recent closing price was:

Now if you looked at our Friedrich Chart, prior to the company's report, you would have seen this.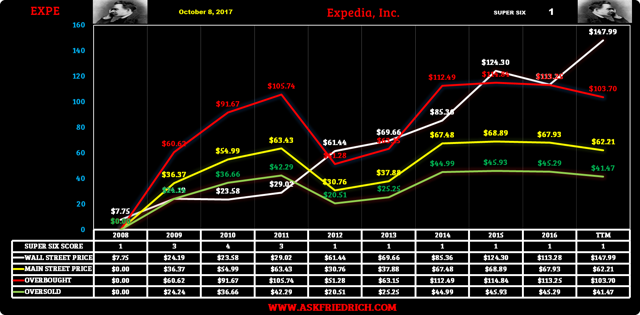 Friedrich analyzes each company we track, based on what we believe to be its Main Street Valuation (Yellow Line), which is calculated using our unique ratios that analyze the complete balance sheet, income and cash flow statements, going back ten years, in most cases. The Wall Street Price per share (White Line) is then compared to the Main Street price per share and finally an overbought (Red Line), oversold (Green Line) or hold rating is generated.
From our quantitative chart above, you can clearly see that in 2010, Expedia was a bargain at $23.58, as it was selling for more than half its Main Street price and someone taking our Friedrich Algorithm's advice then would have done quite well buying it. You can also see that the Main Street price only went from $54.99 in 2010 to its current $62.21 valuation. The Wall Street price on the other hand went from $23.58 to $147.99.
So obviously, the company from a free cash flow generation point of view did not grow much, while its stock price went from oversold to overbought. The overbought signal for those interested is always 66% above the Main Street price and the oversold signal is always 33% below the Main Street price. 99% of our work is based on Main Street analysis, and once we determine each company's Main Street value, we then compare it to what Benjamin Graham's "Mr. Market" is offering each Wall Street price at.
Clearly, Expedia went from an extreme bargain to extremely overbought in just 7 years. Once a stock breaks above its Overbought price, we then continue to hold it until we get a negative catalyst (bad earnings report, for example) in a bull market and/or just sell at the red line in a bear market, without waiting for any catalyst. We then go to cash with the proceeds and wait patiently for someplace better to park our money. We are very long-term investors when we buy and hope to never sell and only do so when we are forced out. We pay little attention to what Wall Street says, as we rely on our own analysis.
The next stock is Priceline: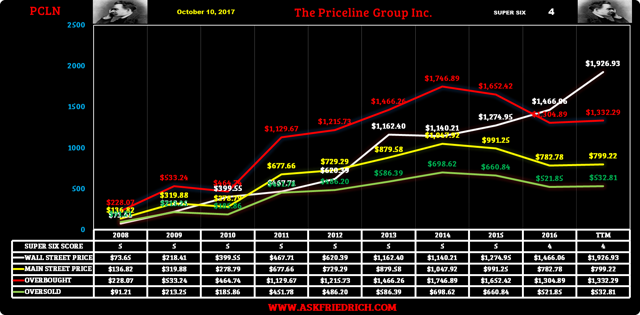 In 2008, the stock was a real bargain at $73.65 and anyone following our Friedrich chart then, would have not seen a sell signal for another 8 years, as Priceline is an extremely well-managed company. This can be seen from its Main Street price going from $136 in 2008 to $799 currently. Obviously, Wall Street overshot the mark and that is what usually makes lower forward earnings guidance even more painful. So again, we are talking about an extremely overbought situation.
The next stock is TripAdvisor: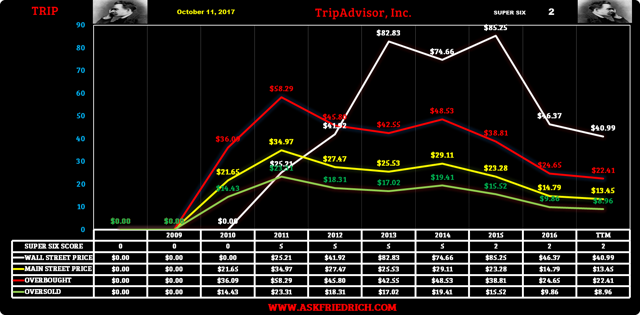 The company went public on December 21, 2011 and was priced very reasonably at the time (near its oversold price) and proceeded to shoot up to $82.83 or basically twice our overbought price. Certain momentum stocks tend to do that and that is why we wait for a negative catalyst in order to sell, once we own something.
This is done because Wall Street tends to overshoot on the upside as well as the downside, so we can ride the wave as well as get amazing bargains from time to time. Clearly, Wall Street got it wrong and at its recent $30 Wall Street price, still has some more to go down according to our Friedrich Algorithm. I officially launched Friedrich on May 1, 2015 and thus, we never had the opportunity to buy any of these.
In Conclusion, clearly, the increased Ad spending did play a part in all three stories (as a negative catalyst) but Main Street performance growth was clearly negative in all three cases and when you add the extreme overbought conditions, you have a recipe for some serious losses in stock price, which is what happened.
As you can see, we give our subscribers ten years of data to view on every stock we analyze, so we are not market timers, but instead do 99% of our analysis on Main Street. I will close here and since I will probably get many requests in the comment section as to what an Apple Friedrich Chart would look like, here it is along with the corresponding Datafile that we also produce for each company we analyze: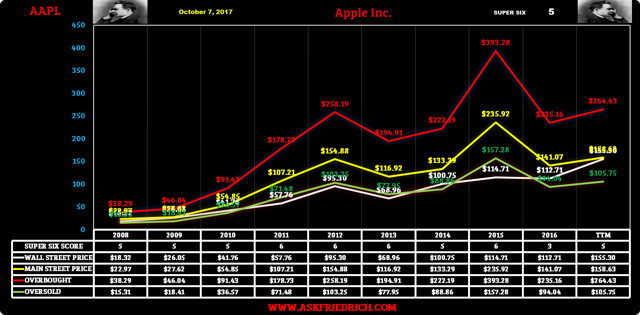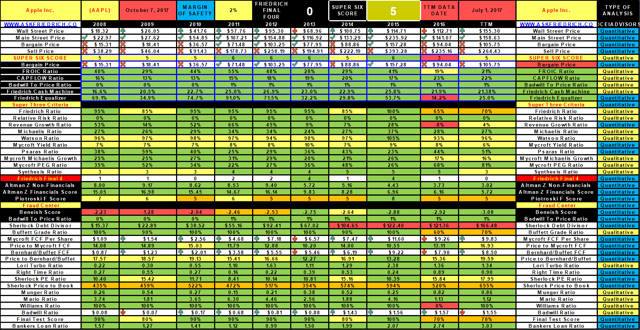 Obviously, you clearly have a different story going on with Apple (AAPL) on Main Street and Wall Street, compared to those three companies analyzed above and why Apple is one of our subscriber portfolio's largest holding.
If you have any questions, please feel free to ask them in the comment section below and don't forget to hit the "Follow" button after our username on top as we plan to do many more studies like this one in the near future.
Disclosure: I am/we are long AAPL. I wrote this article myself, and it expresses my own opinions. I am not receiving compensation for it (other than from Seeking Alpha). I have no business relationship with any company whose stock is mentioned in this article.
Additional disclosure: DISCLAIMER: This analysis is not advice to buy or sell this or any stock; it is just pointing out an objective observation of unique patterns that developed from our research. Factual material is obtained from sources believed to be reliable, but the poster is not responsible for any errors or omissions, or for the results of actions taken based on information contained herein. Nothing herein should be construed as an offer to buy or sell securities or to give individual investment advice.