REIT Rankings: Malls
In our REIT Rankings series, we analyze one of the fifteen real estate sectors. We rank REITs within the sectors based on both common and unique valuation metrics, presenting investors with numerous options that fit their own investing style and risk/return objectives.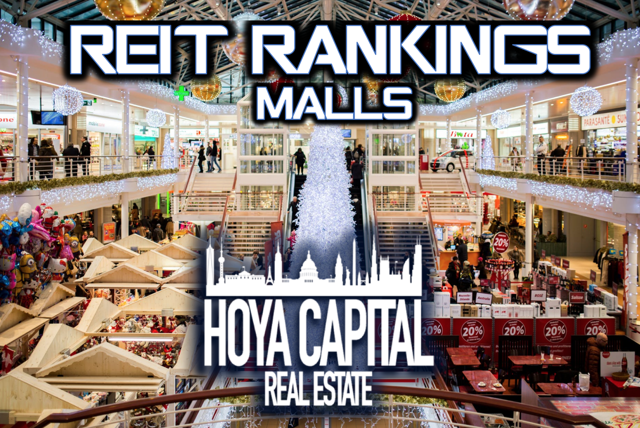 We encourage readers to follow our Seeking Alpha page (click "Follow" at the top) to continue to stay up to date on our REIT rankings, weekly recaps and analysis on the REIT and broader real estate sector.
Mall REIT Overview
Mall REITs comprise roughly 12% of the REIT Indexes (VNQ and IYR). In our value-weighted Mall REIT Index, we track eight malls, which account for roughly $90 billion in market value: CBL & Associates (CBL), GGP, Inc. (GGP), Macerich Co. (MAC), Pennsylvania REIT (PEI), Simon Property Group (SPG), Tanger Factory Outlets (SKT), Taubman Centers (TCO) and Washington Prime Group (WPG).

More than other sectors, it's critical to note the "quality focus" of these REITs. There has been a significant divergence in fundamentals and stock performance between higher-productivity malls and lower-productivity malls since the beginning of the prior recession.
Top-tier malls, as measured by tenant sales per square foot, continue to perform well across all metrics, including tenant sales, average rent and occupancy. Downsizing retailers have focused their investment into higher-performing stores and have continued to close weaker-performing stores in lower-tier malls. Amid the unusual binge in retail bankruptcies in early 2017, this bifurcation in performance has accelerated.
Recent Developments and Performance
The stock performance of mall REITs has not been pretty over the past year. Mall REITs are down more than 15% YTD, weighed down by the low-quality mall names, including CBL, Washington Prime Group and Pennsylvania REIT. The bleeding has ceased over the past quarter, however. The sector is higher by 1% since the end of the last earnings season.

The bifurcation between higher-quality mall REITs and lower-quality mall REITs has intensified, and 3Q17 earnings and comments during earnings season generally reflected this. Tenants of high-quality mall REITs reported 3.0% growth in same-store sales, and these REITs realized 2.2% higher average rents. Tenants at lower-quality mall REITs, however, reported just 0.8% growth in same-store sales, while the REITs realized zero growth in average rent. Occupancy at both high- and low-quality mall REITs has been solid, but it is clear that the lower-quality REITs are keeping this occupancy high by offering lower rental rates and other concessions to new and existing tenants. Leasing spreads at the three low-quality mall REITs recorded a negative -3% this quarter, compared to a robust 12% for the high-quality names.
CBL reported a weak quarter and cut its dividend, sending shares down more than 30%. Interestingly, while the quarter wasn't pretty, the 30% sell-off seems quite excessive by any metric. CBL trades at a 40-60% discount to Net Asset Value based on prevailing cap rates, despite the healthy 93% occupancy rate. While we are quite negative on low-productive malls, these valuations seem significantly out of line with the underlying fundamentals.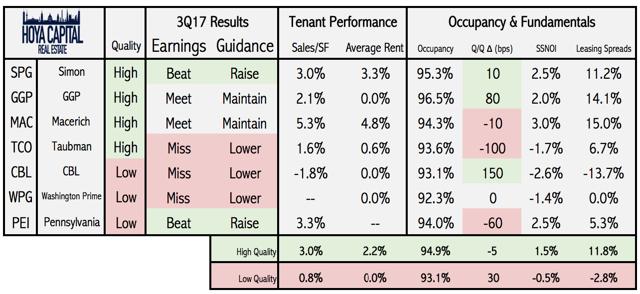 Over the past quarter and during earnings calls, several key themes and recent developments are being discussed.
The iPhone Effect
Since debuting the Apple Store in 2011, Apple (AAPL) has opened 270 stores in the United States, the majority of which are located in REIT-owned malls, skewed towards the high-quality properties. Apple is perhaps the most successful mall-based retailer during this time and, in many ways, has replaced the department stores as primary drivers of traffic into the mall. Its profound success in the mall format does not jive with the intensely negative narrative. Short-sellers have difficultly squaring away the success of Apple Stores with their thesis that malls are obsolete.
Our analysis shows that holiday sales performance and mall traffic has correlated with the iPhone super-cycle. Apple recently launched the iPhone X, the most anticipated iPhone since the iPhone 6 in 2014, the last time that the company changed the form factor of its flagship product. We spent hours poring through old 8-Ks and news articles, and believe that the "X" will have a similar effect on mall performance as the "6" did in 2014.
We estimate that the high-quality operators (SPG, GGP, TCO, MAC) saw 2-4% higher same-store tenant sales during this quarter because of the iPhone launch as shoppers came to the Apple Store to check out and buy the new device. Although it's impossible to see the impact on other retailers surrounding the Apple Store, we think it's safe to assume that other mall tenants experienced a boost in store traffic and same-store results.
We don't believe the "iPhone effect" on malls is priced into current estimates, and have not read any piece of research that mentions it. We scoured all earnings calls and did not find a single mention of Apple or the iPhone. For that reason, we expect the high-quality mall REITs to significantly surprise to the upside on same-store tenant sales metrics when they report 4Q17 earnings in February.
Brookfield May Move To Take GGP Private
According to a Bloomberg on November 7, Brookfield Asset Management, which currently owns 34% of GGP, held preliminary talks with the REIT to take the firm private at a 10-15% premium to the current share price. We have discussed for several quarters how mall REITs trade at steep discounts to Net Asset Value, meaning there is a wide disparity between private market valuations and public market REIT valuations. Before the information on November 7, GGP traded at a 20-30% discount to NAV. It has been exploiting this arbitrage opportunity through share buybacks, and now Brookfield is contemplating taking that one step further. GGP surged more than 16% on Tuesday after the news. If mall REITs continue to trade at these attractive valuations, we see further acquisition activity as a likely possibility.
Continued Divergence Between High- and Low-Quality Assets
The overall theme that we picked up from earnings calls was that fundamentals are improving into year end, particularly in the high-quality locations. SPG, GGP and MAC were noticeable upbeat and expressed confidence that occupancy is trending up heading into 2018. We noted far more uncertainty with the lower-quality mall REITs.
During REITWeek in June, we noted the same bifurcation in the general tone and confidence level of the mall REIT executives during the presentations and questions. The Tier-1 REITs executives were notably confident and relaxed in the face of a difficult line of questioning. They seemed somewhat amused and unconcerned about the negative price performance of late, which we took as a positive read-through. The lower-quality mall REIT executives, on the other hand, seemed defensive and perhaps overwhelmed by the task at hand. "The party is over," remarked one, noting that the firm used to be able to sit back and have retailers come to them, but now it is forced to be proactive and find solutions to improve its space and value proposition.
Mall Valuations Revised Down, But A Solid Print on the Forest City Deal
A number of analysts have published reports in the past quarter estimating a 5-15% decline in private market valuation of mall assets over the past year, attributed entirely to weak trends in "B" and "C" malls. Class "A" malls are widely seen as holding steady. Malls rarely change hands and are quite difficult to value without recent transactions.
Interestingly, the one significant mall transaction over the past quarter was closed at a solid valuation. Forest City Realty Trust sold 10 class B malls to Queensland Investment Corporation at a 5.1% cap rate. Malls of a similar quality would have an implied cap rate of 6-7% in the public REIT markets. While US REIT investors may have soured on malls, private market investors still see significant value in these assets. The question is: Will private market valuations be revised down, or will REIT valuations be revised up?
3 Reasons To Be Bullish on Mall REITs
1) Perception Doesn't Match Reality
"Shopping malls dying; trend expected to continue" reads a headline in the New Castle News. The article cites mounting threats from alternative electronic shopping, urbanization, a more cost-conscious consumer and a shifting attitude of the younger generations that no longer view malls as "cool." The date: March 2, 1991.

(New Castle News, NewspaperArchive.com, March 2, 1991)
Three years after this article hit the newsstands, Simon Property Group, the largest mall REIT, went public. Since its IPO, SPG has more than doubled the performance of the S&P 500, returning a compound annualized return of over 10%.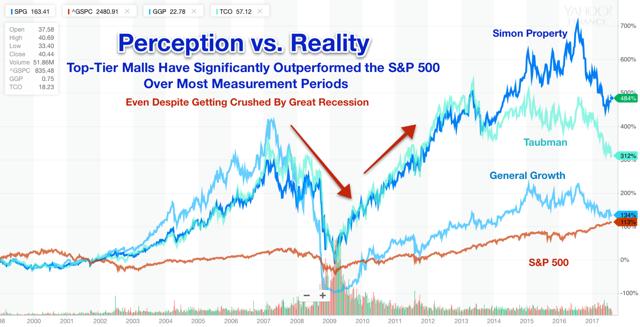 As retail and entertainment trends have come and gone, malls have shown notable resilience in the face of a continuously dim outlook. Threats associated with urbanization, then TV shopping and now e-commerce have prompted endless flows of negative press coverage. Department stores, which were once the primary attraction of malls, have given way to Apple, Tesla (TSLA), restaurants, gyms, grocery stores and healthcare facilities as primary traffic drivers. We continue to hear retailers discuss the importance of the omnichannel retail strategy: reaching the consumer in both physical and virtual formats. Even Amazon (AMZN) has begun to enter the brick-and-mortar format, and after the company's Whole Foods acquisition, clearly, its focus on this strategy will intensify in coming years.
It's important to clarify some misperceptions about the retail space. There is a narrative prevalent in the financial press that the US is extremely oversaturated with retail space. While it is true that the US has the highest retail space per capita, when this data is adjusted for the actual amount spent on retail trade by country, we see that the US is not far out of line with the rest of the world.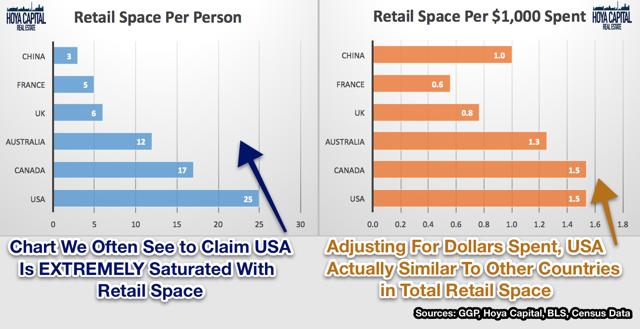 There is another financial media-fueled misperception related to the actual number of store closings and openings. In pursuit of the "retail is dying" narrative, store openings are rarely reported by financial media outlets, but store closings often get front-page treatment. Anecdotally, we have found that casual observers are somewhat shocked to learn that net new store openings/closings have averaged more than positive 1,000 per year since 2010. While the early part of 2017 has seen elevated store closings, analysts still forecast positive 500-1,000 net new store opening for full-year 2017. Store closings, however, have been concentrated in the apparel and fashion segments, a relatively larger share of the mall retail mix.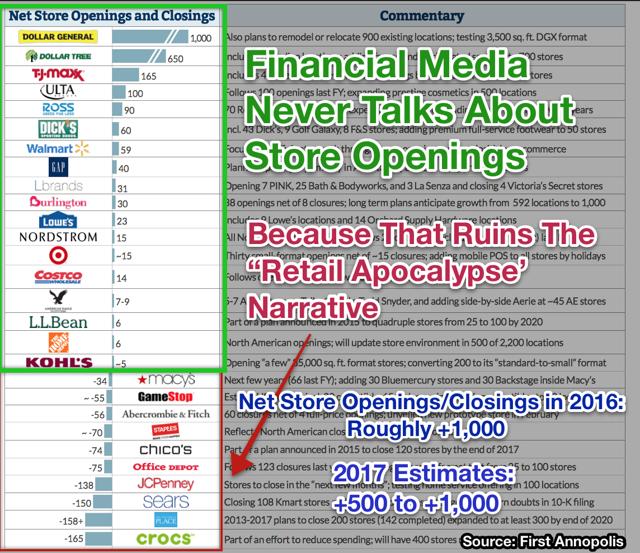 2) Brick-and-Mortar Sales Have Been Solid
September retail sales were stronger than expected, as core retail sales climbed 4.6% YoY and 0.5% MoM. While higher gasoline prices boosted the headline number, there was a continuation of strength in many of the retail categories. E-commerce growth has continued to slow through 2017, while brick-and-mortar sales have been solid above 2% YoY. We continue to point out that while online sales growth continues to take incremental market share away from traditional retail, the sentiment around brick-and-mortar retail appears to be far too negative given the data.

Our favorite chart below shows the "Amazon effect," or lack thereof, in many of the retail categories. Restaurants, furniture stores, grocery stores and building/home improvement retail sales continue to be strong. Even in the "retail losers" category, we've seen a recovery in the general merchandise and clothing categories in recent months, which are now in positive growth territory YoY. Only the electronics and sporting goods/books categories have seen negative YoY growth.

Traffic and retail sales continue to be solid at the high-quality mall locations, contrary to the prevailing narrative, aided by a concerted effort to emphasize "experiences" within the mall. Top-tier REITs continue to shift away from apparel-based retailers and have reported impressive demand within these more experience-oriented categories. Several mall REITs now report operating metrics "ex-apparel," and we understand why: when apparel retailers are removed, same-store sales are notably stronger. From MAC's last quarter conference call:
"The dislocation in apparel brands has been the transition from smaller traffic-based stores to larger brand dominant presentations. To us, this makes sense as building a retailer's brand with larger presentations in dominant centers fuels online and off-price distribution points... Longer term, we see the apparel category evolving, led by retailers presenting larger formats with stronger brand identity and better financial resources. This should bring more stability into the apparel tenant base. Since many of the larger format retailers are expanding from smaller store fleets, we continue to believe the new store activity will be disproportionately higher in the better quality centers. These changes in the existing tenant base, combined with growth in digitally native retailers and the introduction of new uses catering to changing lifestyle desires of our customers, will provide the support in the near-term to maintain our high occupancy levels."
3) Malls Have Successfully Transformed Mall Properties
Redeveloping vacant department store space is perhaps the biggest positive catalyst for the higher-quality mall REITs over the next several years. In-line mall tenants once relied on the department stores to drive traffic to smaller shops. This trend has shifted entirely, as department stores are now seen as a drag on in-line mall traffic, and many high-quality mall REITs are eager to get this space back to repurpose and improve in-line sales performance. Operating fundamentals and redevelopment of department stores were the focus of the discussions during REITWeek earlier this year as well. GGP and SPG realize low double-digit returns on vacated department stores. From GGP's last quarter earnings call:
"The recapture, redevelopment and re-tenanting of department store boxes is what we do. We've done over 115 to date. We have no vacant boxes. Each anchor box opportunity is different in its potential economics. What we found is that the tenants of all types want to be located in the best real estate, so when we recapture department store at one of our properties, we generally have it pre-leased prior to redevelopment. Future upside resides all with GGP."
Last quarter, Macerich made an interesting point, highlighting that brick-and-mortar retailers are, in fact, the elusive "last mile of retail distribution" hurdle that e-commerce retailers have not yet figured out how to crack. Beyond the accretive redevelopment of vacated department stores into higher-traffic experience-based shops such as gyms and grocery stores, we think there is potential in transforming this space into shared distribution hubs, which could potentially facilitate the elusive same-day delivery for retailers within the center. We believe we'll see some iteration of this model within the next five years. From MAC conference call:
"Our properties are, in fact, the last mile of retail distribution in some of the most densely populated and affluent markets in the U.S. The value of this model, I think to some degree, was enhanced and validated through the announcement in the last quarter that Amazon is going to stake a claim to that last mile with their purchase of Whole Foods. We own the number one gathering place for town square in each of these great markets. Rents and demand for our centers have been strong."
2 Reasons To Be Bearish on Mall REITs
1) Amazon and E-commerce Continue To Take Market Share
E-commerce is the elephant in the room, however, and will continue to pressure retail categories that are most at risk. Malls, particularly high-end malls located in desirable retail locations, have shifted their tenant mix towards retailers and entertainment establishments that are more "experience-oriented" and have been extensively renovated to make them more inviting as social gathering spaces.
E-commerce represents just over 10% of total retail sales but nearly 20% of "at-risk" categories (total retail minus auto, gas and food). Where will the "at-risk" e-commerce market share top out? Estimates vary widely, but we continue to believe it will be at the low end of the estimates for the next decade, evidenced by the already slowing rate of e-commerce growth. This has significant implications for retail real estate.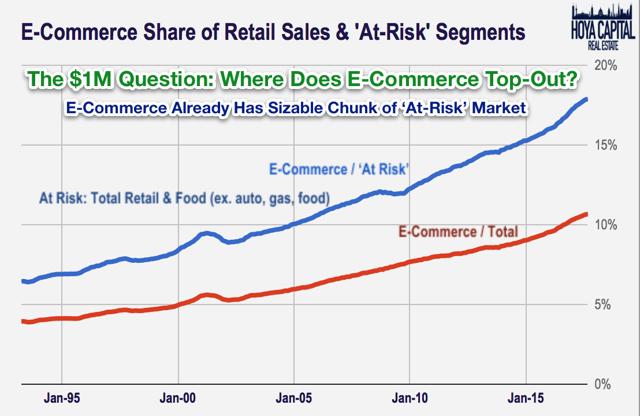 2) Amazon Plays By Different Rules
A flurry of recent academic studies and articles have been written that examine Amazon's oftentimes ugly underbelly. "Amazon's Antitrust Paradox," in the Yale Law Journal concluded, "Although Amazon has clocked staggering growth, it generates meager profits, choosing to price below-cost and expand widely instead. Through this strategy, the company has positioned itself at the center of e-commerce and now serves as an essential infrastructure for a host of other businesses that depend upon it. Elements of the firm's structure and conduct pose anti-competitive concerns-yet it has escaped antitrust scrutiny."
Amazon's "free" 2-day delivery is largely a function of the company's ability to pass the losses onto other business lines, notably its AWS data center business. Even after extracting subsidies and concessions from its primary distributor, the taxpayer-supported US Postal Service, the firm lost roughly $2.6 billion in shipping costs in Q4 2016.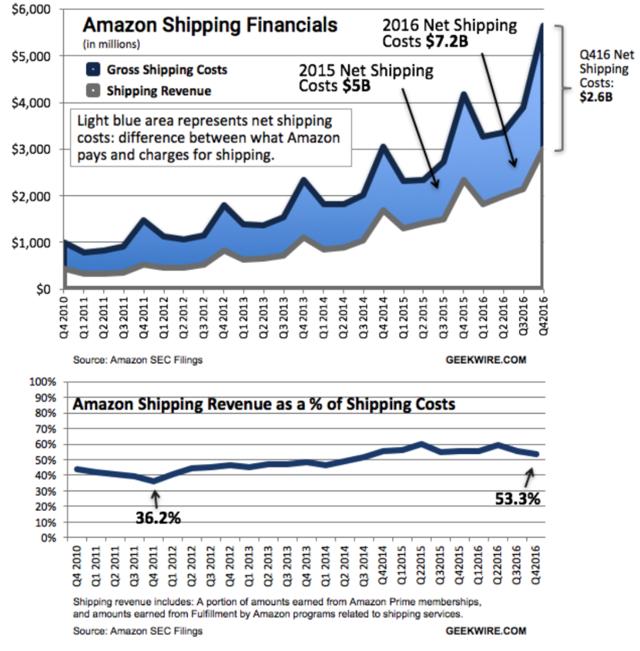 In another report, "Will Amazon Fool Us Twice: Why State and Local Governments Should Stop Subsidizing the Online Giant's Growing Distribution Network," the nonprofit group Good Jobs First concludes, "Amazon aggressively gained market share in part by long avoiding, and then minimizing, the collection of sales taxes. As it became less and less able to avoid collecting sales taxes it learned that it could sometimes extract lucrative taxpayer subsidies for them, and methodically started doing so in 2010-2011." Without the sales tax advantages and the ability to subsidize free delivery, based on our analysis, buying online would generally be more expensive than going to the store for the majority of retail items.
Valuation of Mall REITs
Compared to the other REIT sectors, mall REITs appear cheap across all metrics. Mall REITs trade at the lowest FCF multiples within the REIT sector. When we factor in the five-year growth expectations of the sector in the FCF/G metric, however, these names screen as slightly less attractive.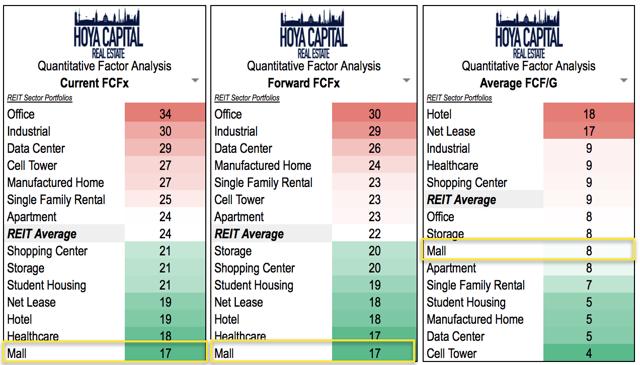 Within the sector, we note the significant divergence in valuations between the high-quality and the lower-quality mall REITs. CBL and WPG trade at mid-single digit FCF multiples, even after revising estimates significantly lower. The high-quality mall REITs, while trading above the sector average, are also cheap relative to REITs in other sectors.

Sensitivity to Equities and Interest Rates
Mall REITs are not highly sensitive to interest rates and respond more closely to movements in the equity markets. As a sector, mall REITs fall under our "Hybrid REIT" category and should be used by investors seeking longer-term dividend growth rather than immediate income.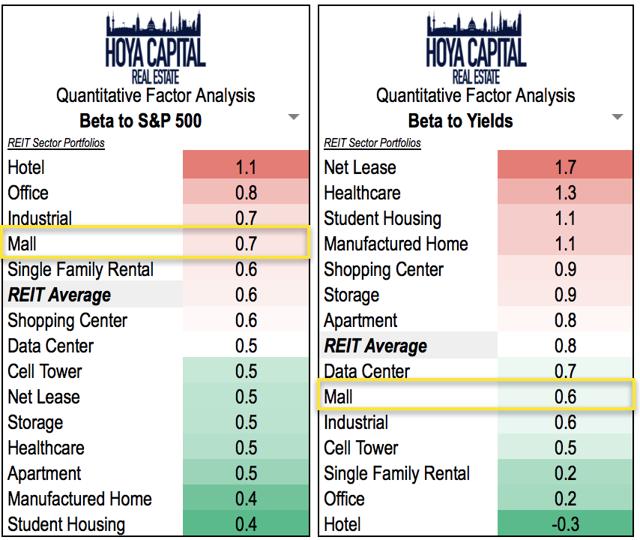 We separate REITs into three categories: Yield REITs, Growth REITs and Hybrid REITs. (Click on each link to read more information about our methodology). As a sector, mall REITs fall into the Hybrid REIT category.

Within the sector, we note that WPG, PEI and MAC have more Growth REIT characteristics while the rest of the sector falls into the Hybrid REIT category.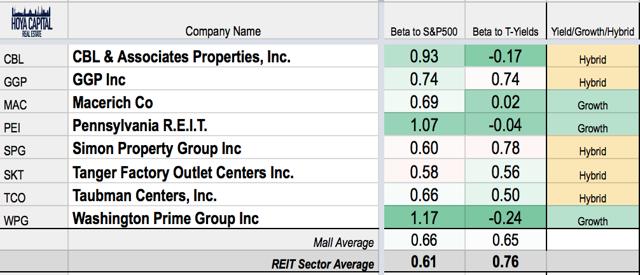 Dividend Yield and Payout Ratio
Based on dividend yield, mall REITs rank towards the top, paying an average yield 4.7%. They pay out just 76% of their available cash flow, one of the lowest payout ratios of any REIT sector. This low payout ratio gives mall REITs quite a large reserve to increase dividend distributions or fuel redevelopment.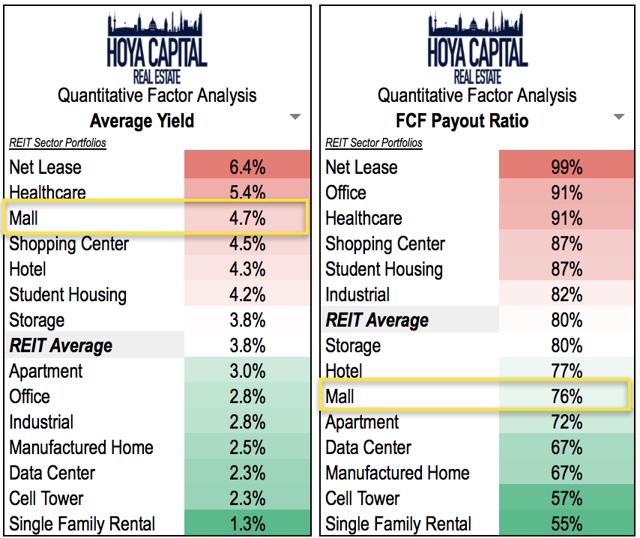 Within the sector, more than other REIT sectors, investors need to be cautious not to fall into common "value traps." CBL and WPG, both yielding over 14%, appear to be diamonds in the rough. The valuation analysis above, though, shows that these high yielders have a bleak growth outlook in the near term and could very well see declining free cash flows and declining dividends if the demand for lower-quality suburban mall space doesn't reverse the current downtrend.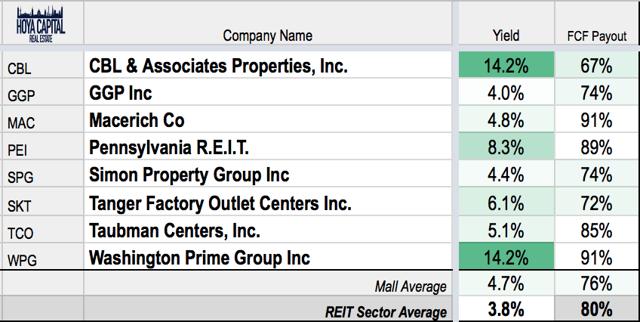 Bottom Line: Strong Holiday Expected for Malls
The bifurcation between top-tier and lower-tier mall REITs continued in 3Q17. High-quality mall REITs reported a strong quarter with improved traffic, higher tenant sales and strong rental rate increases. Lower-quality malls continue to struggle and have been hit disproportionally hard by the wave of bankruptcies and downsizing in the clothing and apparel segments. Department stores continue to lag.
Mall REITs, the most heavily shorted and maligned real estate sector, has an opportunity to change the narrative this holiday season. The high-quality mall REITs stand to benefit from Apple's iPhone. Our analysis shows that holiday sales performance and mall traffic has correlated with the iPhone super-cycle. We expect blowout numbers in tenant sales performance and shopper traffic in 4Q17.
The media narrative surrounding malls and brick-and-mortar retail remains decidedly and universally negative, as it has been for decades. Apple's success and growth in the mall format refutes this narrative. The disconnect between private market valuations and mall REIT valuations remains as wide as ever. Brookfield has held talks with GGP to go private, sending shares surging.
The data simply does not support the doom-and-gloom anecdotal evidence discussed. While the mainstream financial media has a tendency to selectively pick and choose facts and anecdotes that align with its intended narrative, the retail sales data, recent pricing events of private market mall assets and operational performance of the mall REITs strongly indicate that there is a disconnect between sentiment and reality.
We aggregate our rankings into a single metric below, the Hoya Capital REIT Rank. We assume that the investor is seeking to maximize total return (rather than income yield) and has a medium- to long-term time horizon. Valuation, growth, NAV discounts/premiums, leverage and long-term operating performance are all considered within the ranking.

We currently see GGP and Simon Property, the highest-quality mall REITs, as the most attractively valued names within the sector at these levels. To see where storage REITs fit into a diversified REIT portfolio, be sure to check out our other REIT Rankings for all fifteen REIT sectors: Data Centers, Apartments, Self-Storage, Manufactured Housing, Healthcare, Net Lease, Single Family Rentals, Hotels, Cell Towers, and Office, and Shopping Centers, Student Housing, and International.
Please add your comments if you have additional insight or opinions. Again, we encourage readers to follow our Seeking Alpha page (click "Follow" at the top) to continue to stay up to date on our REIT rankings, weekly recaps and analysis on the REIT and broader real estate sector.
Disclosure: I am/we are long VNQ, SPY, MAA, CPT, OHI, PLD, GGP, STOR, SHO, SUI, ELS, ACC, EDR, DLR, COR, REG, CUBE, PSA, EXR, BXP, EQR, INVH, SPG, HST, TCO. I wrote this article myself, and it expresses my own opinions. I am not receiving compensation for it (other than from Seeking Alpha). I have no business relationship with any company whose stock is mentioned in this article.
Additional disclosure: All of our research is for educational purposes only, always provided free of charge exclusively on Seeking Alpha. Recommendations and commentary are purely theoretical and not intended as investment advice. Information presented is believed to be factual and up-to-date, but we do not guarantee its accuracy and it should not be regarded as a complete analysis of the subjects discussed. For investment advice, consult your financial advisor.