It's interesting that the majority of investors right now have an extreme long bias and have done little to zero due-diligence on the Chinese economy yet are all in on the synchronized global growth theme, of which China is the hinge and largest risk. China is facing a multitude of risk factors, and this is not coming from me, but from credit rating agencies, PBOC governors, and hedge fund managers such as Jim Chanos and Kyle Bass. PBOC governor, Zhou recently sternly encouraged Chinese regulators and authorities to make necessary reforms to the economy and truly deleverage. He called these risks "hidden, complex, sudden, contagious and hazardous". According to Zhou:
High leverage is the ultimate origin of macro-financial vulnerability. In sectors of the real economy this is reflected as excessive debt, and in the financial system, this is reflected as credit that has been expanding too quickly.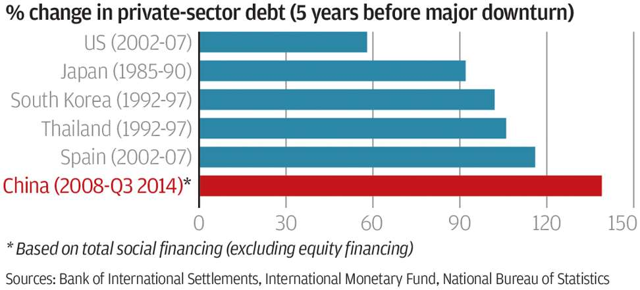 Chinese GDP growth since reaching a post-financial crisis peak in 2010 of 10.6%, is in a secular decline and now stands at 6.8%. Chinese authorities have lowered growth targets to 6.5%. It is completely unreasonable in my view to expect China to maintain 6.8 growth to infinity. According to Moody's:
GDP growth has decelerated in recent years from a peak of 10.6% in 2010 to 6.7% in 2016. This slowdown largely reflects a structural adjustment that we expect to continue. Looking ahead, we expect China's growth potential to decline to close to 5% over the next five years.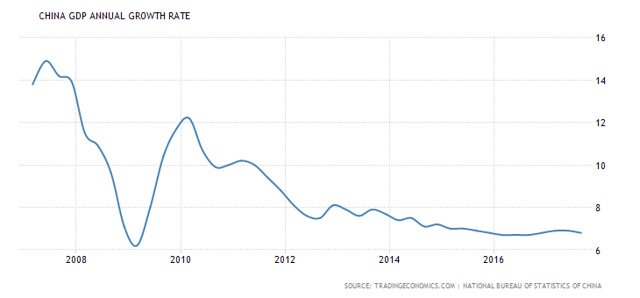 Chinese corporate debt is at approximately 170% of GDP, much owed by large state-owned enterprises. If GDP growth slows, so does debt-servicing capacity of the economy and corporate profits. This creates higher non-performing loans which are already understated by a significant amount. Official Chinese statistics, put NPL percentages at around 2% of outstanding loans, yet third-party estimates from Fitch and Credit Lyonnais Securities Asia estimate non-performing loans at around 15% to 20%. Many praise the idea of debt for equity swaps for zombie state-owned enterprises but according to Moody's these swaps are only a small fraction, approximately 1% of SOE liabilities therefore ineffective in tackling the issue.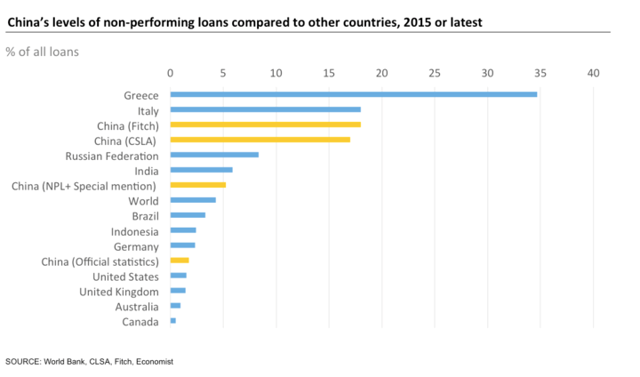 According to Andrew Brown of ShoreVest Capital Partners and the South China Morning Post:
Finally, to show that the pace of credit creation will necessarily slow, thereby exposing misallocated credit and driving the emergence of new NPL formation, we turn to the deterioration in China's incremental capital output ratio. This ratio is the measure of the number of units of input required to produce one unit of GDP.

For the 15 years prior to the credit impulse in 2009-14, China's incremental capital output ratio has been consistently between two and four. Meaning that two to four yuan in fixed asset investment created one yuan in GDP.

But as a result of the credit-driven economic growth model, and the excessive credit that has been created (and the subsequent excess capacity in the industrial economy), China's investment efficiency has deteriorated to the point that its incremental capital output ratio is now over 13.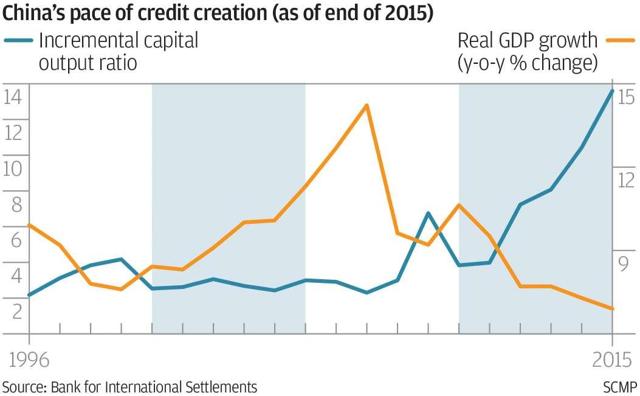 The importance of the incremental capital output ratio is significant for any economy, but especially the Chinese economy, considering the reliance on investment and fixed asset investment (see construction and corporate capacity investment) to fuel growth. China's composition of GDP is highly skewed towards fixed capital investment and is the largest contributor to Chinese growth at 40%.
This brings me to my next point about the extremity and scope of the Chinese construction and urban build-out that has occurred in a very short period of time. According to Jim Chanos, China has built since 2009 or is currently being developed enough high rise office space to give the entire population of China a 5x5 cubicle, twice over. That is not true economic growth. That is equivalent to steroids for economic growth. If the United States had launched a infrastructure build-out of this magnitude, the U.S. could very well be growing at a much higher rate as well.
China is also facing the issue of overcapacity. As part of the investment-led growth model, firms were encouraged to increase investment in property, plant and equipment thereby increasing overall capacity in the economy but particularly heavy industry. Now facing an oversupply for industries such as cement, steel, iron, coal, solar panels, power generation, glass and aluminum, firms in these industries could struggle to repay debt. China is making active efforts to cut capacity, but there are negative effects from this on the labor market and employment. Both the current overcapacity problem and negative effects to employment as a result of future capacity cuts will worsen the non-performing loan problem and strain bank capital ratios.
PBOC governor Zhou also recently warned of a Minsky Moment for the Chinese economy. A Minsky Moment according to Reuters is "a sudden collapse of asset prices after a long period of growth sparked by debt or currency pressures". According to Zhou:
If there are too many pro-cyclical factors in an economy, cyclical fluctuations are magnified and there is excessive optimism during the period, accumulating contradictions that could lead to the so called Minksy Moment. We must focus on preventing a dramatic adjustment.
Chinese home prices are elevated, overheating is major risk and a sharp decline could be a focal point of the potential Minsky Moment. Chinese authorities have recently focused on containing home price speculation, through restrictions on ownership and down payments. If home and real estate prices start to decline, it could put an end to the speculative buying which would reinforce downward momentum. Chinese home prices are on a very volatile path in recent years as depicted below.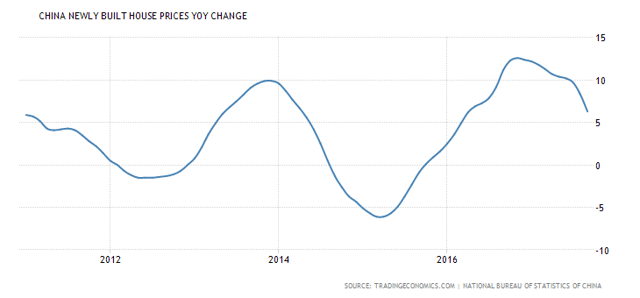 While I expect a hard landing for the Chinese economy and an eventual banking system recapitalization, I don't believe it will amount to a 2008 type crisis. I think it will be more similar to 1997. Global financial markets will likely see turbulence and general risk aversion.
Disclosure: I/we have no positions in any stocks mentioned, and no plans to initiate any positions within the next 72 hours.
I wrote this article myself, and it expresses my own opinions. I am not receiving compensation for it (other than from Seeking Alpha). I have no business relationship with any company whose stock is mentioned in this article.
Additional disclosure: Short various commodity and metals stocks.