If "Snap Inc. (SNAP) is a camera company", as the company's investor relations page claims it to be, then take a picture of the stock now. It may not be around for very long.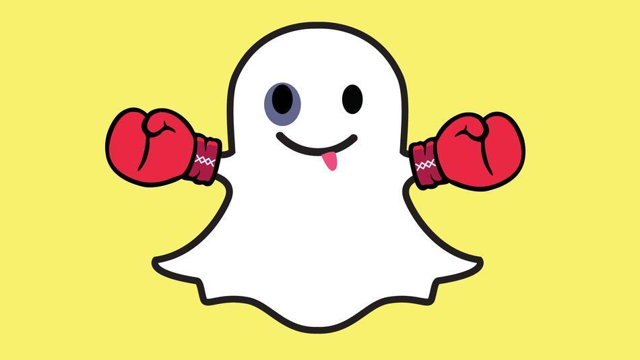 Credit: Windows Club
Irony aside, I'm impressed by how Snap's under-performance continues to catch investors and analysts by surprise. Anecdotally, the recent IPO smelled funny to me as soon as Snap disclosed in its initial SEC filings, even if interpreted to be tongue-in-cheek in nature, that "the company may never be profitable". CEO Evan Spiegel didn't ease my concerns when he stated that "bigger isn't better", while I firmly believed (and still do) that scale is the only feasible path for Snap to ever achieve success in this space dominated by titans like Twitter (TWTR), Facebook (FB) and its sidekick Instagram, only to name a few of the main players and ignoring the threat from giants like Apple (AAPL). Read my article on this subject for a more in-depth discussion.
Back in March of this year, I naively proposed that Snap could produce the results necessary to support its stock price in the long term if the company reached a series of usage, monetization and margin milestones. For example, despite a slowdown in the sequential growth of its DAU (daily active users) base early in 2017, I believed that improving the rate to +5% and keeping it at those levels for the following 15 quarters or so would be recommended. Instead, Snap delivered a +2.9% quarter-on-quarter increase last night that was unimpressive at best, after achieving a better but still insufficient +4.2% in 2Q17.

Source: DM Martins Research, using data from company reports
On monetization, ARPU (average revenue per user) increased to a historical high of $1.17 in 3Q17. But that figure also fell below my expectation of $1.19. In the longer term (i.e. by the end of 2020), I have been supporting that an ARPU of $3.00 would be necessary for Snap to reach scale profitably. However, that mark seems far from the company's reach for now.
The only decent news worth celebrating in Snap's 3Q17 results was the sequential decline in operating expenses. General and administrative, for example, shrank at a double-digit rate for the first time, to $66 million. Sales and marketing inched higher, while R&D remained largely stable quarter over quarter despite having increased two-fold YOY. As a result, adjusted EBITDA fell mostly within expectations, despite revenues having missed consensus estimates by the widest margin in Snap's short history as a public company.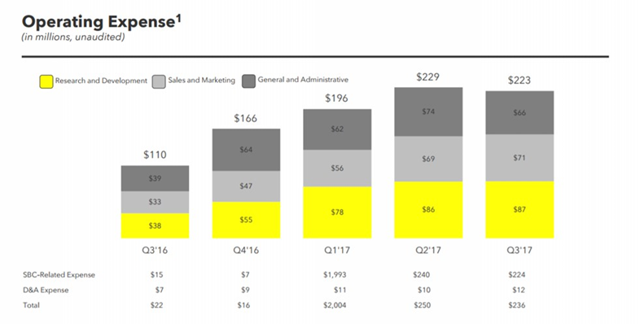 Source: company's slide presentation
On Snap Inc. as an investment opportunity
I have previously commended Evan Spiegel and his team for breaking ground with innovative platform features (e.g. Stories and augmented reality), and for making the big wigs in the industry follow the lead of a young, six-year old tech company. But in the same breath, I have also argued that Snap could not successfully raise effective barriers to protect its platform from competition. When Facebook's annual R&D budget ($7.4 billion on a trailing-twelve month basis) is nearly 17 times larger than Snap's total revenues for the year, the small fish will likely fall prey to the large, well-funded sharks that are much better equipped to dominate the space.
Add to the market challenges the fact that SNAP IPO'd at astonishingly rich valuations, given the under-developed fundamentals (which must have made a few bankers and early private investors very happy). The table below compares SNAP and FB when they first started trading publicly. Notice how the latter was born a public company much more mature, highly profitable, with a more robust user base in place and monetization efforts already bearing fruit. Yet, SNAP was valued at a much richer EV/sales, EV/op profits (in fact negative then and now) and market cap-to-DAU multiples, suggesting increased downside risk to shareholders that chose to jump in at the $17/share IPO price.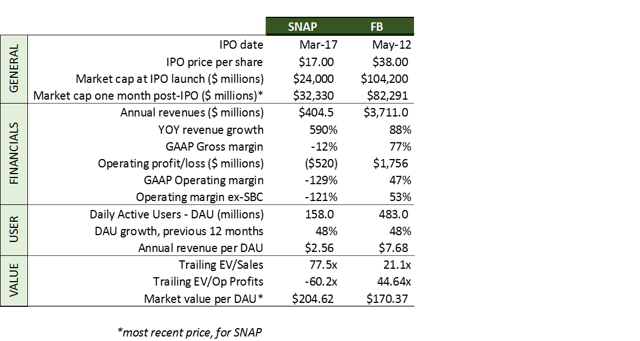 Source: DM Martins Research, using data from SEC.gov
Today, I continue to hold my views that investing in SNAP is throwing good money after bad money. Sure, the stock has been so volatile that short-term gains could be snatched by the more astute and risk-seeking trader. In fact, I would not rule out a dead-cat bounce on takeover or other speculations, after shares dipped nearly -20% during Wednesday's trading. But as a long-term play, I believe SNAP is dead in the water.
I suggest potential investors considering a buy on the dip approach the stock with extreme caution, along with easy access to the "sell" button.
Note from the author: If you have enjoyed this article and would like to receive real-time alerts on future ones, please follow D.M. Martins Research. To do so, scroll up to the top of this screen and click on the orange "Follow" button next to the header, making sure that the "Get email alerts" box remains checked. Thanks for reading.
Disclosure: I am/we are long AAPL, FB. I wrote this article myself, and it expresses my own opinions. I am not receiving compensation for it (other than from Seeking Alpha). I have no business relationship with any company whose stock is mentioned in this article.