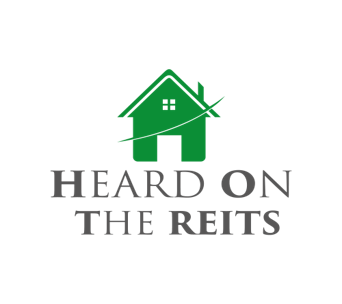 Rumors that Brookfield Asset Management was in talks to acquire General Growth Properties (GGP) drove GGP's stock price up by over 15% on Monday, November 8 th (see chart below) By the next day, Bloomberg reported that the two companies had indeed begun preliminary discussions about taking the company private. Other Mall REITs were up as well, with Simon Property Group (SPG) up 2.4%, Taubman Centers (TCO) up 3.7%, and Macerich (MAC) up 5.8%.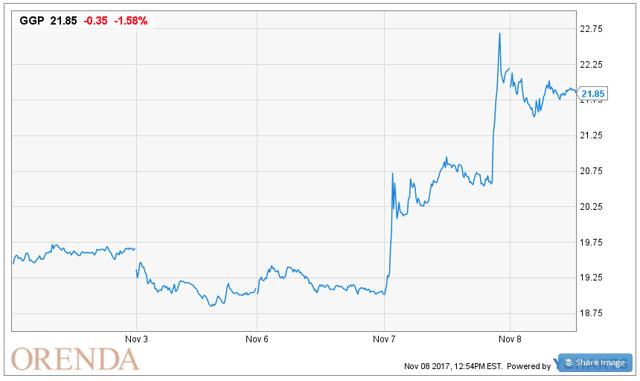 Brookfield already owned 34% of GGP after the Toronto-based manager exercised all its outstanding warrants in the 3 rd quarter. It's original investment, made in 2010 to help take the company out of bankruptcy, was increased in 2013. At the time, Brookfield agreed not to increase its stake beyond 45% for the next four years. Four years later and here we are.
It shouldn't come as such a big surprise. A careful look at the company's website reveals an entry within its "In the News" section that was a strong signal of the company's view on retail. On September 5 th, 2017, the company posted an article from Inc.com called "Amazon is Killing Shopping Malls – Right? Not so Fast Says This Mall Developer CEO". The CEO mentioned is David Harper of Rouse Properties, not anyone from Brookfield, but by posting the article on the website, we can presume the brass at Brookfield agree with Harper.
It's not like GGP was struggling, either. It reported same store NOI in 3Q 2017 of $556MM, an increase of $11MM over 3Q 2016, with FFO increasing from $0.35 per share to $0.37 per share. Same-store leased percentage was 96.5% while tenant sales per square foot were $708, an increase of 2.1% over the prior year. Tenant sales overall increased by 0.1% on a trailing 12-month basis and 2.5% when excluding apparel.
High Quality Retail
General Growth is known for its high-quality properties throughout the US. While the average sales per square foot is just above $700, the table below highlights the exposure the company has to retail properties that exceed the $800 per foot sales level. Over 72% of the company's NOI is generating more than $800 a foot and is experiencing leasing spreads of approximately 16%.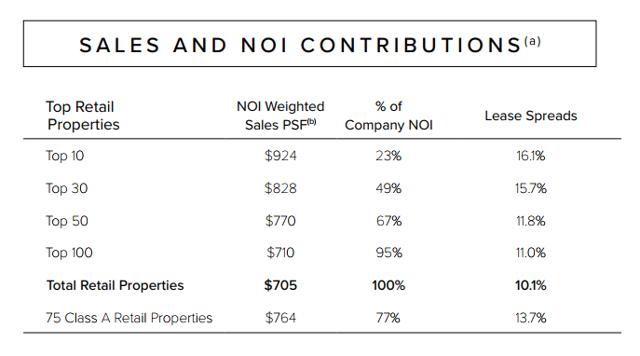 The company also has a diverse portfolio of different types of properties that include malls, outlets, and power-centers, each with its own set of drivers and risks – adding diversity to its portfolio.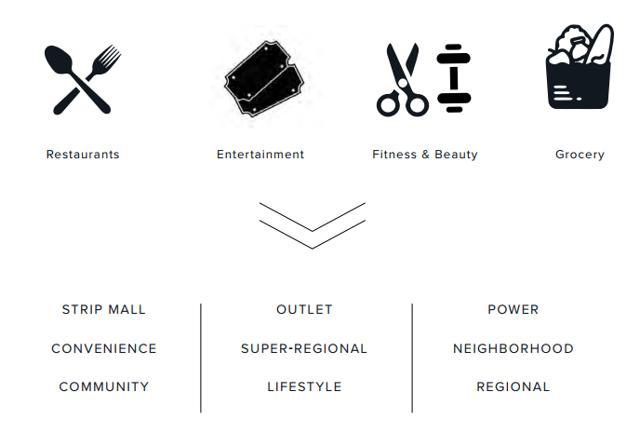 And the tenant profile boasts many of the top food and beverage, home furnishing, entertainment, and omni-channel retailers – categories that are less sensitive to online competition.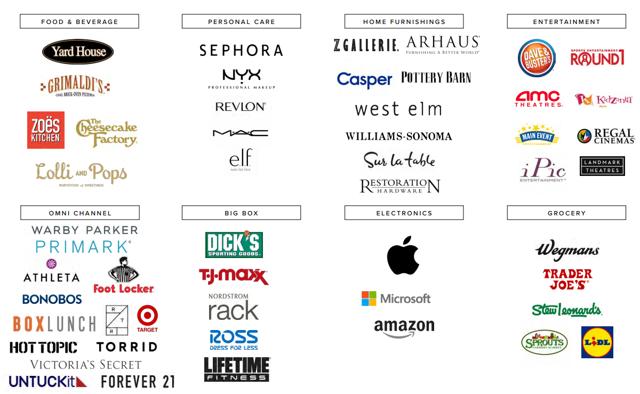 Who is Brookfield, and what now?
Brookfield Asset Management is a leading alternative asset manager focused on investing in real estate, infrastructure, renewable power, and private equity. Within its real estate investing activities, it owns 260 office properties spanning 129MM square feet, approximately 30,400 rental units in high growth markets, 126 retail assets with 123MM square feet of space, industrial properties comprised of 45MM square feet, and a number of full-service hotels and leisure-style assets in high barrier to entry markets.
The talks are in a preliminary stage, which leaves a variety of potential results on the table. For example, pricing may change, or the deal may be called off – both of which are still a potential risk that the stock price drops back to pre-rumor levels. Investors who have held the stock for a long-time might be tempted to sell all or a portion of their holdings, since the stock is still down significantly over the last three years, even after the recent spike. That could be a good option for some investors, but we're still long-term holders.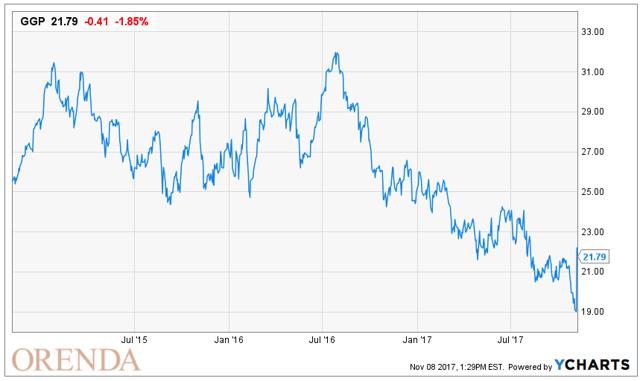 GGP pays a reasonable dividend yield of 4% and even if it's lagging it's Regional Mall peers, the payout ratio indicates flexibility in the company being able to raise the dividend without putting undue stress on the cash flows or balance sheet.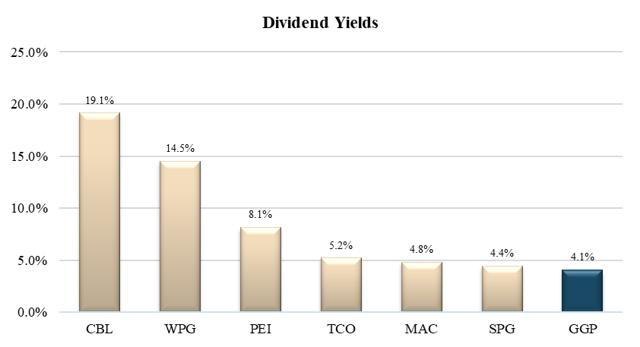 The payout ratio, at 53%, is the lower than it's closes rival SPG and under the peer average of 62%.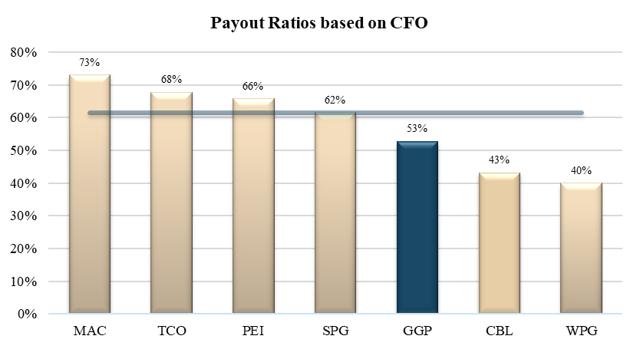 On Price/CFO basis, the price still looks reasonably priced to us based on its 5-year historical average….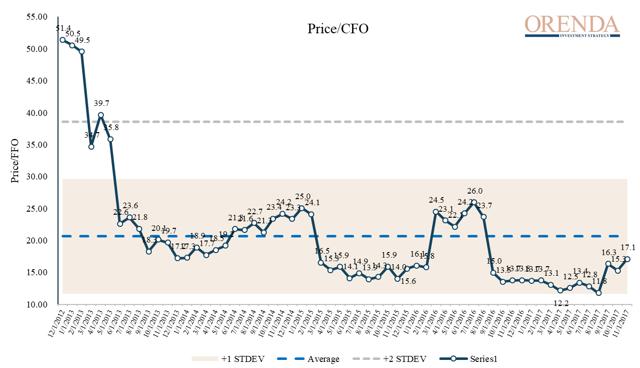 …even if it looks expensive relative to peers on a Price/CFO basis.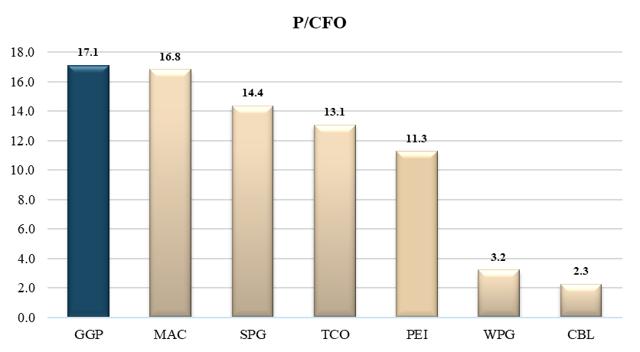 Despite the increase in stock price and risk of a potential decline in the event of the deal falling through, we are maintaining our position in GGP. Our REIT portfolio remains overweight to Retail with a target allocation of 7% to Shopping Centers, 7% to Malls, and 5% to Free-Standing REITS.
Sources: Company Presentations and Investment Strategist calculations
If you enjoyed this article, please click on the "Follow" link to the right of my name at the top of the article.
Heard on the REITs: Profitable, customizable REIT strategies from expert portfolio strategist Arturo Neto
Heard on the REITs is focused on more than single REIT stock ideas. It's highly valuable, in-depth, institutional-quality research designed to save you time while helping you become a better-informed REIT investor. What's more, you get personalized portfolio asset allocation guidance and actionable REIT investing strategies. At Heard on the REITs, I share my best ideas in a concentrated portfolio while implementing smart strategies to minimize downside risk. Join our community today!
The following samples were published for free but these highly analytical reports will only be available in the Premium service from now on.
Sample Premium Research Report
Disclaimer: Please note, this article is meant to identify an idea for further research and analysis and should not be taken as a recommendation to invest. It is intended only to provide information to interested parties. Readers should carefully consider their own investment objectives, risk tolerance, time horizon, tax situation, liquidity needs, and concentration levels, or contact their advisor to determine if any ideas presented here are appropriate for their unique circumstances.
Past performance is not an indicator of future performance.
Investing in any security has risks and readers should ensure they understand these risks before investing.
Real Estate Investment Trusts are subject to decreases in value, adverse economic conditions, overbuilding, competition, fluctuations in rental income, and fluctuations in property taxes and operating expenses.
This post is illustrative and educational and is not a specific offer of products or services.
Information on this blog is not an offer to buy or sell, or a solicitation of any offer to buy or sell the securities mentioned herein, nor is the author compensated by any of the products mentioned.
Information presented is believed to be factual and up-to-date, but we do not guarantee its accuracy and it should not be regarded as a complete analysis of the topics or subjects discussed.
Information presented is not believed to be exhaustive nor are all the risks associated with the topic of each article explicitly mentioned. Readers are cautioned to perform their own analysis or seek the advice of their financial advisor before making any investment decisions based on this information.
Investment decisions should be based on an individual's own goals, time horizon, and tolerance for risk. Nothing in this content should be considered to be legal or tax advice and you are encouraged to consult your own lawyer, accountant, or other advisor before making any financial decision.
All expressions of opinion reflect the judgment of the author, which does not assume any duty to update any of the information
Any positive comments made by others should not be construed as an endorsement of the author's abilities to act as an investment advisor.
Disclosure: I am/we are long SPG, GGP.
I wrote this article myself, and it expresses my own opinions. I am not receiving compensation for it (other than from Seeking Alpha). I have no business relationship with any company whose stock is mentioned in this article.