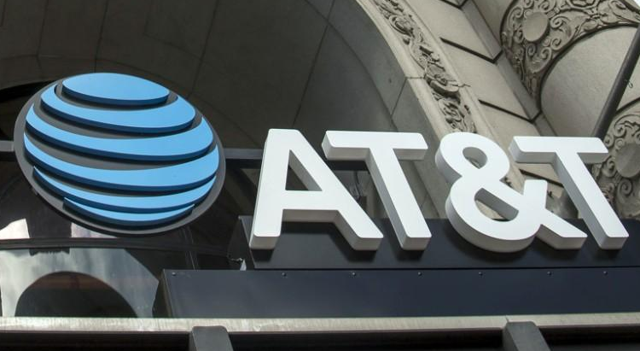 What happened?
According to Andrew Ross Sorkin of CNBC, the DOJ is not simply asking AT&T (NYSE: T) to divest itself of CNN, but either all Turner Broadcasting assets or DirecTV. The F.T. says people familiar with the matter say it's all about CNN. There is a lot to consider. The following is my perception of the rumors.
DOJ Demands
The competing stories regarding what the DOJ supposedly wants AT&T to divest itself of are somewhat confusing. The F.T. wrote an article stating it was all about CNN and "people familiar with the matter" said the administration was pressuring the DOJ to ask for this concession. Afterwards, Andrew Ross Sorkin appeared on CNBC and stated the DOJ made an either/or demand of AT&T to get the Time Warner (NYSE: TWX) deal done. Either divest not just CNN, but all Turner Broadcasting assets or DirecTV. All Turner broadcasting assets includes CNN, HLN, TBS, TNT, Turner Classic Movies, Cartoon Network, Adult Swim, Boomerang and TruTV. It sounds kind of confusing, but I think I might have an idea of how this all transpired.
DOJ has no case to force CNN divestiture
The F.T. stated a person familiar with the situation said:
""It's all about CNN,' said one person with direct knowledge of the talks between the company and the DOJ, adding that the regulator made it clear to AT&T that if it sold CNN the deal would go through."
According to the report, AT&T is opposed to divesting itself of CNN and is preparing for a court battle if the DOJ decides to sue. This may be true. AT&T has a solid case.
Current Chart - AT&T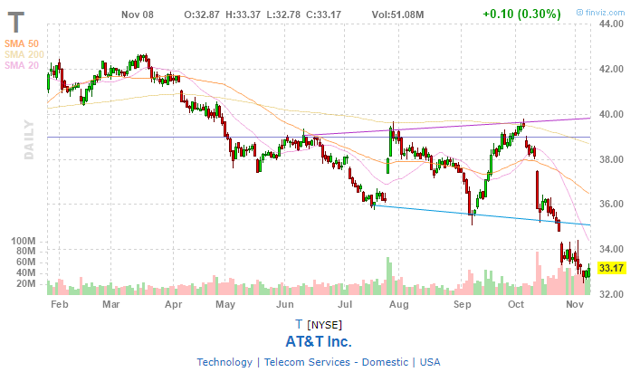 Source: finviz.com
Current Chart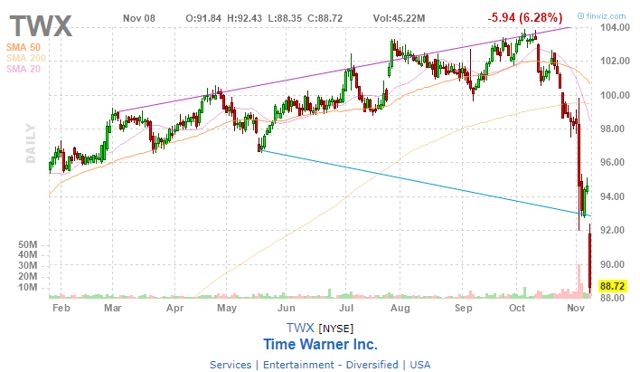 Source: finviz.com
AT&T standing on solid ground
AT&T is standing on very solid ground regarding any case the DOJ could bring regarding the vertical integration of Time Warner. That is why I believe the CFO stated the closing of the deal is uncertain now. John Stephens, AT&T's chief financial officer, told a New York investor conference on Wednesday that "the closing of the deal is now uncertain."
I believe this is a sign AT&T believes it has a strong case and is ready to play hardball. This may be why the DOJ has upped the ante and added more to the demands. If they were to simply ask for the divesture of CNN, the DOJ doesn't really have a leg to stand on. Yet, the DOJ may be attempting to mask their true motives by making it more about size than CNN itself. So Sorkin's breaking news may be true as well. It just may be the second evolution of the DOJ's demands so they have somewhat of a case.
As I sit here writing news just broke on CNBC that CEO Randall Stephenson has made a statement regarding the news. Stephenson stated:
"Throughout this process, I have never offered to sell CNN and have no intention of doing so."
So, as I was saying, AT&T has a strong case and is playing hardball at this point. Although, I believe cooler heads will prevail and the deal will get done.
The Bottom Line
If the DOJ were to sue AT&T demanding it divest itself of only CNN, they would lose in a heartbeat. So now they are trying to make it more about size by demanding AT&T either sell all of Turner Broadcasting assets or DirecTV. As I stated in my previous piece, I still feel as though the deal is going to get done one way or the other, yet it will be a bumpy road getting there. I don't believe the DOJ will sue to stop the deal. The DOJ has not blocked a vertical integration in over 40 years. Furthermore, if they were to do this by suing to stop the merger, what implications would that have for other fully vertically integrated companies operating today? Take Comcast (NASDAQ:CMCSA) for instance? Furthermore, selling CNN really doesn't do anything. CNN will be bought and will still be broadcasting the "fake news" according to Trump.
I believe AT&T and the DOJ will come to an agreement regarding the merger through consent agreements similar to those of the Comcast deal. Vertical integration deals have traditionally been seen as cost-cutting endeavors which improve the competitive environment by the DOJ for years. A change in this stance would be huge. Even so, the newly appointed head of the DOJ's antitrust division Makan Delrahim seems to have has a big change in stance regarding the merger. Before he was sworn in, Delrahim stated "I don't see this as a major antitrust problem." Not so much it now it seems. Those previous comments may come back to haunt him if they actually do go to court.
I believe this is all part of the new "Trumpian process" for everything. The new DOJ antitrust chief simply wants to make a name for him. Furthermore, AT&T's stock is holding up just fine on the news. Time Warner not so much, yet is still higher than it was on the day the initial offer was met. The DOJ often uses a strategy of threatening a lawsuit to get what it wants. If it goes to trial, the DOJ will lose. I guarantee you Delrahim does not want to start off his career with a loss. I am holding on to my shares and looking to add on weakness. The fact AT&T hasn't sold off on the news is a sign the stock is near a bottom.
Please use this information as a starting point for your own due diligence and consult an investment adviser prior to making any investment decisions. Those are my thoughts on the matter. I look forward to reading yours.
Your participation is required!
The true value of my articles is derived from the prescient observations of Seeking Alpha members in the comments section below. Do you believe DOJ will file a lawsuit against AT&T? Is this a political move by the DOJ or are they really concerned about the public? Thank you in advance for your participation.
Last but not least! Please read!
I am in the process of launching a Seeking Alpha Marketplace subscription service in the near future. The service will focus on creating and maintaining a balanced portfolio of 20 – 40 high dividend yield income stocks as well as dividend growth and capital gains opportunities. The objective of the portfolio is to return 25% on an annual total return basis.
I have been ranked the World's #1 Financial Blogger on TipRanks for the majority of past few years. Here is the link TipRanks.com/top-experts. According to TipRanks, my stock published stock picks have returned 26.5% on an annual basis.
Now, I want to start a subscription service here on Seeking Alpha, where we can all collectively express and exchange great investing ideas.
As I state in the conclusion of my articles, you, the Seeking Alpha members, provide the true value to these articles.
I know I can't do this without you!
I am looking for Seeking Alpha members that would like to join as founding members of the service when the service kicks off in the near future. I am also looking for a select group of "Deacons" of the service. Deacons and Founding Members will have their subscription price locked in for the entirely of their membership regardless of any future price increase.
There will be a limited number of spots, so please let me know if you are interested ASAP. I want to thank all those who have already expressed interest! We are getting a tremendous response! I will be getting back with everyone who has messaged me so far ASAP with the details! If you would like to know more about becoming a Deacon or Founding Member, simply leave a comment below, or you can go to my Author page and send me a private message. Here is the link to my author page. The SEND MESSAGE link is in the upper right hand side.
I want to thank the many members who have already contacted me! The more the merrier, my father always said! I appreciate your time and consideration in the matter.
This marks my seventh year writing for Seeking Alpha. I would like to thank all 18,000 of my followers and all readers of my work for your tremendous support through the years. I would not have this opportunity without you. Take care - Dave.
Disclosure: I am/we are long T.
I wrote this article myself, and it expresses my own opinions. I am not receiving compensation for it (other than from Seeking Alpha). I have no business relationship with any company whose stock is mentioned in this article.