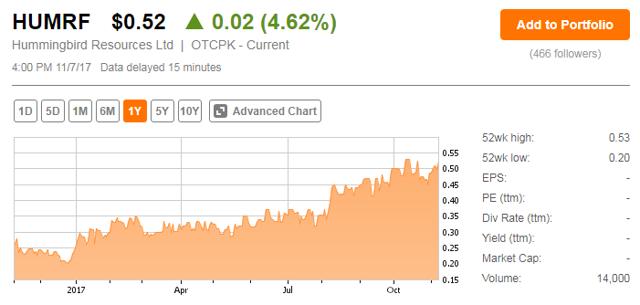 Investing case
Hummingbird Resources (OTCPK:HUMRF) disclosed in its Q3 2017 review that it remains on track and budget to deliver first gold from its Yanfolila project in Mali by the end of 2017. It's very rare for a gold miner to deliver a project without delay and on budget and I think that Hummingbird will be up for a re-rating as a producer if all goes well to first gold pour and start of commercial production.
Also, the company recently announced a deal with African Gold Group (OTC:AGGFF) under which it will get half of the 2.2 Moz Kobada gold project just by funding capex. I don't think this transaction has been reflected in Hummingbird's share price. I have covered the Kobada transaction here.
Yanfolila gold mine
Yanfolila boasts very strong economics with a net present value of USD 162mn and an internal rate of return of 60% at gold prices of USD 1,250 per ounce: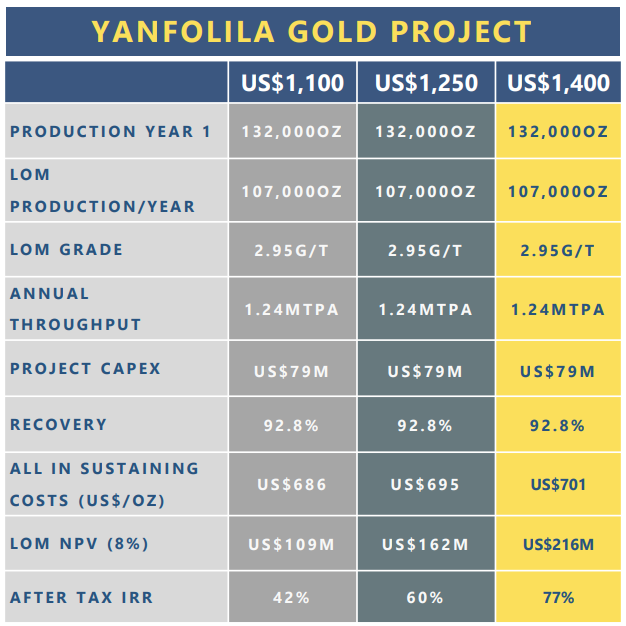 The project is expected to produce 132,000 ounces of gold in its first year which would translate into a free cash flow of more than USD 70mn.
The major concerns at first look include the limited life of the mine (eight years) and the low average annual production. However, there are currently over one million ounces of gold outside the mine plan as proven upside and then there is the Kobada deal. The latter could add around 50,000 ounces to Yanfolila's annual output in a few years, meaning that average production can reach over 150,000 ounces.
I think that the NPV can be more than doubled thanks to Kobada alone, as this operation will add several years to the life of mine at very small costs.
Re-rating
With Yanfolila entering into production at the end of 2017 and commercial production starting in the first half of 2018, I expect Hummingbird to be re-rated by the market as a producer shortly: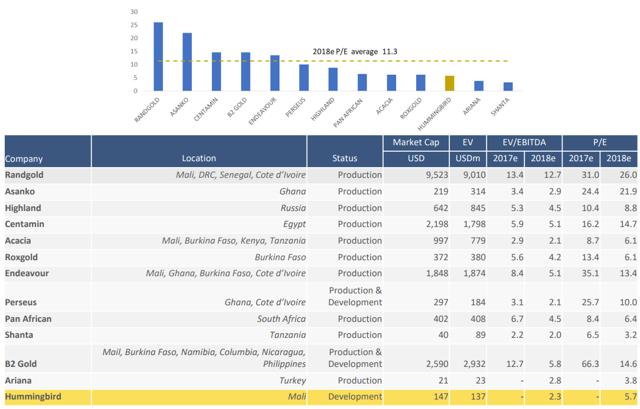 Source: Hummingbird Resources
Hummingbird currently has a market cap of USD 174mn and based on 2018 expected EV/EBITDA, there is great upside potential.
I really like the Kobada transaction as it reminds me of the deal in place between SSR Mining (SSRM) and Golden Arrow Resources (OTCQB:GARWF), which combines the processing facilities of the first with the deposit of the second.
As there are several gold deposits like Kobada within trucking distance of Yanfolila, I think that Hummingbird's mine has the potential to become something like a regional processing hub. This would mean there would be several more win-win deals with local explorers that just can't secure funding to move their projects forward.
Hummingbird has two significant assets that I think the market is giving zero value to. The company has a 4.2 Moz project in Liberia called Dugbe which I expect it will be developed with cash flow from Yanfolila: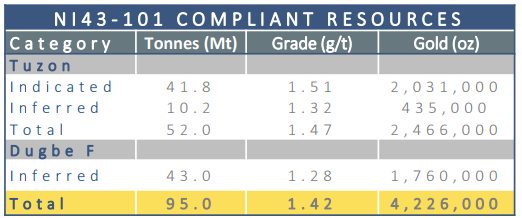 Source: Hummingbird Resources
It has a net present value of USD 186mn and an internal rate of return of 29% at gold prices of USD 1,300 per ounce as well as a 20-year life of mine. Expected annual production is around 125,000 ounces. This project alone has a net present value that is higher than Hummingbird's current market cap.
And then there is Cora Gold. It's an exploration company that was listed on the LSE in October and Hummingbird holds a 34% stake in it. Cora focuses on exploring near existing gold mines and it's focused on three project areas in the Yanfolila Gold Belt in Mali and Kenieba Window in Mali/Senegal. Some of its properties are within trucking distance from Yanfolila: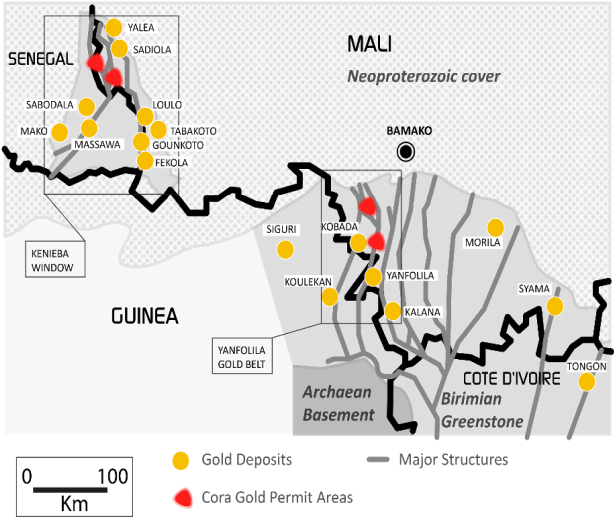 Source: Hummingbird Resources
Cora currently has a market cap of just GBP 7.18mn (USD 9.45) but there is talk that its Sanankoro project alone could have the potential for more than a million ounces of gold. Exploration success for Cora could add a lot of value for Hummingbird.
Conclusion
Hummingbird Resources is less than two months away from first gold pour at the Yanfolila gold project. It's a great achievement to be on schedule and budget and the company should be due for a re-rating as a producer from the market. Based on multiples such as forward P/E and EV/EBITDA, the company seems very undervalued.
Also, the economics of Yanfolila don't include two major factors. First, there are more than one million ounces of gold outside the mine plan as proven upside. Second, Hummingbird recently inked a deal with African Gold Group under which it can get half of the latter's 2.2 Moz Kobada project. I also think that the market is valuing close to zero Hummingbird's 4.2 Moz Dugbe project as well as its stake in explorer Cora Gold.
I think that Hummingbird's shares have a very strong upside potential over the next year.
Disclosure: I am/we are long HUMRF. I wrote this article myself, and it expresses my own opinions. I am not receiving compensation for it (other than from Seeking Alpha). I have no business relationship with any company whose stock is mentioned in this article.
Editor's Note: This article covers one or more microcap stocks. Please be aware of the risks associated with these stocks.