It's been a while since we published a whitepaper on MLPs, which I chalk up to having had little additional insight to offer beyond reporting weekly ups and downs of the sector as it continues its bumpy transition towards a better business model.
But recently, I've become increasingly fascinated by distribution obfuscation, and not just by MLPs and midstream companies. Big players in the sector are making claims about historical annual distribution growth as backup to their insistence that the market is treating MLPs unfairly and lumping them in with oil prices and oilfield services stocks.
U.S. Midstream companies, including MLPs, have underperformed Canadian Midstream companies and global listed infrastructure stocks by a wide margin, particularly since the oil price downturn. It makes sense that MLPs, which have some relationship to broader energy fundamentals, would trade down in a prolonged oil price downturn.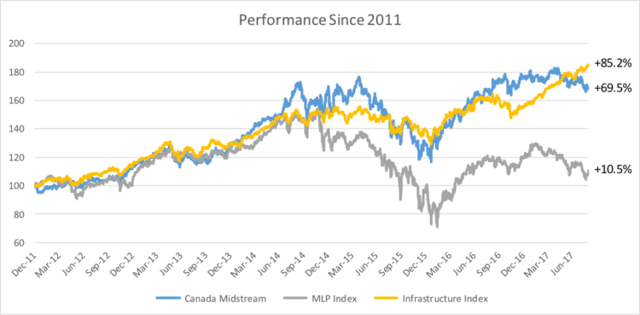 But it doesn't seem logical that MLPs would underperform Canadian Midstream companies by such a wide margin based purely on fundamentals. Especially when considering the inherent disadvantage Canadian resources have when their primary market is the U.S, already awash in hydrocarbons.
That dissonance would continue if you checked Alerian's website to see how distributions have trended for the sector.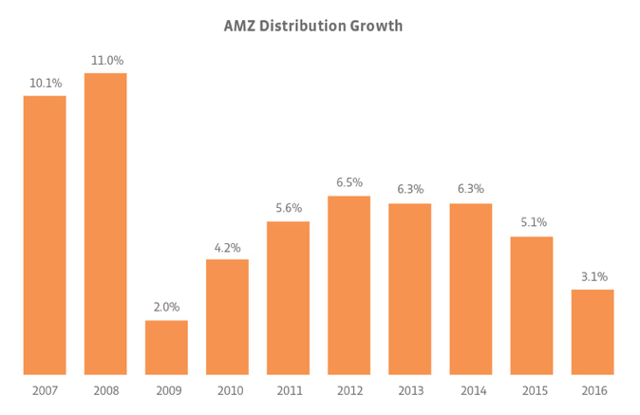 But clearly, distributions have not been consistently growing over time. Distributions have been reduced substantially, both through explicit distribution cuts, but also through mergers that effectively reduce payouts of acquired MLPs (stealth cuts). The reductions also haven't been isolated among just the higher risk non-midstream MLPs, either. Some of the largest MLPs with some of the best midstream assets have reduced payouts, recently too!
In our latest whitepaper, we unpack the stealth cuts and index changes to get to the true market capitalization-weighted average distribution growth of the MLP sector since 2012. The results are clear, despite what MLP manager marketing materials are saying, distributions in the MLP sector have gone down, and are in fact still going down. (Read the whitepaper here.)
Bonus Detail on MLP Income Changes
The distribution analysis in the paper goes through annual distribution changes, applied to a theoretical stream of income re-balanced annually to compare with Alerian and other sources that have been touting distribution growth. The income pain of a portfolio of MLPs held static was far worse.
Below, we show what would have happened to your income if you owned a static portfolio consisting of the MLPs in the Alerian MLP Index as of 9/30/14, your income stream through 9/30/17 would have seen a decline of 32.8%, or -13.5% annually. In that scenario, 7.8% of your portfolio eventually suspended distributions entirely, income just gone entirely. The analysis also doesn't include fresh cuts from PAA, GEL and SPH.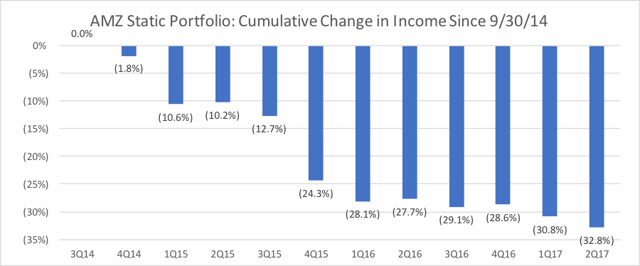 We Still Like Midstream and MLPs, But Still in Transition to MLP 2.0 Model
I hope this isn't seen as a hit piece on MLPs. It's meant to explain honestly what's happened to investor income over the last few years. I am always rooting for the sector and am hopeful it makes a full recovery someday. There is clear value in the midstream sector today, but there is also value in being honest and selective as the sector transitions to better financial footing amid mounting competitive pressure for smaller growth opportunities.
When we evaluate U.S. midstream stocks today, we're focused on those where we see a clear path and management intent towards achieving a more sustainable business model (which we dubbed MLP 2.0 in 2016) that includes:
Low Payout ratios
Reasonable leverage
No IDRs
Having even two of the above characteristics can work quite well, as we've seen in Canada. Dividend cushions helped ensure dividend stability and growth for every single Canadian midstream company in a universe of 9 stocks over the last 3 years.
The recent past argues for selective exposure to U.S. midstream, with an active management mandate that can avoid the worst positioned companies. Passive or broad exposure to the U.S. midstream sector is not what it once was. The U.S. midstream market is not dislocated as some MLP managers might suggest based on current yields. Distributions are not as reliable as they once were as a valuation tool.