In one of my latest articles, I discussed Eric Sprott's recent acquisitions made in the resource sector. Today I would like to review the acquisitions made by another notable resource investor, Ross Beaty.
Firstly, who is Ross Beaty? I guess most people know him as a founder and one of the largest shareholders of Pan American Silver (PAAS). To remind my readers, Pan American is a large, primary silver producer operating a number of mines across Americas (Mexico, Peru, Bolivia and Argentina).
Interestingly, Mr. Beaty was also a founder of Alterra Power, a small renewable energy company that was sold a few days ago to Innergex in a deal worth US$375M. Ross Beaty holds around 16 million shares of Alterra (directly and through his subsidiary), so when the transaction is closed, he is going to have fresh cash of around US$100M to invest.
Therefore, if he keeps on investing in the way he has been doing it up to now, part of this money could be spent on new acquisitions in the resource sector. In other words, those tracking Ross Beaty's investments should be pleased – most likely in the not so distant future they will see him making new, interesting purchases…
Ross Beaty and his 2017 acquisitions
In this article, I am discussing the acquisitions made by Ross Beaty this year up to date.
Note on my methodology:
The purchases made in 2016 or earlier are excluded from my discussion.
I discuss purchases jointly made by Ross Beaty and his subsidiary (Kestrel).
The data is taken from the Canadian registry (SEDAR).
The chart below summarizes the acquisitions made in 2017 up-to-date: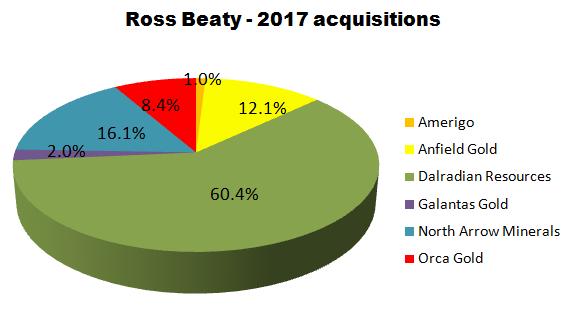 Dalradian Resources
Dalradian Resources (OTCPK:DRLDF) is an exploration company developing the Curraghinalt gold project located in Northern Ireland, the UK. According to the latest feasibility study (published in January 2017), the Curraghinalt deposit hosts 5.2 million tons of ore grading 8.54 grams of gold per ton of ore (attributable to 1,438 thousand ounces of gold), classified as mineral reserves.
To build the mine, Dalradian will have to spend US$192M (pre-production capital costs), which is not an elevated figure. The after-tax net present value, calculated at the gold price of US$1,250 per ounce and the discount rate of 5%, is US$301.3M. Now, assuming that (according to my own calculations) the company is sitting on cash of US$105.8M, it means that one share of Dalradian is worth US$1.26 (the project NPV + cash and divided by the share count of 323.7 million).
Today the company's shares are trading at US$1.04 so they are a little bit undervalued.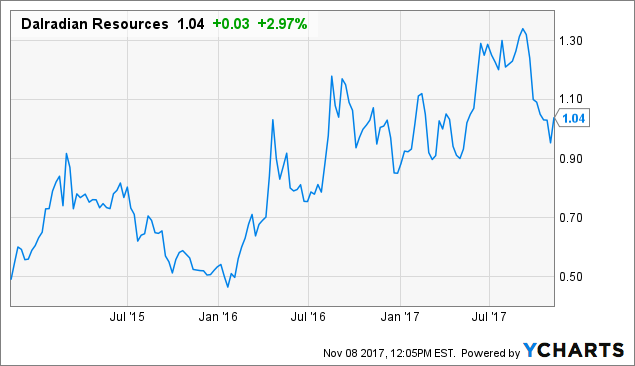 DRLDF data by YCharts
Now, the PEA is based on reserves only but the project offers an interesting upside potential. In my opinion, it is very likely that the company will replenish the Curraghinalt reserves and the project's economics will improve. My thesis is confirmed by a few notable investors placing their money in Dalradian (for example, Osisko Gold Royalties (NYSE:OR) or Orion Mine Finance).
This year Ross Beaty exercised 6.3 million common share purchase warrants at the price of C$1.15 per purchase warrant and now he controls 23.5 million shares of Dalradian (7.3% of total capital) and 2.2 million common share purchase warrants.
North Arrow Minerals
In May 2017, Ross Beaty purchased 8 million shares and 8 million common share purchase warrants of North Arrow Minerals (OTC:NHAWF). As a result, after investing US$1.5M, he holds a 10.5% stake in the company.
North Arrow is a small diamond explorer controlling a number of properties in Canada. The most advanced project is Naujaat, holding one of the largest diamond deposits in Canada (26 million carats). Next year the company is going to publish the preliminary economic assessment for Naujaat.
Orca Gold
Orca Gold (OTCPK:CANWF) is an exploration company developing the Block 14 gold project located in northern Sudan (close to the border with Egypt). According to the latest technical report, Block 14 hosts 30.6 million tons of ore grading 1.82 grams of gold per ton of ore (1.8 million ounces of gold), classified as mineral resources.
This year Orca published the preliminary economic assessment disclosing the project's net present value of US$227.7M (applying the price of gold of US$1,200 per ounce and the discount rate of 7%). According to the PEA, Block 14 is going to be a low-cost open pit operation producing gold at the cash cost of US$701 per ounce.
Next year Orca plans to release the feasibility study for the project; if the study confirms current assumptions, the project should be put online in 2020.
Well, in my opinion, Sudan seems to be a risky jurisdiction. According to the World Bank, this country is ranked among the worst places to do business. However, investors should keep in their minds that another low-ranked country, The Democratic Republic of the Congo (DRC), is ranked even lower than Sudan. And DRC hosts such excellent gold mines as, for example, Kibali (owned by Randgold (NYSE:GOLD) and AngloGold (NYSE:AU)). It is also important to note that in October 2017, the USA lifted economic sanctions on Sudan, de-risking the country substantially.
This year Mr. Beaty purchased 2.5 million shares of Orca at the price of C$0.4 a share (C$1.0M in total) and now he controls a stake of 10.5% in the company (15.8 million shares).
Galantas Gold
Galantas Gold (OTCPK:GALKD) is another Northern Irish pick chosen by Ross Beaty. It is a small gold mining company restarting the Omagh mine in Northern Ireland. In the past, the Omagh mine was an open pit operation but now Galantas wants to convert it into an underground mine. After the mining permit was confirmed in September 2017, the company is rapidly developing the mine.
In February 2017, Ross Beaty purchased 3.3 million shares of Galantas at the price of C$0.07 a share and now he controls 32.2 million shares of the company (an 18.8% stake in the company).
Amerigo Resources
Amerigo (OTCQX:ARREF) is a processing company running its business in Chile. The company processes the copper tailings coming from the El Teniente mine, owned by Codelco, one of the world's largest copper miners. Currently, Amerigo proceeds with an ambitious investment program to increase its production from 63–67 million pounds of copper per year to 90 million pounds in 2019.
This year Mr. Beaty purchased 204.9 thousand shares of Amerigo and now he controls 27.2 million shares accounting for 15.5% of total capital.
Equinox and a plan of arrangement
On October 25, 2017, Trek Mining (LWLCF), Newcastle Gold (OTCPK:CTMQF) and Anfield Gold (OTC:ANCKF) announced a plan of arrangement to combine their assets and create a new company called Equinox Gold Corp.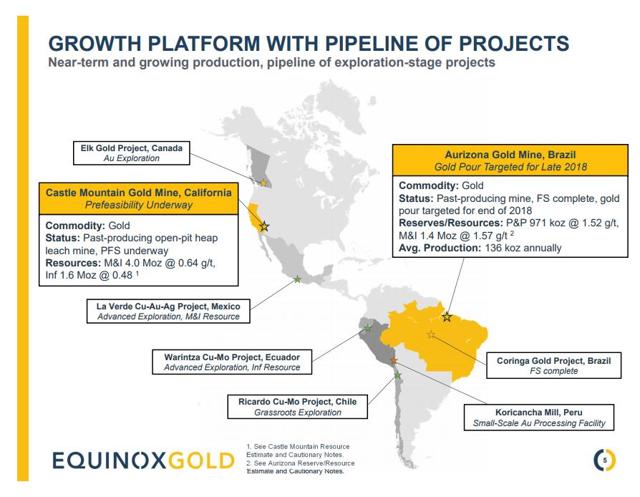 Source: Anfield Gold presentation
The new company will hold the following assets:
Aurizona Gold Mine
Aurizona is a gold mining project under development located in the Maranhao State in Brazil. According to the feasibility study, it has mineral reserves amounting to 19.8 million tons of ore grading 1.52 grams of gold per ton of ore (971 thousand ounces of gold). The project is going to be an open pit operation producing 136 thousand ounces of gold annually at the cash cost of production of US$691 per ounce. The project's net present value is US$197M, assuming the gold price of US$1,250 per ounce and the discount rate of 5%.
Equinox expects to pour the first gold at the end of 2018.
Castle Mountain Gold Mine
Castle Mountain is an advanced exploration gold project located in California, the US. Currently Newcastle Gold is actively exploring the property in order to prepare the prefeasibility study (to be released in 2018). According to the company, Castle Mountain holds 4.0 million ounces of gold, classified as mineral resources. The future mine should be an open pit operation developed in at least two phases.
A portfolio of mineral projects located across Americas
Apart from these two core projects, Equinox will own a few precious and base metals projects. Let me list a few:
Warintza - a copper/molybdenum project in Ecuador.

Ricardo – another copper/molybdenum project located in Chile.

La Verde – a copper/gold/silver project in Mexico.

Coringa – a gold project in northern Brazil.

Elk – a past-producing gold mine in British Columbia, Canada.

Koricancha - a processing facility in Peru; currently ramping up its production.
Now, Ross Beaty holds stakes in all companies taking part in a plan of arrangement. What is more, he signed an agreement with Sandstorm (NYSEMKT:SAND) to increase his stake in Trek (and then in Equinox) through the acquisition of debt and equity securities of Trek. When the deal is over, Beaty should be the largest shareholder in Equinox, controlling around 11% of the company.
To be honest, I think that Ross Beaty wants to replicate his success with Pan American Silver. To remind my readers, in 1994, Ross Beaty acquired Pan American Minerals, a tiny company listed on the Toronto Stock Exchange. Over the years, this company made a series of purchases as, for example, La Colorada in Mexico, Dukat in Russia or Quiruvilca in Peru. In between, in 1995, it changed its name to Pan American Silver. Today Pan American's market cap is US$2.5 billion and it is one of the world's largest primary silver producers.
The Equinox deal looks similar – three small companies owning very interesting assets (similarly to Pan American, also in Americas) merge into a bigger entity controlled by Ross Beaty and a team of experienced mining managers. On the other hand, at least two things are different – this time Mr. Beaty is much more experienced than in 1994 and… when the Alterra deal is closed, he is going to hold a lot of cash to support his newest business project.
Summary
I cannot spot too many similarities between Eric Sprott and Ross Beaty's ways of investing. The first investor prefers safe jurisdictions, mainly Canada (Greenstone Belt and the Golden Triangle) and Australia (Kirkland Lake and Novo Resources). Mr. Beaty is more focused on the projects – for example, Orca Gold and its Block 14 project in Sudan. However, even Beaty has his favorite jurisdiction – it is Northern Ireland where Dalradian and Galantas develop their gold projects.
On the other hand, there is at least one similarity – both investors seem to be interested in having control over companies chosen as a core investment. Eric Sprott holds a big stake in Kirkland Lake Gold and Ross Beaty controls Pan American Silver and, most likely, he is going to be a key person in Equinox, an emerging precious/base metals play.
Lastly, if I were to answer the cover question (Eric Sprott or Ross Beaty – whom to follow?), I would say: both offer their unique approach to resource investing.
Note: If you liked this article, please, visit my Marketplace service (Unorthodox Mining Investing) where I am doing my own research. However, this time I also want to say this:
If you are looking for a guru or a person that instructs you when buy/sell gold, I strongly advise you that my service is not for you. I am not a guru or a talking head – I am just a human being trading stocks and financial futures and making mistakes.
On the other hand, if you are looking for new ideas, an unorthodox approach to investing, decent mining picks (since the inception, my Unorthodox Mining Portfolio once again delivered much better returns than the broad precious metals market) and open discussion, this service is definitely for you.
Disclosure: I am/we are long GDX, CEF. I wrote this article myself, and it expresses my own opinions. I am not receiving compensation for it (other than from Seeking Alpha). I have no business relationship with any company whose stock is mentioned in this article.
Additional disclosure: I hold a long position in gold futures
Editor's Note: This article covers one or more microcap stocks. Please be aware of the risks associated with these stocks.