The Nikkei PMI data for Japan signalled a buoyant start to the closing quarter of 2017, suggesting a pick-up in the pace of economic growth after a weakened rate of expansion in the third quarter. However, companies continued to raise prices only modestly despite strong input cost inflation.
Looking across manufacturing and services, the Nikkei Japan Composite PMI™ Output Index rose to 53.4 in October, noticeably higher than the almost one-year low of 51.7 seen in September. The latest reading is the joint-highest since January 2014, setting the scene for a strong closing quarter to 2017.
The October surveys showed factory output rising for a fifteenth month running, expanding at a solid rate thanks largely to rising exports.
The PMI data highlight how foreign demand has been playing a key role in Japan's recent economic upturn. Inflows of new business from abroad improved again in the latest survey period. Anecdotal evidence from the surveys indicate that, while growth of demand in overseas economies is responsible for some of the export gain, there are additional factors at play, not least the yen. The depreciation of the yen, down over 5% against the US dollar, has benefited exporters.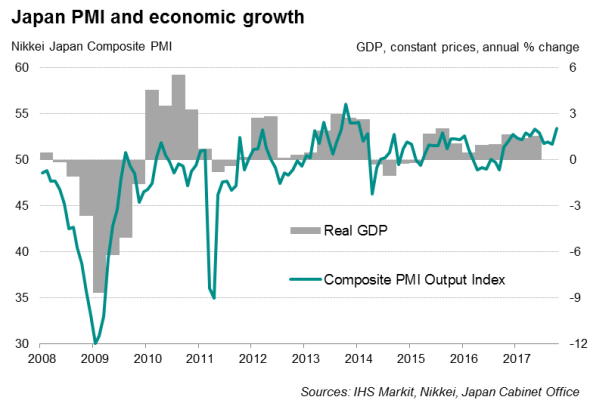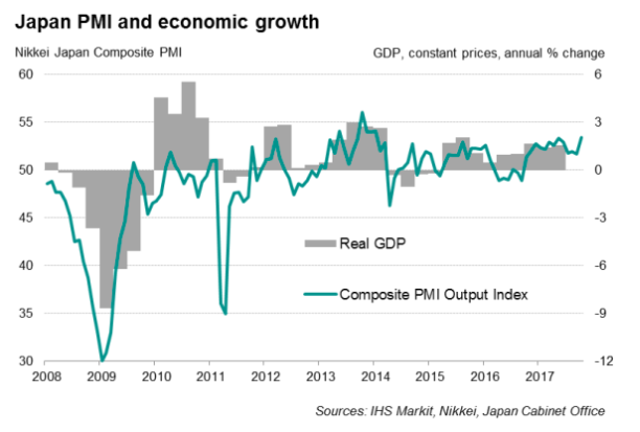 Services activity growth improves
Perhaps even more encouraging was an upturn in service sector business activity to the highest in over two years, with the rate of increase now broadly similar to that seen in manufacturing.
In the service sector, firms reported robust spending by domestic businesses and households, linked to greater confidence that the current upturn has further to run. Business optimism among service providers remained upbeat, rising further in October to the highest for four months.
Cost pressures tick higher
Average prices for goods and services rose further in October. The increase was due to a combination of rising global commodity prices as well as higher wages, the latter reflecting greater competition for employees amid tight labour market conditions.
Prices levied for manufactured products rose again, extending the trend to 10 months, while charges for services rose for a third consecutive month. In both cases, however, the rate of price inflation was only modest and well below the pace of cost increases. Despite demand conditions improving, companies remained reluctant to pass on the bulk of higher costs to customers, underscoring the struggle Japan has with trying to boost inflationary pressures.
It is not surprising, therefore, that the Bank of Japan cut its CPI forecast for 2017 at the recent monetary policy meeting. The lower projection was blamed on a lack of enthusiasm for raising wages and prices among Japanese companies. However, with intensifying upward pressure on costs weighing on profit margins, firms may have few choices but to raise selling prices in coming quarters.