Applied Optoelectronics (NASDAQ: AAOI) just posted its Q3 results; as it turns out, all of my forecasts for its Q3 turned out to be accurate. While its actual results weren't any different from its preliminary results announced almost 26 days ago, and financial guidance for Q4 was rather dull, shares of the company have surged nonetheless. Management's product-related commentary during its conference call was particularly encouraging for the long-side bull case which, I believe, completely overwhelms the bear thesis.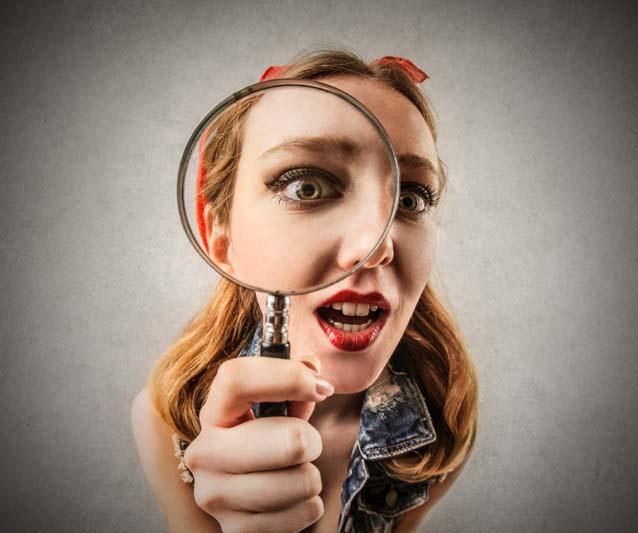 Inventory Situation
Let me start by saying that investors' confidence in Applied Optoelectronics has been quite shaky over the past quarter. Short interest in the company piled up quite substantially (~50% increase) between July and October even though the company hadn't made any critical announcement that would support the bear case. It was originally thought that traders shorting the company had an irrational investment thesis and their positions largely amounted to gambling. But when the company announced in its preliminary results that its business was actually suffering during the period when shorts were piling up, investors lost faith in the management. Amidst doubting the long-side thesis, questions such as the following were asked:
How did the shorts know about the upcoming decline in orders from Amazon before any of us?
Did the management intentionally lie to the investment community?
Was there a leak of insider information that bolstered the short thesis?
If shorts knew about Amazon pulling back orders, why didn't the management?
How did shorts have more reliable information sources than Applied Opto's top-level brass?
I can't objectively comment on any of the aforementioned bullets as it would amount to mere conjecture. But as a matter of fact, there are already various law firms that seem to be gearing up to file class action lawsuits against Applied Opto for misleading investors in the past. However, after listening to its latest conference, I'm of the opinion that management of the optical equipment maker really didn't know about the upcoming drop in orders from Amazon. And we have some sort of evidence to corroborate this thesis.
Fact of the matter is that if management already knew about the coming drop in orders, it would have slowed down its production. That way, it wouldn't be sitting on excess inventory and won't have to later resort to deep discounting in order to clear those extra, unsold parts. Doing so would clearly hamper profitability and wouldn't be a smart business move. This is why I was tracking its inventories.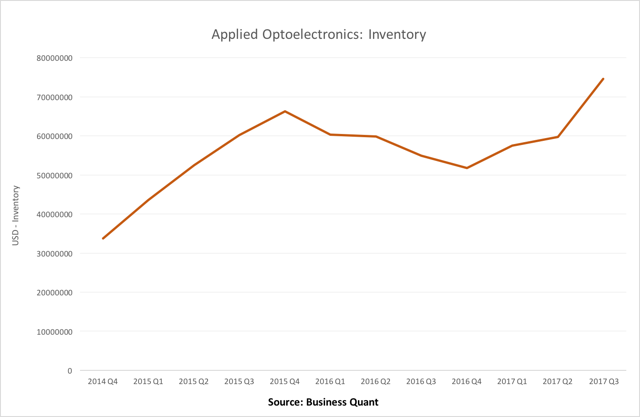 (Source: Author, Company Filings)
The chart attached above illustrates that Applied Opto ended Q3 with record inventory of $74.55 million. In my last article, I had actually forecasted its inventory for the quarter to be $75 million which isn't so far away from the reported number. But self-pleasing aside, it suggests that Applied Opto management was truly caught off-guard by Amazon's slowdown in orders. Conspiracy theorists can't explain the build-up of inventory.
"I estimate Applied Opto's inventory levels at the end of Q3 should reach their record levels somewhere around $75 million as opposed to $59.7 million at the end of Q2." – In my last article on Applied Optoelectronics, published October 31.
If at all shorts had access to material information beforehand to support their bear thesis, then I suspect their sources were based in other optical component making firms, or inside of Amazon's procurement division, or their analysis was based on connecting dots than having to actually rely on Applied Opto's insider information. Otherwise why would Applied Optoelectronics pile up inventory if they knew their sales would be slow.
Weak Guidance
Secondly, as I forecasted in my last article, Applied Optoelectronics posted a rather soft guidance for its upcoming fourth quarter. It expects overall revenue for the period to be anywhere between $81 million and $90 million -- a mid-point of $85.5 million. While that may up flat from the comparable year ago quarter, it would mark the second sequential quarterly decline in its revenue.
"But based on my industry-wide checks and measures, I expect Applied Opto's Amazon business to remain slow during Q4 as well. "-- In my last article on Applied Optoelectronics, published October 31.
But management reiterated again during its earnings call that slowdown in sales was primarily because Amazon was taking a breather, and not because the e-commerce giant had ditched Applied Opto in favor of its rivals.
A few questions still remained unanswered, however. Will the e-commerce giant take a quarter to resume its big purchases, or would it take a year? In fact, an analyst asked the management point blank as to what kind of a customer-based revenue mix they expect in Q4. That would have given us insights about Amazon-related revenue guidance. But the management declined to answer that critical question citing non-disclosure agreements.
Its management, however, did point out time and again that the pile up of inventory would get consumed during the first half of 2018. Also, it noted that the bulk of its inventory pile-up consisted of 40G parts.
"The inventory is a mix of various components that are in there but its predominantly 40G. In the conversations that we've had with this customer and other customers we believe that 40G inventory will be consumed over time and we indicated that the time frame will extend out to H1 FY18. We don't anticipate having to specifically discount the inventory below pricing that we've offered for similar products already." – Stefan Murry during the Q3 earnings call
This leads us to the following critical questions:
Why was Applied Optoelectronics producing 40G parts in bulk quantities if it's management was so sure about the transition to 100G to gain steam? and/or
Did sales to Amazon drop because the e-commerce giant didn't want 40G parts anymore and was rather interested in 100G parts, but Applied Opto's warehouse didn't stock much? and/or
Who would actually consume this inventory if the transition to 100G parts is picking up pace?
Leaving investors in the dark, when investors' confidence in the company is already shaky, isn't a good strategy in my opinion.
Financials and More…
Coming to its financials. Applied Optoelectronics posted a revenue of $88.88 million for Q3. I had previously forecasted that its Q3 reported results won't diverge from its preliminary Q3 results by more than 1% contrary to the general belief of conspiracy theorists. It seems the projection was accurate.
"I opine that its actual results would be more or less similar to the company's pre-announced figures. Maybe they'll diverge by a maximum of 1% given its past track record." In my last article on Applied Optoelectronics, published October 31.
I also wanted to touch base on its 40G-100G sales mix. It seems like sales contribution of 100G parts surged during Q3. The crossover finally happened and sales of 100G parts lead its data center segment in the last quarter. Rather than taking you through bland numbers, I compiled another chart below to visually break it down for you. The sharp spike in 100G parts is rather encouraging for long-side investors, but I'm curious to know if it had anything to do with the Amazon (NASDAQ:AMZN)-related orders.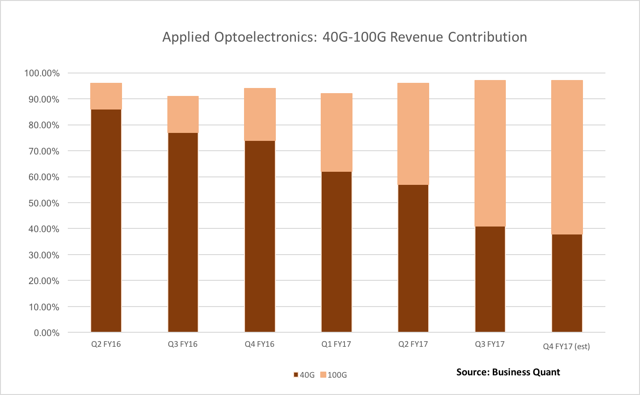 (Source: Author, Company Conference Calls)
Did sale contribution of 100G parts spike because Amazon wasn't purchasing 40G parts?
Did we see a drop in 40G sales across many customers?
Did the industry transition to 100G and very few were interested in its 40G inventory?
I guess we'll find that out in the next earnings call.
Reason To Be Bullish
With all that out of the way, I wanted to discuss the bull-case. What really changed from Q2 to Q3 that would support an investment in the company? One word – Diversification.
The company secured 9 design wins in the quarter.
"We secured 9 design wins in the quarter, including 3 for 100G products. These include 3 new customers of varying scale, as well as wins with existing customers. As a reminder, we only record the design win when the customer fully qualified and tested the product and we have received orders from the customer for the product. Looking ahead, we have approximately 40 100G and 200G qualification efforts underway with various customers many of whom are outside of our core hyper-scale customer base."
Other 6 design wins were for various other products that may or may not even belong to its data center business. But the 3 100G design wins and 40 qualification efforts underway certainly paint an encouraging picture for long-side investor participation. Stefan confirmed that those 40 qualification efforts are actually with 40 different customers. If successful, they naturally open up a significant source of revenue by itself.
Perhaps the most interesting part of the earnings call, or at least for me, was near the very end of the call at the 38-minute mark. Stefan wasn't giving granular details to analysts but Thompson Linn kept interrupting him to provide analysts with some critically important technical details. He noted:
"Since the price for CWDM is getting more and more attractive, customers are moving into CWDM and not PSM4… Because the price is more attractive so some customers are using CWDM even up to 10km… We believe our global market share in long-reach transceiver will increase next year."
Applied Opto is aiming for both, customer and product portfolio diversification. Historically speaking, it has heavily depended on short range products and has had a huge revenue exposure to Amazon. But all that seems to be changing for good. The company appears to be venturing into the long-reach segment (2km-10km?) and attempting to diversify its customer base with a larger product portfolio. It's a good step forward in my opinion.
Your takeaway
I don't see any reason for Applied Optoelectronics shares to stay distressed at sub-$40 levels. Management reiterated again during the earnings call that slowdown in its sales was primarily due to Amazon delaying its 100G product purchases. There is still no evidence to suggest that the e-commerce giant has switched to Fabrinet/Macom and ditched Applied Optoelectronics. So I'm of the opinion that Applied Opto's 100G sales will eventually take-off in a quarter or two. It's only a matter of when. Based on that, and its diversification efforts, I find it really hard to justify short selling in the stock. I strongly believe that Applied Opto would soon breach the $50-mark and maybe even head higher.
Author's Note: If you liked the article, please consider clicking the "Follow" button at the top of the page. It's what keeps us going. Thanks!
Disclosure: I/we have no positions in any stocks mentioned, and no plans to initiate any positions within the next 72 hours. I wrote this article myself, and it expresses my own opinions. I am not receiving compensation for it (other than from Seeking Alpha). I have no business relationship with any company whose stock is mentioned in this article.