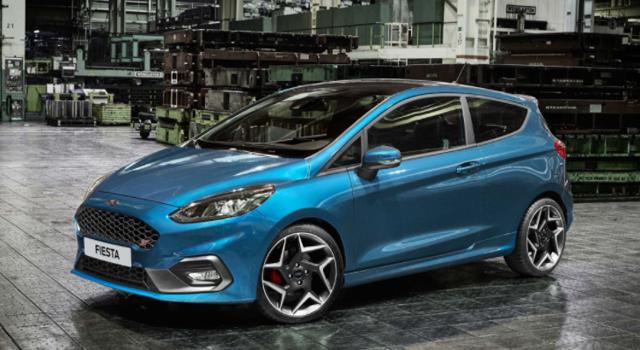 Ford (F) has had a very difficult go of it in the past few years. The entire sector is tremendously capital-intensive and prone to cycles so valuations are low, and Ford has failed to impress with its nearly 5% yield. I was once a Ford bull but threw in the towel a few quarters ago on the belief that $13 or so is the top. The yield hasn't drawn investors in like I thought it would and recent results, including Q3, continue to show the valuation is still too rich to allow for meaningful multiple expansion. In other words, I think Ford will remain range bound.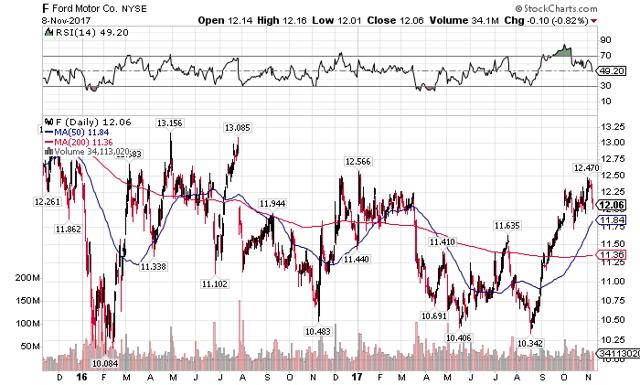 When I say it will remain range bound, the upper and lower bounds are pretty clear. In the past two years Ford has remained locked in a $10 to $13 channel and it cannot seem to break out of it regardless of the good or bad news that comes from Dearborn. Ford had some pretty good quarters in this time frame but investors haven't cared and after realizing this, I abandoned the bull case. As we can see, the Q3 report saw the stock move up near the top of the channel but it appears it was rebuffed once again; it is my belief we'll see it make a move back down towards the bottom once again. To be clear, I'm not a long term bear on Ford but I'm certainly no bull either; I just think it is going to remain range bound for the foreseeable future.
In fact, Q3 was yet another example of very good news that was essentially ignored by market participants. Revenue was up by $600M or so YoY and operating margins flew higher, producing a roughly 50% gain in operating profits. Ford continues to sell very well through its F-Series and SUVs, as has become custom, and operating efficiencies and lower material costs are driving profitability improvements. The quarter was nice but again, it doesn't seem to matter.
We also saw big improvements in results from all of Ford's segments with the exception of Europe, which lost out due to Brexit costs and the launch of the new Fiesta. But all over the world Ford continues to see volumes and mix improve, leading to higher consolidated revenue and profits despite the fact that its core market, the US, is widely believed to be near the top of the cycle. It is that, the cycle, that appears to not only be weighing on investors' minds, but rightly keeping a lid on the valuation as well.
Volumes have been moderating in the US for several quarters now and the entire industry has suffered for it. This is certainly not a new story but it is still a relevant one given that Ford is beholden to the US market in much the same way that GM or FCAU are. Indeed, unit volume in the US was down in Q3 but to its credit, Ford did see a nice boost in October. The hurricane-replacement volume boost we saw in October is transitory, however, and I don't think it has staying power. In other words, there are some pretty powerful structural headwinds for all of the automakers in the US, Ford included. And the vast majority of its operating profits are made here, so we have an issue.
The other thing that makes me think Ford is destined to be range bound is the fact that its valuation is already so very high against the other two big automakers. Ford is going for 7.7 times next year's earnings and while that would be a pittance for just about any other sort of stock, it is a lot for an automaker. GM, FCAU and Ford have spent the better part of the past two years at PEs of 5 or 6 and Ford is the most expensive of the group right now. The problem is that the fundamentals are inferior by a very wide margin to those of FCAU, which is actually set to grow a bunch in the coming years, where estimates for Ford are for negative growth for the foreseeable future. And I believe it; there is a built-in volume headwind in the US and while profitability is improving, it doesn't appear to be enough.
With the stock already being more expensive than its peers, I don't see any happy scenarios from here at $12. Morgan Stanley has a delusional $25 long term price target on Ford under its bull scenario, but that will never happen. Ford pays out 60 cents annually in the form of a dividend, creating a 5% hill for the stock to climb just to be even each year. Ford is also struggling to grow, as I mentioned, and earnings growth should be negative for at least a year as Ford works through the end of the cycle we've been in here in the US. As I mentioned, the cycle is not a Ford-specific problem, but it is a problem nonetheless.
Ford did report some good news in Q3 and indeed, in its October sales release as well. The problem is that the valuation is already too high and the yield isn't enough to draw in buyers; that has been well proven over the past few years. So what is going to drive the stock higher? Good news isn't doing it, the valuation isn't going to do it, earnings growth isn't happening and the yield isn't doing it. That leaves, well, nothing, and that is why I don't think Ford will break out of its channel anytime soon. Ford, then, is just a 5% bond replacement and if you're into that sort of thing, you can certainly do worse. But I'd wait until it is below $11 before buying because I think you can get a better price in the coming weeks than you can today.
Disclosure: I/we have no positions in any stocks mentioned, and no plans to initiate any positions within the next 72 hours.
I wrote this article myself, and it expresses my own opinions. I am not receiving compensation for it (other than from Seeking Alpha). I have no business relationship with any company whose stock is mentioned in this article.