Introduction
Summit Industrial Income REIT (OTC:SMMCF) (TSX:SMU.UN)'s unit price has appreciated more than 14% year-to-date while its dividend increased by 2.4% earlier in the spring. Including dividends, the total return is over 20% year-to-date. The strong e-commerce growth that demands warehouse space is certainly the main primary driver behind its stock appreciation. As a unitholder of the REIT, I am very pleased with my investment. In this article, I will examine again Summit Industrial's latest financial report following its earnings release on November 7, 2017.

Source: Company Website
Acquisition Continues
Since June 30, Summit continues to acquire more properties, including 3 more industrial properties in Toronto, and 2 more properties in Quebec. The REIT continued to focus on acquiring industrial properties in major urban centers in Canada with 57% of its portfolio of properties located in Canada's largest urban region, the Greater Toronto Area.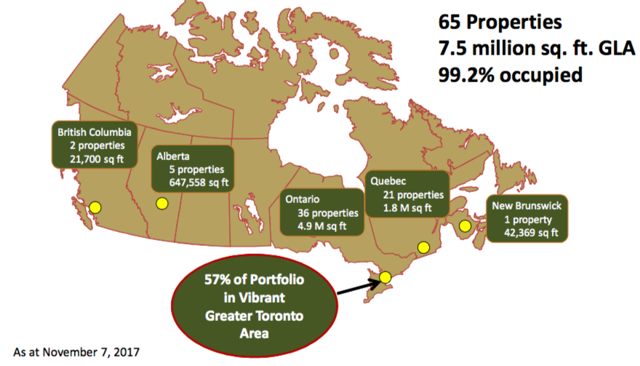 Source: Company Presentation
The REIT continues to acquire properties with capitalization rate above the national average. The company was able to invest in properties with 6.24% average capitalization rate in its January bought-deal offering. However, with strong demand of industrial properties in Canada especially in the surrounding areas of Canada's major urban center, it has become more difficult for Summit to find properties with high capitalization rate. This is evident in some of its recent acquisitions. For example, in its recent acquisition of 2335 Speers Road property in Greater Toronto Area, the capitalization rate is only 5.3%. With lower capitalization rate likely in the near future, I am not sure what strategy management will have to do moving forward. Perhaps, they may have to acquire properties away from major urban centers or they may wish to focus on developing their own properties such as the case in its 5685 Rue Cypihot property in Montreal.
Q3 2017 Financial and Operating Highlights
Summit's occupancy ratio was 99.2% in Q3 2017. This was slightly lower than the ratio of 99.7% in Q2. However, the average lease term increased to 6.1 years in Q3 from 5.8 years in Q2. Likewise, its annual contractual rent step has increased to 1.6% per year from 1.5% in Q2. I continue to dislike Summit's contractual step in rent as it is below central bank's long-term target inflation rate of 2% despite the fact that inflation rates have been below 2% for quite some time.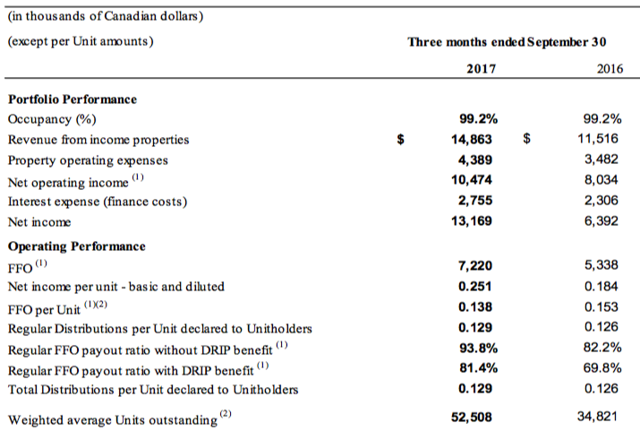 Source: Company Report
Summit's revenue continued to improve greatly compare to the same time last year due to property acquisitions throughout the past year. As a result, its revenue expanded to near C$14.9 million in the past quarter from C$11.5 million in the same time last year. Its net income grew even more significantly mainly due to acquisitions, strong operating performance, and fair value gains on its properties.
Because Summit went through another round of equity financing at the end of June in order to raise capital to purchase more properties, I want to see if its Funds from Operation or FFO per unit can continue to improve from last year. Unfortunately, its FFO per unit of C$0.138 per unit in the past quarter was lower than C$0.153 in the same quarter in 2016. I was concerned when I saw the reduction. However, I quickly realized that Summit did not immediately put all of its capital raised into acquisition. Several acquisitions were announced towards the second half of the quarter, and a few more in October. I expect these acquisitions to contribute to the company's FFO in Q4. The impact on FFO per unit due to equity financing was 11% or C$0.018 per unit. If this is added to its Q3 FFO per unit, its revised FFO per unit would have been C$0.156, or a little over 2% increase from Q3 2016. I am pleased to see that the increase was more than central bank's long-term inflation target of 2%. Because of the same reason, its FFO payout ratio was 93.8% in the quarter. For the first nine months, the payout ratio was 90.2%, still much higher than last year. I will have to continue monitor the payout ratio.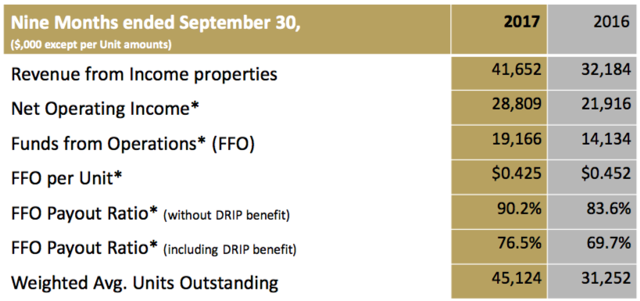 Source: Company Presentation
Improving Balance Sheet
I am pleased to see that Summit's leverage ratio improved to 48.8% at the end of Q3 2017 from 54.6% at the end of the same quarter last year. I expect that leverage ratio to be slightly above 50% in Q4 as there were two more acquisitions announced in October though. I am comfortable with the leverage ratio in the low 50% range.
In terms of weighted average effective interest rate, it was again slightly lower than last year. However, the interest rate of 3.38% is slightly higher than Q2 2017. This is understandable as interest rate in Canada went up by 50 basis points during the quarter. In terms of debt service and interest coverage, I am also pleased to see it improved to 1.96x and 3.49x respectively.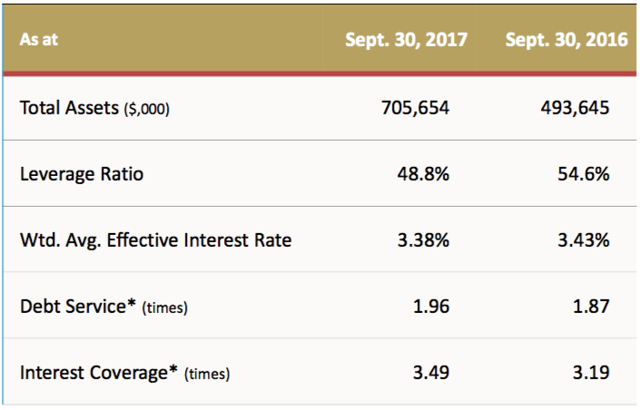 Source: Company Presentation
Distribution Yield Continues to be Attractive
Summit continues to pay a monthly distribution of C$0.043 per unit. Since its distribution price has appreciated to C$7.4 per unit in the past quarter, its distribution yield has declined down to 6.97%. Its two Canadian peers Dream Industrial REIT (OTC:DREUF) (TSX:DIR.UN) and Pure Industrial REIT (OTCPK:PDTRF) (TSX:AAR.UN) currently has yields of 7.73% and 4.57% respectively. Among the three, Dream industrial has the highest leverage while Pure Industrial has the least leverage. For me, Summit remains is the middle way offering attractive yield with acceptable leverage.
Investor Takeaway
I am pleased with my investment of Summit Industrial Income REIT so far. I think industrial properties will continue to benefit demand due to growth in E-commerce. I am certainly comfortable with Summit's latest earnings release and I will continue to hold on to my investment.
Note: This is not financial advice and that all financial investments carry risks. Investors are expected to seek financial advice from professionals before making any investment.
Thank you for reading. If you like my article, please scroll to the top of the article and click on "follow" to receive future updates.
Disclosure: I am/we are long SMMCF. I wrote this article myself, and it expresses my own opinions. I am not receiving compensation for it (other than from Seeking Alpha). I have no business relationship with any company whose stock is mentioned in this article.
Editor's Note: This article discusses one or more securities that do not trade on a major U.S. exchange. Please be aware of the risks associated with these stocks.