Investors and analysts often lament that typically company executives don't offer much color as to their strategies to tackle the retail malaise and changing consumer behaviors. The usual responses to such questions point to broad statements like they are investing in improving their e-commerce operations and doubling their efforts in engaging their customers on social media. Following is an excerpt from Kellogg's (K) Q3 2017 earnings call, where I have extracted all mentions of e-commerce and the related accompanying statements:
e-commerce growth continued, reflecting a broad push to win wherever the shopper shops. ... We continue to grow cereal sales in Asia, with growth in most key markets led by Granola and e-commerce and an encouraging reacceleration of sales growth in India, which had been held back in recent quarters, first by demonetization and then by the rollout of the country's Goods and Services Tax. ... Our West Africa venture is growing on the strength of noodles, while our China venture is benefiting from Granola Cereal and rapid expansion in e-commerce. ... We're also investing more resources, people resources, against where the growth channels are in our business. So we're seeing, for example, e-commerce in North America in Q3 grew over 60%. So like every company, winning where the shopper shops in new environments, be that pure play or click-and-collect is right up there on our agenda.
Yes, that's all that the executives said regarding their e-commerce activities. What does one really expect to glean from such general statements? Unfortunately, due to the risk of being held liable for possible deviation from what is disclosed and the danger of revealing too much for the benefit of their competitors, there is a limit to what can be shared with the public. Nevertheless, with rich resources on the Internet, retail investors can now find out what the companies we are invested in are up to. Most importantly, we can determine for ourselves how the management is actually actively seeking ways to fight the 800-pound gorilla – Amazon (AMZN), as well as the grocery stores which are increasingly encroaching into the branded space with their house brands (aka store brands and private labels).

Kellogg's Travails In India
Just like many of its peers in the FMCG business, Kellogg faces stagnating sales in the U.S. and other developed markets. What's surprising was that even in India, where the GDP has been growing much faster than many other countries, the sales of its products like corn flakes were also lackluster a couple of years back. This is not a matter of affordability, as this is a country where even Starbucks (SBUX) believes can become one of its top five markets eventually. The reasoning goes, if Starbucks has no issue selling its premium beverages beyond a niche customer base, then it should theoretically be easier for Kellogg to merchandise its relatively lower-priced food products.
The facts refute the notion that India is an impoverished nation. India is already the third largest economy in terms of GDP by Purchasing-Power-Parity ("PPP"), just behind the U.S. and ahead of Japan by 77% (2016). Even on a nominal basis, India is poised to overtake the United Kingdom and France to become the fifth largest economy by 2020. Sure, there are many who remain in poverty. However, there are around 1.3 billion people in the country. Kellogg just needs to target the top 10 percent which would already give it 130 million consumers or 40 percent the population of the U.S. Furthermore, in contrast with China, where the demographic dividend has already been milked, India's working age population (aged 20-64) is likely to keep growing beyond 2045, more than two decades away. The government is also supportive of international food companies. Prime Minister Narendra Modi said the officials are soliciting suggestions on tax reforms on certain food and beverage products.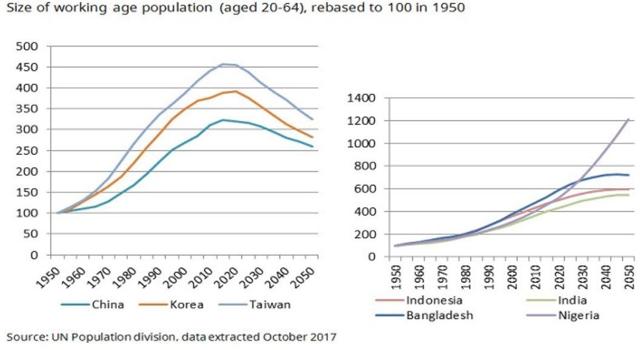 (Chart source: Schroders)
The crux of the issue was actually that the Indian consumers were quite unsure how corn flakes would serve as their breakfast staple. While having corn flakes for breakfast has been such a natural option for Americans and much of the Western world, it is still a relatively new phenomenon in developing countries like India.
Understanding The Consumer Needs And Addressing Them
Kellogg's research team found out that consumers were spontaneously searching the web for recipes on the different ways to enjoy cornflakes. Instead of leaving the revelation as that, the company capitalized on it and created more than a hundred sitcom-style video episodes. Each episode was inspired by what consumers were searching for online and named after "relatable situations in the everyday lives of Indian consumers". These considerations were due to search engine optimization ("SEO") strategies. With that many videos created, Kellogg India now has its own YouTube channel.
Peanut Butter Banana Cornflakes (Kellogg's Waale Guptaji Ki Family ka "Best Child Wala Nashta")
Sanjib Bose, Regional Marketing Manager for APAC and Africa of Kellogg, revealed that the video-based marketing campaign resulted in a 20 percent increase in sales, driven by large packs. Brand awareness also rose by 5.6 percent, with 11.5 million views generated by the videos. Overall, such marketing has helped Kellogg to garner 65 percent of the domestic breakfast cereal category comprising cornflakes, specialised cereals, oats and muesli, based on a study by Nielsen.
Conclusion
These positive statistics do not only reflect what Kellogg is doing right in the country but they are also an indication that the company has developed a relevant approach to its social media engagement and could possibly extend such initiatives globally. More importantly, it shows that the Kellogg is not complacent and expecting its established brand to sell itself, wherever it goes. Investors can thus rest easy knowing that it's not just empty talk when the executives talk about their action plans.
Do you agree? Share your thoughts with the Seeking Alpha community! You might be keen in another of my article on how we can understand Apple's overall strategy through what it is doing in India - Apple: The India Story Says It All.
Author's Note: Thank you for reading. If you would like a refreshing take on stocks that you own or are interested in, try looking here. If you wish to be informed as soon as they are published, please click on the "Follow" button below the title.
If you like this article, please let me know by leaving a comment. Otherwise, kindly provide constructive feedback to help me craft better articles to aid in your analysis.
Disclosure: I/we have no positions in any stocks mentioned, and no plans to initiate any positions within the next 72 hours.
I wrote this article myself, and it expresses my own opinions. I am not receiving compensation for it (other than from Seeking Alpha). I have no business relationship with any company whose stock is mentioned in this article.