Ok, well it looks like high yield is finally starting to crack.
I gave it a week (actually more than a week) before I decided to write about it again in these pages simply because I've been pretty hard on junk bonds in my posts on this platform, but it's becoming pretty difficult to ignore.
As regular readers are acutely aware, I have a deep-seated aversion to high yield ETFs like iShares iBoxx $ High Yield Corporate Bond ETF (HYG) and SPDR Bloomberg Barclays High Yield Bond ETF (JNK).
In many ways, the setup there is something akin to the worst case scenario, and not because there aren't more dangerous things in the world but rather because a lot of people refuse to acknowledge the inherent absurdity in the model.
I want to make this a relatively short post, which means not getting too far into the weeds on the liquidity issue, but what I want to reiterate is this critical point: when people are made aware that something which they took at face value is in fact nonsensical, those same people are loathe to acknowledge the problem. And, it's not because they don't understand the argument - indeed, with high yield ETFs, the argument is so simple that someone with no market acumen whatsoever could understand it. You can't offer intraday liquidity against a bunch of assets that aren't liquid. That doesn't work. That model makes no sense and no argument about unit creation/destruction, or "volume", or "velocity", or an increasingly "well-behaved" NAV is ever going to change that, because the idea that you can offer intraday liquidity against an underlying pool of illiquid assets is a philosophical impossibility.
That only works as long as the flows are diversifiable (i.e. one manager getting inflows as other managers get outflows). If the flows become unidirectional, it doesn't work anymore, and the liquidity of the ETFs converges on the liquidity of the underlying bonds. And, that makes sense because, after all, the ETFs represent an investment in the bonds. There is no way around that.
I wrote a hilarious piece on this for DealBreaker recently that includes a cameo by everyone's favorite claymation icon Gumby - you can read that here. But in addition to my arguments, just know that if you do not believe me when I tell you that the model doesn't make sense, just know that I'm in good company on that point - company that includes Howard Marks and Carl Icahn.
Ok, so given that setup, what you don't want to see is the high yield bubble starting to burst, because the closer we get to that, the closer we are - by definition - to a scenario where the liquidity of the ETFs starts to converge with that of the underlying bonds.
Well, this month, things are getting dicey. JNK has fallen for seven consecutive sessions and has dropped below its 200-day MA: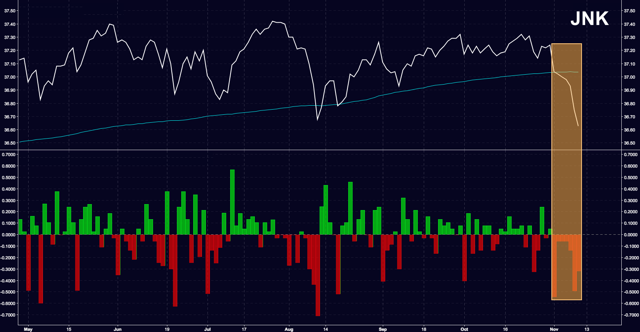 Make no mistake, this is becoming a hot topic. Just ask Jeff Gundlach, who has been tweeting about quite a bit of late: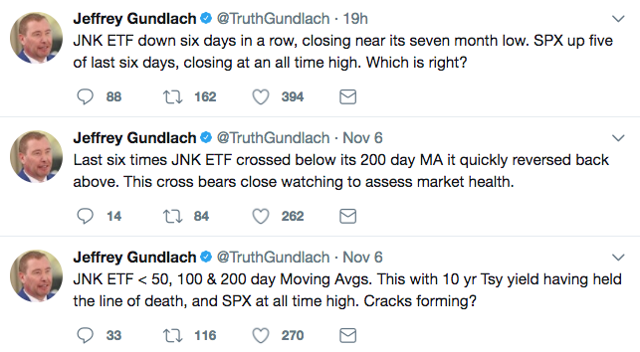 There are so many issues at play here that documenting them is difficult, but at a high level, do note that spreads have of course been driven to post-crisis tights as a consequence of the central bank-engineered hunt for yield. Over the last couple of weeks, we're widening out. Bloomberg Barclays High Yield Index spreads closed at +350 on Wednesday after hitting a 3-year low of +326 October 24:

Here's that chart put in the context of what Gundlach is talking about:

Stocks (SPY) rising, but HY spreads blowing out. As Jeff puts it, someone has to be "wrong."
Documenting the recent selloff on Wednesday afternoon, Bloomberg noted that there is no "discernible cause." And, while I suppose that's some semblance of true, it's also a strange thing to say in light of the fact that spreads have become completely disconnected from leverage. In other words, there's an inherent disparity in this market, and eventually, that's going to have to sort itself out. Moody's warned about this in late September as follows:
The recent composite high-yield bond spread of 367 bp is even more confident of a benign outlook for defaults than is the average high-yield EDF metric. Nevertheless, the last three times corporate debt approximated 507% of internal funds in Q2-2008, Q2-2000, and Q4-1989, the high-yield bond spread averaged 646 bp. More specifically, the high-yield spread's quarter-long averages were 675 bp in Q2- 2008, 631 bp in Q2-2000, and 632 bp in Q4-1989. (Figure 2.)

Moreover, the US high-yield default rate is expected to drop from Q4-2016's 5.6% to 3.2% for Q4-2017 and, then, to further subside to 2.8% by Q2-2018. However, a rising ratio of debt to internal funds typically leads the default rate higher. The quarter-long average of the US high-yield default rate shows very significant correlations of 0.80 to 0.83 with the ratio of debt to internal funds from one to three quarters earlier.
There are also some jitters about the extent to which HY would be affected by a change in the treatment of interest expense tied to the new tax plan. Here's BofAML on that:
Interest expense deductibility is the most relevant issue for HY market participants. Interest expenses would be allowed up to 30% of adjustable taxable income, defined in line with EBITDA. Based on latest reported numbers, we estimate just under 40% of US HY market is exposed to names with interest expenses exceeding that threshold over the past 12-months (37% of issuers and 39% of debt).
You should also note that the divergence between stocks and junk is not something that's commonplace. Here's an interesting (if largely meaningless) tidbit from a piece WSJ ran yesterday:
While losses have been relatively small, the divergence between falling high-yield bond prices and U.S. stocks at records is rare. Only one other time since HYG launched in 2007 has the S&P 500 hit an all-time intraday high, as it did Tuesday, on the same day that the HYG fell to its lowest level in at least a month, according to Jason Goepfert, founder of Sundial Capital Research.
At the very least, you should keep an eye on this because for quite some time, those of a skeptical persuasion have been asking if junk would end up being the canary in the coal mine. If that canary is singing, you should probably listen.
In the same Moody's note excerpted above, the ratings agency lampooned the disconnect between spreads and leverage as follows:
In a world where corporate bond yield spreads narrow despite steeper leverage, pigs just might fly.
Right - "pigs just might fly."
Or maybe they "might" not.
Because as Jeff Gundlach tweeted while I was writing this post, the early trading in stocks on Thursday suggested that JNK was "right":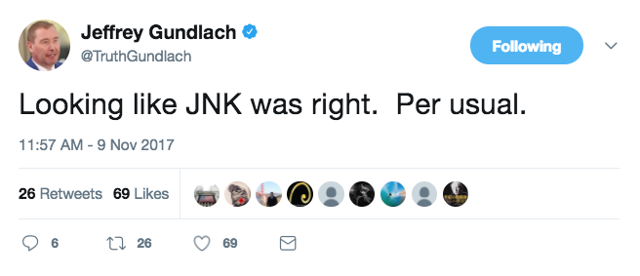 Disclosure: I/we have no positions in any stocks mentioned, and no plans to initiate any positions within the next 72 hours.
I wrote this article myself, and it expresses my own opinions. I am not receiving compensation for it (other than from Seeking Alpha). I have no business relationship with any company whose stock is mentioned in this article.