It has been a roller coaster decade for investors in U.S. real estate. From the vertiginous heights of the early-to-mid 2000s to the abysmal lows of 2008-2012, housing prices have nearly come full circle. Yet for all the gloom-and-doom that many pundits proclaim for the housing market, the outlook is actually far brighter than even the bulls realize. In this commentary we'll take a look at the leading signs that prove that not only is the real estate market still healthy, but it actually has strong upside potential in 2018 and beyond despite high home prices in many cities.
Property prices as reflected in the S&P/Case-Shiller U.S. National Home Price Index has reached a new high and is about 5 percent above its pre-crash peak. Following is the national home price average as provided by S&P/Case-Shiller. It clearly shows the new high of the last year in home prices, thus underscoring that the bear market in housing which began over a decade ago has completed its work and a new long-term bull market is now underway.

Source: https://fred.stlouisfed.org
A more incisive look at the prevailing trend in metropolitan real estate prices is the 20-City S&P/Case-Shiller Home Price Index. Shown below is the year-over-year change in the 20-City index. It decisively entered into positive territory in 2012 and has been positive ever since.

Source: https://fred.stlouisfed.org
What's conspicuous about the above graph, however, is the rate of change slowdown since 2014. After a strong rebound from 2012 to 2014, the rate of increase in property prices has been subdued. It's straining to turn up, but the preliminary signs from several important leading indicators of home price strength are very encouraging. We'll review those signs here and see how it points to a potentially powerful year ahead for real estate.
Let's start with the first important sign that the U.S. real estate market is getting stronger: foreclosures. Foreclosure activity hit an 11-year low in the third quarter of 2017. An improving economy and stricter mortgage standards were among the reasons which allowed the housing market to reach pre-2008 levels, according to the U.S. Foreclosure Market Report compiled by ATTOM Data Solutions. Properties with foreclosure filings in Q3 2017 declined 13 percent from the second quarter and 35 percent lower from a year ago. This is the lowest level since the second quarter of 2006, the height of the housing bubble.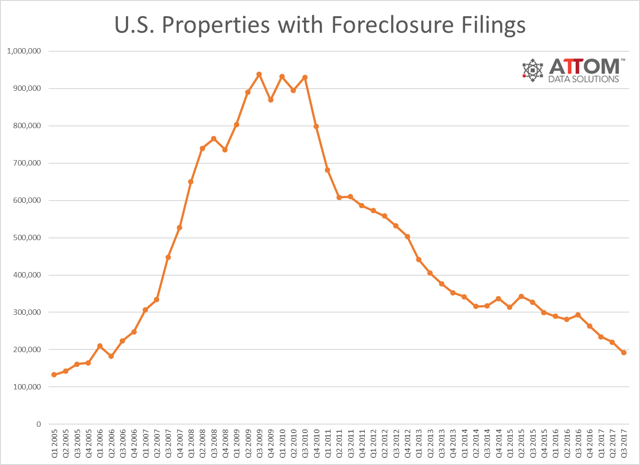 Source: https://www.attomdata.com
The downside to this trend is that mortgage standards are much tighter than they were in the years before the crash. This is one reason for the year-over-year slowdown in the 20-City Home Price Index. However, according to Fannie Mae's Q3 Mortgage Lender Sentiment Survey, lenders eased home mortgage credit standards during the third quarter, continuing a trend that started in late 2016. "In particular," the report said, "both the net share of lenders reporting easing on GSE-eligible loans for the prior three months and the share expecting to ease standards on those loans over the next three months increased to survey highs. Lenders' comments suggest that competitive pressure and more favorable guidelines for GSE loans have helped to bring about more easing of underwriting standards for those loans." Thus, a barrier to entry for many would-be home buyers is effectively being lowered.
Another important indicator is existing-home sales. Existing-home sales were higher for the latest reporting period, although supply shortages and hurricane-related activity caused sales to decline on an annual basis, according to the National Association of Realtors. Affordability is also an issue for middle-income home buyers, according to NAR, yet the existing-home sales rate is still trending higher despite these challenges.

Source: https://fred.stlouisfed.org
The median existing home price for all housing types increased 4.2% to $245,100 in September, the 67th straight month of year-over-year gains, according to Briefing.com. The median existing single-family home price for September was $246,800, up 4.2% from a year ago. Briefing.com also reports that median home prices were up in all regions of the U.S.
One of the strongest indications of latent strength in housing is reflected in both the PHLX Housing Index (HGX), which has recently hit a new 10-year high. HGX can be thought of as a leading indicator for the broad U.S. real estate market, especially given the timely signals HGX has flashed since the housing market bottom. HGX is telling us that concerns among some that U.S. housing is facing a slowdown lack merit. It also confirms the boom in housing and commercial property construction in many cities in the last two years.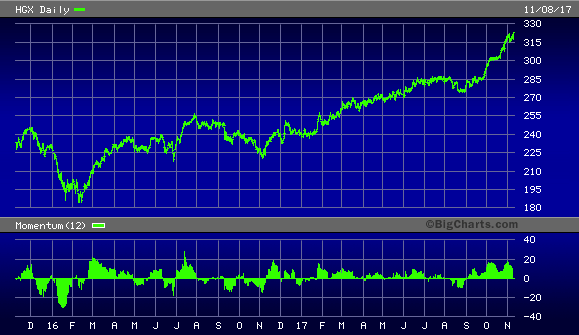 Source: www.BigCharts.com
A final consideration pointing to underlying strength in the real estate market, supply constraints notwithstanding, is interest rates. The average rate for 30-year fixed rate mortgages was 3.94 as of Nov. 2. According to Freddie Mac, this is only slightly above the Nov. 29, 2012 low of 3.32 - the lowest rate in their records which date back to 1971. The long-term trend for mortgages therefore remains down, as is shown in the monthly mortgage rate chart below.

Source: https://fred.stlouisfed.org
The first hint of a trend reversal would be mortgage rates rising decisively above 4.48%, which is the nearest pivotal high seen in this chart, from Dec. 26, 2013. Until that pivotal high is taken out, the mortgage rate trend will remains conducive for the continued recovery and will continue to stimulate increased home building activity in the U.S. real estate market.
Having examined several key indicators of real estate market strength, the weight of evidence continues to point to greater strength in the 1-2 year outlook. While many analysts worry about affordability and supply constraints, the Housing Index chart suggests that the longer-term trend toward rising construction demand will eclipse these concerns. As the economy continues to strengthen and investors increasingly look for alternatives to low-yielding assets, real estate will benefit as housing becomes a focus of interest for long-term investors.
Disclosure: I/we have no positions in any stocks mentioned, and no plans to initiate any positions within the next 72 hours.
I wrote this article myself, and it expresses my own opinions. I am not receiving compensation for it (other than from Seeking Alpha). I have no business relationship with any company whose stock is mentioned in this article.