To successfully evaluate REIT performance and determine appropriate portfolio allocations, investors should understand commercial real estate total returns and volatility and how they relate to REIT total returns and volatility. In this evaluation, volatility, which doesn't receive sufficient investor attention, is just as important to evaluate as the total returns. A top-down understanding of commercial real estate markets and REIT markets will help investors make better investment decisions regarding specific REITs.
This article will evaluate the total returns and volatility for commercial real estate (NCREIF Property Index), perpetual life REITs (Summit Perpetual Life REIT Index), and listed REITs (FTSE NAREIT All Equity REIT Index). Perpetual life REITs are non-listed REITs that have daily or monthly valuations with limited liquidity, while listed REITs are bought and sold on stock exchanges and have full liquidity. Commercial real estate by nature is illiquid. A critical investor note is that the degree of liquidity impacts volatility.
Total Returns
This table highlights total returns for commercial real estate, perpetual life REITs, and listed REITs.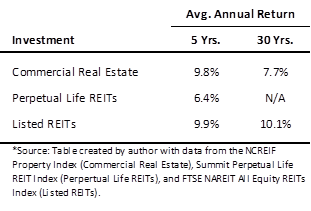 Over the last five years, which is the extent of return data for perpetual life REITs and is presented for comparative purposes, listed REITs had the highest average total return of 9.9% followed closely by commercial real estate at 9.8%. Perpetual life, which were launched in 2013, had lower average total returns of 6.4%. When you look over 30 years, which covers three economic downturns, listed REITs had a slight drop to 10.1%, while commercial real estate dropped to 7.7% due to losses during recessions.
Historical Returns – Annual and Quarterly
From a total return perspective, listed REITs outperformed both commercial real estate and perpetual life REITs; however, this is only half of the story for investors in REITs. The charts below summarize annual and quarterly total returns for 2013 through 2017.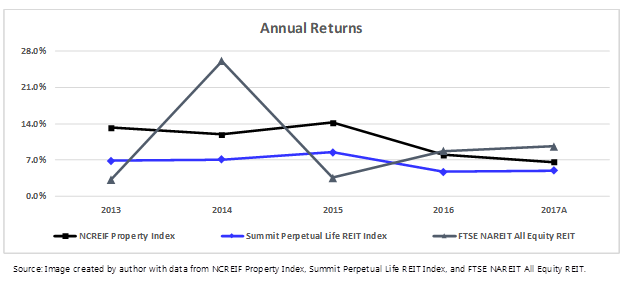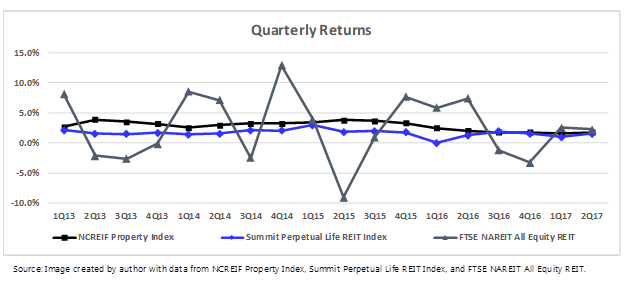 In looking at total returns, commercial real estate has experienced steady but declining total returns, which would be expected given the market cap rate compression throughout this period from 2013 to 2017. Perpetual life REITs also experienced steady but declining total returns that were regularly below commercial real estate returns. Some factors for the lower returns of perpetual life REITs are the fee structures of perpetual life REITs, their capital deployment efficiency, and their investment strategy.
Volatility
Listed REITs, however, had high volatility with significant changes on a quarterly basis. While commercial real estate and perpetual life REITs reported positive returns in all quarters from 2013 through 2Q17, listed REITs posted negative returns in seven out of eighteen quarters. Two primary factors contribute to listed REIT volatility. First, listed REITs have a weak positive correlation to the stock market, so prices will move with overall market changes. Second, the full liquidity of listed REITs directly results in volatility.
In evaluating REIT investments, investors should consider both total return and volatility, which is summarized in the table below.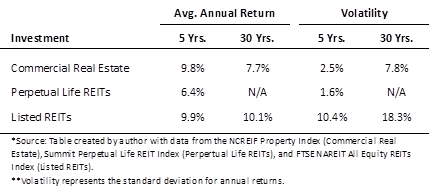 Over the past five years, perpetual life REITs had the lowest volatility with a standard deviation of 1.6%, which indicates that the majority (68%) of annual returns fall between 4.8% and 8.0%. Commercial real estate had a low volatility of 2.5% indicating that most annual returns fall between 7.3% and 12.2%. Listed REITs, however, had a high volatility of 10.1% indicating that most annual returns fall between a wide range from 0.5% and 20.3%. Listed REITs perform more like stock than commercial real estate.
When you look at volatility over 30 years and three economic downturns, the volatility of commercial real estate triples to 7.8%, and the volatility of listed REITs nearly doubles to 18.3%. With only five years of history, perpetual life REITs have not experienced an economic downturn, but perpetual life REITs will report higher volatility when they endure an economic downturn in the future. Volatility is an important consideration for an investor, particularly if they have a priority of protecting their capital investment.
Conclusion
In evaluating REITs, investors should consider both total returns and volatility in determining investment allocations. Listed REITs are great investments that provide high long-term returns with higher dividends than typical stocks; however, investors should be aware of the high volatility of listed REITs. If investors are concerned about preservation of their capital, particularly as they approach retirement or early in retirement, they should consider a reduction in their exposure to listed REITs and stocks in general.
Conversely, perpetual life REITs have significantly lower volatility and higher distributions than listed REITs; however, investors should understand that average long-term returns will be lower than listed REITs and perpetual life REITs have limited liquidity. With each REIT investment, investors have trade-offs: higher returns with high volatility for listed REITs and lower returns with low volatility for perpetual life REITs. This understanding of returns and volatility should be evaluated carefully by REIT investors.
Disclosure: I/we have no positions in any stocks mentioned, and no plans to initiate any positions within the next 72 hours.
I wrote this article myself, and it expresses my own opinions. I am not receiving compensation for it (other than from Seeking Alpha). I have no business relationship with any company whose stock is mentioned in this article.