Paramount Gold (NYSEMKT:PZG) owns a 100% interest in the Grassy Mountain Gold Project in eastern Oregon and a 100% interest in the Sleeper Gold Project in northern Nevada. Over the past few months some subscribers have asked my opinion on the Paramount Gold. I owned the old Paramount Gold & Silver several years before Coeur Mining acquired it in December 2014 for $146 million in stock. As part of that deal, Paramount's non-Mexican assets were spun-off to management. Coeur seeded the new company with $10 million and retained 4.9% of the shares. I had a chance to participate in a recent conference call with management to hear their story.
Grassy Mountain Gold Project - PZG acquired Grassy Mountain (GM) in July 2016 via the acquisition of Calico Resources for $15 million in PZG shares. GM has a total resource of 1.65 million oz. of gold (mostly measured) and 4.96 million oz. of silver. Of this, 504k oz. of the gold is underground with a grade of 5.32 g/tonne. The rest is 1.15 million oz. of low-grade, open pit resource.
The project came with a Preliminary Economic Assessment which outlines 9-year underground-only mining operation with low cash costs that averages 53,000 oz. of gold and 82,000 oz. of silver per year (all-in sustaining costs of $880/oz). The after-tax IRR Is 27%. The up-front capital cost is $120 million but the Company has identified potential cost-cuts which would reduce this by $20-30 million. Additionally, the PEA only encompasses the underground portion of the deposit. It does not include the 1.2 million open-pit oz..
CEO Glen Van Teeck describes the project (underground + open pit) as having in excess of "$100 per tonne of rock," meaning that, at the current price of gold, the mining operation would generate in excess of $100 in profits per tonne of ore processed. On this basis, the "in-situ" value of the current deposit is $600 million. This is the gross value of the identified mineralization contained in the ore. To be clear, this valuation should not be confused with a Net Present Value, which would incorporate the up-front + ongoing costs of building and operating the mine. However, it is likely that the NPV for just this project - especially at a higher price of gold than the current price, is significantly greater than PZG's market cap.
Historical drilling on the property has identified the potential for significant exploration upside. Underground drilling that has been done in advance of preparing a Preliminary Feasibility Study has returned assays showing evidence of significant high-grade mineralization and the potential to expand the size of the resource in the underground portion of the Project. There's also significant opportunity to expand the overall "footprint" of resource.
Currently PZG is in the process of preparing both an Environmental Impact Study and a Prefeasibility Study, the latter of which is expected to be released in Q1 2018. It is also preparing its mine operation application to the State of Oregon. The permitting process, is expected to take 18-24 months. The goal is to have a full-permitted mine by early 2019 and then build the mine.
Sleeper Gold Project - The Sleeper Gold Project is a former high-grade open pit gold mine operated by AMAX Gold in from 1986-1996 (AMAX closed the mine due to the falling price of gold). It produced 1.66 million oz. of gold and 2.3 million oz. of silver. This is the asset that Paramount management/shareholders retained in the spin-off from the Coeur deal. In addition to the historic mine, PZG owns and has staked 60 square miles of land which stretches south along a mineralization trend to Newmont's Sandman Project (NEM acquired this project when it acquired Fronteer Gold in 2011).
Sleeper has 3.1 million oz. of measured/indicated gold and 1.5 million inferred. It also has 29 million of M&I silver. A Preliminary Economic Assessment shows a project with $175 million in up-front capex and open-pit operation that processes 30,000 tonnes per day to produce 84,000 oz. of gold and 83,000 oz. of silver. Assuming $1250 gold and $16 silver, the project shows an IRR of 20%.
Bottom Line - The company currently is focused on advancing Grassy Mountain to production. Eastern Oregon hosts several gold-bearing areas. Oregon's DOGAMI (Department of Geology and Mineral Industries) is interested in developing the mining industry in eastern Oregon. The Company thus does not foresee any formidable hurdles to getting all necessary permits issued. As COO of the predecessor company, Glen van Treek oversaw the development of Paramount's San Miguel project in Mexico, which was the project acquired by Coeur.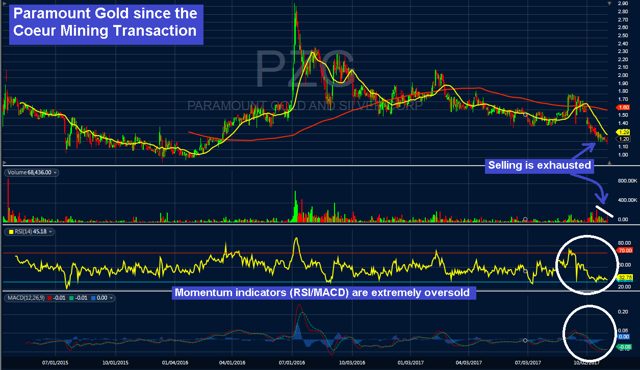 After raising $7 million in October, the Company has just 23 million shares outstanding. Most investors look at this as a positive because it has a lot of room for share issuance to finance development expenses without incurring what is considered to be excessive share dilution. The company likely could finance the upfront capex to build the GM mine on its on using a combination of debt (project financing) and equity without sending the share-count through the roof. On the other hand, a low share-count can deter big funds from investing in a company because of the difficulty face in buying enough shares to make investing worth the effort.
31% of PZG's shares are controlled by insiders (26%) and management (5%). The insider group consists of Albert Friedberg and Seabridge Gold. Friedberg owns Friedberg Mercantile Group, which is a Canada-based investment firm. Rudi Fronk, CEO of Seabridge, is the Chairman of PZG.
PZG has two projects in excess of 6 million oz. (combined) of measured/indicated gold resource. Its current market cap is $27 million. At this valuation, the gold in the ground is valued at $3.70/oz. I find this to be extraordinarily low. Because of the low share-count, 31% of which is held by insiders, PZG has strong upside leverage to the price of gold.
If PZG can advance Grassy Mountain into a 100,000 oz/year mine (underground + open pit), in today's market it would receive minimally a $100 million market cap. That said, I believe PZG will also make an attractive acquisition target for large mining company looking to add reserves and production. On this basis, PZG appears to be an interesting stock at its current price. Glenn (CEO) bought 10,000 shares in open market in late October. We do not own PZG in our fund yet. But I will probably start buying shares in the next couple of weeks. Assuming the price of gold gets over $1300 and moves up from there, I think PZG has an easy 50% in it within 6-12 months. The stock was trading above $2 in early February 2017.
Disclosure: I am/we are long PZG.
I wrote this article myself, and it expresses my own opinions. I am not receiving compensation for it (other than from Seeking Alpha). I have no business relationship with any company whose stock is mentioned in this article.
Editor's Note: This article covers one or more stocks trading at less than $1 per share and/or with less than a $100 million market cap. Please be aware of the risks associated with these stocks.