Every month, I cover the orders and deliveries for Boeing (NYSE:BA) and Airbus (OTCPK:EADSY) (OTCPK:EADSF). Now, there is a lot more than just orders and deliveries. Some subjects are worthy of more detailed analysis and some are not. The subjects that are not are not necessarily unimportant. Therefore, I have been running a monthly article that bundles some of the most interesting news items that do not justify a separate article or deserve to be mentioned again. You can read the September report here.
Share price development October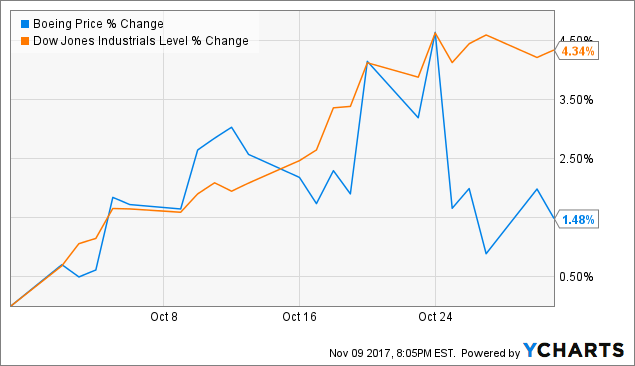 BA data by YCharts
In October, Boeing's shares gained 1.5% after gaining 5.8% earlier. In October, Boeing underperformed the market primarily duet to giving up gains towards the end of the month when it reported Q3 earnings. Earnings were good, but somewhat disappointing was the guidance that did only include a higher cash flow and EPS guidance sparked by a lower tax bill. Not completely unsurprising, Boeing's underperformance started after Bombardier (OTCQX:BDRAF) and Airbus (OTCPK:EADSF) announced a partnership on the C-Series program. During the month, Boeing also declared $1.42/share quarterly dividend, which is in line with previous.
Commercial Market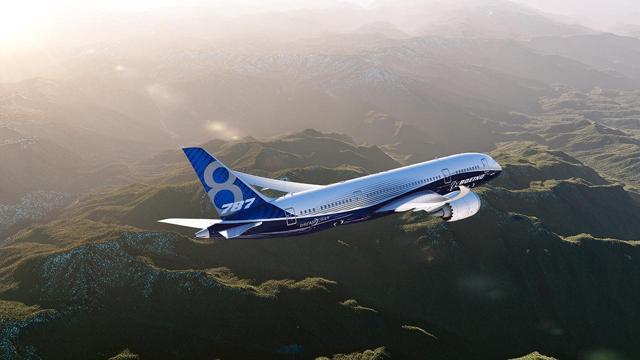 What captured the headlines during October was of course the partnership between Bombardier and Airbus on the C Series program. This is quite an extensive subject that I have discussed in previous articles, so I will not be touching the subject in this article. If you want to read about it, you can do so here and here.
During the month there were some milestones. Probably the biggest milestone was the roll out of the first factory new Boeing 787 for Singapore Airlines, which will take delivery of the biggest Dreamliner variant in 2018. Singapore Airlines and Boeing signed a final purchase agreement for 29 aircraft: 20 Boeing 777X and 19 Boeing 787-10s. It is important to be aware that this order was already in Boeing's order books since June under the name of an unidentified customers. The order is a very important one for Boeing's presence in the Singapore Airlines fleet.
China Southern Airlines airlines comitted to the purchase of 30 Boeing 737 MAX 8 aircraft and 8 Boeing 777-300ERs and I am expecting this order to be posted in Boeing's October orders and delivery update.
In other news, Ethiopian Airlines took delivery of its first Boeing 787-9 aircraft. The airline is the first operator of the Boeing 787-9 on the African continent and already operates 19 Boeing 787-8 aircraft, some of which are early built aircraft that Boeing likely has sold with high discounts.
Among carriers that are yet to make a decision to go with Boeing or Airbus or a combination of both for heir fleet expansion or replacement are Thai Airways, Japan Airlines, Oman Air and Qantas. Sales to any of these airlines would be key campaigns to Boeing.
On the acquisition front there also was news, where Boeing acquired Aurora Flight Sciences. The company by some media has been labeled as a dronemaker but its core value to Boeing undoubtly are the autonomous technology capabilities.
During the month, 7 customers signed up for Boeing's analytics solution, which is an area that the company has been increasingly focusing on since Dennis Muilenberg became CEO of Boeing. Year-to-date, Boeing has signed 223 analytics contracts with customers, which quite well shows the abilities for Boeing to harvest additional revenues from its installed base.
Defense and Space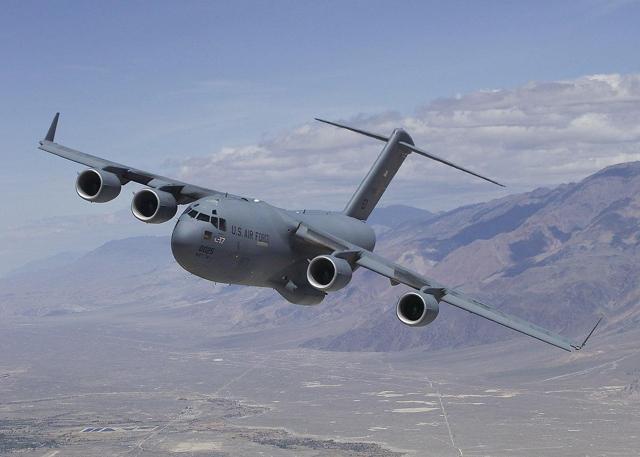 Last month we saw quite a bit of news on the defense front, this month was somewhat different. With political tension mounting you would be inclined to say that Boeing can directly benefit from that. That is only the case if that political tension is long lasting and even then defense budget hikes for countries around the world have to be approved and Boeing can get a piece of the pie. Recently, we saw Boeing's share prices gaining a few percent as political tension rose, but it does not directly result in added orders for Boeing's business… perhaps in the long term Boeing can significantly gain, but for now it has to try very hard on selling the F-18 and re-manufacturing airframes.
Currently key programs for Boeing are the T-X program, the tanker program and the Minuteman III ICBM replacement. The only program that Boeing already has in its pocket is the KC-46A tanker program and there it is coping with cost overruns and delivery delays. In the 3rd quarter, Boeing recognized a $329 million charge on the program bringing its total cost overrun to over $2.5B.
So, is it all bad for Boeing? No, absolutely not. Any President of the United States is a salesman for US companies and President Trump is no exception and I think he is more focused on getting orders for Boeing (BA) than any other US President, because it fits his key point of supporting US jobs and he can easily use it as an example to show what he has achieved as President.
Conclusion
In October, Boeing share prices trailed the market. This was primarily caused by a somewhat soft guidance increase and investors were likely hoping for a guidance that would point towards a more robust performance in Q4.
On a commercial level, the C Series partnership between Airbus and Bombardier captured headlines. The last word is not spoken about that parternship yet, but one thing is certain: Whatever the verdict of the ITC will be, Boeing has to focus on keeping its single aisle product competitive and think of ways to end up on top.
On Defense level, Boeing has to hope for additional funds to be used to acquire Boeing military jets while the company is working through its way on stabilizing the tanker program and design and testing efforts prior to key contracts awards for recapitalization programs. Successful sales campaings to foreign military customers such as India would be more than welcome.
Thank you for reading this article. If you want to know about my best investing ideas, sign up for AeroAnalysis, my Marketplace service. Don't forget to hit the "Follow" text at the top of this page next to my profile to receive updates for my upcoming articles.
Disclosure: I am/we are long BA. I wrote this article myself, and it expresses my own opinions. I am not receiving compensation for it (other than from Seeking Alpha). I have no business relationship with any company whose stock is mentioned in this article.
Editor's Note: This article discusses one or more securities that do not trade on a major U.S. exchange. Please be aware of the risks associated with these stocks.