The noise out of Washington regarding changes to the Affordable Care Act (ACA) and healthcare seems to never end. Despite the lingering uncertainty, there are several longer-term industry trends worth highlighting.
Two key themes that may outlast the headlines are demographics and a renewed emphasis on cost control in healthcare services, in our view. Specifically, let's look at two healthcare sectors that could see the greatest impacts: biotechnology and managed care.
Biotech
From an industry perspective, biotech occupies a unique hybrid position. It's both a tech-like sector, offering secular growth potential, and a healthcare sector, with corresponding defensive characteristics. That defensive position came under attack in 2015 as political rhetoric from both sides zeroed in on perceived unfair drug pricing. Nonetheless, there are two factors worth noting regarding biotech that may make this an entry point worth considering:
It is under-owned and undervalued: Historically, biotech has traded off fundamental drivers: drug pipelines, product growth, mergers and acquisitions (M&A) activity, and patent protection. However, as the 2015 political imbroglio increased drug price uncertainty, investors pulled money broadly out of healthcare. That shift in sentiment has made current valuations more attractive. Over that past 20 years, the price-to-earnings (P/E) ratio of the Nasdaq Biotechnology Index's has averaged 2.3 times the S&P 500 P/E ratio; today, the current ratio is mere 1.1x, a 53% discount to its 20-year average.1
Long-term drivers appear intact: Drug pipelines are notoriously challenging to predict over the short term, given the deep level of medical knowledge required, clinical testing, and regulatory review. However, two trends appear supportive over the long term. First, advances in computational biology, bioinformatics, and artificial intelligence (AI) are features helping reduce the time and cost of drug development. Second, approval rates by the U.S. Food and Drug Administration (FDA) have steadily risen over the past two decades, climbing from 23% in 1994 to 89% and 77% in 2014 and 2015, respectively.2 Biotech's historical drivers currently appear intact, making it one of the rare sectors that enjoys long-term growth potential at a reasonable price.
Biotech currently appears inexpensive on a relative basis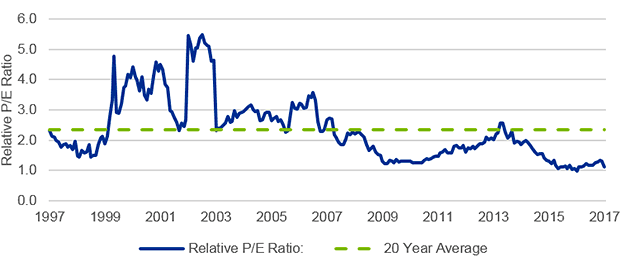 Source: Thomson Reuters. As of Nov. 3, 2017. The relative P/E ratio is measured using the Nasdaq Biotechnology Index price-to-earnings ratio and the S&P 500 price-to-earnings ratio. Indexes are unmanaged, and one cannot invest directly in an index. Past performance does not guarantee future results.
Managed Care
Few industries occupy an intersection as large or as important as managed care. The $1.3 trillion managed care space is essentially a middle man for the entire healthcare sector, helping to manage, improve, and lower healthcare costs.3 Given its size (62% of addressable healthcare spending) and centrality, it's worth examining a number of macro trends that point to long-term growth potential.4
Legislative tailwind: In one of the biggest industry surprises this cycle, the ACA has added over 15 million newly insured and, by most estimates, added roughly $40 billion in recurring industry revenue - turning out to be a tailwind, not a headwind as feared.5 As a result, equity multiples rebounded alongside improving operating fundamentals. A secondary potential tailwind is tax reform. The managed care industry faces one of the highest effective tax rates, meaning any tax cuts could have a larger benefit to managed care than to other, lower-taxed sectors.
Demographics are destiny: Few sectors stand to potentially benefit from aging demographics as much as healthcare, in our view. Over 10,000 baby boomers age into Medicare each day, and while the commercial market is largely saturated, the federal insurance program remains a growth opportunity for the managed care industry. Medicare spending is roughly 20% (or roughly $650 billion) of total healthcare spending, yet Medicare Advantage (offered by private companies) is only 32% penetrated by managed care companies.5
Cost trends: Healthcare costs are important to monitor as it is a revenue source for healthcare providers, but an expense paid by the managed care space. The good news is the cost-conscious shift from fee-for-service to fee-for-value should put structural downward pressure on the pace of cost growth. The steady push to higher out-of-pocket costs may also help move consumers towards lower-cost alternatives. Managed care could also stand to benefit from any change to drug pricing, making it a potentially attractive hedge against risks to biotech and pharmaceuticals.
Medicare remains an underpenetrated potential growth opportunity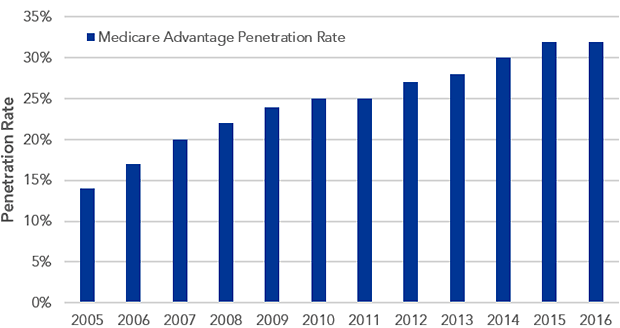 Source: Centers for Medicare and Medicaid Services. As of 2016.
Role in a portfolio
Demographics and managing healthcare costs are two long-term trends likely to outweigh political uncertainty, in our view. In an uncertain healthcare policy environment, a complementary focus on biotech and managed care sectors can help investors build an exposure covering both defensive and growth opportunities.
1 Thomson Reuters, as of Sept. 26, 2017.
2 Food and Drug Administration.
3 Centers for Medicare and Medicaid Services.
4 Note: Total addressable healthcare spending is $2.1 trillion. Managed care companies service $1.3 trillion (62%), leaving an $800 billion untapped market opportunity ($430 billion in Medicare, $386 billion in Medicaid).
5 Centers for Medicare and Medicaid Services.
This post originally appeared on the BlackRock Blog.