By Matthew Carr
This weekend, I strolled around one of my local malls.
I know, it was a very "retro" thing to do. If I'd had on skinny jeans, worn Warby Parker glasses and sported a beard, I'd have felt like a true hipster.
But alas, I was bored and driven by a morbid curiosity to see how bad it had gotten.
Like a growing number of Americans, I abandoned mall shopping years ago. This is why enclosed malls and department stores have struggled.
Not surprisingly, the crowd was sparse.
The number of vacant storefronts with security gates lowered had grown since my last visit. All those dark spaces made the mall feel gloomy, even with holiday decorations popping up.
Every place touted discounts. And even the shelves in the high-end retailers were stickered with markdowns of 40% or more.
The retail apocalypse has taken its toll.
This paints a depressing picture of the retail industry. But the reality might be much more upbeat. At least one important signal is showing record optimism.
A Scorched Earth Revival?
Over the last couple of years, retailers have received large lumps of coal in their stockings... and their investors have struggled.
It's been a dark time for brick-and-mortar retailers as the rapid rise of e-commerce and mobile commerce has picked their pockets.
Shares of Macy's (NYSE:M) set a new 52-week low on Monday. And they're down nearly 50% so far in 2017...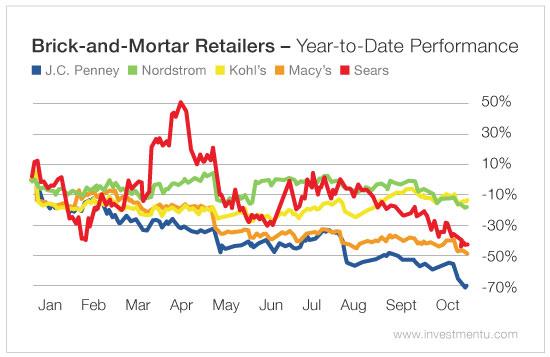 Shares of J.C. Penney (NYSE:JCP) have performed even more poorly. Meanwhile, shares of Nordstrom (NYSE:JWN), Sears (SHLD) and Kohl's (NYSE:KSS) have slid by double-digits.
At the other end of the spectrum, shares of retail disruptors such as Amazon (NASDAQ:AMZN) have surged to unprecedented heights...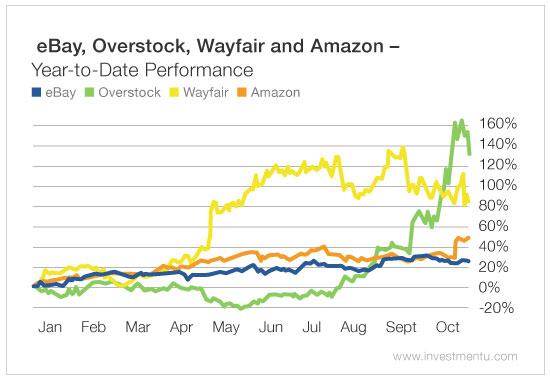 eBay (NASDAQ:EBAY) shares are up 25% in 2017... That's far better than the brick-and-mortar retailers, but half the gain of Amazon and well behind the performance of Overstock.com (NASDAQ:OSTK) and Wayfair (NYSE:W).
So, as brick-and-mortar retailers have shuttered hundreds of locations and teetered on the brink of bankruptcy, e-commerce companies have soared.
But I think the scorched earth retail landscape holds some real opportunities this holiday season. And that's because there's a glimmer of hope... a light at the end of the tunnel.

Retail's Record Gamble
Retail accounts for 1 in 4 U.S. jobs.
The sector accounts for $2.6 trillion of the nation's GDP. And it's one of the best barometers of the state of the economy.
The latest survey from the National Retail Federation predicts that 2017 should be a busier holiday season, with spending rising between 3.6% and 4%. That puts total U.S. spending between $678.8 billion and $682 billion.
That would be a record. But total U.S. holiday spending has set a new record every year since 2010.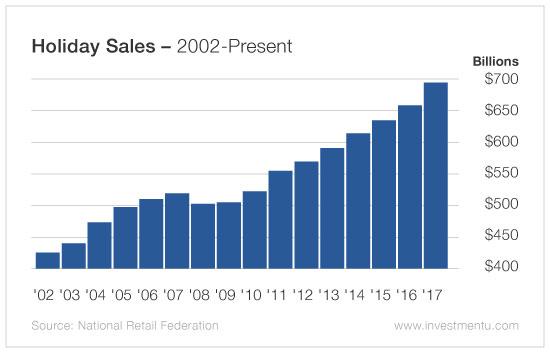 More importantly, if the projected growth goes to 3.8%, it would be higher than last year's 3.6%. And it would be the biggest year-over-year increase in spending since 2014.
Plus, retailers are apparently anticipating a surge in shopping.
During the summer, they imported goods at a record pace.
In July and August, the number of twenty-foot equivalent units (TEU, a measure of shipping volume) at ports set back-to-back records. The record highs in this important indicator are providing much-needed good news to the retail sector.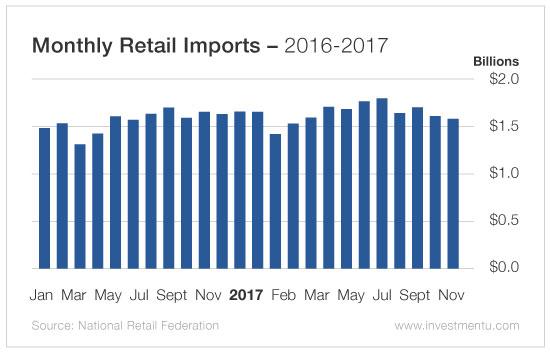 And in August, the number of import TEUs was up 5.6% year over year.
In September and October, port deliveries eased - as they seasonally do - but they were still at elevated levels. In October, the number of import TEUs was up 2.99%.
So the mood has shifted in this area of the market.
There's been a tremendous buildup of inventories heading into the holiday season. Of course, cargo containers don't instantly equate to sales. But retailers - both brick-and-mortar stores and online disruptors - are expecting a merrier-than-normal Christmas.
That means investors need to start acting on their retail stock wish list now, before those record volumes of cargoes are converted into revenues - and shares start to soar.
Disclosure: We expressly forbid our writers from having a financial interest in their own securities recommendations to readers. All of our employees and agents must wait 24 hours after online publication or 72 hours after the mailing of printed-only publication prior to following an initial recommendation. Any investments recommended by Investment U should be made only after consulting with your investment advisor and only after reviewing the prospectus or financial statements of the company.