The first part of the Q1 earnings conference of Synaptics (SYNA) is pretty comical, it contains a listing of all their recent design wins in their three fields of operations. These design wins amount to a couple of dozens.
That conveys a sense of optimism, as is the rapid rise of revenues from their IoT (internet of things) business, which is guided to rise from 14% in Q1 to 24% in Q2. Shareholders seem to have latched on to that optimism after the CC: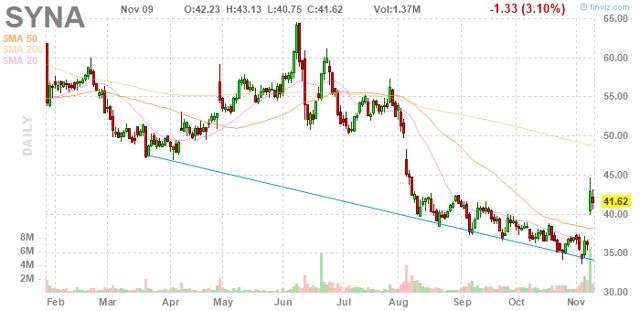 Mobile
But not all the news was good. Despite several notable wins (multiple Huawei models, Sharp, Asus, the Samsung Galaxy Note 8, etc.), their capacitive fingerprint reader business for mobile is experiencing considerable headwinds, with a big customer loss and ASPs falling more rapidly than what most people expected, it has turned into a commodity, basically.
The company will still participate in the volume business and they still have a good business in these capacitive fingerprint readers for PCs where they're really the only supplier of a secure fingerprint reader.
The company is shifting towards optical fingerprint readers where over half a dozen customers are sampling the product and will start mass production for one top-tier Chinese customer by the end of the calendar year.
Their TDDI products has added four new solutions and traction is good with half a dozen Huawei phones and others from OPPO, Xiami, TCL and Sony.
A threat could come from the market shifting towards 3D sensing and face recognition, as in Apple (AAPL) iPhone X. Management argues that they are not too worried about this as they believe their upcoming optical sensor can compete with this and customers aren't backing away from it either, at least not so far.
Their display driver business is also not growing anymore, but there is hope for the future when they get their TDDI LCD drivers and OLED drivers ready as the company is sampling to multiple panel manufacturers already.
A little further out is their TDDI OLED drivers, sampling will only start at the end of 2018 (and that won't be Samsung, which got its own solution).
So declines in capacitive fingerprint readers and display drivers should be compensated by their new OLED drivers and optical fingerprint readers in the future. In the meantime, the revenue from mobile was down 15% sequentially and 8% from a year ago and it's 70% of overall revenue
PCs and automotive
Good progress with numerous design wins is made in PCs (with touchpad, fingerprint sensors and audio solutions) and automotive. Capacitive fingerprint readers for PCs are still a growth area for the company as unlike competitors, it offers a tailored solution, not a product for mobile.
Significant design wins in automotive as well, with five major European OEMs and Tier-1 suppliers for display drivers and touch controllers, and even fingerprint readers.
They are even making inroads into the Chinese automotive market with half a million cars already on the road with Synaptics solutions.
IoT
This is likely to be a nice growth area for the company, largely through the two acquisitions they made in the beginning of the year. These were Marvell's multimedia business and the audio specialist Conexant.
The latter especially was already well positioned with the audio solutions for Amazon's (AMZN) Alexa, but there is a host of additional design wins in the Amazon and Google (GOOG) (NASDAQ:GOOGL) ecosystems.
They projected FY2018 revenues conservatively at $200M-$250M but in Q2 they are already on a $320M run rate. That could be a tad too optimistic, as Q2 is the seasonally strong quarter, but on the other hand all those design wins have yet to kick in.
The automotive market is also shifting rapidly from display drivers (their traditional market here) towards touch and fingerprints and perhaps voice in the future, that is, Synaptics IoT segment.
They have three platforms in IoT, AudioSmart, ImagingSmart and VideoSmart. The first involves DSPs and the far-field solutions that separates speech from background noise used in digital assistants like Alexa (and a host of similar products).
But it's also gaining traction in other products, like personal audio such as headsets and earbuds (with wins from Plantronics and Sennheiser).
ImagingSmart is used for fax and printers, design wins with HP (HPE). VideoSmart offers video and audio processing solution for VR/AR headsets and set-top boxes, with wins from Harman Kardon and Google.
Restructuring
With some synergies from their recent acquisitions and further cost cutting, they project leaving FY2018 with a $40M lower run rate even if some of this will be invested in the new growth businesses.
This will go some way to restoring margins, which have been falling rather precipitously over the past couple of years (even if these are GAAP figures which are quite heavily impacted by acquisition cost):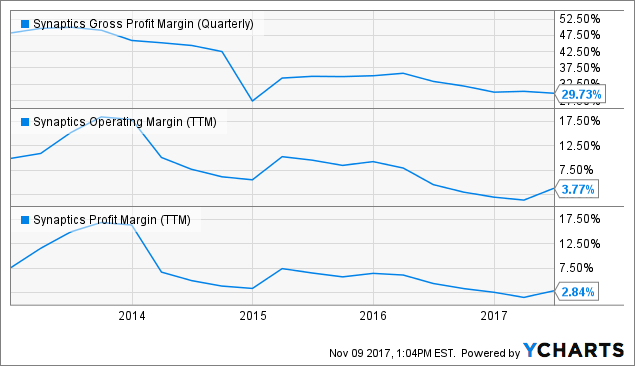 Q2 guidance
Revenue will be in the range of $410 million to $450 million and $1.7B for FY 2018. EPS (non-GAAP) is guided at $1.00-$1.15.
Valuation
The company has gotten progressively cheaper, especially on sales: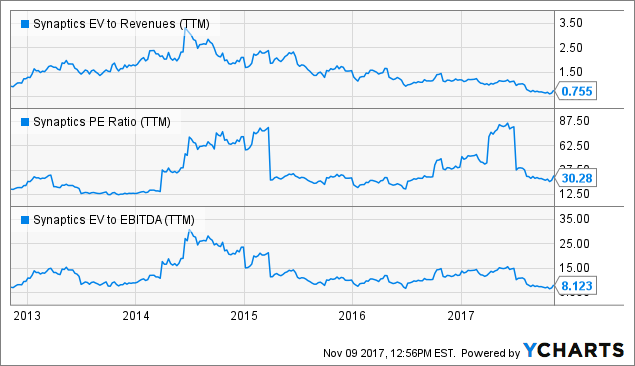 There is some reason for that as progress has stalled or even moved backwards: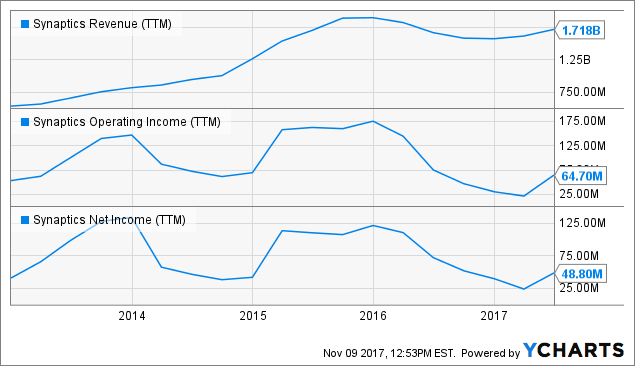 The resulting price action isn't all that surprising as a result: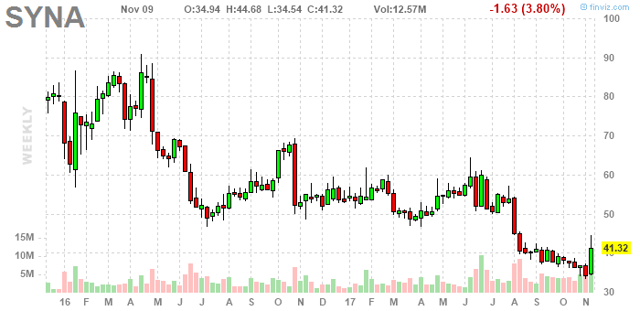 Conclusion
We think the multiple shrink experienced in the share valuation has ran its course. The company is in transition. It still has a strong position in mobile, which is responsible for most of its revenues.
But with the help of recent acquisitions, the company is well placed to profit from new growth areas like IoT, but also in automotive it's making a lot of progress.
Both of these newer sectors are starting to grow meaningfully, whilst the company also has a number of new products coming out to defend its old turf in mobile.
We think the shares deserve a re-evaluation by investors. We can see the nucleus of a new growth area and the company should be able to stabilize mobile with its new products.
Disclosure: I/we have no positions in any stocks mentioned, but may initiate a long position in SYNA over the next 72 hours.
I wrote this article myself, and it expresses my own opinions. I am not receiving compensation for it (other than from Seeking Alpha). I have no business relationship with any company whose stock is mentioned in this article.