Private capital has had a growing influence on the real estate investing landscape in recent years. The growing allocations to funds, as well as direct investments, by institutions, family offices, and wealthy individuals has turned into a bit of a deluge in 2017. With record amounts of dry powder already, continued capital flowing in, and growing appetite for real estate as an asset class, the private equity sector appears set to be a powerful driver of industry investment in the year ahead.
Let's take a look at the state of the private equity real estate space, the factors driving it, and what it means for investors in 2018 - and beyond.
Hungry for Deals
Experts within the real estate industry are in broad agreement that private capital will be a principal driver of new investment in real estate in 2018, according to a recent report from PwC. The general mood seems to be that the other big player, REITs, will be more focused on industry consolidation and harvesting investment gains. That leaves private equity as the player with capital to spend on property acquisition, as I recently wrote.
Real estate has certainly become very popular recently. 2017 has seen substantial withdrawals by family offices and high-net-worth individuals, for example, from hedge funds and public markets in favor of allocations to real estate. These allocations clearly favor private capital rather than REITs or other public investment vehicles in part for the very reason that it is privately controlled. The constraints of public transparency and disclosure involved in publicly traded companies makes them unattractive to many of the largest allocators who prefer their privacy. Private deal flow can also be faster, requiring fewer layers of approval or bureaucratic process.
As a class, these investors are also growing in sophistication, many hiring managers and experts from the private equity industry and building out teams of seasoned professionals internally. Yet, while many are looking at the own deal origination and development, closed-end funds have still prospered from increasing allocations.
The growth of closed-end funds' assets under management may increase further in the year ahead thanks to foreign capital, especially from China. Chinese investors have traditionally been wary of funds, preferring to invest in deals directly. But recent rule changes in China about foreign investment makes such deal-by-deal acquisitions extremely taxing and costly. We can already see a significant drop in net investment from China into the United States this year. For Chinese investors still eager to get exposure to the American market (and to their favorite asset class, real estate), funds may offer a workable solution.
Dry Powder Piling Up
The dry powder available to close-end funds has been steadily mounting across every real estate strategy. Opportunistic and value-add strategies, always the most popular, have experienced some of the fastest growth in recent years, with about $100 billion and $60 billion in dry powder, respectively. Debt funds have also experienced substantial growth, with about $40 billion in dry powder as of March 2017.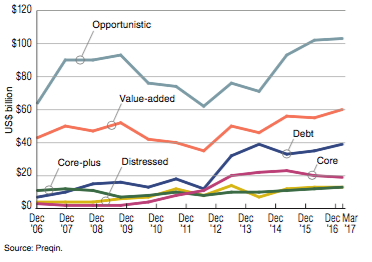 Closed-End Private Real Estate Dry Powder, by Strategy, December 2006-March 2017. Source: PwC, Emerging Trends in Real Estate
High levels of dry powder is a double-edged sword; it can accelerate deal flow and boost investment sector-wide, but it can also help to push up the prices of acquisitions as big players chase big deals and bid up property values. The danger is that, in the absence of sufficient deals, elevated prices will reduce the return potential of investments.
The Year Ahead
With private capital in the driver's seat, we should still expect a great deal of deal activity in 2018, despite steadily mounting property prices. The risk-reward profiles of acquisitions may start to face compression as closed-end funds and other investors vie for big-ticket deals and endeavor to use up some of their dry powder.
With the current price dynamics in play, the funds and individuals who demonstrate discipline and seek out genuine bargains rather than fighting over massive deals and vanity properties will be set to prosper in 2018 and beyond.
Disclosure: I/we have no positions in any stocks mentioned, and no plans to initiate any positions within the next 72 hours. I wrote this article myself, and it expresses my own opinions. I am not receiving compensation for it (other than from Seeking Alpha). I have no business relationship with any company whose stock is mentioned in this article.