As markets in Europe and North America are setting one all-time high after another, the search for finding quality stocks at attractive prices gets more and more difficult.
On November 7, 2017 BMW (OTCPK:BMWYY) reported quarterly results and dropped by almost 3% on that day despite recouping some of these losses on the next 2 days. I consider this to be another buying opportunity in this high quality German premium car manufacturer.

Source: BMW Motorrad Vision Next 100
What is going on at BMW?
BMW posted EBIT of €2.4BN which is 6% below the previous year's value. The main driver here were higher other operating expenses as well as a lower financial result. As the company is investing and spending heavily on its transformation towards producing electric and autonomous vehicles and generally extending its variety of car models this dampens profitability.
The speed with which this transformation is running is astounding but despite that the company not only maintains full-year EBIT guidance but actually raised it to now be significantly above €10BN of which €8.5BN have already been earned. This represents an increase between 5-10% Y/Y and thus the company is set for another record breaking result.
Additionally, the company sold 1.2% more cars during the third quarter but at the same time revenues declined by 2.4% leading to a decline of 0.2pp in EBIT margin to 8.3%. In terms of EBIT margin BMW trails industry-leader Daimler (OTCPK:DDAIF) with 9.2% and Audi with 8.9% for the quarter. However, a sole quarterly view should not distract us from the bigger picture. On a YTD basis EBIT margin is unchanged at 9.1% and thus second in the industry and right at the midpoint of BMW's target EBIT margin range of 8-10%.
That high level of profitability is a prerequisite for the company to stem and lead the transformation of the global car industry. BMW is the world's second largest premium car manufacturer and is certainly aiming to uphold and improve on its leading position. Therefore the company will spent billions on R&D in the coming years in order to have the right models in the market to meet demand. This also means to further extend its car sharing business.
An unprecedented product drive in 2017 and 2018 with around 40 new and overhauled models will also mean continually higher expenses particularly as the global car market is highly competitive, i.e. companies have to give discounts in order to sell brand-new vehicles. Further up on the timeline BMW expects to launch several more models to the market by 2020 priced at the upper end of the scale spearheaded by the BMW 8 series and the giant X7 SUV which should lead to a higher profit per car.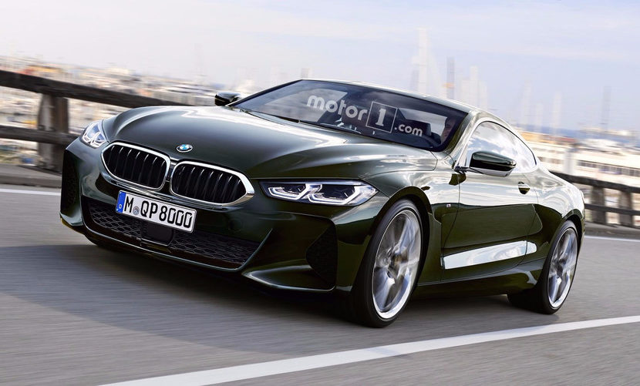 Source: BMW Blog - BMW 8 Series M8 preview
And in the more distant future BMW plans to offers 25 new models with electric or electrified drive by 2025. So far all we know on these are some fancy and very early concept car studies.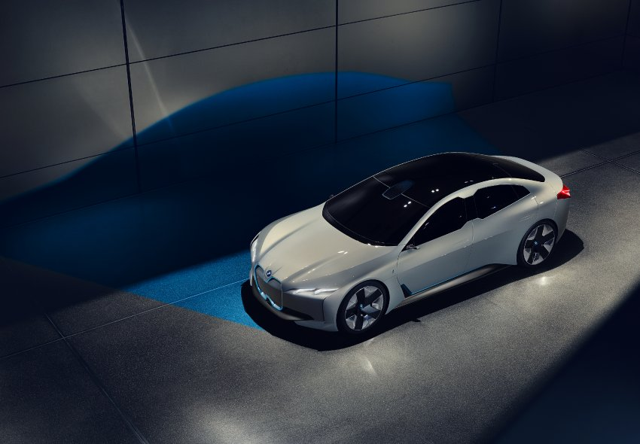 Source: Spiegel - IAA story
On top of that the company plans to cut back on indirect costs by at least €1BN by 2019. This is the intended result of an internal investigation on costs which are not related to the actual car production but basically everything else. It also means that the company intends to downsize its production of steering wheels and seats with the goal to make production leaner and more efficient.
What's in store for dividend investors?
The company is listed with two type of shares on the Frankfurt stock exchange: preferred stock and common stock. The preferred stock is currently trading at a discount of approximately 14% to the ordinary stock and offers a 0.6% higher dividend. Assuming at least a stable dividend for 2017 (payable in April/May 2018) investors can now lock in a 4.7% yield on the preferred stock (for starters) and 4% on the regular stock. As the latter is also the one being traded in the US ADR stock market, this is probably the more interesting one to the readers of this article. However, if you are based in Germany there is absolutely no point in not buying the preferred stock unless you are keen to exercise your voting rights at the general assembly.
Despite the automobile industry being one of the most cyclical industry, BMW, over the last 11 years, has increased its dividend by factor 4 raising it 8 times and cutting it once at the peak of the financial crisis in 2008. The company is now on a dividend streak of 8 consecutive years of dividend increases growing it at a CAGR of 35%. As staggering as this may look at first glance it clearly benefited from a very low starting dividend in that time period. A clearer picture can be achieved by calculating the 5-year CAGR which stands at around 9% and is perfectly in line with the latest dividend increase.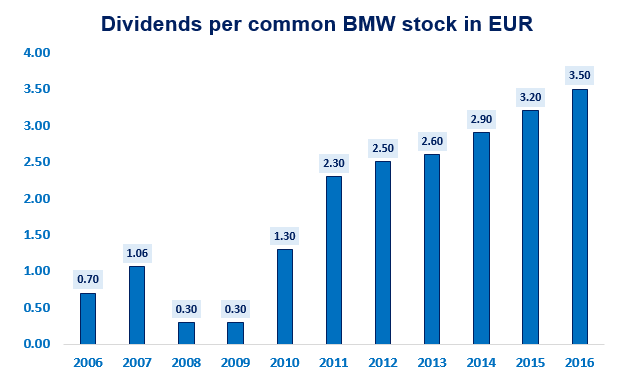 For 2017 analysts are expecting a dividend of €3.67 on aggregate representing a more cautious raise of around 5%. Given the company's dividend history (it sees to favor even numbers in 10 cent increments) it looks more likely that it will declare a €3.70 dividend translating into a 5.7% raise. With that assumption in mind the preferred stock currently trades at a forward yield of 4.9% and the common stock at 4.2%.
At the same time the stock continues to be undervalued trading only at around 7 times 2016 earnings and 6.8 times expected 2017 earnings and also significantly below its all-time high of almost €92 set in March 2015 while its index, the German DAX, is trading at a P/E of 14.43 or more than twice as high.
Based on this analysis I pulled the trigger and added to my existing position of BMW preferred stock by purchasing 7 more shares bringing my stock tally to 20 shares. These are expected to generate gross dividends of at least €70 all payable in May.
No-one knows when and how electric vehicles, autonomous driving and car sharing will affect the automobile industry, but I am deeply convinced that should it lead to disruptions and market consolidation BMW will emerge stronger from changes in the competitive landscape.
What do you think about BMW stock? Are you investing at all in automobile companies and if so in which?
If you like this content and want to read more about this and other dividend-related topics, please hit the "Follow" button on top of the screen and you will be notified of new releases. If you do not like it, I'd be happy to find out more as I am here for learning as well.
Disclosure: I am/we are long DDAIF.
I wrote this article myself, and it expresses my own opinions. I am not receiving compensation for it (other than from Seeking Alpha). I have no business relationship with any company whose stock is mentioned in this article.
Additional disclosure: I am not offering financial advice but only my personal opinion. Investors may take further aspects and their own due diligence into consideration before making a decision.
Editor's Note: This article discusses one or more securities that do not trade on a major U.S. exchange. Please be aware of the risks associated with these stocks.