Redfin (NASDAQ: RDFN), the next-gen homebuying platform that aims to migrate as much of the real estate process online as possible, has hit a stumbling block in its Q3 earnings. With revenue results falling short of analyst estimates (a cardinal sin for a new IPO within the first year of going public), Redfin has lost major momentum as the stock crumbles from its post-IPO highs.
Redfin should consider itself lucky to have ever attained a tech-style valuation. At its peak, Redfin was once valued at a market cap of $3 billion - approximately a 9x EV/FTM revenue multiple. This is despite the fact that Redfin - unlike its tech peers - earns very low gross margins on its revenue base, due to its high agent salaries eating up gross profits. This is a company that should be valued at a discount - not a premium - to the broader internet/software sector due to its lower gross margins.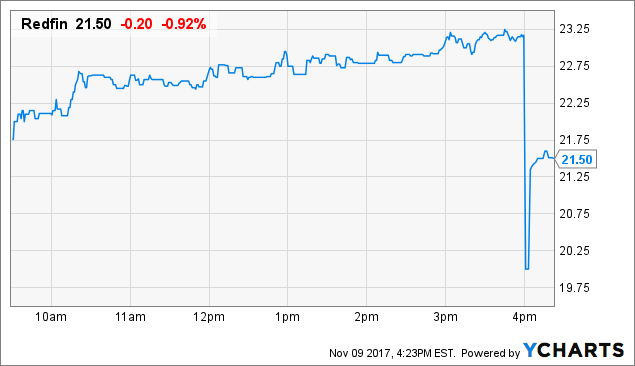 RDFN Price data by YCharts
Post-earnings, Redfin's shares sank ~5%, valuing the company just shy of $2 billion - still a hefty ~6x multiple on forward revenues. As Redfin's momentum wears off, its valuation will crumble inward. High revenue growth is the key to Redfin being seen as a tech company - and thus keeping its elevated valuation. As the company decelerates, misses expectations and reveals growth figures that revert to an industry mean, the company will increasingly be viewed as a real estate brokerage - Realogy (NYSE: RLGY), for example, the holding company for massive brokerage brands such as Coldwell Banker and Century 21, trades at less than 1x revenue.
As Redfin's hype continues to wear off and it becomes more saturated in the real estate market (it will be challenged to hit even a 1% market share anytime soon, given the massive fragmentation of the residential real estate market in the U.S.), it faces a huge valuation contraction risk. Just because the stock is off ~40% from all-time highs doesn't mean it's going to bounce back - all the more likely, Redfin has just started on its way down.
Revenue miss signals the slowdown we've all been expecting
For Q3, Redfin posted revenue of $109.5 million, just shy of analyst consensus of $110.6 million. This represents growth of 35% y/y, about 1.5 points short of what Wall Street wanted to see.
Figure 1. Redfin revenue results

Source: earnings press release
Perhaps we should have seen this miss coming. As I wrote in a prior article, Redfin has just reduced its sellers' fee pricing to 1% (from 1.5%) in 18 key markets, including some of the hottest real estate markets in the U.S.: Boston, Los Angeles, and Greater New York City, among others.
The small percentages mask the fact that this is, in essence, a 33% price cut. If any other company announced a 33% price cut, investors would have a field day. Redfin, which advises on both the buy and sell side of real estate transactions, can be assumed to draw roughly half of its revenues from sellers' commissions, effectively reducing the pricing on its total revenue base by ~16%.
We can already see a portion of this effect taking place in Q3 - though, as the price cut has only just been implemented, further margin shockwaves can still take place. Gross margin in Q3 clocked in at just 36%, two points worse than 38% in 3Q16. When margins are already this low (tech and internet companies generally have margins in the 70s or 80s), each point has to be defended. This downward trend can only continue as the pricing cuts continue to make the top line bleed.
The company's market share improved to only 0.71% in Q3 - up 14bps from 3Q16's figure of 0.57%. At this rate, it would take 2+ years for Redfin to even encroach upon the 1% market share territory.
The company did post a GAAP net profit (Q3, which comprises the summer months that are ripe with real estate activity, is generally one of Redfin's best-performing quarters) of $10.6 million, up from 3Q16's $5.7 million - still, however, this translates to EPS of $0.12, short of analyst expectations by a penny.
What can we make of the results?
There's not much to like coming out of Q3 earnings, with a bull thesis becoming increasingly more difficult to defend.
Ultimately, Redfin's underlying business model is flawed. It prides itself on paying its agents a high, non-commission-based salary - while at the same time, cutting fees on the homes that it sells. This is a magic formula for its employees and for its customers, as they are both beneficiaries of Redfin's generous policies. I just purchased a home with Redfin myself and not only thoroughly appreciated my agent's services, but was rewarded with a sizable buyers' refund.
Unfortunately, the combo of paying employees more (agents are Redfin's highest expense) while charging customers less is, for investors, a doomed formula. While Redfin still has plenty of cash on its balance sheet - $222 million as of Q3 - to experiment and tweak its business model, in the long run, Redfin's margin policies prevent it from being as profitable as other real estate brokers - while the fact that it's a traditional real estate brokerage business prevents it from having the growth of a bona fide technology company.
35% y/y growth isn't a bad result, especially when it shows no deceleration from Q2's 35% growth. But how much longer can Redfin continue to sustain revenue growth while its market share gains are minuscule and its lower pricing continues to eat into its commission revenues?
The company has also launched an experimental division called Redfin Now - which buys and sells houses for Redfin's own gain. While these activities can provide choppy revenue boosts in otherwise slow quarters, they are in principle no different from prop trading in investment banks - an activity notorious for causing massive gains as well as losses. Investors might not want too see this kind of volatility in a real estate company.
What would cause investors to turn truly bullish in Redfin would be massive leaps in market share - 30-50bp increases per quarter. We'd like to see Redfin reaching a 3-4% market share in 2-3 years. Instead, the company is crawling along - market share of 0.71% only improved 7bps from Q2's 0.64%. No matter how management tries to spin it, Redfin is still moving at a snail's pace, despite its pricing reductions to try to spur massive market share gains.
Key takeaways
Without a clear catalyst for sustained long-term growth, Redfin's prospects seem lost. Momentum for tech companies are candles in the wind - they can burn really hot, but once the growth engine slows down, the stock can come screeching to a halt. Redfin, which went public at $15 and has seen meaningful growth since (despite recent pullbacks), is at risk of retreating back to its original IPO price.
Recall also that Redfin's lockup expiration is set to occur in mid-January. With insiders still holding on to sizable gains (especially if they invested early in the company or were awarded employee grants years ago), there's a good chance the market will be flooded with insider shares when the lockup occurs.
All the catalysts in Redfin's near-term future point to the downside. Q3 earnings was really Redfin's only opportunity to turn the narrative around, and with a top-line miss, a turnaround seems like a remote possibility. Continue to stay away from this name.
Disclosure: I/we have no positions in any stocks mentioned, and no plans to initiate any positions within the next 72 hours. I wrote this article myself, and it expresses my own opinions. I am not receiving compensation for it (other than from Seeking Alpha). I have no business relationship with any company whose stock is mentioned in this article.