Real Estate Weekly Review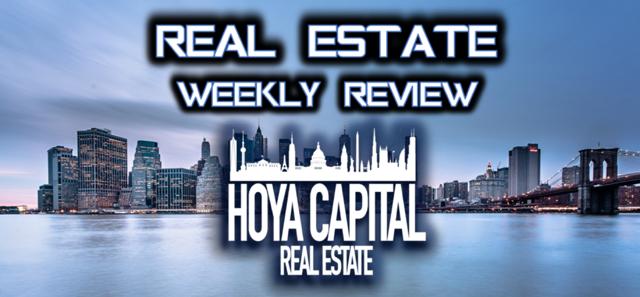 The REIT ETFs (VNQ and IYR) finished the higher by 2.5%, the second straight week of gains. S&P 500 took a mild step off of record-highs after the Senate Tax plan appears to be less aggressive towards business tax cuts. This week, we published iMall X: A Holiday Resurgence where we forecasted a strong holiday season for mall REITs, noting the disconnect between the negative perception of retail and the reality of solid fundamentals in the high-productivity mall space. Mall REITs had their best week on record this week, gaining nearly 10%, led by the 16% gain in GGP (GGP) after Brookfield held talks to take the firm private.
The yield-sensitive sectors outperformed this week amid a frenzy of economic news including the GOP tax proposal, the Fed-Chair appointment, and dozens of earnings reports and economic data. Data centers, cell towers, and net lease top-performing sectors while malls lagged. The 10-year yield retreated back to 2.35%, a dip of 8bps from last week.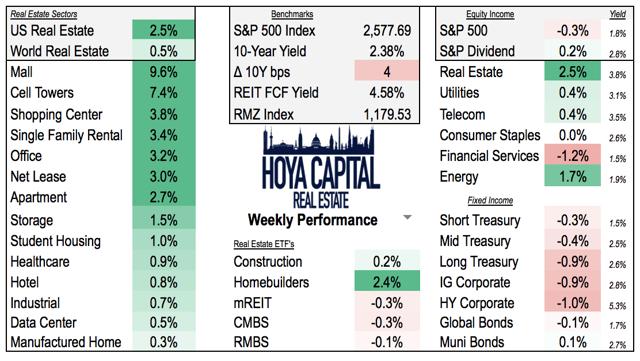 (Hoya Capital Real Estate, Performance as of 12pm Friday)
Homebuilders (XHB) climbed 2.5% after the Senate version of GOP tax plan appears to retain some of the tax advantages enjoyed by homebuilders and real estate homeowners. Last week we noted that the House version proposed to remove some of the tax incentives for homeownership, particularly in the luxury categories. A doubling of the standard deduction would mean that middle-income homeowners with mortgage debt would likely see lower taxes through the standard deduction than through itemizing. The special interest groups represented the building industry came out in full force against the plan, accusing the proposal of "benefiting the rich." We disagree with this claim and believe that the plan would disproportionally hurt high-income homeowners while benefiting middle-income homeowners and renters. Regardless, we expect opponents of tax reform to continue to push the "tax break for the rich" narrative, whether it is factually accurate or not
REITs (REM) dipped 0.3% while international real estate (VNQI and RWX) rose 0.5%. Within the Equity Income categories, we note the performance and current income yield of the Utilities, Telecom, Consumer Staples, Financials, and Energy. Within the Fixed Income categories, we look at Short, Medium, and Long Term Treasuries, as well as Investment Grade and High Yield Corporates, Municipal Bonds, and Global Bonds.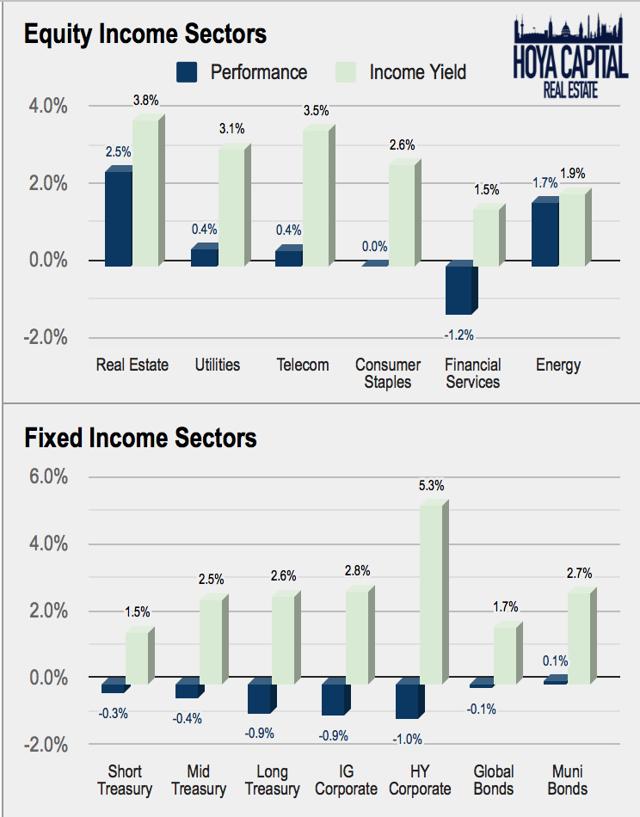 REITs are now higher by 3% YTD on a price-basis and higher by roughly 5% on a total-return basis. REITs ended 2016 with a total return of roughly 9%, lower than its 20-year average annual return of 12%. Going forward, absent continued cap-rate compression, it is reasonable to expect REITs to return an average of 6-8% per year with an annual standard deviation averaging 5-15%.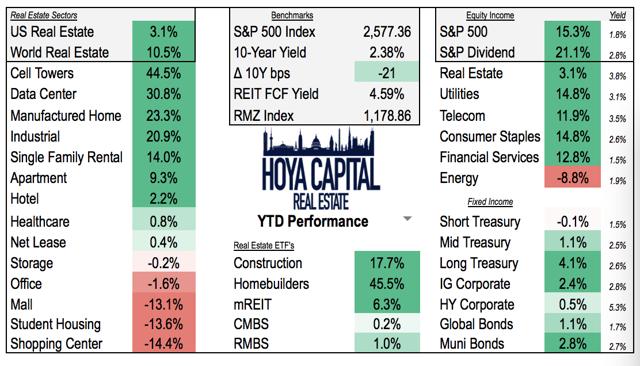 3Q17 Earnings Season: Week 3 Recap
Third quarter earnings concluded this week. Overall, results were solid with no particular surprises. Roughly 50% of REITs beat 3Q estimates while 20% missed. Guidance was similarly strong. Before earnings season, we published our 3Q17 REIT Earnings Preview where we said that retail REITs would be a major focus. Retail REITs have not disappointed and are set up for a strong holiday season. Below we show the complete earnings calendar with the immediate market reaction.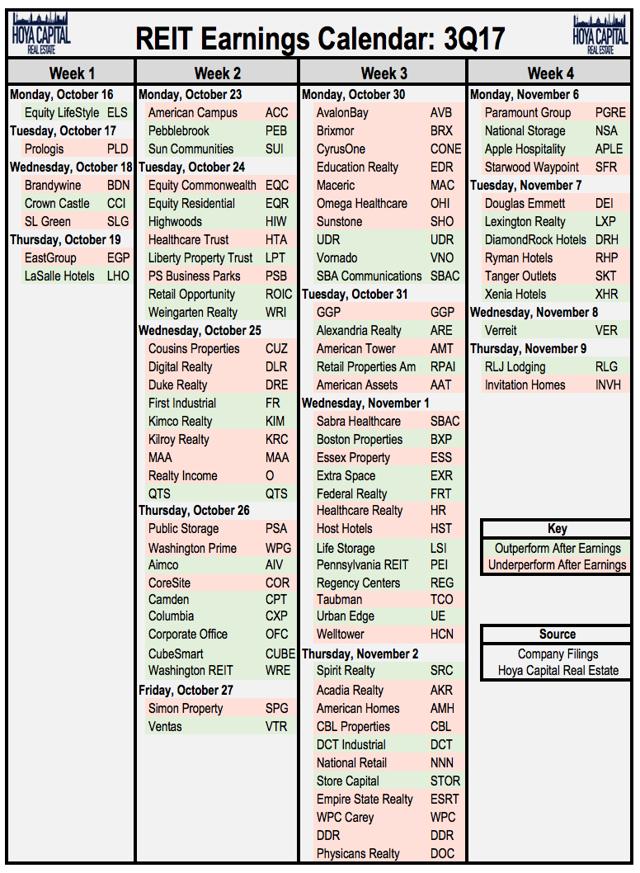 Overall, earnings in the data center, apartment, and industrial REIT sectors were the strongest while student housing was the weakest.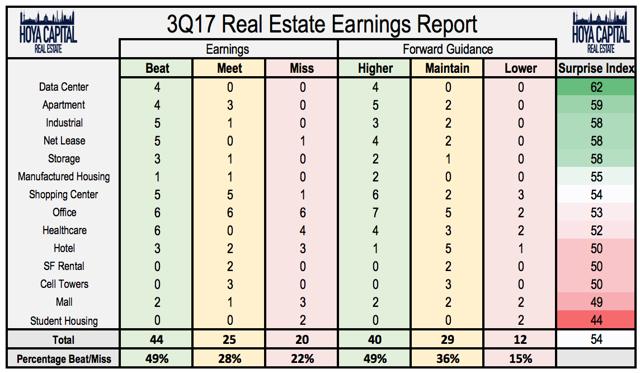 Since the start of earnings season four weeks ago, cell towers have surged more than 13% on news that Sprint and T-Mobile plan to drop merger plans. Mall REITs have also been boosted by talks of privatization. The performance of the other REIT sectors is largely in-line with their quarterly performance.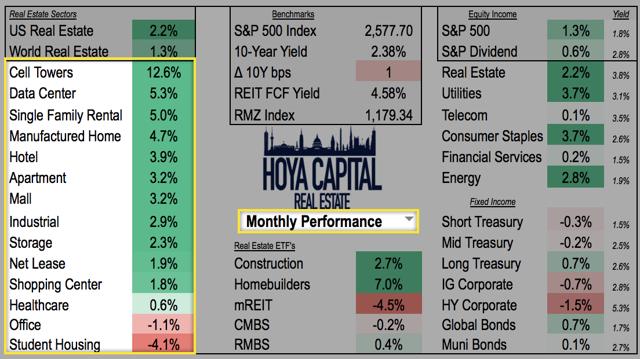 The best performing REITs of the week included Kilroy (KRC), GGP (GGP), Taubman Centers (TCO), American Tower (AMT), and Simon Property Group (SPG).

The worst performers on the week included RLJ Lodging (RLJ), Equinix (EQIX), Stag Industrial (STAG), Mack Cali (CLI), and Omega Healthcare (OHI).

So far, we have updated REIT Rankings reports on the Data Center, Mall, Manufactured Housing, Student Housing, and Storage REIT sectors. Next week, we will continue our third-quarter updates with the Apartment, Net Lease, and Healthcare sectors.
Real Estate Economic Data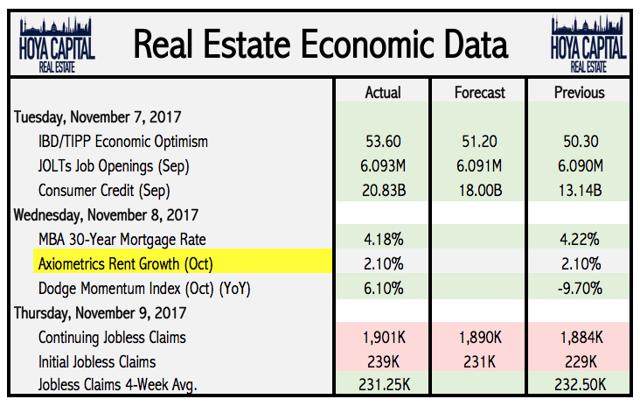 (Hoya Capital Real Estate, HousingWire)
Rent Growth Remains Firm After Hurricanes
Axiometrics publishes a monthly rent growth tracker. They noted that rents rose 2.1% YoY in October, showing continued signs of stabilization after the decline from 2015 to 2016. Axiometrics noted that YTD rent growth is below the post-recession average of 4.4% in October. As we projected in "Quantifying the Impact of Hurricanes on Apartment REITs," it's clear that the hurricanes have had a positive effect on rental rates, though not as large as we initially projected. Houston, one of the weakest apartment markets, saw a 250bps improvement in rent growth from 2016. We expect November and December to be above-trend and that full-year 2017 will see 2.5% growth from the previous year.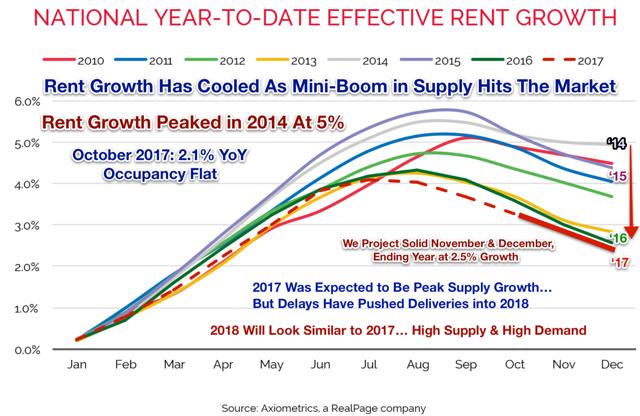 Zillow also publishes a monthly rent growth index, the Zillow Rent Index (ZRI) which tracks both single-family rental and multifamily. Zillow's index shows more pronounced trends, with multifamily peaking in 2015 above 6% and bottoming this summer at 0.2%. Rent growth has been strong since May and is now higher by 1.5% YoY. Single-family rent growth has outpaced multifamily this year as supply growth has been most significant in the multifamily category.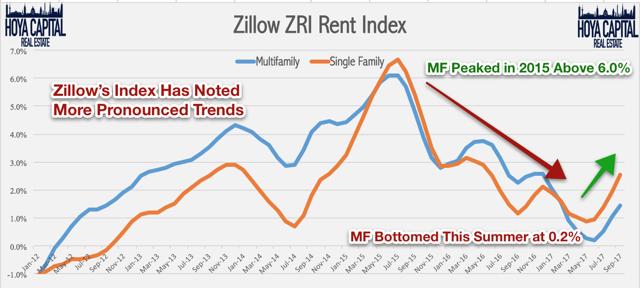 Rent growth can also be measured by CPI data. We track the rent growth spread over core inflation below. Real rent growth has seen steady acceleration since 2012 and remains around the 2% level. After pausing in early 2017, the inflation data suggest that real rent growth has accelerated in the second half of 2017 even as the nominal rate has declined. Elevated levels of new apartment deliveries, though, should keep a lid on further upward pressure on that metric. Core CPI ex-shelter is higher by less than 1%, near the lowest rate in 13 years.
Bottom Line
As earnings season concluded, REITs rallied more than 2.5% this week, led by a 9% surge in mall REITs, sparked by solid earnings results and talks of going private. We have noted for months that there was a vast disconnect between perception and reality in the retail REIT space. We project a strong holiday season for mall REITs.
Earnings season was solid for REITs. 50% of REITs beat estimates while 20% missed. Data centers, apartments, and industrial REITs were the winners in 3Q17. Student housing lagged. The S&P 500 retreated and homebuilders rallied as the Senate version of the tax reform plan scaled back many of the more aggressive provisions in the House plan. Amid a period of high supply growth, apartment rent growth has stabilized around 2%, well below its 6% growth rate in 2014. Recent months have seen mild reacceleration in rents. We recently published our Housing and Construction Report, "Housing Recovery Limps into 2018" where we analyzed the broader trends affecting real estate markets over the past several months. Construction activity has continued to cool over the past few months, dragged down by a significant pullback in multifamily construction, which had been the driving force behind the recovery.
Please add your comments if you have additional insight or opinions. We encourage readers to follow our Seeking Alpha page (click "Follow" at the top) to continue to stay up to date on our REIT rankings, weekly recaps, and analysis on the real estate and income sectors.
Disclosure: I am/we are long VNQ, SPY, MAA, CPT, OHI, PLD, GGP, STOR, SHO, SUI, ELS, ACC, EDR, DLR, COR, REG, CUBE, PSA, EXR, BXP, EQR, INVH, SPG, HST, TCO. I wrote this article myself, and it expresses my own opinions. I am not receiving compensation for it (other than from Seeking Alpha). I have no business relationship with any company whose stock is mentioned in this article.
Additional disclosure: All of our research is for educational purposes only, always provided free of charge exclusively on Seeking Alpha. Recommendations and commentary are purely theoretical and not intended as investment advice. Information presented is believed to be factual and up-to-date, but we do not guarantee its accuracy and it should not be regarded as a complete analysis of the subjects discussed. For investment advice, consult your financial advisor.