DJ Khaled always preaches what one must do to acquire and what are the "Keys to Success". In his eyes, by obtaining or developing certain characteristics such as: work ethic, believing in yourself, take advantage of opportunities, and disregarding "they haters", you are able to "Secure the Bag Alert", or catch the "Major Bag Alert". All this means is that by possessing these characteristics you are setting yourself up for success.
From an investing standpoint, we the investors find it paramount to unearth companies that possess, what Warren Buffett calls an, "economic moat". An "economic moat" describes a company's competitive advantage derived as a result of various business tactics that allow it to earn above-average profits for a sustainable period of time. By unearthing such companies, we are able to make investments in wonderful companies and over time bearing thy fruit that falls before us.
The "Keys to Success" series is a series of articles of companies that encompass certain characteristics that have allowed them to defy the test of time and have positioned themselves to continue thriving into the future. I started off the series previously writing about consumer products company Church & Dwight (NYSE:CHD) who is the maker of: Arm and Hammer, Trojan, the recent acquirer of Waterpik, among others, in a 2 part series which can be read here and here. To continue the series, let's move to another industry that provides a service that everyone needs; it's a necessity for human survival, it's water. Yes, I know you are thinking "oh boy, this is going to get boring real quick", but hold on. Many famous investors, including Warren Buffett, laud boring companies as they are often are very simple to understand and are stable as they provide goods or services that we are highly dependent on.
In the water industry, there are lots of names to choose from such as: Middlesex Water (MSEX), The York Water Co. (YORW), San Jose Water (SJW), Connecticut Water Service (CTWS), Artesian Resources (ARTNA), California Water Service Group (CWT), American States Water Company (AWR), Aqua America, Inc. (WTR), Consolidated Water Co. Ltd. (CWCO), among others. Although there are a few water utilities I adore, the one with the biggest footprint and most growth is American Water Works (AWK).
American Water Works, for a very long time, has operated at peak efficiency and only getting better, creating impressive savings for customers. These same happy customers have acted as foundation for AWK to build upon and grow. Being as financially sound as AWK and taking advantage of opportunities presented to them have been a boon for AWK's national expansion plans. Through this expansion, customer acquisitions are smaller, but they create footprints in more and more areas.
Who Is American Water Works?
American Water Works' history dates back all the way to 1886 before incorporating as a holding company in Delaware in 1936. Through all its subsidiaries, American Water Works is the largest publicly-traded water and wastewater utility company in the United States, in terms of both operating revenues and population served. American Water Works also operates several market-based businesses that provide a variety of water and wastewater services. AWK's workforce roughly consists of 6,800 professionals. Its operations provide drinking water, wastewater, and other services to roughly 15 million people from sea to shining sea spanning 47 states, the District of Columbia and Ontario, Canada.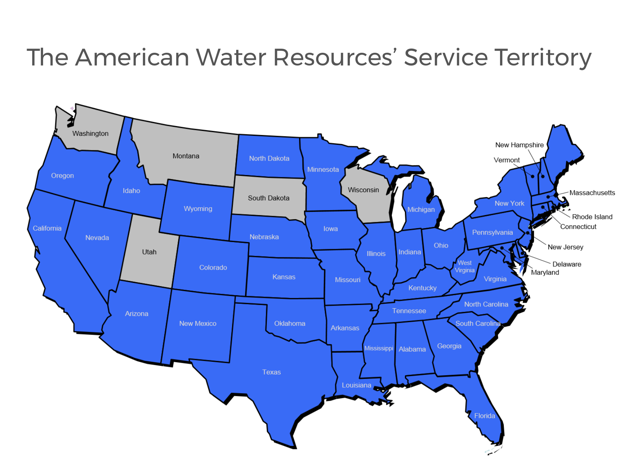 American Water Works' website
Its largest component of business is the rate regulated business which provides water and wastewater services to customers in 16 states. Through this segment, its primary business involves owning utilities that provide water and wastewater services to residential, commercial, industrial and other customers, including sale for resale. AWK's primary operating assets include:
81 surface water treatment plants
approximately 49,000 miles of mains and collection pipes
500 groundwater treatment plants
1,100 groundwater wells
100 wastewater treatment facilities
1,200 treated water storage facilities
1,400 pumping stations
81 dams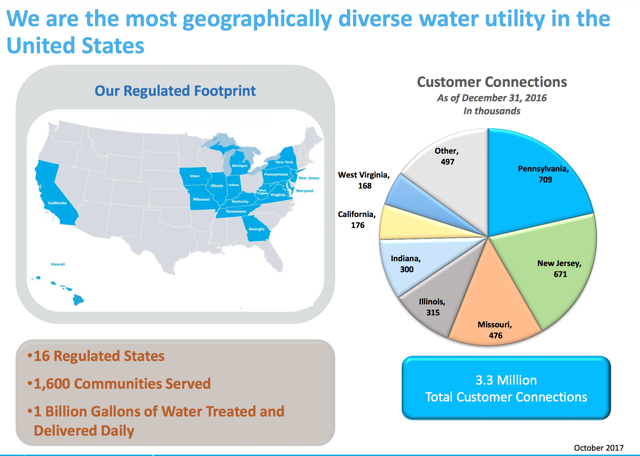 American Water Works' Investor Presentation
What Makes A Utility Unique?
Utilities are a form of monopoly, not the type of monopoly that you are thinking of. They are a heavily regulated monopoly. That means the government analyzes their books, looking at costs, then allows the utility companies to earn a certain operating profit. The government, specifically each state, allows utilities to set rates slightly above their costs. The return the government allows utilities is called the Rate of Return. Utilities are allowed to operate as a monopoly because allowing one water utility to operate in a community would cause consumer price to be cheaper than if two water utility firms operated in the same area. Utilities operate based on consumption, which means that the more demand there is, the cheaper they are able to operate, passing savings onto consumers. If there were two firms, and they competed, sure competition is great, but the prices being offered as a result of competition still wouldn't be comparable to a price offered by a single firm producing.
The regulated subsidiaries of AWK are subject to economic regulation by state public utility commissions (PUCs). PUC's primary responsibility is to promote the public interest by balancing the interest of customers and utility investors. That means that in each state where they operate, water quality and service rates are subject to extensive regulation by state PUCs, as well as environmental, health and safety and water quality regulations by federal, state, and local governments.
Below, you can see the top 10 of AWK's 16 total regulated states. In the chart, you may notice the Authorized Rate Base which shows the utility's investment in facilities and the working capital required to work on a day-to-day basis. Next, you will notice the Authorized ROE, or Return on Equity, the return or profit that AWK is allowed to earn.

American Water Works' Investor Presentation
Customer Base
Regulated Business
Per American Water Works' 2016 10-K or Annual Report, residential customers make up a majority of their customer base in all states in which they operate, accounting for 91.1%, 59.0% of the billed water sales, and 55.5% of the operating revenues of AWK's Regulated Business. These customers are billed one of a couple different ways. Most of the customers are metered, which allows AWK to bill customers monthly based on water consumption. For their wastewater customers, AWK bills them either a flat rate or based on their water consumption.
Being regulated, contrary to modern belief, is not all that bad. By being regulated, utilities are guaranteed a certain return that covers costs and provides a little profit. The graphic below portrays a company that acquires new customers slowly, quietly expanding their national footprint. In the utility sector, companies do not typically acquire massive amounts of new customers each year, growth is slower.

American Water Works Annual Report
Market-Based Business
Through this segment, AWK provides services to military bases; municipalities; oil and gas exploration and production companies; and to some commercial, industrial and residential customers. Compared to their Regulated Business, their Market Based Business is not prone to regulation from federal or state regulators. In addition, another difference is that this operating unit does not require significant capital investments. This is so because the Market-Based unit runs off of fees and contracts. This segment is divided into four segments:
Military Services Group
Homeowner Services Group
Contract Operations Group
Keystone
Military Services Group
The Military Services Group operates on 12 military bases under 50-year contracts with the U.S. Department of Defense. American Water Works is paid to operate and maintain the water and wastewater systems located on each base. This segment requires very little capital investment, as stated above. Under the contracts, new assets or asset repairs are funded by the U.S. DoD, but carried out by the, highly skilled, AWK workforce.
Working with the government often benefits producers because they encourage signing long contracts. As I wrote, the duration of the contracts for each of the 12 bases is 50 years. This is an extraordinary amount of time to be locked into a contract, as it provides steady revenue growth. In addition, contracts with the U.S. government, specifically the DoD, are virtually guaranteed to be paid.
Homeowner Services Group
The Homeowner Services Group offers insurance-like protection programs to homeowners, small commercial clients. The purpose of these programs is to shield customers from the massive cost associated with interior and external water and sewer line repairs among others. In addition, AWK operates another brand LineSaverTM which partners with municipalities. These partnership agreements typically have a duration of 3-5 years, with optional renewals. By the end of 2016, this segment had approximately 1.7 million customer contracts in 43 states and the District of Columbia and 10 LineSaverTM partnership agreements with municipalities and other organizations.
Pretty much, all these programs that are offered by AWK are insurance programs. Having customers locked in for that long is a great business model. Customers pay monthly just a few dollars, which comes out to a few cents a day, protects you up to a certain dollar value of damage. This figure ranges from $4,000 to $14,000 worth of damage, with the second figure including both packages. By expanding into the "insurance" market, they are able to attract customers to make additional monthly payments for events that do not happen to every single person on every single day. In simpler terms, this program plays people's cautious side, so when the infrequent sewer line or water line have problems, the customers are covered not having to make massive payments for those events, while AWK receives those additional payments and comes to fix whatever the infrequent problem is. The number of people registered and paying for this program pay more money monthly than it should cost AWK to fix the number of problems for the month.
Contract Operations Group
The Contract Operations Group enters into public and private partnerships, including: O&M; Design; Build and Operate; and Design, Build, Finance, Operate and Maintain contracts to grant services to water and wastewater facilities for municipalities, the food and beverage industry and other customers. This segment, require minimal capital investment, and AWK performs their activities for a fee. In addition, through this program, AWK has provided their customers with financing for capital projects, in return, they receive contracts to operate and maintain these facilities. At the end of 2016, this segment had 43 contracts across the US and Canada with varying sizes and durations, ranging from one to thirty years.
Keystone
Back in July 2015, AWK acquired a 95% stake in Water Solutions Holdings, LLC, which also included its subsidiary, Keystone Clearwater Solutions LLC. Keystone was a wise acquisition because it provided a path for expansion through expanding into the Exploration and Production (E&P) sector. Keystone's customer base mostly consists of firms residing in the Appalachian Basin, as well as normal municipal water service customers. The company operates via master service agreements that last between 2 and 5 years. As of the end of 2016, Keystone serves 58 customers.
U.S. Infrastructure
Throughout the 2016 election, then nominee Trump made it clear that America's infrastructure is an embarrassment, and he was not wrong about that. To back up Trump's claim, the American Society of Civil Engineers recently released a report card grading the current state of U.S. Infrastructure. For those who are not familiar with the American Society of Civil Engineers, the association was founded in 1852 and currently represents over 150,000 civil engineers in private practice, government, industry, and academia who advocate for the care of the nation's infrastructure by publishing Infrastructure Report Card, every four years. This report card started in 2001 and reports the state of U.S. infrastructure in a simple A to F grading format. By constructing these reports, the ASCE has three strategic objectives which are: Sustainable Infrastructure, ASCE Grand Challenge, and Raise the Bar. The latest report, the 2017 Infrastructure Report Card, examines current infrastructure conditions and needs, assigns grades, and makes recommendations for how to improve in 16 categories of infrastructure.
For its report of U.S. Drinking Water Infrastructure, the ASCE concluded that it deserved a D. The grade received did not change from the 2013 report. In addition, the ASCE published another report grading the U.S. Wastewater Infrastructure, which it concluded was worthy of a D+, which is at least a small improvement from the D in 2013.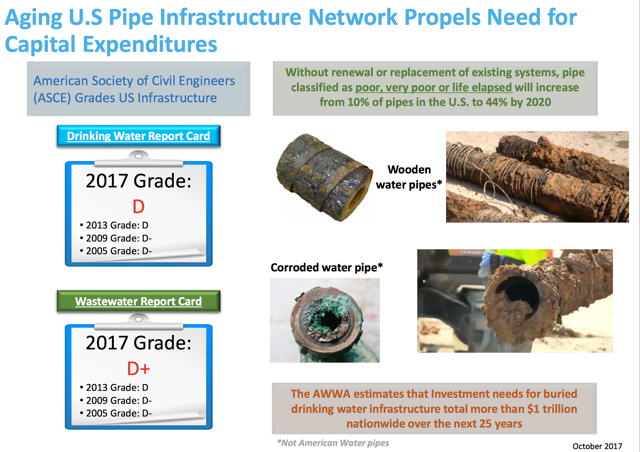 American Water Works' Investor Presentation
An estimated $1 Trillion is needed to maintain and expand service to meet demands. That is an astonishing figure, and thankfully, the water utility companies notice that upgrades must happen. AWK has set up a 5-Year Plan to invest between $6.7 Billion and $7.3 Billion, including $5.98 Billion on regulated infrastructure, on replacing and maintaining proper water infrastructure. The amount invested balloons to a fat $15 Billion potential over 10 years. Then, 25 years down the road, AWK expects to have spent a whopping $40 Billion on infrastructure. I believe that this company has more than enough capability to fund these projects internally, and with the addition of a little debt. Yes, I understand that is just a drop in the bucket compared to $1 Trillion. However, utilities across the country are making upgrades too. Conducting these substantial infrastructural upgrades, AWK is ensuring its current and future customers water reliability, that there shouldn't be any problems, and water will always be available.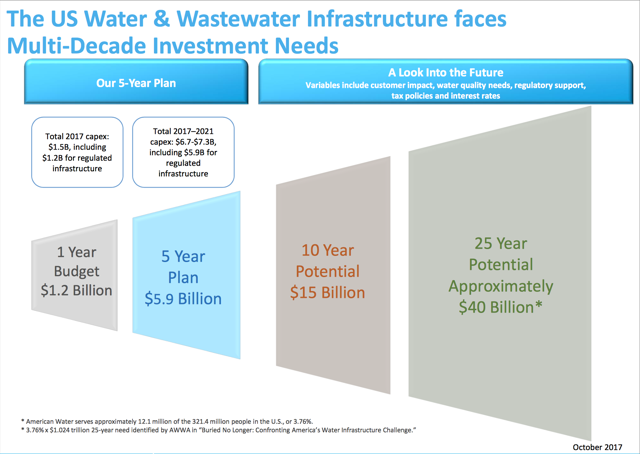 American Water Works' Investor Presentation
Transactions
AWK would not have gotten to where it is today if it had not expanded across the country. Being in 47 states, it is always expanding, but not always in massive proportions. It's a slow process. For example, American Water Works states that new ways of expanding customer growth in its Regulated Business are by:
adding new customers to our regulated customer base by acquiring water and/or wastewater utility systems

organic population growth or decline in our authorized service areas

the sale of water to other community water systems.
Typically, AWK performs what it calls "tuck-ins" acquisitions which are of small or medium water and wastewater systems in relatively close proximity to areas where AWK already operates its Regulated Businesses. The "tuck-in" acquisitions grant access for American Water Works to integrate the acquired systems and operations into their own established network, which allows AWK to achieve operational synergies. These synergies in turn will reduce operating costs leading to saving which would be passed on to its customers via lower water rates. This is a Win-Win because AWK lowers costs but is able to generate more revenue, while customers receive lower bills. This tactic is an underlying part of its growth strategy. However, do not think that AWK doesn't do its homework before pursuing such opportunities. Before any of these "tuck-ins", the company conducts extensive research to certify that a suitable regulatory environment is present in order to maximize its opportunity to attain adequate returns as well as maintain its notoriously, high standards for its services. Specifically, AWK will evaluate the regulatory environment, confirming regulations are not overbearing and weighing down possible returns.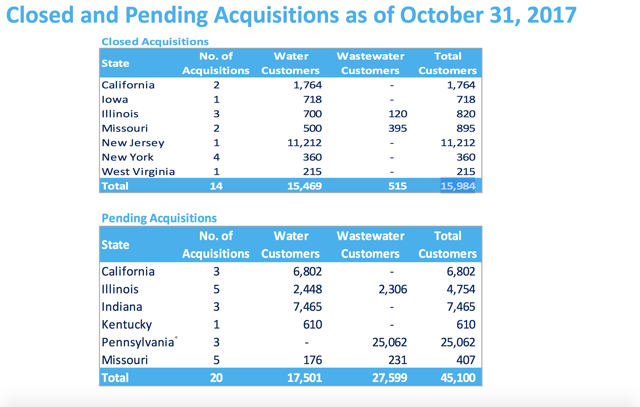 American Water Works' Q3 Presentation
In the last quarter, American Water Works closed on several acquisitions in states spanning from the east coast all the way to the west coast. It closed on 14 acquisitions in states: California, Iowa, Illinois, Missouri, New Jersey, New York, and West Virginia. As a result of these purchases, AWK added a total of 15,984 new customers, of which 15,469 of them are going to be water customers. The rest of the 515 customers are going to be purchasing Wastewater services from AWK. From the expansion, AWK increased exposure to New Jersey the most, acquiring a total of 11,212 customers, all of whom are water service customers. American Water Works expanded its Wastewater service segment in Illinois and Missouri, where each state added 120 and 395 customers, respectively.
The closed acquisitions is only half the equation. At the end of the Q3, there were a considerable amount of acquisitions pending, 20. These pending deals would add an additional 45,100 new customers to their network. There is a somewhat balanced ambience to the awaited deals pertaining to the weight of water services and wastewater services. Of the 45,100 new customers connecting states, California; Illinois; Indiana; Kentucky; Pennsylvania; and Missouri, AWK is adding 27,599 Wastewater service customers. However, 25,062 of them are from Pennsylvania, while the other 2,306 and 231 customers reside in Illinois and Missouri, respectively. In addition, they are adding 17,501 new Water Service customers. The main contributor to this number would be Indiana with 7,465 customers, although sunny California was not far behind with 6,802. As you can tell, Pennsylvania did not contribute any Water Service customers.
The chart of closed and pending acquisitions speaks significantly regarding CEO Susan Story and her management team's expansion strategy. From the looks of it, Mrs. Story is trying to increase their territory in the highly populated state of California, while doing the same in Indiana and New Jersey. Lastly, especially with the pending acquisitions, it is evident that management is adamant about expanding its Wastewater Services segment which was demonstrated with the massive additions, most notably, via Pennsylvania and the other states.
Third Quarter Earnings
On November 1st, American Water Works announced its third quarter earnings. Its results on the top line were positive but not by much. For the three months ended on Sept. 30, Operating Revenues came in at $936 million compared to $930 million in the same quarter the year before. This equates to a meager 0.64% increase in revenues. For the first nine months of the year, revenues were $2.536 Billion vs. $2.5 Billion in the first nine months of 2016, which comes out to a 0.14% increase. In the end, net income for the three months was $203 million vs. $148 million, a 37.1% increase. This increase was a result of 17.8% decrease in total operating expenses. More specifically, Operation and Maintenance expense decreased 25%. Now, for the first nine months of 2017, net income was $427 million compared to $367 million for the same duration of 2016. The increase of 16.3% was due to lower Operation and Maintenance costs as well. AWK reported 3-month EPS of $1.13 vs. $0.83 cents for Q3 of 2016. As for nine months, EPS was $2.39 vs. $2.05 for the first nine months of 2016.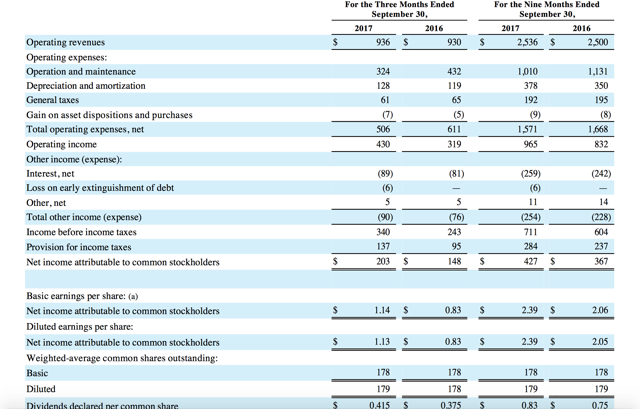 American Water Works' 10-Q
Before moving on, I would like to elaborate a little bit on the operating expenses. As I previously stated, the drop in Operating Expenses was crucial for the substantial bottom-line growth. Whenever a company is able to decrease total expenses by 17.8%, it is a big deal. This decrease was led by a 25% decrease in Operation & Maintenance expenses for the 3-month reported. Regarding the nine months reported, total expenses decreased by 5.8%, which was lead by a significant 10.6% decrease in Operation & Maintenance costs. These remarkable number regarding total expenses tells a lot about management's ability to control costs, create synergies from acquisitions, as well as mitigate acquisition and integration expenses. This was a huge reason why AWK was able to deliver a massive 37.1% growth of net income YoY.
Although the big picture is great, let's dig a little deeper into the underlying segments' financials. If you remember, there are two segments: Regulated Business and Market-Based Business. First, we will analyze the Regulated Business financials, and I have provided charts to allow you to follow along and analyze yourself. I did this as I am a firm believer in the ability of graphs and graphics to help one understand and analyze data. Having a visual representation, in my opinion, helps a lot, and I want everyone to see where the data is coming from.
Regulated Business Financials
For this segment of its business, I have 2 graphics, one above and one below. The graphic on top is the overall data for the Regulated Business of AWK. This segment contributed $842 million of the $936 million in total revenue this quarter. On a YoY basis for the reported 3 months, this segment grew from $826 million to $842 million which represents an increase of 1.93%. The increase is due to a $20 million increase from authorized increases of rates and infrastructure surcharges that AWK used to fund infrastructure investment growth, with another $12 million increase attributable to AWK thirst for water and wastewater acquisitions. In addition, the bottom line was boosted 16.9% decrease in total operating expenses, and a 25.1% decrease in O&M. These figures helped increase bottom line results by a whopping 39.5%, to $212 million from $152 million.

American Water Works' 10-Q
For the first 9 months of this year, this segment reported revenue of $2.247 Billion vs. $2.176 Billion in the same timeframe last year. This comes out to a 3.3% increase. This overall increase is due to $67 million increase from authorized rate increases and infrastructure surcharges to fund infrastructure investment growth, with another $31 million increase attributable to recent water and wastewater acquisitions, as well as experiencing some organic growth. The net income for the 9 months was $446 million, compared to $374 million for 2016. This was a result of a 9.2%, which led to a, 4.2% decrease in O&M and total operating costs, respectively.
I find this growth sort of majestic. This is growth through understanding costs, but not taking shortcuts. This type of management is not seen often, but it is a nice thing to see. When you see revenues only tick up slightly, it's pleasant that they are still able to manage costs grow net income at such rates. This, to me, demonstrates a financially strong company.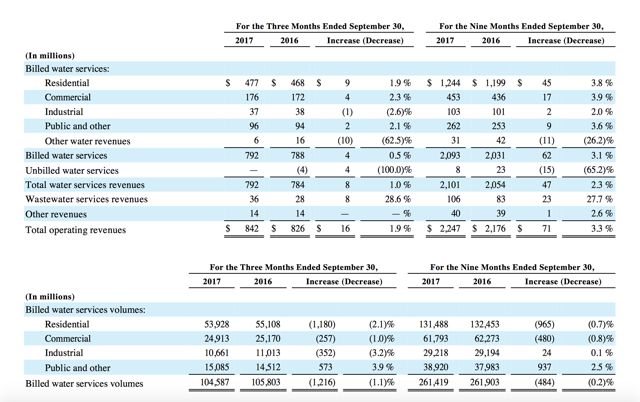 American Water Works' 10-Q
If you look below, the revenues generated by each sub-segment in the Regulated Business are displayed, and water service volumes are on the bottom. You will notice that revenues from residential and commercial increased for the reported three months. However, the distributed volumes of water for these two categories both decreased. This tells me that rates went up, and they did, which as previously stated, boosted revenue by $20 million. Regarding, Industrial; Public and other; and Other water revenues, they all either stayed relatively the same or do not make up a substantial part of the mix. Residential and Commercial contributed $477 million and $176 million for a combined of $653 million of the total $842 million overall from the Regulated Business.
For the nine months YTD, the Residential and Commercial aspects experienced the same case as above. The increase in revenue overall was caused by $67 million worth of rate increases. Turning to the Industrial, Public and other revenues, they also increased YoY, which was a result of increased volume, as you can see in the graphic below.
Market-Based Business Financials
Switching to AWK's Market-Based Business, Operating revenues for the third quarter were $100 million, an 8.3% decrease from $109 million from the same period in 2016. This overall decrease was caused by a $12 million decline in AWK's Military Services Group, thanks to fewer upgrades in 2017. Although, the setback was partially neutralized by a $5 million in its Homeowner Services Group due to customer growth and price increases for current customers. In the end, net income was double the amount YoY at $14 million from $7 million, a 100% increase. This doubling in revenue be associated with the 18.4% decrease in total operating expenses.
Moving on to the first nine months of the year, revenues came in at $306 million, $32 million or 9.5% less, than the $338 million for the same period in 2016. Primarily, the decrease was the cause of a $49 million decrease in AWK's Military Services Group, which happened 2017, expanding from the $12 million in the 3 months reported. In addition, just like in Q3, the decrease was partially offset by a $15 million increase in their Homeowner Services Group from customer growth and price increase to their current clients. The net income for the 9 months was $29 million vs. $26 million last year, which is an 11.5% increase, which is due to a 12.3% decrease in total operating expenses.

American Water Works' 10-Q
Although revenues have declined for both the third quarter and the first nine months of 2017, the reason for the decrease had to do with the military contracts. However, in the future, I believe that the Homeowner Services Group will be an area where expansion will occur leading to overall growth in the Market-Based Business. The growth in this segment should be more than able to negate and trouble that arrives elsewhere in the Market-Based Business. In my eyes, the major growth prospect of this company will be in the Homeowner Services Group. I say this because of the way the world is moving. It seems like nowadays, people will spend that extra money to ensure they are not held fully liable when misfortunes happen or need pipe repair or whatnot. Especially, the way that the U.S. Infrastructure is holding up, you never know anymore when something will need repairs. Due to this, management can expect this unit to continue to grow faster than other segments.
Operational Efficiency Leads To Success
In order to be able to compete and survive as long as American Water Works has, you must be able to operate with the utmost efficiency. American Water Works has done exactly that. The O&M Efficiency Ratio is calculated by taking adjusted regulated O&M expenses divided by adjusted regulated operating revenues. This ratio, according to Motley Fool, is essentially a modified operating margin. It allows investors to see whether the company is putting their capital expenditures dollars to good use.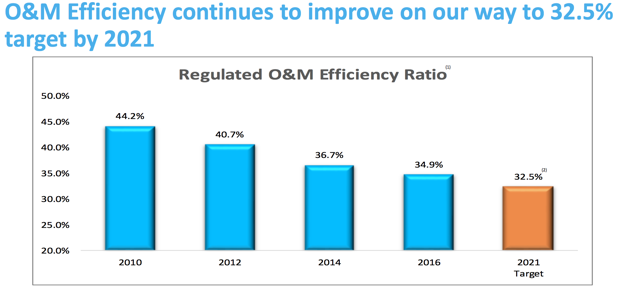 AWK Investor Presentation
Now, in 2016, its O&M Efficiency Ratio was 34.9% which was a nice improvement from 2015 at 36.7%. Over the years, AWK has demonstrated an ability to continually lower its ratio and improve operational efficiency. In addition, management has provided a target for 2021 which is 32.5%. By providing a target, it allows investors to track progress. I believe the goal of 32.5% is attainable based on the fact that the company continues to improve in all facets year after year.
Operating efficiently is a way that investors know that management has been able to operate in a conservative manner. It is something that they can hold over competitors, something that provides them an advantage over competitors.
Cash Flow
In any utility sector, well in any industry, it is crucial that one be able to generate Cash Flow from Operations. Cash Flow from Operations is a measure of the amount of cash generated by a company's normal business operations. Cash Flow from Operations indicates whether a company is able to generate sufficient positive cash flow to maintain and grow its operations, or if it must tap outside sources for funding, thus taking on more debt. Now, it is widely known that utilities take on lots of debt. This is because the industry is so capital intensive. It is calculated by taking EBIT + Depreciation - Taxes +/- Change in Working Capital.
On this note, American Water Works has an uncanny ability to generate Cash Flow from Operations. It does a great job of turning net income into cash flow. When evaluating cash flow, you want it to be higher than net income, because it demonstrates financial health. This cash flow generating ability has been crucial for AWK to be able to expand from its earliest days in business. People often do not pay close enough attention to cash flow, yet it is paramount for companies. Without this, I can guarantee you that American Water Works would not be where it is today if it could not generate this type of cash flow. Let me put it like this, back in AWK's earliest days, if it wanted to enter new markets, it was via acquisitions which meant cash was required. Now, if you pay your attention to the graph below, you can see how steadily Cash Flow from Operations on an annual basis and quarterly basis grows.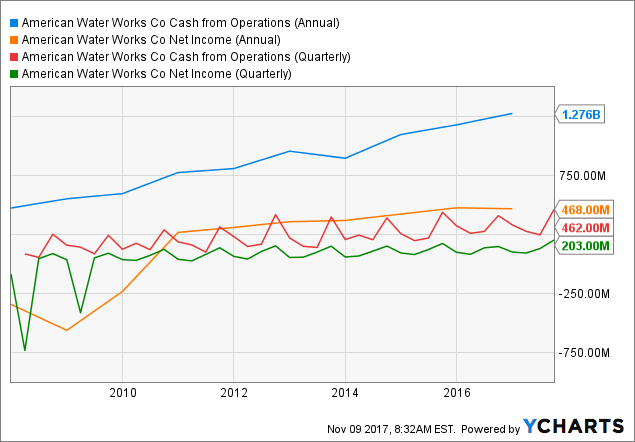 AWK Cash from Operations (Annual) data by YCharts
In 2016, AWK generated $1.276 Billion in Cash Flow from Operations. This is strong growth compared to 2015 and 2014 in which cash flow came to be $1.179 Billion and $1.097 Billion, respectively. However, looking at the graph, you can see that cash flow growth has been strong and consistent for a very long time. This steady growth correlates to a company to a company who has also expanded operations at a slow rate, but sustainable rate.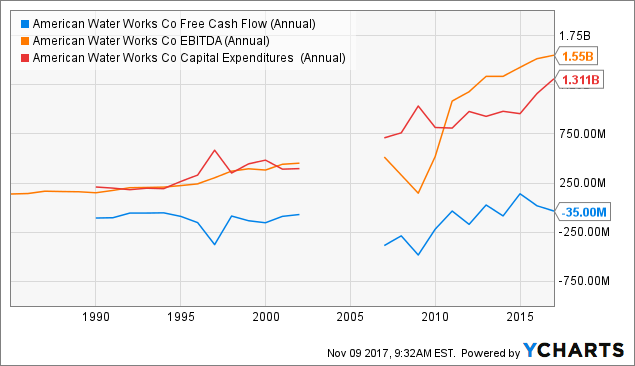 AWK Free Cash Flow (Annual) data by YCharts
From the Income Statement, investors and analysts love to create a metric known as EBITDA, Earnings Before Interest, Taxes, Depreciation, and Amortization. This metric is used as a way to portray cash flow as well. But when looking at cash flow from operation, there is metric called Free Cash Flow, that is a refined calculation that is meant to display the cash that a company is able to generate after spending the money required to maintain or expand its asset base. It's calculated by taking Cash Flow from Operation and subtracting Capital Expenditures from it. Let me say, that for utilities CAPEX is high because it includes the costs from upgrading or repairing assets. Free Cash Flow is usually very a good indicator of a company's financial prowess, however, for utilities, it is not very accurate because of high CAPEX. If it were heavily relied upon, then AWK would be doomed for failure.
In the chart above, you may see that Free Cash Flow has been trending down the last couple years. This is not a bad thing. From 2015, CAPEX, the red line, started trending upward reaching $1.311 billion in 2016. This caused Free Cash Flow to go negative to -$35 million. If you think back to what I discussed earlier about the state of the nations water infrastructure and how much they are spending to fix it, you can connect the dots, and see why Free Cash Flow is not a great measure of its financial strength. The massive amounts of money it is spending to contribute and do its part to mend the nation's infrastructure. AWK is spending this much money because it cares about its customers and wants to preserve its high standard of service which customers value. This exact dedication to pleasing customers has been a large reason that American Water Works has been able to exist for so long. Shifting focus to EBITDA, you will notice how it has steadily trended upwards. This is a much better way to show how well it has been able to operate and expand. Currently, as of 2016, EBITDA stood at $1.55 Billion. Maintaining that constant EBITDA growth demonstrates a company with an "Economic Moat" as it provides capital, on different level, that others do not have, which they are able to use to expand, repair or replace assets. In addition, it permits them to fund a lot of those plans through self-financing, which is something that Warren Buffett praises, as it reduces reliability on outside financing such as share offerings, debt, or bonds. AWK does own a lot of debt, but it is common for utilities, but very manageable thanks to this companies Cash Flow.
Overall, American Water works has done a phenomenal job of being able to expand operations as a result of strong financial flexibility via EBITDA and Operating Cash Flow growth, which has supported reinvestment in infrastructure to maintain customer happiness. Over time, nothing is better than having happy customers.
Earnings
When I look at portfolios of family or friends, I look at the companies they own and the success they achieved over the years. Most of their portfolios were constructed decades ago, filled with very old, outstanding companies. As I look through the portfolios, something becomes very apparent, something shared by them all, the growth of Earnings Per Share. Earnings Per Share is the net income per share. It is calculated by dividing net income by the number of outstanding shares.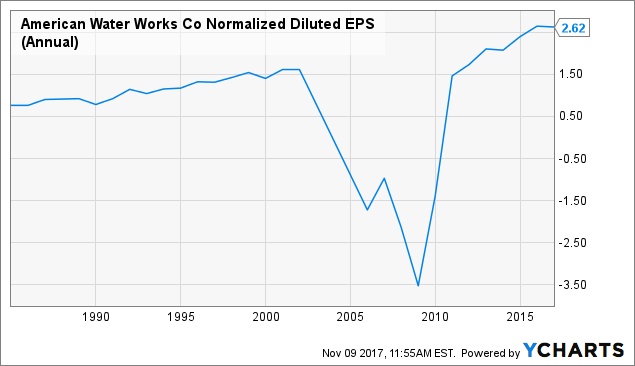 AWK Normalized Diluted EPS (Annual) data by YCharts
Companies that are able to grow EPS consistently turn out to do very well over the long run. Turning to the chart above, AWK has steadily grown EPS for decades, and I am willing to bet that to the left of graph that is not presented also slopes up at a slow rate. Steady growth of earnings over decades tells investors a great deal about the company. It tells them the company grows steadily and is well managed. It tells me that if it was able to be that consistent for that long in the past, it should be able to be stable in the future.
Valuation
This year, American Water Works has been rewarded for their financial success. Year to date, AWK is up a juicy 24.71%. It is performing 2nd best among its peers. The only company to outperform them is California Water Service which has seen its share price rise by a jaw dropping 28.17%. I am assuming that water consumption is up in Cali, which has lead to nice financials gains. Since we are now out of the drought, after an incredibly rainy winter and spring, we are actually able to use water again. But let's see whether or not they are overvalued or not at current prices and if so how much.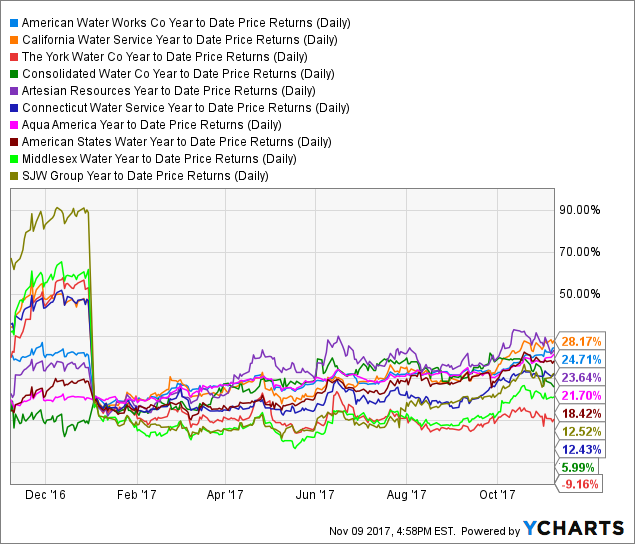 AWK Year to Date Price Returns (Daily) data by YCharts
I have attached a graphic below presenting the P/E ratios of the major Water Utilities in the United States. The company trading with the highest multiple would also be California Water Service, at 42.58x, which barely outpaces Consolidated Water Co. whose trading with a multiple of 42.42x. Currently, our American Water Works is being valued with a 34.10x multiple. The average P/E among those companies below is 36.09. If you apply that multiple to American Water Works, the price comes out to be $94.55. Given that the current price is $89.31, which implies a whopping upside of 5.86%. However, I feel as though, it should be trading slightly higher than that, based on its consistent growth, quality, as well as sheer size and scale of this firm. I believe an appropriate multiple for American Water Works would be around 38x. Based on this value, shares should be trading at $99.56, an 11.47% upside from today's closing price.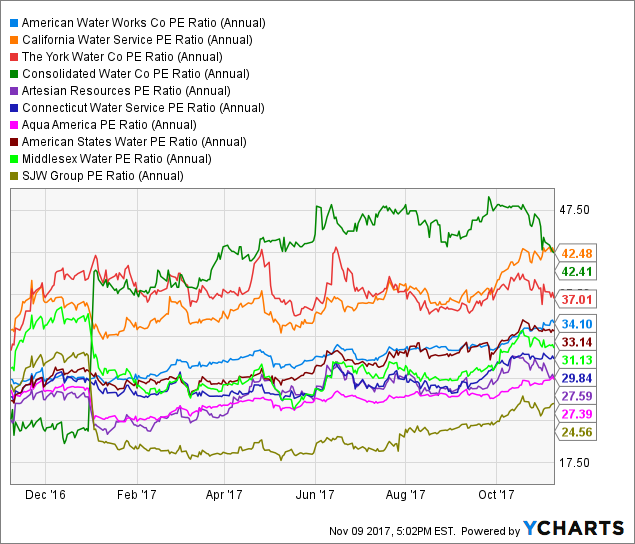 AWK PE Ratio (Annual) data by YCharts
Dividend
American Water Works wouldn't be a utility if it didn't pay a dividend. Utilities are dividend stocks, beloved by income investors and retirees, because they have stable revenue streams because their services face relatively low elasticity of demand, which investors love. Because of this, they tend to be unfazed by economic turmoil. Historically, they pay higher dividends coupled with higher yields.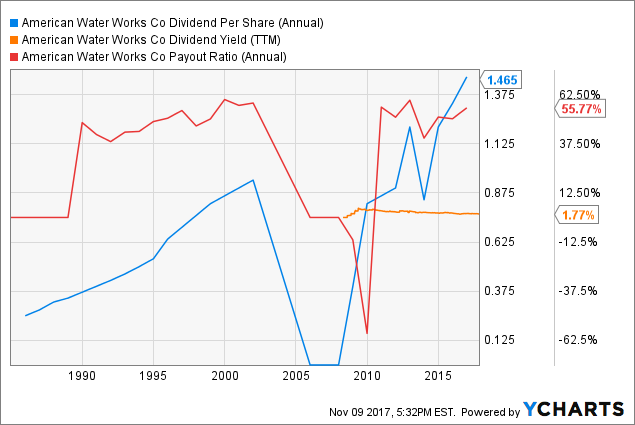 AWK Dividend Per Share (Annual) data by YCharts
As you can see American Water Works has significantly grown its dividend, dating back decades. Although it did go through a rough patch in the early 2000s, it stormed back and made up for lost time, rewarding shareholders. Currently, it pays an annual dividend of $1.465. In fact, this year, AWK is expecting to increase its dividend by a total of 10%. Management has determined that it is going to grow its dividend at the same rate as its long-term EPS growth which is around 7%-10% per year. These numbers should be like music to dividend growth investors' ears. However, its yield is not all that impressive at a meager 1.77% currently. This is thanks to the current run-up in share price.
Conclusion
American Water Works is one of very few companies that have outdistanced the relentless test of time, making it here today from 1886. In order to accomplish this incredible feat, AWK had developed and maintained certain characteristics that allowed itself to fend off rivals, competitors, and through good economic conditions and poor conditions. By having what Warren Buffett calls an "Economic Moat", American Water Works was able to persevere. The famed musician, DJ Khaled, praises certain characteristics for his rise to stardom and shares them with others hoping to inspire. He praises attributes such as: work ethic, believing in yourself, take advantage of opportunities, and disregarding "they haters"; By owning these traits, one is able to "Secure the Bag Alert", or catch the "Major Bag Alert".
Disclosure: I/we have no positions in any stocks mentioned, and no plans to initiate any positions within the next 72 hours.
I wrote this article myself, and it expresses my own opinions. I am not receiving compensation for it (other than from Seeking Alpha). I have no business relationship with any company whose stock is mentioned in this article.