On Tuesday March 6th, the Bank of Nova Scotia (NYSE:BNS) is reporting. We can take notes from those banks that have already reported to estimate a possible beat/miss and market reaction for Scotia Bank.
The Bank of Nova Scotia is one of the big five Canadian banks with operations in Canada, South and Central America, the Caribbean and Asia. The bank is expected to report earnings of $1.17 per share for the quarter ended January 31, 2012, about a 6% increase from the same period last year.
On March 1, 2012 the Royal Bank of Canada (NYSE:RY) reported earnings of $1.22 per share, beating consensus estimates of $1.10. The bank also raised its quarterly dividend by about 5.6% to $0.57 per share.
Similarly, the Toronto-Dominion Bank (NYSE:TD) reported earnings of $1.86 per share, beating consensus estimates of $1.74. Toronto-Dominion also raised its quarterly dividend by about 5.9% to $0.72 per share.
The technical picture of Scotia Bank suggests investors are jumping on board. As illustrated below, the RSI reflects positive sentiment levels, but no overbought conditions yet. Similarly, the stock is bumping along the upper Bollinger band, again reflecting the interest in the stock.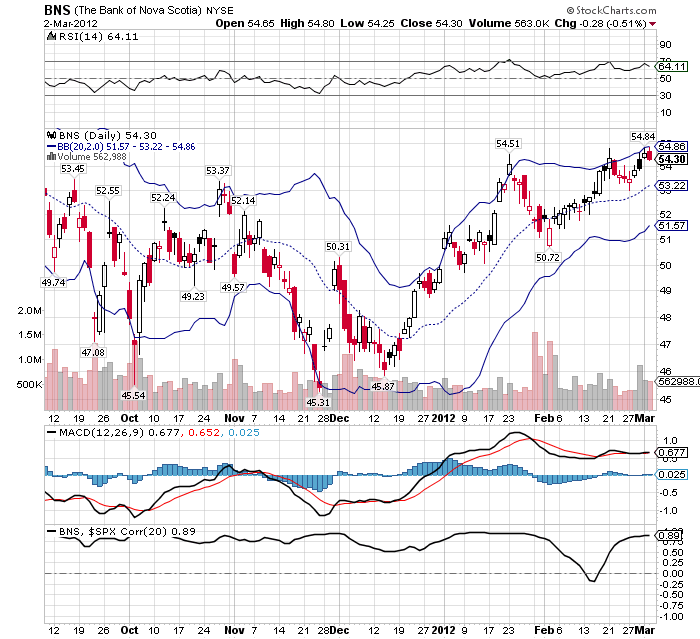 Judging from historical returns, Scotia Bank stock provided positive monthly returns six out of the last twelve years for the month of March and eight out of the past twelve years for the months of April and May.
Average Monthly Return 2000-2011: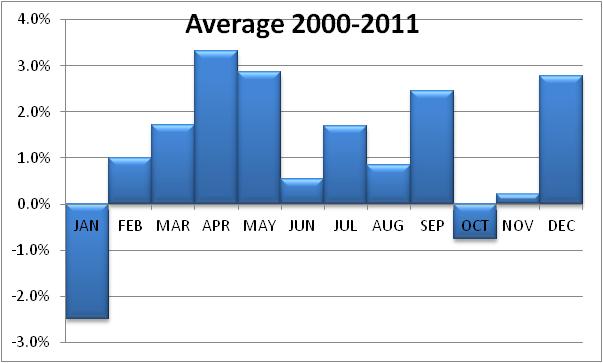 The Down Side
Although the current environment is favorable towards dividend paying stocks, it is not particularly accommodative to financial stocks; Scotia Bank is split between the latter and the former.
The current ultra low interest rate environment tends to pressure bank margins and therefore, impact earnings. Although this is not much of an issue with South American operations, it is an issue with Scotia's core Canadian operations.
In addition, the European debt crisis is far from being resolved. The Greek default date is fast approaching and any hiccups could derail what is historically a strong period for Scotia Bank stock.
Potential and current investors should therefore be tactical with entry and exist points.
Disclosure: I have no positions in any stocks mentioned, and no plans to initiate any positions within the next 72 hours.