What should we expect from the movie theater industry in the fourth quarter?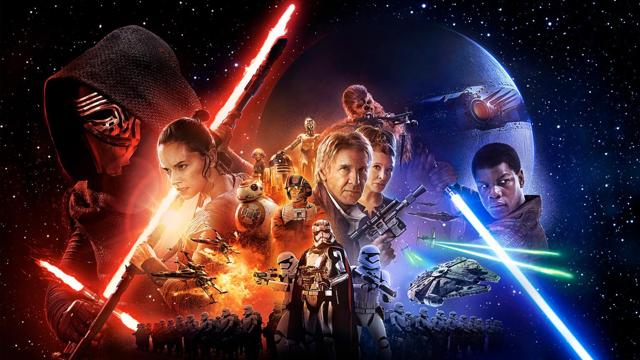 Introduction
National CineMedia (NCMI) is the producer of their iconic "First Look" preshow that readers may be familiar with from their last trip to the movies. It makes money by selling advertising segments within its preshow to advertisers ranging from automobile companies to television companies.
National CineMedia reported third quarter numbers last week and they were to be honest quite disappointing:
2017 3Q Results (in millions)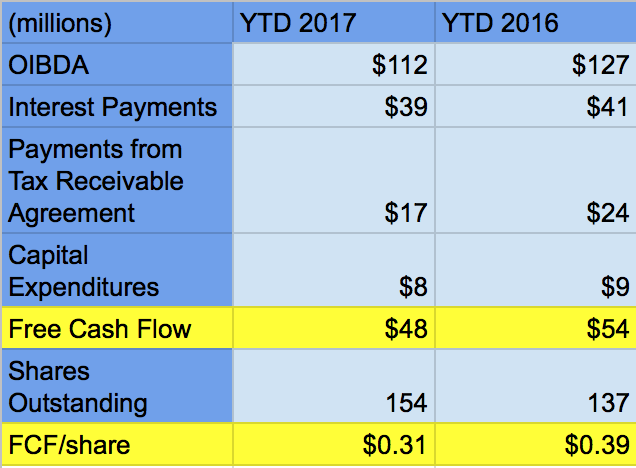 (Chart by Author, data from NCMI 3Q 10-Q)
For an explanation of why I focus on these items, please see my primer article on National CineMedia: National CineMedia: The Business And Cash Flow Explained.
There, I calculated 2016 FCF/share was calculated to be $0.85. As we can see from the first three quarters of 2017, it is clear that the bulk of movie theater spend comes in the fourth quarter. Big movies like Star Wars: The Last Jedi are expected to drive this movie traffic.
Still, FCF/share dropped 20% YOY. Clearly, the market was not impressed: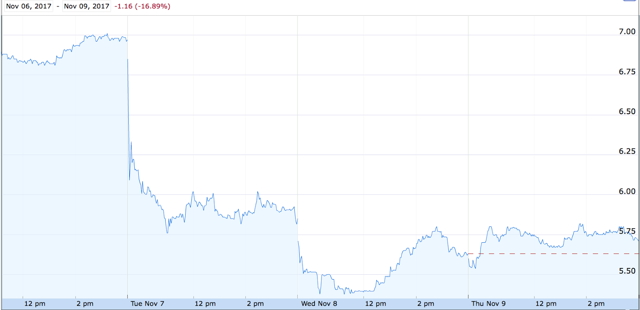 (Google Finance)
What was the cause for this decline?

(NCMI 3Q 10-Q)
As we can see, the biggest issue facing National CineMedia is the lower theater attendance (in their advertising network). Year to date, attendance is down 6.1% and for the third quarter, attendance was down 16.1% from 179.6 million attendees to 150.6 attendees. The reason that theater attendance matters is because National CineMedia, as an advertiser in movie theaters, is able to drive higher CPMs if attendance is higher (their advertisements are worth more when attendance is higher).
We can see that this hurt their overall revenue in the third quarter:

(NCMI 3Q 10-Q)
Beverage revenue (from those Coca-Cola or Pepsi advertisements in the preshow) dropped 10.7% primarily due to 18.1% lower founding member theater attendance. One positive, however, is that beverage CPMs still managed to go higher 10.2%, indicating pricing power (at least for the near term).
It is clear that theater attendance will be a very important issue going forward.
In fact, over the past year, National CineMedia has seen its stock move in line with movie theater stocks as theater attendance declined: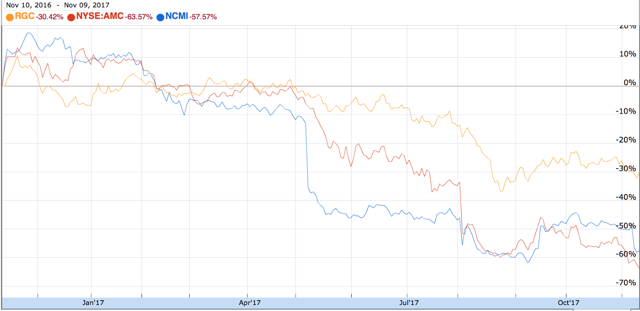 (Google Finance)
I believe, however, that the correlation may end soon.
The MoviePass concept can save National
CineMedia
MoviePass is one of the sensations of 2017. Its $9.95/month service allows subscribers to see unlimited movies at the theaters. In October, Helios and Matheson Analytics (HMNY), a major shareholder in MoviePass, announced that subscribers had hit 600,000 and that they expect to acquire 3.1 million additional subscribers in August 2018 (HMNY Investor Relations).
Why does this matter? Isn't HMNY and MoviePass just going to go bankrupt? Yes, MoviePass loses money as subscribers go to the movie theaters often because they buy each ticket in full. However, the alarming popularity indicates that movie goers are welcome to this idea - I have personally also tried the service out and can say that it is quite easy to use.
If MoviePass continues to pick up steam, movie theater stocks may see some headwinds as ticket margins compress (MoviePass may be able to negotiate lower ticket reimbursements), but National CineMedia will see earnings move up because of the increased movie theater attendance.
Further, given MoviePass' popularity, even if MoviePass does go bankrupt, one must assume that AMC or Regal will definitely implement their own subscription model - with the idea that lower ticket margins might be compensated by higher concessions revenues (which have very high margins). This move will definitely hurt earnings short term for movie theaters, but long term it would make their earnings stream more recurring and potentially help them return to growth.
Valuation and dividend cut
If I assume that National CineMedia will see 20% YOY declines in the fourth quarter as well (management does not believe this to be the case), then FCF/share would be $0.68 for the year, putting National CineMedia at a P/FCF of 8.4. It even yields 15.4% at recent prices. We can see that the $0.88/share dividend is not fully covered - National CineMedia has previously funded the deficit using cash equivalents, of which it had $30.4 million as of September 2017. I believe that we may see a dividend cut soon as the MoviePass effect may not show results to financials until midway next year.
I have bought a little bit more on the dip (but this is a small allocation to begin with) and intend to leave some dry powder in anticipation for this future dividend cut. The investment thesis is still intact and I do still believe this can break $10/share in the next 12 months.
Conclusion
National CineMedia had pretty lousy third quarter numbers, but this was to be expected due to the poor theater attendance. However, I believe that things are changing for the movie industry as the MoviePass subscription model may take off or inspire movie theater companies to implement their own subscription models. Investors must carefully watch theater attendance numbers and the state of MoviePass as I believe that these are critical for the future success of National CineMedia.
Author's Note:
If you liked this article, please follow me! This is a speculative high yield play and I urge readers to not put as much money in this one as one would do a SWAN (sleep well at night stock).
Disclosure: I am/we are long NCMI, HMNY. I wrote this article myself, and it expresses my own opinions. I am not receiving compensation for it (other than from Seeking Alpha). I have no business relationship with any company whose stock is mentioned in this article.
Editor's Note: This article covers one or more microcap stocks. Please be aware of the risks associated with these stocks.