Since I wrote my previous article on Intel (NASDAQ:INTC), the stock has soared 40% and still has further to climb as the market catches up to Intel's potential.
The thesis of that article was based on an un-loved turnaround stock that had fallen out of favor with investors despite seeing a recent end to its restructuring costs. At the time, investors also saw increased market share in its rivals, such as AMD (NASDAQ:AMD), as a sign that Intel would continue to suffer. However the company had made it clear that it was moving beyond that core business into new areas with high-growth potential such as autonomous vehicles and 5G connectivity.
Intel also had the benefit of a stronger balance sheet and would be able to act and react to threats and opportunities more quickly than its peers.
Intel hires for a graphics card push
A clear sign that Intel was ready to leverage that strength into a competitive advantage was the recent hire of a former AMD graphics chief, Raja Koduri, who will lead the build of a high-end graphics group within Intel.
A statement released by Intel said that, "In this position, Koduri will expand Intel's leading position in integrated graphics for the PC market with high-end discrete graphics solutions for a broad range of computing segments."
However, a further statement from AMD made it clear that it wouldn't be bullied out of its market leading position by stating that the company had "... industry-leading graphics IP and, if necessary, will vigorously defend it." A thinly veiled warning to the ambitions of its former employee.
Intel's move into graphics is a clear attempt to slow the progress of its rivals and to hopefully put a dent in their future cash flows.
Stock still has big upside potential
The move higher in Intel's stock since July has been powered by its recent earnings releases, particularly the most recent third quarter release, which beat analyst expectations by 26% and saw record operating income and earnings per share.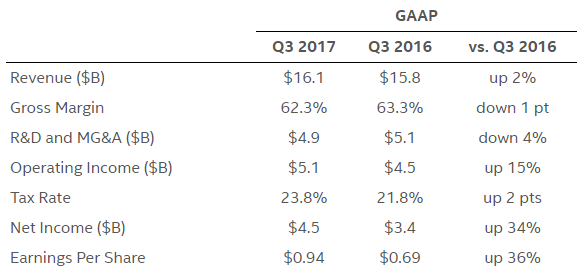 Balance sheet stability will be the key asset for Intel to fend off its rivals as the company has been able to maintain large R&D expenditures and growth while its margins dipped one percentage point.
Behind the headline numbers, the company also saw continued growth in its business segments with only the client computing segment flat for the quarter. However this is the core business and most certainly the least likely driver of strong growth in the future when compared to the new arenas that the company seeks to expand in. Continuing the R&D commitment in areas such as data, memory and autonomous vehicle solutions could be the game changer going forward.

(Source: Intel Corp.)
Despite the recent gains, the stock still trades at 16x earnings, which is still good value, and offers a more stable and predictable future than the current casino activity of Bitcoin darling Nvidia (NASDAQ:NVDA), which is now pricing in 58x earnings and whose value hangs on the mood of potential crypto currency regulators and an adoring herd of amateur speculators.
Although there is still room for further gains in Bitcoin, it would be wise for investors to consider their allocation and investing goals if holding that stock. Scaling out of further gains in Nvidia, and investing the proceeds in Intel, would not be a bad strategy.
If Intel can continue its recent earnings of $1 per share, then even at 16x earnings the stock can be worth $64. Apple (NASDAQ:AAPL) currently trades at 19x and matching this would mean $76, which is Intel's tech bubble high. The recent push higher and the continued strong performance is simply a confirmation of the turnaround and a solid base for future growth. Intel has a potential 60% upside and that is without factoring in the potential gains from a graphics-led breakthrough or from successes in its new business segments.
Conclusion
Intel's move from a forgotten tech stock of yesteryear is now underway and veterans of the market may yet to be convinced, following two decades of underperformance from the tech bubble euphoria. The company has restructured and has moved on from a struggling player in the computing world and further gains look inevitable when looking at the numbers of the last five quarters and its business segment growth. The recent decision to move into high-end graphics is a smart move to potentially slow the market share of its rivals. With a strong balance sheet, high R&D commitment and early mover advantage in exciting new segments, Intel should be viewed, free from the clouds of its past performance. This is a solid and stable earner with big ambitions and has the cash and reputation on hand to leave its chip-making peers in the rear-view mirror.
Disclosure: I am/we are long INTC.
I wrote this article myself, and it expresses my own opinions. I am not receiving compensation for it (other than from Seeking Alpha). I have no business relationship with any company whose stock is mentioned in this article.