On Thursday, November 9, the United States Department of Agriculture released its November World Agricultural Supply and Demand Estimates report. The release of the report is typically a time when many traders, speculators, producers, and consumers hold their collective breath as surprises often cause a high degree of price variance in the agricultural futures markets. Anyone who has seen the classic film, Trading Places, which came out in the early 1980s, knows that a report on the orange market caused Randall and Mortimer Duke to lose everything while Billy Ray Valentine and Louis Winthorpe made fortunes in the futures market. The movie was a fictional portrayal of events in the volatile agricultural markets where prices can move dramatically on the release of crop reports. Meanwhile, there was lots of truth in the potential for volatility when the data diverges from market expectations, and market participants suddenly scramble out of their positions.
Going into the November WASDE report, no market participants expected anything but the fifth straight year of bumper crops and ample supplies to meet all requirements. However, the market had expected a decline in soybean crop yields and inventories and a slight increase in the same metrics for corn. In the wake of the report, the market got what was expected, but the lack of any bullish adjustments caused prices to slip to the downside, particularly in soybeans and corn while wheat moved marginally higher.
Bulls need to wait until next year
I was in contact with my friend Sal Gilbertie who is the founder of the Teucrium family of ETF funds in the grain markets. The CORN, SOYB, and WEAT ETF products tend to do a great job replicating price action in the underlying futures markets for the primary grains. Sal's take on the November was as follows:
This was a bearish report for corn supplies, but the initial price reaction was surprisingly muted, perhaps because this is the time of year when harvest ends but usage does not. From this point onward until next year's harvest in the Northern Hemisphere's late summer, the world will be drawing down on its stored grain supplies. The world currently has plenty of grain supplies to be sure, but markets tend to get nervous when supplies are shrinking and new replacement crops won't even be planted in the ground for another six months, which is why there tends to be a seasonal harvest related low point in prices in the fourth calendar quarter, especially in spot corn prices. Prudent traders will watch their current short positions carefully from this point forward, and prudent end users will probably begin to consider securing some supplies. Long term investors and asset allocators will also likely be looking to establish some exposure to grains at this time.
The bulls will likely need until 2018 for any significant upside price action in the three primary grain markets. Let's take a look at what the USDA told markets last Thursday, what prices did in the aftermath of the report, and my take on the prospects as we move into the final weeks of 2017 and early 2018.
Beans and corn
Soybeans moved lower in post-WASDE trading as the USDA said:
Total U.S. oilseed production for 2017/18 is projected at 132.0 million tons, down 0.2 million from last month due to lower soybean, peanut, and cottonseed production. Soybean production is forecast at 4,425 million bushels, down 5 million due to a fractionally lower yield. With use unchanged, soybean ending stocks are projected at 425 million bushels. Prices for soybeans and soybean meal are raised this month. The U.S. season-average soybean price is projected at $9.30 per bushel, up 10 cents at the midpoint. The soybean meal price is projected at $295 to $335 per short ton, up 5 dollars on both ends of the range. The soybean oil price projection is unchanged at 32.5 to 36.5 cents per pound. The foreign oilseed supply and demand forecasts for 2017/18 include higher production, exports, and stocks compared to last month. Foreign production is forecast at 446.7 million tons, up 2.0 million with higher soybean, peanut, cottonseed, and rapeseed partly offset by lower sunflowerseed. Soybean production for Brazil is increased 1 million tons to 108 million on higher reported area for Parana and Rio Grande do Sul. Peanut production is increased for India on higher yields for the state of Gujarat. Sunflowerseed production is lower for Ukraine, Argentina, and South Africa. Major foreign soybean trade changes for 2017/18 include higher exports for Brazil and Paraguay, with increased soybean imports for China. Foreign soybean ending stocks for 2017/18 are up from last month, mostly reflecting increases for China, Argentina, and Brazil.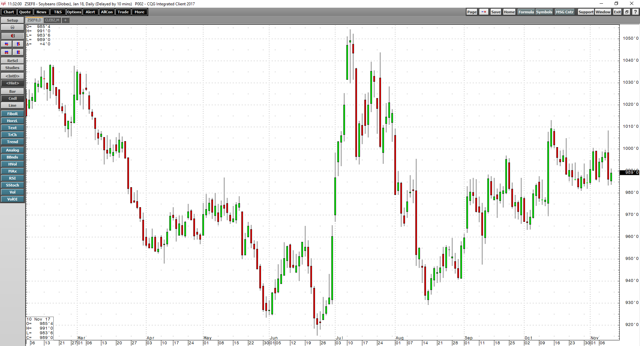 Source: CQG
As the daily chart of January soybean futures highlights, the price put in a bearish key reversal after the release of the report. While production was down on a month-on-month basis and the USDA adjusted yields marginally lower, inventories were unchanged in the U.S. and global output and stocks were higher. The market had expected declines in production, yields, and stockpiles, so selling hit the market in the wake of the report.
Beans will need to hold the October 12 lows at $9.6950 per bushel to keep the pattern of higher lows that has been in place since mid-August intact. Beans made their third higher low when they reached $10.13 per bushel following the October WASDE. We will need to see weather issues from South America that impact crops for the price to move significantly above the $10 per bushel level over the coming weeks and months. January beans closed last Friday at the $9.87 per bushel level.
When it comes to corn, the USDA report was even more bearish than the market had expected:
This month's 2017/18 U.S. corn outlook is for larger production, increased feed and residual use and exports, and greater ending stocks. Corn production is forecast at 14.578 billion bushels, up 298 million from last month on a record-high yield. Feed and residual use is raised 75 million bushels based on a larger crop. Exports are raised 75 million bushels, reflecting expectations of improved U.S. competitiveness, reduced exports for Ukraine, and increased demand from Mexico based on sharply lower sorghum production prospects. With supply rising faster than use, corn ending stocks are up 147 million bushels from last month. The projected range for the season-average corn price received by producers is unchanged with a midpoint of $3.20 per bushel. Global coarse grain production for 2017/18 is forecast 3.2 million tons higher to 1,322.6 million. The 2017/18 foreign coarse grain outlook is for lower production, reduced consumption, and smaller stocks relative to last month. Foreign corn production is forecast lower mostly reflecting reductions for Ukraine, Russia, and Vietnam that are only partially offset by an increase for the European Union. The projected corn yields for Russia and Ukraine are reduced based on reported harvest results to date. Sorghum production in Mexico is lowered based on area indications from the government and lower forecast yields as a result of the prevalence of the sugarcane aphid. Corn exports are lowered for Ukraine but raised for the United States. Imports are raised for Mexico and Canada, but lowered for South Korea. China's barley imports are raised reflecting expectations of continued demand for imported feedstuffs. Foreign corn ending stocks are down from last month, mostly reflecting declines for China, Vietnam, Canada, and WASDE-571-2 Ukraine that more than offset increases for the EU and Argentina. Global corn stocks, at 203.9 million tons, are up 2.9 million from last month.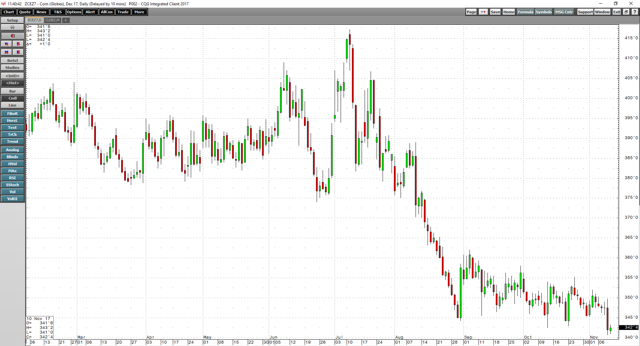 Source: CQG
Corn also put in a bearish key reversal trading pattern on its daily chart as December corn fell to a new low. On the longer-term charts, technical support now is at the $3.30 and $3.00 per bushel levels. The USDA increased yields, production, and stocks which weighed on the price of the December futures in the aftermath of the report. On a brighter note for the corn market, the grain is the primary ingredient in ethanol production in the U.S. and rising oil and gasoline prices could increase corn demand and support the price given the fundamental strength in the energy commodity and oil products and the turmoil in the Middle East. December corn futures closed last Friday at the $3.435 per bushel level.
Wheat and cotton
While corn and soybean price action was bearish following the release of the November WASDE report, the price of wheat was stable. The USDA told markets:
Projected U.S. 2017/18 ending stocks are lowered 25 million bushels due to increased exports. Recent sales to Iraq support a higher export projection with Hard Red Winter accounting for the entire increase. The latest NASS Flour Millings Products report, issued November 1, indicated only a modest increase for food use for 2016/17 and supported the current projection of 950 million bushels for 2017/18. Ending stocks are projected at 935 million bushels, down 246 million from the previous year but still above the 5-year-average. The season-average farm price is unchanged at a midpoint of $4.60. Global 2017/18 wheat supplies are down fractionally with decreased beginning stocks but increased production. Global production is raised 0.8 million tons led by a 1.0-million-ton increase for Russia and a 0.5-million-ton increase for the EU on updated harvest results. Partly offsetting is a 0.5-million-ton decrease for Pakistan. Exports are raised 0.6 million tons with the United States and Russia up 0.7 million, and 0.5 million, respectively. Australia exports are lowered 0.5 million. Global use is raised fractionally this month. With supplies decreasing and total use increasing, ending stocks are lowered 0.6 million tons but remain record large.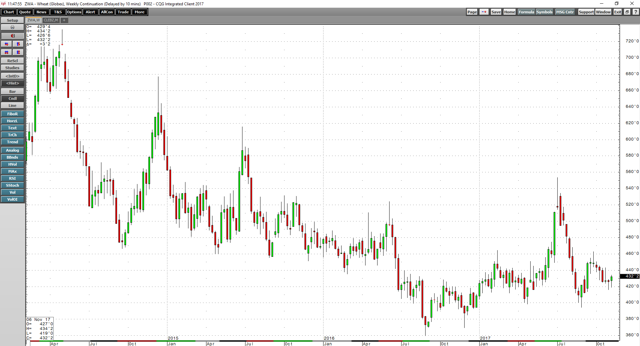 Source: CQG
As the daily chart of December CBOT wheat futures shows, the trend in the primary ingredient in bread has been lower, and the market expected another bearish report from the USDA after they said that stocks reached a record high in their October report. However, the agency reported that U.S. and global stocks declined and demand marginally increased providing some degree of stability to the price of the grain. Support for December CBOT wheat is at the $4.1775 level. Stocks are still at record levels, and CBOT December wheat futures closed on Friday, November 10 at the $4.315 per bushel level.
When it came to cotton, the news was slightly better for the prospects for the price of the fluffy fiber. The USDA told markets:
This month's 2017/18 U.S. cotton estimates include higher production and ending stocks, as a smaller crop in the West is more than offset by gains in the Southwest and other regions. While the U.S. production forecast is raised 1 percent, to 21.4 million bales, domestic mill use and exports are unchanged. U.S. ending stocks are now estimated 300,000 bales higher at 6.1 million bales and, at 34 percent, are forecast at their highest share of use since 2008/09. The marketing-year average price received by producers is forecast at 63 cents per pound, 3 cents above the October estimate, reflecting prices to date. WASDE-571-5 The 2017/18, world cotton forecasts include lower beginning stocks, higher consumption, and lower ending stocks. World production is raised 596,000 bales, as larger expected crops in China and the United States offset a 200,000-bale decline in the forecast for Australia. But world 2017/18 ending stocks are forecast 1.5 million bales lower this month-a 1.6-percent decline-as revised historical data results in a 900,000-bale decline in estimated beginning stocks. Argentina's 740,000-bale decline in beginning stocks is accompanied by smaller declines in the estimates for Australia and Uzbekistan. World 2017/18 consumption is forecast 1.2 million bales higher than last month, with increases of 300,000-550,000 bales in the forecasts for Uzbekistan, China, and Bangladesh. World trade is forecast 180,000 bales lower as a 400,000-bale decline in expected exports by Uzbekistan is only partly offset by a 100,000-bale increase for Brazil and smaller increases elsewhere. This month, new government data resulted in upward revisions to consumption going back as much as 10 years in Argentina, Uzbekistan, and Bangladesh. With these historical revisions, world consumption over the past 3 years was raised more than 400,000 bales each year, so a large portion of this month's increase in expected 2017/18 consumption reflects an upward shift in the historical data. Historical estimates of world trade were also reduced over the past 4 years, largely due to lower estimated Uzbek exports.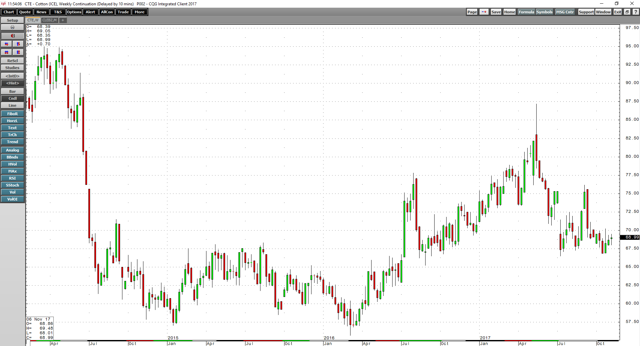 Source: CQG
The USDA reported that global beginning stockpiles of cotton moved lower, demand increased and ending stocks moved lower. The price of cotton has edged higher in the wake of the report. Cotton remains in a range from 66.15 to 70.22 cents per pound. December cotton futures were trading at the 69.05 cents per pound level on Friday, November 10, and a challenge of the upper end of the range and move to even higher levels is likely given the positive tone of the WADSE when it comes to the fundamentals of the cotton market.
Meats
Carnivores of the world paid particular attention to the November WASDE as the animal protein markets did an about-face from last year's price action in October. In October 2016, the prices of cattle and hogs moved to multi-year lows, but during the same month in 2017 the price action has bullish, and both types of meat moved to highs. The USDA told us that:
The forecast for 2017 total red meat and poultry production is lowered from last month as lower beef, pork, and turkey production more than offsets higher broiler production. Beef production is reduced from the previous month on a slower expected marketing pace for fed cattle in the fourth quarter and lighter carcass weights. The pork production forecast is reduced as lower expected fourth-quarter commercial hog slaughter more than offsets slightly heavier carcass weights. The broiler production forecast is raised on third-quarter slaughter data, but no change is made to the fourth-quarter forecast. For 2018, the total red meat and poultry forecast is raised from the previous month as higher expected beef and pork production more than offsets lower turkey production. Beef production is raised from last month as higher expected placements in the latter part of 2017 and first-half 2018 are expected to support higher marketings and fed cattle slaughter in 2018. However, carcass weights are expected to be slightly lower. Pork production is raised from last month on higher expected first-quarter slaughter and slightly heavier carcass weights; no changes are made to outlying quarters. The 2018 broiler production forecast is unchanged from the previous month. The beef import forecast for 2017 is raised from the previous month, but no changes are made to the 2018 beef import forecasts. Beef export forecasts for 2017 and 2018 are raised from the previous month on expected strong global demand for U.S. beef. For 2017, the pork import forecast was reduced fractionally on recent third-quarter trade data, but no change is made to the outlying pork import forecasts. The 2017 and 2018 pork export forecasts are lowered from the previous month on slower-than-expected export demand in the third quarter which will carry forward into 2018. Both 2017 and 2018 broiler export forecasts are reduced from the previous month on an expected slower pace in global demand. Cattle prices are raised for 2017 and first-half 2018. The hog price forecast is unchanged for 2017, but the first-quarter 2018 hog price forecast is reduced on larger slaughter hog availability. However, the annual hog price forecast remains unchanged. The 2017 and 2018 broiler price forecasts remain unchanged from the previous month.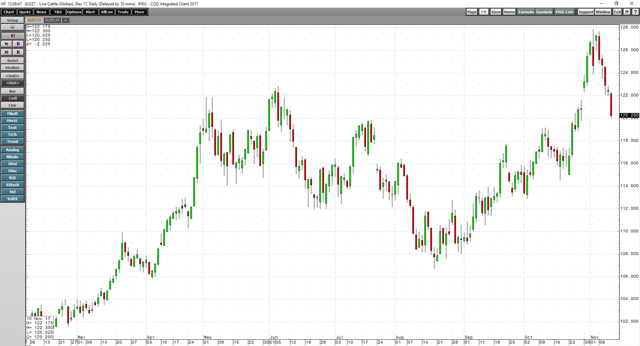 Source: CQG
Live cattle futures reached lofty levels in October, and the USDA data seemed to validate the rally last month. However, we are in the offseason when it comes to demand, and cattle have begun November in bearish mode with the price dropping for the past five sessions and continuing lower in the wake of the report. However, the reduction in production could mean that the futures will fund a higher low than the October 18 bottom at $1.14525 per pound. December live cattle futures closed on Friday, November 10 around $1.20575 per pound.
The price action in lean hog futures over recent weeks has been even more volatile than in the beef market.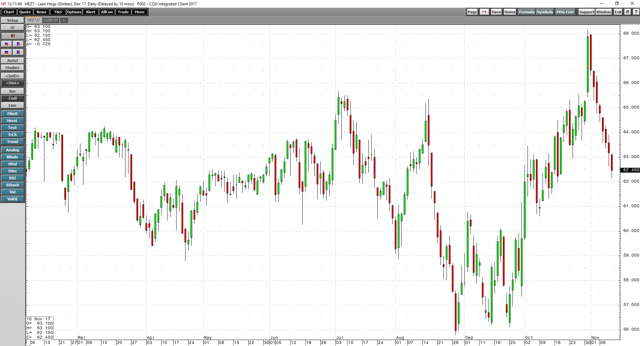 Source: CQG
The daily chart of December lean hog futures shows that the price peaked on October 31 at 68.175 cents per pound. The USDA lowered pork production, but like cattle, the price had reached a lofty level during the offseason and futures have posted eight straight days of losses with technical support at 62, 60, and 58 cents per pound critical support is at the August lows at 55.775 cents. December lean hog futures were trading at the 62.475 cents per pound level on Friday, November 10.
The bottom line
Most of the agricultural commodities, except for wheat and cotton, experienced losses following the November WASDE report from the USDA. There are ample supplies of these staples to feed the world and the good news for consumers is that prices will remain at low levels in most of these commodities. However, keep in mind that the base prices for almost all agricultural products have been increasing over the long-term. Demographic factors like population growth and wealth increases around the world continue to put pressure on the demand side of the fundamental equation for food. More people in the world with more income continue to compete for finite resources. In years like 2017 where crops are at record levels, and surplus conditions exist in markets, we do not feel the weight of increasing demand. However, droughts, extreme weather conditions, crop disease, or other events that reduce crop production will lead to explosive price moves in all of the agricultural commodities. In 2012, a drought that gripped the fertile Plains of the United States caused disappointing crops of corn and soybeans and prices rose to all-time peaks. Consumers have become accustomed to low prices over the past five years as bumper crops have taken the pressure of ever-increasing demand. I continue to believe the agricultural markets offer some of the best bargains in the commodities markets for the long-term. Each year is a new adventure in the world of grains and Mother Nature is the ultimate arbiter of the path of least direction for prices. However, we will have to wait until 2018 to see if production creates the sixth straight year of bumper crops or we experience some dramatic volatility and price appreciation in the agricultural sector.
Stay tuned!
To profit from commodities, you have to stay ahead of the trade. As a veteran commodities market watcher, I'm uniquely qualified to help you do that. My Marketplace service, the Hecht Commodity Report, offers a comprehensive weekly outlook on over 30 individual commodities markets, including U.S. futures. One of the most detailed commodities reports available, The Hecht Commodity Report provides weekly up, down or neutral calls on each market and highlights technical and fundamental trends. I also make timely recommendations for risk positions in ETF and ETN markets and commodity equities and related options. The Hecht Commodity Report is a must-read if you want to profit in commodities, so subscribe today.
Disclosure: I/we have no positions in any stocks mentioned, and no plans to initiate any positions within the next 72 hours. I wrote this article myself, and it expresses my own opinions. I am not receiving compensation for it (other than from Seeking Alpha). I have no business relationship with any company whose stock is mentioned in this article.
Additional disclosure: The author always has positions in commodities markets in futures, options, ETF/ETN products, and commodity equities. These long and short positions tend to change on an intraday basis.