Update 12/7/2017 - When starting Part 3, I noticed I used an absolute value for operational leverage, rather than a ratio, an error on my part. This update corrects that part of the analysis and as a result, changes the short-listed stocks from AU, GFI and KGC to AU and ABX. Part 2 of this series was also updated. I apologize for any inconvenience this caused.
A recent article in the Economist proclaimed a "Bull Market in Everything". It seems that way, stock market making new highs, real estate up, bonds prices strong.
However, there's one asset class that generally hasn't enjoyed the boom times, and that's commodities. I was inspired to delve into this topic in part by a Seeking Alpha article, The Wealth S-Curve That's Driving Current Global Macro Trends. Macro Ops makes a number of compelling points on why commodities will rise. This will be the first of several articles focused on commodity-based securities.
Industry and Portfolio
The first industry I'm going to look at is Precious Metals with a qualification that some of the company's operation involves gold mining. In addition, the company must have a market cap of at least $1 billion and trade on a major American exchange. Because the valuation technique I'm using involves production and reserve analysis, I removed royalty, streaming, and companies lacking production history. Twenty securities qualified: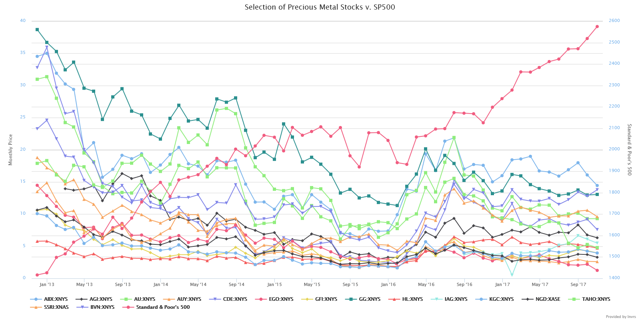 The above graph shows a selection of portfolio members against the S&P 500 index. Clearly, precious metals stocks and the index have been moving in opposite directions (this isn't a statement of causation, merely of negative correlation).
Goal of the Article
I started this article by attempting to find the best company in a group of peers using my standard, minimum criteria of quality of earnings, earnings growth, and valuation. However, I found that because this industry is dependent on the value of the underlying commodity, the process and the results weren't as illuminating as they could be. I looked into the methodology of analysts who specialize in gold companies for inspiration and eventually decided on a new goal:
The purpose of this article is to find stocks that will react the most strongly and positively to an increase in the price of gold. They might not be the best long term investment, but in the short to medium term, they'll be the best performers.
To accomplish this, I needed a hypothesis and a methodology.
Please note, this article will not speculate on the future price of gold nor will it delve into the industry.
Hypothesis
Earnings are the biggest driver for stock price and stocks with certain characteristics are positioned to appreciate quickly and significantly should the underlying commodity increase in value. The characteristics are:
Highly leveraged,
Under-valued,
Highly correlated to the underlying commodity.
Analysis Methodology
This is my methodology:
Leverage:
Operational leverage,
Capital structure leverage,
Cross reference to find stocks with both.
Undervalued:
Reserve valuation,
Production valuation,
Cross reference.
Gold price correlation
Stock price sensitivity to gold prices,
I'll then look for companies that fall into all three categories.
Test - Leverage
Why would I be interested in companies with high production costs and a lot of debt?
Imagine a scenario with two almost identical companies. They're in the same business, they earn the same amount of revenue. One company's expenses are higher because of its operating and capital structure, and it doesn't earn profit at current revenue levels. The second company earns $1 million in profit. Then, something changes - both companies earn more revenue, and both increase their profit by $1 million. The leveraged company sees 100% earnings growth while the unleveraged company sees growth of 50%. According to this article's hypothesis, this difference in earnings growth matters, and therefore, we're interested in the leveraged company.
Just like in my simple example, I'm going to look at two areas of leverage: operational and capital structure. I'm using the operating leverage ratio (gross income divided by pre-tax net income). For the latter, I'm using the debt to equity ratio.
Below are two charts showing the output of the operating leverage and the debt to equity ratio.
The top 10 most highly leveraged companies are depicted in the chart below from highest to lowest.
Operational Leverage Capital Structure Leverage
| | |
| --- | --- |
| CDE | FCX |
| NGD | AU |
| GG | ABX |
| BTG | GFI |
| AU | AUY |
| EGO | KGC |
| BVN | NGD |
| HL | NEM |
| SSRI | SSRI |
| ABX | CDE |
There are five companies in the top 10 of both leverage categories, and they rank from most leveraged to least as follows:
Test - Valuation
I love experimenting. I thought rather than use my go-to valuation technique, Ohlson Clean Surplus, I'd use a valuation derived from factors specific to this industry - reserves and production. Specifically, I'm dividing market capitalization by each factor to get price/ounce of gold reserves and price/ounce of production.
The lowest value companies are listed below from lowest to highest.
Market Cap to Reserves Market Cap to Production
| | |
| --- | --- |
| GFI | GFI |
| AU | AU |
| NGD | KGC |
| EGO | AUY |
| KGC | IAG |
| AUY | ABX |
| ABX | NEM |
| IAG | NGD |
| AGI | GG |
| NEM | SSRI |
There's a lot of overlap between these two categories. The lowest valued stocks occurring in each category from lowest to highest are:
GFI
AU
KGC
AUY
IAG/ABX
NGD
NEM
Test - Sensitivity to Gold Prices
To determine price sensitivity to gold, I created a least squares model and then calculated the R squared. The R squared tells us how informative the least squares equation is and ranges from one to zero. An R squared of one would mean that the price of the security is completely explained by the underlying price of gold (technically to the gold price proxy I'm using, explained in a moment). An R squared of zero indicates the price of the security isn't explained at all. Ergo, I'm looking for the highest R squareds. I'm using the S&P/TSX Global Gold Index and five years of data.
The following graph shows in descending order which stocks have the highest R squareds.

Cross Referencing the Results
In descending order, the following chart reproduces the strongest results in all three areas of inquiry:
Leverage Valuation R Squared
| | | |
| --- | --- | --- |
| AU | GFI | ABX |
| NGD | AU | BVN |
| CDE | KGC | SSRI |
| ABX | AUY | CDE |
| SSRI | IAG/ABX | KGC |
| | NGD | AEM |
| | NEM | AU |
| | | GOLD |
| | | GFI |
| | | HL |
There are two stocks that show up in all three categories: AU and ABX.
Conclusion: Next Step is Real-World Testing
I'm testing a hypothesis using a scientific framework, but we still need to see the real world results. I'm going to be updating this analysis periodically as the price of gold changes, specifically as the price rises, as that is the basis of hypothesis and methodology.
My expectation is that AU and ABX will appreciate more dramatically than the rest of their peers when the price of gold rises.
Disclosure: I/we have no positions in any stocks mentioned, but may initiate a long position in ABX over the next 72 hours. I wrote this article myself, and it expresses my own opinions. I am not receiving compensation for it (other than from Seeking Alpha). I have no business relationship with any company whose stock is mentioned in this article.