(All figures are in Canadian dollar unless otherwise stated)
The oil and gas industry is currently offering some of the best optionality plays I have ever seen. Optionality refers to the exponential relationship between the value of an asset and the price variations of the underlying commodity. In other words, projects requiring significant capital investments are heavily discounted at the moment. It is now possible to buy these quasi-perpetual call options for free. These opportunities are the most dramatic form of time-arbitrage situations for deep-value investors.
According to the market, a multi-billion barrel oil field with projected operating costs below $10 is worthless. The value of world-class management also is discounted to zero. The combination of world-class assets and best-of-breed management reminds me of Ivanhoe Mines in February 2016. These situations would not exist in a private market. Sellers are probably more influenced by liquidity needs than the intrinsic value of the underlying company.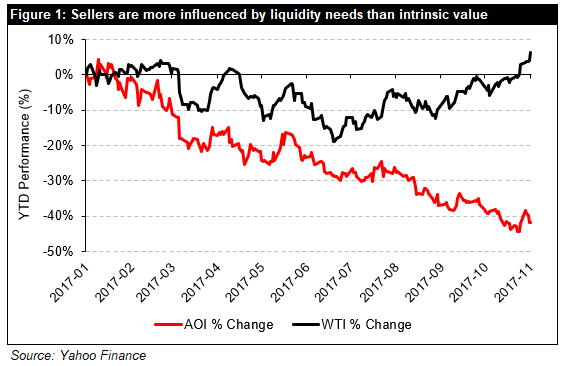 Oil production from South Lokichar would be the first commercial production in Kenya. The country has very limited oil infrastructure an no export facilities currently in place. Oil is in remote areas and cannot be delivered to market without significant infrastructure investment. In this case, a pipeline of a thousand kilometers costing more than $2 billion must be built. This pipeline is critical to the viability of the project. In the current environment, nobody wants to deploy large upfront capital. These arguments are noteworthy and should be factored into the valuation. However, a quasi-perpetual call option without time value does not exist.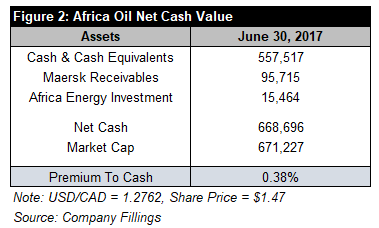 South Lokichar Basin
The South Lokichar basin was first explored by Shell (NYSE:RDS.A) (NYSE:RDS.B) in the early 1990s. Shell announced the Loperot discovery in 1992 and recovered small amounts of oil. The discovery was considered marginal and all exploration work was abandoned.
Approximately 20 years later, Africa Oil (OTCPK:AOIFF) assembled a significant land package with acreage extending into Ethiopia. The acreage has a total length of almost a thousand kilometers which is comparable to the size of the North Sea. The East African rift basin system is one of the last great rift basins to be explored. The company acquired its interest in East Africa after several multi-billion barrel oil fields had been discovered in multiple analogous oil fields on all sides of the company's under-explored land position. Tullow Oil discovered the 1.7 billion barrels Albert Graben oil field in neighboring Uganda. Many other multi-billion barrel fields have been discovered in South Sudan.
In 2012, Africa Oil drilled the Ngamia-1 well and discovered 300 million barrels of 2C resources. Even though 80% of the basin is still unexplored, the estimated gross 2C unrisked resources now stand at 766 million barrels. The gross 3C unrisked resources are estimated at 1.6 billion barrels. This includes only the oil discovered on the 10BB and 13T blocks in Kenya as at December 31, 2015. An update including the recent discoveries should be released in the coming quarters.
The rift basin in Ethiopia, the blocks 10BA and the block 9 in Kenya are still unexplored. Moreover, two additional discoveries have been made so far in 2017. Consequently, the 2C resources are dramatically underestimated. Eight discoveries in a row and a success rate of 100% in the recent drilling campaign illustrate the growth potential. Moreover, the northern part of South Lokichar is now significantly derisked with the recent Erut and Emekuya discoveries.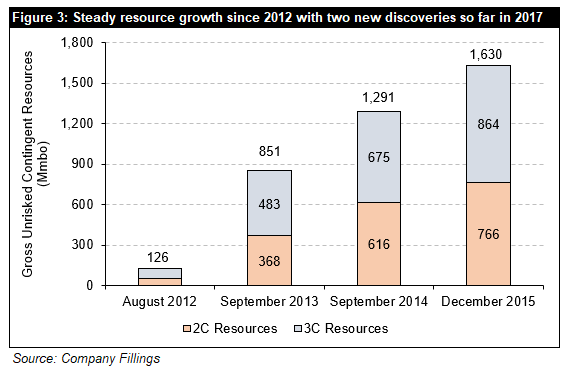 With a 25% working interest and a chance of commerciality of 86%, the net risked 2C resources stand at 165 million barrels and the net risked 3C resources at 350 million barrels. The probability of removing regulatory contingencies has been assessed at 95% and the probability of removing market access contingencies has been assessed at 90%. It is worth noting that the Kenyan government signed an agreement with Africa Oil, Tullow and Maersk in October 2017 about the planned pipeline allowing initial work to begin. The pipeline is expected to be completed in 2021 at the cost of approximately $2.6 billion. Following the significant discoveries in Uganda, the country originally agreed to partner with Kenya on the pipeline development. However, Kenya ultimately opted to go alone.
With expected operating costs below $10, the South Lokichar basin is comparable to the best fields in the Middle East. Economics of the project remain robust in the current price environment. However, capital is scarce, especially for large greenfield projects.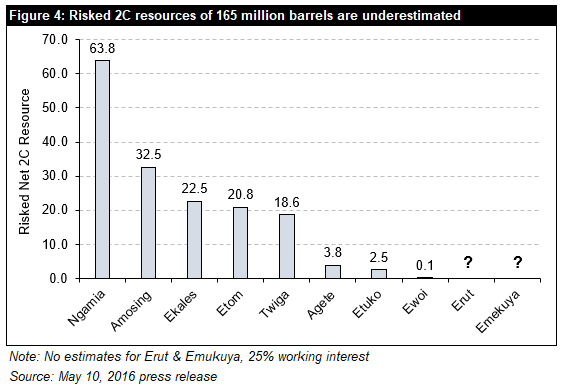 Management
Stocks trading below net cash are normally mismanaged or run by untalented capital allocators. By discounting a stock to its liquidation value, shareholders are normally expressing their extreme displeasure with the business. Ironically, Africa Oil is led by one of the best teams in the industry. It is very uncommon for well-managed companies to be discounted to liquidation value.
Keith Hill has done it before in Russia with Valkyries Petroleum. After a series of accretive acquisitions, the company was sold to Lundin Petroleum in 2006 for $780 million. He also had tremendous success in Syria with Tanganyika which was acquired by China's Sinopec in 2008 for $2 billion. He also is involved in BlackPearl Resources, ShaMaran Petroleum and Africa Energy. In January 2012, he claimed to be hunting for elephants in East Africa. A few months later, Africa Oil announced the discovery of Ngamia in Kenya. Ian Gibbs was CFO of Tanganyika Oil where he played a pivotal role in the $2 billion deal with Sinopec. He also was CFO of Valkyries before the takeover agreement with Lundin Petroleum. A takeover is plausible and the team has a lot of experience in that area.
Valuation
Depending on resource growth and timing of first oil, Maersk may carry up to US$405 million in additional development cost. Combined with US$510 million in cash and receivables due by Maersk, no additional equity raise should be required to get to first oil. No value is attributed to potential additional development considerations.
Excluding the most recent discoveries at Erut and Emekuya, NAV of blocks 10BB and 13T was estimated at US$4 billion in December 2015 using a discount rate of 5%. It was based on the net risked 2C contingent resources. Since then, Africa Oil sold 50% of its interest in blocks 10BB and 13T to Maersk. The net asset value attributable to Africa Oil is around US$2 billion. In my opinion, it would be substantially higher with Erut and Emekuya included. Again, only 20% of the basin is explored and the company continues to drill.
Maersk paid Africa Oil US$350 million as reimbursement for approximately 50% of past costs incurred by Africa Oil before the effective date. Maersk also will carry up to US$75 million of the company's share of development and US$15 million of the company's share of exploration. This is excluding the potential US$405 million consideration. The deal was announced in November 2015 when oil was trading at $40. South Lokichar should be worth at least US$425 million considering the current oil price of $55. Based on these numbers, a minimum upside potential of 100% looks realistic.
Moreover, a lot of 3C resources should be reclassified as 2C resources in the coming quarters. For Africa Oil, the key variable behind resource progression is the recovery factor. According to Keith Hill, a 10% increase in the recovery factor would increase the gross unrisked 2C resources by 300 million to 400 million barrels. Because NAV is calculated on 2C resources, the impact would be dramatic on the valuation.
According to British Petroleum, the current ultimate average recovery factor for oilfields, on a worldwide basis, is about 35%. This means that about two-thirds of the oil that has been discovered is left within the reservoir. Increasing the average ultimate recovery factor from 35% to 45% would add about 1 trillion barrels of oil on a worldwide basis. The same phenomenon applies for Africa Oil.
If you drill a well into a reservoir and rely on natural pressure to force the oil to the surface, you will typically recover around 10% of the available volume in place. The pressure in the reservoir will naturally fall as it empties until there is not enough to force up oil. It is possible to maintain pressure by injecting water into an injection well. Adding waterflooding increases the amount of oil that can be recovered to approximately 35% for a typical well. On that basis, the P10 recovery factor of 36% used by Africa Oil looks conservative.
The recovery factors used were 16%, 26% and 36% for P90, P50 and P10, respectively. This is approximately 10% lower than the recovery factor of analog fields in Sudan, Rajasthan and Uganda. Even if Africa Oil ceases its drilling program, the 2C resources would increase dramatically in my opinion.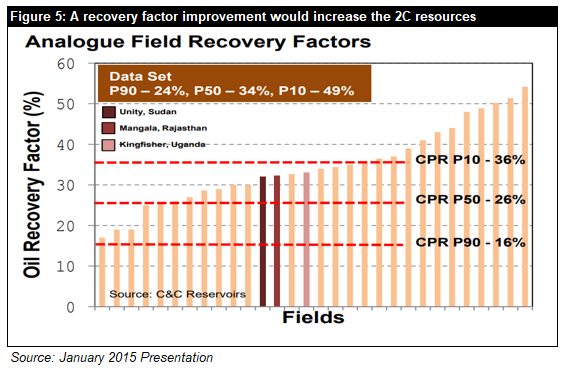 It is interesting to mention that South Lokichar was implicitly valued at $2.5 billion at the beginning of 2014. Since then, Africa Oil entered into a farm-out agreement with Maersk and oil collapsed by 50%. After the Erut discovery in January 2017, South Lokichar was valued at approximately $700 million. The implicit value was calculated by subtracting the net cash position from the market capitalization.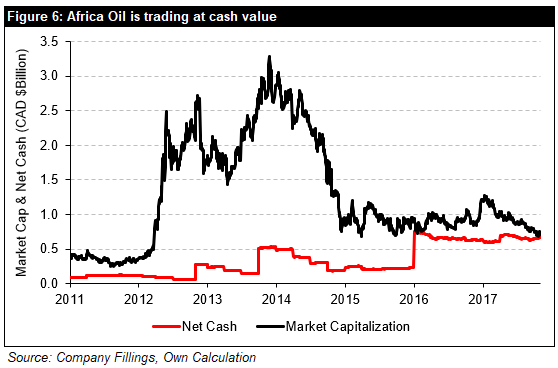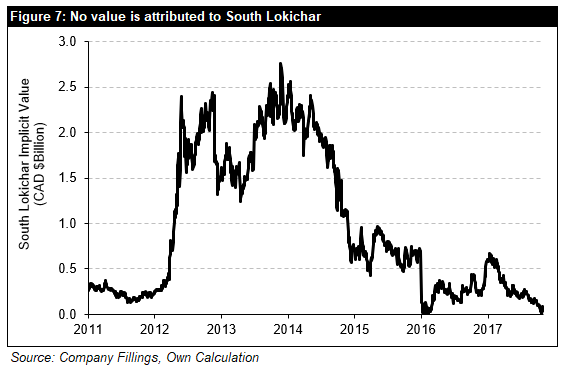 Before the first discovery in the basin, the raw land was valued at approximately $250 million. With multiple discoveries, multi-billion dollar partners and huge growth potential, South Lokichar is now discounted to zero. Irrational undervaluation as dramatic as is the case with Africa Oil is often a short-term anomaly.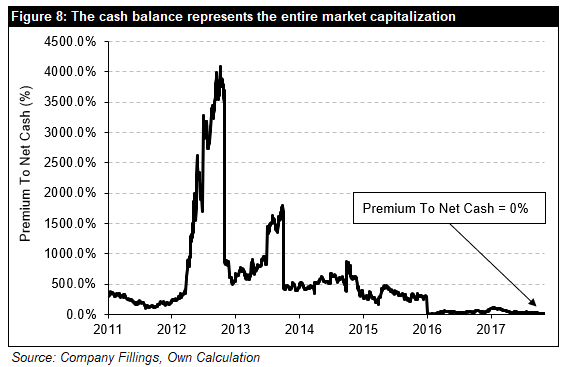 Conclusion
In a worst-case scenario, South Lokichar is worth US$425 million in my opinion. The current share price does not reflect the value of the underlying assets. Two block trades occurred on October 27 totaling 2.5 million shares. An important shareholder is probably creating an overhang on the stock. The downside risk is very small considering the cash value. Africa Oil is a levered perpetual call option on oil prices.
Disclaimer
This article reflects my opinion only. I wrote this article myself based on my own research. Please do your own due diligence before taking any decision. The opinions in this document are for informational and educational purposes only and should not be construed as a recommendation to buy or sell the stocks mentioned. The information in this document is believed to be accurate, but under no circumstances should a person act upon the information contained within. I do not recommend that anyone acts upon any investment information without first consulting an investment advisor as to the suitability of such investments for his specific situation.
Risk Factors
International Operations
AOC participates in oil and gas projects located in emerging markets, including Ethiopia and Kenya. Oil and gas exploration, development and production activities in these emerging markets are subject to significant political and economic uncertainties that may adversely affect AOC's operations. Uncertainties include, but are not limited to, the risk of war, terrorism, civil unrest, expropriation, civil unrest, nationalization, renegotiation or nullification of existing or future concessions and contracts, the imposition of international sanctions, a change in crude oil or natural gas pricing policies, a change in taxation policies, and the imposition of currency controls.
Different Legal System and Litigation
AOC's oil production and exploration activities are located in countries with legal systems that in various degrees differ from that of Canada. Rules, regulations and legal principles may differ both relating to matters of substantive law and in respect of such matters as court procedure and enforcement. Almost all material production and exploration rights and related contracts of AOC are subject to the national or local laws and jurisdiction of the respective countries in which the operations are carried out. This means that AOC's ability to exercise or enforce its rights and obligations may differ between different countries and also from what would have been the case if such rights and obligations were subject to Canadian law and jurisdiction.
Going Concern Basis
AOC's financial statements have been prepared on a going concern basis under which an entity is considered to be able to realize its assets and satisfy its liabilities in the ordinary course of business. AOC's operations to date have been primarily financed by equity financing. AOC's future operations are dependent upon the identification and successful completion of additional equity or debt financing or the achievement of profitable operations.
Risks Inherent in Oil and Gas Exploration and Development
Oil and gas operations involve many risks which, even a combination of experience, knowledge and careful evaluation may not be able to overcome. The long-term commercial success of AOC depends on its ability to find, acquire, develop and commercially produce oil and natural gas reserves. No assurance can be given that AOC will be able to locate satisfactory properties for acquisition or participation.
Capital Requirements
Capital requirements to finance its future acquisition, exploration, development and operating costs, AOC may require financing from external sources, including from the issuance of new shares, issuance of debt or execution of working interest farm-out agreements. There can be no assurance that such financing will be available to the company or, if available, that it will be offered on terms acceptable to AOC. If additional financing is raised through the issuance of equity or convertible debt securities, control of the company may change and the interests of shareholders in the net assets of AOC may be diluted.
Disclosure: I/we have no positions in any stocks mentioned, and no plans to initiate any positions within the next 72 hours.
Editor's Note: This article discusses one or more securities that do not trade on a major U.S. exchange. Please be aware of the risks associated with these stocks.