Unfortunately, Stericycle's (NASDAQ:SRCL) third quarter report did nothing to alleviate investor fears. Buyers though quickly stepped in once markets opened post earnings and picked up shares around the $62 level. In fact, I still believe any price in the 60s or early 70s will end up being terrific long-term investments. We are dealing with a company here with strong competitive advantages specifically centered around the cost advantages it enjoys due to its massive scale. These advantages are not going to go away overnight. In fact, Stericycle actually grew its gross margin metric sequentially to 41.7% in its most recent quarter.
This metric has comfortably remained above 40% over the past decade. Remember third quarter earnings were always going to be derailed to a large extent from the hurricanes which occurred over the past three months. However initial selling looks like an overreaction. Timing entries into value plays is very difficult. Sentiment was at pessimistic extremes in this stock just a few short weeks ago and it is even more so post earnings. However, we need to stay focused on the big picture which is a value play selling at only 1.5 times its sales. We haven't seen these types of numbers in Stericycle for some time.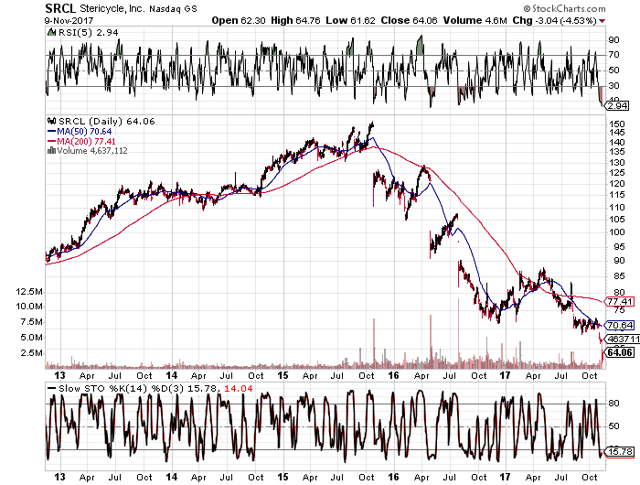 What looked ugly in Q3 from an investor point of view was the drop in both the top and bottom line as well as the cut in guidance for 2017. The top line shed 0.8% to $882.8 million in Q3 and earnings came in at just under $100 million which was around 12% below the quarter of 12 months prior. Updated 2017 earnings guidance of $4.49 is about $0.13 off the previous number and new revenue projections of $3.57 billion are about $10 to $20 million off the previous number. Straight away here we can see that revenue growth should remain strong. In fact, we saw this in the company's latest report where we saw robust top line growth in many of the company's segments.
This is why I believe the company is diversified enough to be able to offset the sustained weakness in the company's industrial hazardous waste segment. If the likes of healthcare waste and Shred-It can keep on producing the growth numbers, then you would have to back the firm's newly announced turnaround plan which will be fully laid out in the new year. Yes earnings may take a hit in the near term but as long as gross margins and revenue growth remains intact, I believe the street over time will begin to value this stock higher.
Technically shares have very strong support just below the $60 handle. Back around the great recession, shares traded in a range bound channel for a period of 30 months between the $50 and $60 handle. Could shares dip below these levels? Unlikely in my opinion unless a catalyst for a steep bear market emerged. Even at that, this stock has shown that it is an excellent recession-proof stock. Gross margins, revenues and earnings all grew in the great recession. This is the power of proven competitive advantages.
Therefore what Stericycle offers at the moment is a historically low valuation combined with expected top and bottom line future growth. Furthermore if and when the economy throws the stock market a curve ball, Stericycle has demonstrated that it holds up very well in recessionary times due to the recession proof nature of its business.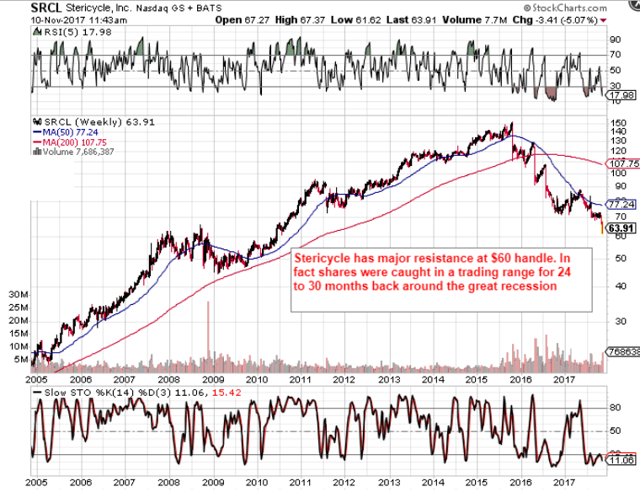 Investors need to keep their eyes firmly fixed on the fundamentals and ignore short-term wiggles in the share price. Being the major player in the medical waste management industry, I feel more and more regulation is going to tie more and more customers over time to the company. In most industries, when regulation comes on mass, the big players usually win out. Yes there is competition in the autoclave space but many companies that are competing in this space do not have the ancillary services which back up Stericycle's main segments. In a highly regulated market, customers will invariably go with the company where synergies are evident which should over time increase switching costs for customers. Heightened regulation in this sector should end up being a nice tailwind for Stericycle for a good number of years going forward.
Therefore ignore the wiggles. Long Stericycle.
Disclosure: I am/we are long SRCL. I wrote this article myself, and it expresses my own opinions. I am not receiving compensation for it (other than from Seeking Alpha). I have no business relationship with any company whose stock is mentioned in this article.