By G C Mays
The USDA's November WASDE report shows lower forecast U.S. wheat ending stocks due to increased exports. However, recent sales to Iraq account for the entire increase. The 680,000 metric ton decline in U.S. ending stocks account for most of the global decline of 600,000 metric tons. Without the decline in U.S. stocks, global stocks would have been flat to higher.
Wheat Supply & Demand
Production, Use, Beginning & Ending Stocks
With the exception of a 680,000 metric ton increase in exports due to recent sales to Iraq, the U.S. wheat balance sheet is largely unchanged. However, there were a few key changes internationally.
Russia will be the world's leading exporter of wheat during the 2017/18 marketing year if current forecasts hold. Russia increased its already record windfall production with another 1 million metric ton increase.
Canada raised its estimate of ending stocks by 150,000 metric tons due to lower forecast imports and domestic feed use. According to Agriculture and Food Canada, improved crop genetics have played a role in Canada's wheat crop this year. In spite of below-average drizzle, yields were in line with the five-year average.
The European Union increased its production estimates by 450,000 metric tons, adding directly to ending stocks. Estimates of India's ending wheat stocks dropped by 500,000 tons due to reduced imports. Low local wheat prices have made imports less competitive.
Price
The USDA's estimate of the average farm price is $4.60 per bushel, unchanged from October. During the month of October, both wheat futures and the Teucrium wheat ETF (WEAT) were down 5.8 percent.
Exports
One of the reasons U.S. futures and cash prices were flat to down was due to year-over-year wheat sales down just over 16% during October. Figure 1 illustrates year-over-year net wheat sales from October 5, 2017, to November 2, 2017, compared to the previous year.
On October 27, the Mays Report reported via Twitter (NYSE:TWTR) that Mexico is looking to diversify grain & oilseed trade due to uncertainty over NAFTA. The country placed a first order for 30,000 metric tons of wheat with Argentine exporters. The USDA expressed the opinion that concerns about this also held down prices. The author would agree.
Russia continues to have a currency exchange advantage over other major exporting countries. Of the twenty major importing countries, only two have a currency that has weakened against the Russian Ruble since the beginning of the 2017/18 marketing year in the US, which began June 1.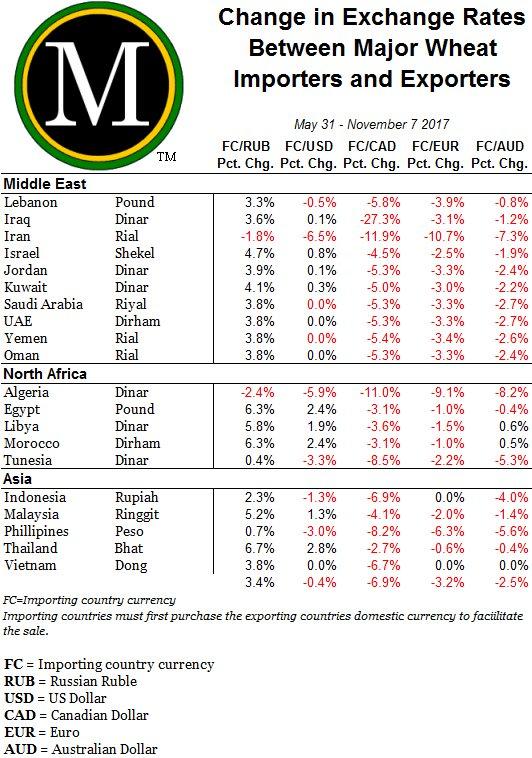 A favorable harvest in Russia raised production estimates by 1 million metric tons. The original expectation was that Russia would export 100% of that production. However, the USDA forecast only expects Russia to export an extra 500,000 metric tons. We'll have to see how that plays out as Russian analysts claim that preparatory screenings show no quality issues with the 83-million metric ton bonanza, according to the USDA.
The Russian Federation also announced plans for rail subsidies to ease movement of grains from remote areas of the country. Russian market participants do not expect this to affect the level of exports during the 2017/18 marketing year.
Wheat Forecast Unchanged
In last month's report, I revised my forecast from a speculative long to say that with 57% of monthly returns negative over the last sixty months, consistent positive returns were unlikely in the foreseeable future.
However, I would like to echo that for the investor or portfolio manager with a longer-term investment horizon, wheat offers a great diversification benefit. As an example, the Teucrium wheat ETF correlation with the S&P 500 is just 0.01 over the last sixty months.
Given the price performance of futures as described above, my opinion is unchanged.
Disclosure: I/we have no positions in any stocks mentioned, and no plans to initiate any positions within the next 72 hours.
I wrote this article myself, and it expresses my own opinions. I am not receiving compensation for it (other than from Seeking Alpha). I have no business relationship with any company whose stock is mentioned in this article.