The last few years at Town Sports International (CLUB) have been a roller-coaster - and not just for the stock: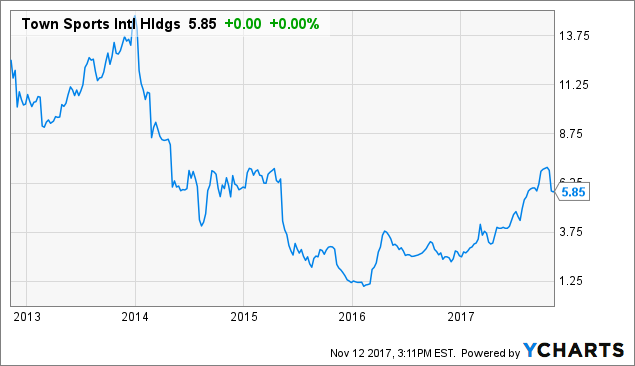 The operator of fitness clubs under the New York Sports Club brand and other banners rolled out a "High Value, Low Price" strategy in 2014, an apparent effort to compete with the numerous low-price entrants in the space such as Planet Fitness (PLNT). The strategy was a failure, simply put. Activist investor Patrick Walsh took over as Chairman, and eventually CEO, and it does look like Town Sports has righted the ship somewhat: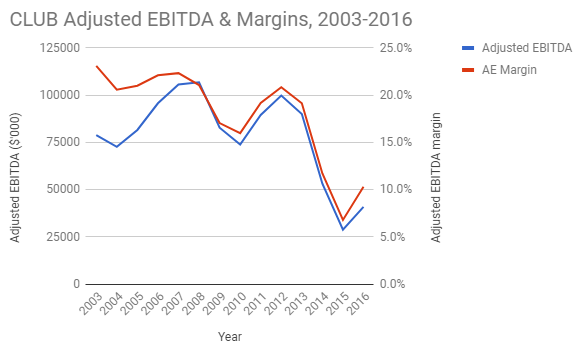 Source: author from CLUB press releases and filings. 2009-2010
Comparable-club sales have been declining - the four-year stack coming out of 2016 was -15% - but they've turned positive YTD, and improved sequentially. CLUB repurchased over $100 million in term loan debt for just over $40 million, improving a balance sheet whose leverage ratio was in the ~10x EBITDA range at trough profits. Three activists still own roughly half the company, and multiples suggest there's more upside if the turnaround continues - or even if the business just stabilizes.
But a Q3 report, where EBITDA disappointingly was flat and results badly missed a sole analyst estimates, has taken the wind out of CLUB's sails, with the stock falling 17% on the report. And with competitive concerns - from both lower-priced chains and higher-end boutiques - rising, there's some question as to whether the business can stabilize even at the new, lower profit level.
I'm certainly intrigued by CLUB at current levels. But there's enough concern here coming out of Q3 to have some caution. If Town Sports can stabilize its business, the stock should rise. But that still seems to be a reasonably big 'if'.
A Business In Recovery
On the Q2 2014 conference call, Town Sports announced its new "High Value, Low Price" strategy, which lowered monthly fees to $19.95-$29.95. That was a noticeable change: average monthly fees deducted via EFT had been $58-$59 in 2011-2013, per the 2013 10-K. (The figure since has fallen to $45 in 2016, according to that year's 10-K, even with TSI now trying to reverse some of the impact of those efforts.) On the call, CFO Dan Gallagher (who would replace then-CEO Bob Giardina at the beginning of 2015, and last just a few months in the top spot) said that for those clubs, average monthly revenue per member would be halved, to $25 from $50 - and that member count per club would go from 2,300 to 6,000 by the end of 2016.
Giardina framed the effort as limited mostly to suburban locations. He admitted earnings would decline initially, due in part to higher ad spend promoting the new rates and from members trading down to the lower-priced, but single-location offering.
Per the Q1 conference call, by the end of Q1 2015, the HVLP offering was complete. It had been rolled out in 78% of locations, many of which were high-rent locations in Manhattan, Boston, and Washington D.C. And, basically, the strategy failed. Adjusted EBITDA declined from $90 million in 2013 to $28.9 million in 2015. By February 2016, CLUB shares were under $1, and bankruptcy appeared a likely outcome.
After Gallagher left in June 2015, TSI reversed field - and cut costs. Prices were raised in October 2015. In the Chairman's Letter [pdf], Walsh cited $60 million in cumulative savings between then and the end of 2016, which appears roughly split between 2015 and 2016.
The strategies have worked. CLUB shares have risen sharply. The net leverage ratio at the end of Q3 2017 hit 2.9x, with solvency concerns largely mitigated. Adjusted EBITDA rose 42% in 2016, and another 37% in the first half. EBITDA margins have rebounded from 5% to 12% on a trailing twelve-month basis.
That's the good news. But looking forward, there are reasons to be cautious about whether the recent rebound is sustainable.
Concerns
The broader concern is that blaming HVLP for all of CLUB's woes is far too simplistic. The call on which the company announced the first, modest, phase of the strategy followed a first half of 2014 in which comps fell 4.6% year over year and Adjusted EBITDA dropped 40%. In 2013, same-club revenues declined nearly 2%; margins compressed 170 bps; and Adjusted EBITDA dropped 10%.
The HVLP plan didn't come out of nowhere. It was a response to the gains being made by the lower-priced clubs as they began to enter TSI's urban markets. Look again at the multi-year trend for profits and margins: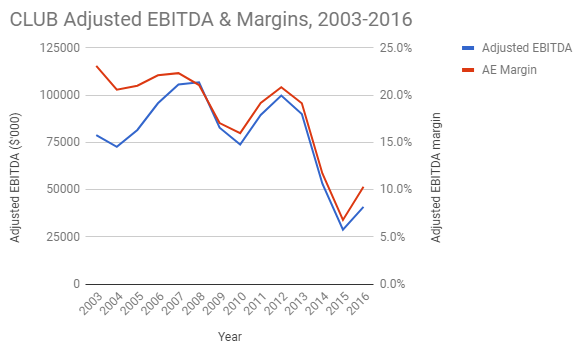 Even assuming that 2008-10 weakness is due to the financial crisis, and blaming HVLP for 2015-2017, the trend still looks negative. And much of the margin improvement of late is coming from cost-savings. Adjusted EBITDA rose $12 million in 2016; the company took out ~$30 million in cost. It's risen another ~$6.5 million YTD - but the 10-Q cites additional savings. $5.1 million in combined reductions between marketing and G&A are attributed "primarily" to those efforts, and account for most of the profit growth so far in 2017. Meanwhile, Q3 Adjusted EBITDA was flat, after six strong quarters, and that raises the question as to whether margins are nearing a new, lower ceiling.
Obviously, there were some self-inflicted wounds in 2014-2015. But this is an increasingly difficult and increasingly competitive industry. Churn still is high, though an average membership life of 26 months as of Q3 is up a month of year-end 2016 figures. Pricing still is lower, as the proportion of members signing up for the more expensive Passport option has fallen from 65% in 2014 to 45% in 2016. (Dues per member is up YTD, however, as is count, though the gains appear modest on both fronts.)
So, at this point, the case for CLUB comes down to feel. Is the 'mid-market' offering of Town Sports a nice fit above the low-cost, low-offering value chains and below the high-end, more focused and/or personalized services available particularly in markets like New York and D.C.? Or is it simply doomed to a two-front battle against both chains and boutique offerings?
The Bull Case - And The Risks
I was a member of NYSC [redacted] years ago when I worked in Manhattan - and I'm skeptical of the argument that the company's competitive position is untenable. The 'cluster' strategy gives flexibility to consumers, and there is a middle market between Planet Fitness and a hip Crossfit studio in Chelsea. That middle market seems like enough to keep NYSC demand stable, or close.
If that's indeed the case, CLUB looks attractive at the moment. On a trailing twelve-month basis, EV/EBITDA is a touch under 6.2x. D&A is well above capex: D&A is at a nearly $40 million run rate, while maintenance capex is estimated at 2% of sales, or ~$8 million a year. That both provides a nice tax shield and sharply boosts FCF relative to net income. Trailing twelve-month Adjusted EBITDA of $47.3 million, less $12 million-plus in interest expense and even $15 million in capex (above 2017 levels) implies normalized FCF in the $20 million range - and a P/FCF multiple under 8x.
EV/EBITDA multiples similarly suggest the stock is undervalued. PLNT trades at 18-19x EBITDA, though it is a franchise model (and a stock that looks seriously overvalued to my eye). Life Time Fitness went private at 10.5x. 24 Hour Fitness did the same at 8x. Those comps suggest a range of $9-$12.50 in a buyout scenario, nearly 50% to 100% upside.
Meanwhile, there are three activists essentially running the company, and the company did explore strategic alternatives in 2015. A recent buyout of Lucille Roberts, a long-time women's-only chain in the NYC metro area, added 16 clubs to a current ~150 count, adding some inorganic growth over the next four quarters as well.
The numbers here work - even if the business can just stabilize at current levels. But that's precisely the catch, at least judging by the market's reaction to Q3. There are concerns as to whether the company can keep margins intact as cost savings opportunities are exhausted. Pricing power probably is close to zero. Debt still is a bit hefty if there's little growth, and $475 million in post-2017 operating lease commitments (against ~$125 million in rent expense) suggest a leverage ratio closer to 3.6x-3.7x when accounting for those leases.
From here, CLUB looks intriguing - but I'm not sure it's quite compelling. If there's enough of a niche for the company to keep everything reasonably stable, there's room for management and the board to create value for shareholders (themselves included). But in a dynamic market with a lot of noise in the recent statements, it's tough to predict that stability with a whole lot of confidence.
Thank you for reading this Seeking Alpha PRO article. PRO members received early access to this article and get exclusive access to Seeking Alpha's best ideas. Sign up or learn more about PRO here.
Disclosure: I/we have no positions in any stocks mentioned, and no plans to initiate any positions within the next 72 hours.
I wrote this article myself, and it expresses my own opinions. I am not receiving compensation for it (other than from Seeking Alpha). I have no business relationship with any company whose stock is mentioned in this article.