As we approach the midpoint of November and therefore the fiscal quarter, investors are watching the news carefully as companies they hold report quarterly earnings for the previous period. In addition to monthly and quarterly portfolio reviews, I think it is important to use quarterly earnings reports to evaluate existing holdings. When companies report a big surprise on earnings (either positive or negative), this can sometimes trigger a buying spree or a sell-off that should prompt an investor to make sure the new realities still reflect the original investment thesis.
My goal in this series (which I intended to do every other quarter, or twice a year) is to perform just that exercise with each of my holdings, ensuring that the results and forward guidance (if provided) of each company I invest in reaffirm my decision to hold their shares. In addition to reviewing the results, I'll also provide a BUY, HOLD, or SELL (hopefully not too many of these!) rating.
Today I'll be looking at four of what I am calling my "commodity-sensitive" holdings, whose share price and performance is inextricably tied to the price of relevant commodities. These four companies are: Archer Daniels Midland (ADM), Valero Energy (VLO), Eastman Chemical (EMN), and Union Pacific (UNP).
Archer Daniels Midland
Current Investment: 25.5627 shares (3.22% of portfolio, 3.26% of income)
Current Yield (11/9/17): 3.23%, Yield on Cost: 2.95%
Investment Thesis: ADM is a worldwide leader in agricultural processing with diverse international exposure, relatively low volatility, and a solid history of consistent dividend growth. It is a long-term play on continuously expanding global population with ever-shrinking availability of arable farmland.
Quarterly Results: On October 31, ADM missed on both top and bottom lines, reporting Q1 EPS of $0.45 versus $0.56 expected and revenue of $14.83B versus expected $16B. The revenue number was also 6.3% lower on a YoY basis.
Two quarters ago, I mentioned that CEO Juan Luciano made note of the fact ADM's agricultural services segment would face "headwinds" in the coming quarters that could be a drag on the company's ability to turn a profit. He was absolutely correct, as profit in agricultural services fell over 50% on a YoY basis. In fact, only one of ADM's five operating units reported a YoY profit increase (corn processing). Lower-than-anticipated margins were primarily to blame for ADM's poor results, and lower U.S. exports of grain.
Unsurprisingly, the poor results sparked a decent sell-off, as ADM's share price has now settled below $40 for the first time since early 2016, shedding ~7.5% since earnings.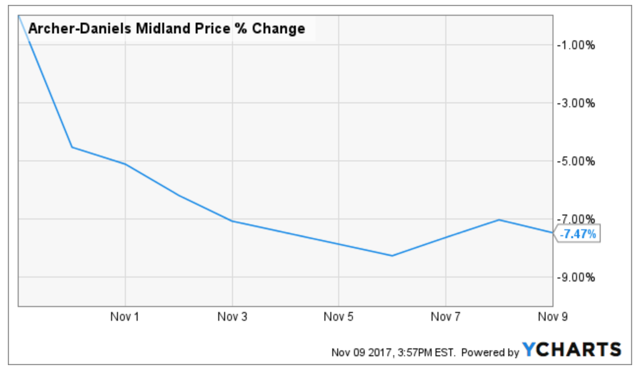 My Reaction: It's been a less-than-stellar year for ADM, with the latest quarterly numbers proving that concerns from earlier in the year were not unfounded. It's troubling to see the declining revenue trend over the past three quarters (Q1 $14.99B, Q2 $14.94B, Q3 $14.83B), and that these numbers have not been stacking up well with last year's either. Such is the nature of a cyclical, commodity-reliant business: When it's going well, things are great, but when prices are less favorable, the negative effects can become compounded very quickly.
ADM is a company I want to be confident investing in. They are globally diversified, operating in products and services that are essential to our world, and have demonstrated a commitment to shareholders through buybacks and rising dividends. But right now, I don't see myself putting an additional investment into my position until I see the company's performance improve. For this reason, I am keeping ADM at a HOLD at this time.
Valero Energy
Current Investment: 25.8094 shares (6.67% of portfolio, 7.19% of income)
Current Yield (11/9/17): 3.44%, Yield on cost: 4.77%
Investment Thesis: Despite its "best in class" management and operations in the oil refining industry, Valero remains a perennial value play with the ongoing subdued outlook for global oil prices and production. Its strong dividend yield and growth, combined with a sustainable payout ratio, will continue to make it a solid income investment, even in the event of a renewed industry downturn.
Quarterly Results: On October 26, Valero reported beats on both top and bottom lines, disclosing Q3 EPS of $1.91 versus $1.83 expected and revenue of $23.6B vs $19.03B expected. Revenue was also 20.1% higher on a YoY basis, continuing a strong YoY trend now that oil prices have stabilized in the $45-$55 range.
My Reaction: It ended up being a strong quarter for VLO and other major refiners despite the direct impact of Hurricane Harvey, fueled primarily by record margins as gas prices spiked in the aftermath of the storm. At the same time, impact to infrastructure was less severe than anticipated, and the company expects to complete another major pipeline project by December.
There's no question that higher oil prices in 2017 have made life much easier for companies throughout the energy sector, which is good news for investors. However, whereas VLO has spent much of the the last two years in value territory, at current prices it is much closer to being fully valued. Since hitting a bottom at ~$65/share in mid-August, shares have climbed over 25% in the last 3 months.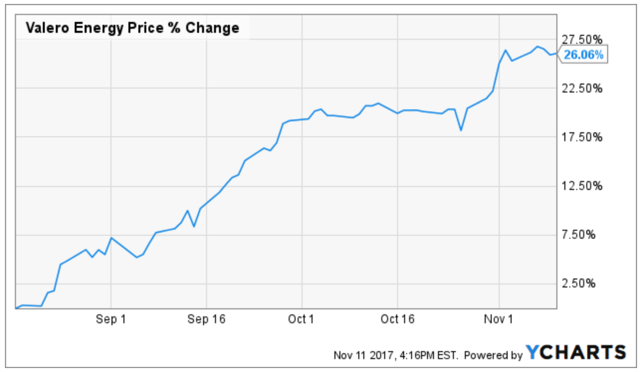 Capital appreciation is great to see, but makes it harder to justify adding to my existing position at this time. If the price continues to consolidate at these levels, I'll re-evaluate my options but for now, I see Valero as a HOLD.
Eastman Chemical
Current Investment: 10.1175 shares (2.89% of portfolio, 2.05% of income)
Current Yield (11/9/17): 2.27%, Yield on cost: 2.62%
Investment Thesis: Eastman Chemical is a diversified specialty chemical company with strong management and an undervalued stock prices compared to its peers. As the company continues to improve efficiency through cost-cutting, debt reduction, and strategic acquisitions, it will continue to boost shareholder return with increasing yearly dividends and a strong potential for capital appreciation.
Quarterly Results: On October 26, Eastman reported beats on both top and bottom lines, disclosing Q3 EPS of $2.19 versus $2.03 expected and revenue of $2.5B versus $2.35B expected. Revenue was also 9.2% higher on a YoY basis, Eastman's best quarterly comp of the year thus far.
These results include revenue increases in all of Eastman's operating segments except for Fibers, which was impacted by lower demand and selling prices. Fibers were also a drag on overall results two quarters ago when I reviewed Eastman's results.
My Reaction: Eastman continues to show quarter after quarter of solid results in its core operating segments, and has maintained its disciplined approach to managing cash flow by reducing debt, repurchasing shares, and paying a rising quarterly dividend. One thing to watch its the potential for Eastman to miss in its Q4 results, after the company disclosed its expects one-time charges of approximately $100 million related to an explosion at its Kingsport, TN coal gasification facility on 10/4/17 to impact operational earnings.
Since the explosion was reported, EMN's share price hasn't suffered too much, though even staying more or less where it was it remains undervalued at a PE of just 13. The company continues to guide for full-year EPS growth "to be solidly at the high end of the previously projected range of 10 to 12 percent compared with 2016," according to CEO Mark Costa in the latest earnings release. Undervalued, with double digit growth potential, not to mention a safe payout with a growing dividend? Sign me up! Eastman remains a BUY.
Union Pacific
Current Investment: 7.0368 shares (2.62% of portfolio, 1.70% of income)
Current Yield (11/9/17): 2.07%, Yield on cost: 2.30%
Investment Thesis: Union Pacific is one of the "Big Four" U.S. railroads (along with BNSF (BRK.A), CSX (CSX), and Norfolk Southern (NSC)) and operates in a virtual duopoly across the western half of the United States. As a gatekeeper of transcontinental freight movement, UNP is well-positioned to thrive when the economy is booming while maintaining the agility and cost efficiencies needed to navigate more challenging climates as well.
Quarterly Results: On October 26, Union Pacific posted beats on both top and bottom lines, reported Q3 EPS of $1.50 versus expected $1.49 and revenue of $5.41B versus $5.34B expected. Revenue was also higher on a YoY basis by 4.6%.
Breaking out the results, freight revenues were higher in chemicals, intermodal, and industrial products, but lower in automotive, agricultural products, and coal. Overall freight revenue increased by 4% on positive moves in pricing and fuel surcharges, even as total revenue carloads decreased by 1% from the prior year. The company's operating ratio increased by 0.7% over last year to 62.8. Fuel costs were higher, and the company's earnings were negatively affected by Hurricane Harvey to the tune of $0.04 per share.
My Reaction: The quarterly results were generally positive for UNP, and continue a trend of growing EPS and revenue through the first three quarters of the year. One thing to keep an eye on in future quarters is the relationship between freight volumes and freight revenue, as it will be important for UNP to continue to demonstrate pricing power if total carloads remain flat or continue to decline.
UNP has less reliance on coal traffic than its East Coast counterparts, but as the results show, it needs to maintain a good mix of freight of different types in order to maximize profitability. Revenues on hauling industrial products, for example, grew 26% on YoY basis and made up over 20% of total freight revenue, even though they represented less than 15% of total freight carloads.
I have confidence UNP will continue to find ways to adjust its operations to the prevailing economic conditions, though the rally since earnings has once again pushed the company's share price out of what I would consider decent buy territory. Be on the lookout in coming months for opportunities on price weakness, particularly when NAFTA talks or other trade measures are in the news, as railroads have shown volatility on those days. For now though, UNP is a HOLD.
Conclusion
Quarterly earnings provide a nice opportunity to review one's holdings. Going through this exercise, I'm able to review a company's results and forward guidance against my original investment thesis to ensure the holding is still a good fit for my portfolio. Three of the four companies in this part reported positive results for the last quarter, though only one of them, Eastman Chemical, remains a good buy at this time. Both Valero and Union Pacific do not currently represent good value, and should be monitored for better opportunities at a later date. The last, ADM, had another struggling quarter and faces continuing headwinds.
I hope you have found this article interesting, and if you'd like to share your own opinions on these stocks please feel free to leave a comment!
Disclosure: I am/we are long ADM, EMN, VLO, UNP.
I wrote this article myself, and it expresses my own opinions. I am not receiving compensation for it (other than from Seeking Alpha). I have no business relationship with any company whose stock is mentioned in this article.