Cigarette smoking has been called one of the greatest public health issues of our time. According to the CDC, it is the leading cause of preventable disease and death in the United States, accounting for 1 in every 5 deaths. In 2015, the CDC reported that about 15 of every 100 adults smoked cigarettes (~36.5 million people in the U.S.). Worldwide, there are an estimated 1 billion smokers, and smoking is responsible for half a million deaths per year. There is no question that people are smoking, it is harmful, and the public needs a solution. Current FDA Commissioner Scott Gottlieb, M.D., announced in July 2017, "Addressing the addiction crises that are claiming young lives and hurting American families is our most pressing mandate at FDA. In particular, examining the presence of nicotine in combustible cigarettes has to be a part of a much broader strategy".
Indeed, there is a solution. 22nd Century Group, Inc. (NASDAQ:XXII) is the only company in the world that is capable of producing Very Low Nicotine tobacco, with 95% less nicotine than in conventional cigarettes. This is a plant biotechnology company that holds over 200 patents plus more than 50 pending patent applications. With the FDA's recent mandate to place nicotine at the center of tobacco regulation efforts, and 22nd Century's "VLN" disruptive technology, there is a clear signal that XXII holds the key to the future of tobacco. Through licensing, brand growth, or as a merger & acquisition target, the company could obtain a conservative 1% share of the global cigarette market, valuing it at approximately $7 billion (or about $70 per share).
Background
22nd Century Group has the technological capability to re-engineer the "nicotine biosynthetic pathway" and regulate the production of nicotine through four genes in the tobacco plant - NBB, QPT, A622 and MPO - as well as other transcription factor genes in the plant: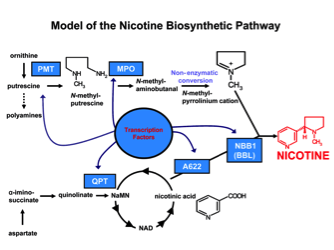 By genetically modifying the tobacco plant, 22nd Century can produce cigarettes with varying levels of nicotine content. The typical commercial cigarette (1 gram of tobacco) contains ~12mg of nicotine. The company is capable of producing cigarettes with as little as 0.5mg/g or less (keep this number in mind), as well as high nicotine content products with as much as 50g of nicotine. The company refers to its "BRAND A" cigarettes as "very low nicotine" and its "BRAND B" as "modified-risk tobacco" - a high-nicotine blend with lower amounts of carbon monoxide and tar. Both have applications in the tobacco industry, because the FDA is targeting nicotine as the primary cause of smoking, and high-nicotine/low-tar products are on the market for smokers who prefer not to quit but want something besides conventional cigarettes. Put simply, BRAND A is for VLN tobacco and BRAND B can be a competitor to alternative nicotine delivery systems (think e-cigarettes, vape pens, etc.). 22nd Century has submitted an application not only for modified-risk tobacco product application (an "MRTPA"), but also a premarket tobacco product application (PMTA) for its products to the FDA for review.
The company manufactures, markets, and distributes two brands of cigarettes - "RED SUN" and "MAGIC" - through its subsidiary Goodrich Tobacco and through Orion (a cigarette manufacturer in Poland). The revenues generated from these brands have been minimal, due to the company's focus on VLN and modified-risk tobacco research. In 2016, 22nd Century generated $12 million in revenues; management expects about $16 million in revenues by the end of 2017.
Portions of these revenues are generated from sales to the United States government - specifically, the National Institutes of Health - under the "SPECTRUM" brand. These cigarettes have various levels of nicotine content (including the 0.5mg VLN type) and have been used in research studies, most notably conducted by Dorothy Hatsukami, PhD, of the University of Minnesota Masonic Cancer Center. On October 5th-6th, 2017, the Conference on Tobacco Regulatory Science took place at the University of Vermont. There, Dr. Hatsukami presented her results on a 20-week study of 1,250 smokers who attempted to quit (more on this study later).
Finally, the company plans to submit its "X-22" prescription smoking cessation product for Phase III testing. As a tobacco-based smoking cessation aid, 22nd Century could compete with over-the-counter products like Nicoderm CQ or the well-known prescription drug Chantix, introduced by Pfizer (PFE) in 2006. Notably, in 2015, Chantix generated sales of $426 million and $671 million in the United States and worldwide, respectively. X-22 underwent a Phase IIb clinical trial in 2012, where smokers would use X-22 cigarettes to help quit over a six-week period, but the trial did not demonstrate statistically significant results between X-22 and conventional cigarettes. Per the 2017 Q3 report, the advancement of X-22 into a Phase III trial is not a top priority, due to the FDA mandate and possibly bringing BRAND A to market or licensing VLN tobacco to other companies.
As a brief aside, the company is also focused on reducing the level of THC in hemp/cannabis plants through a collaborative effort with Anandia Laboratories in Canada and the University of Virginia in the United States. The goals of the University of Virginia collaboration are to create industrial hemp plants with levels of THC below the legal limit and to optimize hemp plant characteristics in order to grow the plant effectively in Virginia and other tobacco regions. While the hemp/cannabis research represents another growth driver for the company, the main catalyst remains genetically engineered tobacco, and therefore, little more will be discussed pertaining to cannabis opportunities. To sum up, the slide below highlights each growth driver XXII management believes will generate value: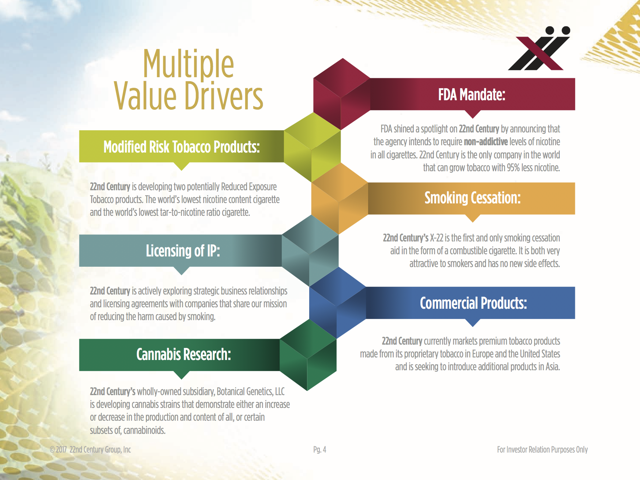 (Source: XXII Investor Presentation)
Why does the opportunity exist?
Now that the introductions are finished, we can move to why this opportunity exists. I will posit that favorable circumstances are present because of (1) market participants, (2) complexity, (3) external forces, and (4) time.
First, 22nd Century is a small-cap company with little exposure to institutional investors and no widespread analyst coverage. As far as financials go, the company has shown minimal revenues ($12 million in 2016) and has never posted a profit. It is a grassroots biotech with a differentiated product considered by management to be a disruptive technology. In contrast, Big Tobacco companies like Philip Morris (PM), Reynolds (RAI) - recently acquired by fellow competitor British American Tobacco (BTI) - and Imperial Brands, plc. (OTCQX:IMBBY) are all multi-billion dollar companies with a long history of revenues, profits, and oligopoly. Therefore, a new innovation on an old moneymaking industry could easily morph into a David versus Goliath mindset. However, because of 22nd Century's valuable patent portfolio, the company could easily license its IP for use by Big Tobacco. Rather than trying to create its own brand of VLN cigarettes and compete with the likes of Marlboro, Newport, or Camel, the company could distribute its tobacco (for a reasonable fee) for incorporated use in well-known commercial cigarettes.
Second, this opportunity is inherently complex. One could argue that because of the small market cap, most large institutional investors are either apathetic or unsophisticated with regard to this particular situation. That said, an investor would be wise to have a prior understanding of multiple industries and processes, including tobacco, public health, biotech, genetic engineering, patents, and consumer goods, to name a few. 22nd Century is a mix of biotechnology and consumer products, and because of the new technology behind its tobacco engineering, the public market is not likely to recognize the opportunity at the present time.
Third, VLN tobacco applications are still being studied by 22nd Century, the FDA, and researchers across the country. As a result, the company's future success is dependent upon the regulatory framework surrounding the tobacco industry. With the recent FDA mandate, the Conference for Tobacco Regulation Science, and studies already conducted by doctors, we have been given strong signs that the FDA and the National Institutes of Health are targeting nicotine content as a primary solution to the question of tobacco regulation. Yet, the application of VLN tobacco to commercial markets is largely uncharted territory, and therefore, XXII remains a speculative growth investment.
Finally, a return on investment in XXII is dependent upon government approvals and the success of VLN tobacco on a large scale, which may take an indeterminate amount of time. While genetically engineering the tobacco can produce a low-nicotine alternative, we do not yet know when the FDA will approve and/or mandate VLN tobacco use at the commercial level. In addition, the market has no way of knowing how, when, or if the public will accept VLN tobacco. Could the introduction of VLN products lead to less demand, lower prices (and by extension, lower profits), inferior products, or some combination thereof?
Upon first glance, the last two points reflect that of risk, not opportunity, due to the "biotech" nature of the investment and a strong dependence on FDA approval. This acceptance of risk is not unwarranted. Yet, it is worth mentioning a few notes from Dr. Dorothy Hatsukami's presentation on VLN content at the University of Vermont (link above). Dr. Hatsukami studied 1,250 smokers across various demographic backgrounds for 20 weeks. She and her researchers split the subjects into three groups - normal nicotine content (15.8mg/g), gradual nicotine reduction (15.9 to 11.8 to 5.3 to 2.4 to - 0.4mg/g), and immediate reduction (0.4mg/g). What she found was that a nicotine dosage of 0.4mg or less per gram of tobacco (i.e., VLN cigarettes) results in a reduced number of cigarettes smoked, reduced dependence, and increased quit attempts. Similarly, the primary endpoint for the study - lower levels of carbon monoxide and PAH (polycyclic aromatic hydrocarbons) - were all significantly lower for the "immediate" group and eventually lower for the "gradual group" over the 20 weeks, with statistically significant data demonstrated for the "immediate" group. The same results were seen for the primary endpoint of VOC levels (volatile organic compounds) in the "immediate" group (See ~minute 19 of the presentation).
Dr. Hatsukami's study was one of many presentations made at the conference, and one that provided a first glance into the amount of time and effort that scientists and regulators are devoting to the cigarette public health epidemic. It is worth noting that the cigarettes used in the study were provided by 22nd Century.
Ultimately, these four variables - market participants, complexity, external forces, and time - create a price disparity between what XXII shares currently trade for and the potential to be worth much more down the road.
Notes from the MicroCap Conference
Recently, I had the chance to see a presentation and meet with Henry Sicignano, president and CEO of 22nd Century, at the MicroCap Conference in New York City. I will be paraphrasing some of the commentary that came out of the presentation/meeting in order to provide more color into where the company is today and what we can look forward to in the future.
First off, management is expecting ~$16 million in revenues for 2017, an increase from $12 million in 2016. An order by the FDA for 2.4 million SPECTRUM cigarettes will help provide some of these revenues (presumably for research not unlike Dr. Hatsukami's study).
The small revenues don't make for a very attractive valuation, but taking into account the sheer size of the cigarette market, there is reason to be optimistic. According to Mr. Sicignano, by obtaining a mere 1% market share, the company could be worth in upwards of $4 billion (significantly higher than the current $300 million/$3.00 per share price). Considering that this is the only company capable of producing VLN tobacco, the resulting market share could be much higher. Another valuation parallel comes from potential licensing agreements with other tobacco companies down the road. If management were willing to license the company's VLN tobacco for, say, $0.10 per pack of cigarettes, it would net 22nd Century $1.3 billion in sales during the first year of an agreement. That said, according to management, even a 4% market share could be conservative. One final valuation can be found with reference to Statista and the worldwide market for tobacco. If you believe in the $33.1 billion value of U.S. shipments of cigarettes in 2015, then a 1% market share puts XXII value somewhere around $3.3 billion. Or, if you consider the $700 billion value British American Tobacco has stamped on the global cigarette market, then capturing a 1% portion places XXII prices somewhere around $70/share. Any way you look at it, the numbers are compelling.
Furthermore, Mr. Sicignano also has a background in the industry. Previously an executive for Santa Fe Tobacco, Mr. Sicignano orchestrated the American Spirit brand's sale to R. J. Reynolds for $320 million. At the time, American Spirit had about $150 million in revenues. It is now the 10th largest cigarette brand, and in 2015, Japan Tobacco Inc. (OTCPK:JAPAY) purchased the international assets of American Spirit for $5 billion. There is an M&A trend in the tobacco industry that XXII's CEO has hinted at, and it is a trend I believe will be in play for the company in the future.
One of the first questions an investor might ask is: "If this opportunity is so great, why hasn't Big Tobacco already jumped on it?" The answer is they have, but can't recreate 22nd Century's IP without unreasonable duress. According to XXII's 2017 Q2 conference call, Philip Morris' director of product policy, Rolf Lutz, publicly estimated that it would cost $10-12 billion to extract nicotine from the cigarettes it sells in the European Union alone. Similarly, Mr. Lutz also stated that the process of genetically modifying the tobacco plant could take PMI 20 years. But extracting the nicotine chemically from tobacco leaves is a different process from what XXII does. It is more analogous to decaffeinating coffee beans than it is to genetic engineering, and it may not deliver the same taste and satisfaction to the smoker. 22nd Century, on the other hand, has this technology now.
The conference call also highlights a few questions regarding the potential market for VLN cigarettes and the impact it will have on consumers. Here is what Mr. Sicignano said on the call:
Another often asked question is "Are U.S. consumer ready for a Very Low Nicotine cigarette mandate?" This is an excellent question and one that has an answer I know will please 22nd Century shareholders. Earlier this year, prior to the FDA's announcement of its lower nicotine mandate, 22nd Century commissioned the well-respected Harris Poll company to conduct a survey of more than 2,000 U.S. adults - 60% of whom identified themselves as current or former smokers. The survey showed that 68% of adults agree that the U.S. government should mandate a very low or non-addictive levels of nicotine in cigarettes! Such strong consumer advocacy suggests the FDA will enjoy broad public support for its new, comprehensive nicotine reduction plan.

Another common question raised with regard to Very Low Nicotine cigarettes is the issue of smoker compensation. Those unfamiliar with the vast body of science surrounding our proprietary Very Low Nicotine cigarettes are tempted to wrongly assert, "if you lower the nicotine smokers will simply smoke more." This phenomenon is called "compensatory smoking" and it might be true for cigarettes with 10% or 20% or even 30% less nicotine. But the facts are very different for Very Low Nicotine cigarettes - which are those with 95% less nicotine."
Big Tobacco companies have already been in contact with 22nd Century, as evidenced by a 2013 licensing agreement with British American Tobacco that was summarily ended in September 2017. According to the CEO, BAT did not exercise its option to license XXII IP because of its focus on the Reynolds acquisition and alternative nicotine delivery systems such as heat-not-burn. Because BAT did not act on its option to access XXII's technology, the company is now free to license to any tobacco company across the globe. That said, the CEO believes XXII is in a better position without the BAT agreement.
The question of why BAT did not exercise its option on XXII IP was also brought up in the Q3 conference call. From an outside perspective, it is easy to see the company passing on the licensing agreement with 22nd Century as a red flag, but after talking with the CEO and reading through the transcript, it is conceivable that BAT rejected the option because management's focus was elsewhere:
Sure let me say a few things there's a couple of different questions here. One thing I have mentioned in this call towards the reasons for us raising so much money in the last month or so and the BAT example is sort of underlying the importance of having a lot of money in the bank when you negotiate a major licensing deal with the Big Tobacco Company. When we negotiated the BAT deal it was four years ago we were learning in fumes. We had substantially less than $1 million in the bank and matter of fact I think at some point we had less than $100,000 in the bank when we negotiated that deal.

So that would suggest the reason for the terms that were negotiated. And I never want to be in that place again. So the next time we are going to negotiate one of those deals we intend to negotiate from a position of strength where we have substantial monies in the bank. So that's one thing I should say. The other thing I should say is that it's my understanding that BAT's focus has changed from the leaf division and leaf technologies to devices, to heat-not-burn in particular it's my understanding, and again I don't work for BAT and I don't have any inside information that you might not have.

But from my understanding of the public domain, BAT is significantly behind where Philip Morris is in the heat-not-burn product development and distribution, and so BAT has moved lots and lots of resources into heat-not-burn division let's call it. And that got the expense of other divisions and other products. And so I am going to call it a happy coincidence for us that we were neglected.
One of the drawbacks concerning an investment in XXII deals with the expanding share count. Because of the high expenses and low revenues, the company has never made a profit. As a result, in order to fund the business, management must raise money through equity offerings. In 2016, there were three direct offerings of common stock and warrants for a total of $20.3 million, resulting in ~33.5 million added shares outstanding. In fact, from 2013 to 2016, the share count nearly doubled from 43 million to 79 million shares:

(Source: SEC Edgar database)
By mid-2017, the share count was over 90 million. While this dilutes the investor's position, it is perhaps a necessary condition for a small biotech with no debt. Along the same lines, management recently announced a direct common offering for $54 million in net proceeds, bringing the share count to around 110 million. Per my conversation with the CEO and from the press release, the company now has enough cash to run itself for the next five years (assuming $850,000 in monthly operating costs and no extraneous expenses), and I believe management will stay as conservative as possible when it comes to diluting the shareholder base.
It is also important to note that the CEO himself has about a 6% stake in the company, and has not sold one share since acquiring them. In 2015 and 2016, Mr. Sicignano held 9% and 7.4% of the outstanding shares, respectively. I do not expect the CEO to sell any shares in the near future, and therefore, as the shareholder base becomes diluted, so does the CEO's. Even though the company must raise money through private offerings, I take solace in the notion that my shareholder interests are in line with the CEO's.
Risks and Conclusion
Indeed, because of the biotech nature of the investment, coupled with a disruptive technology impacting one of the strongest oligopolies in history, there are risks to be aware of, in addition to those already discussed. First, we still do not know how the U.S. consumer will react to smoking a VLN cigarette. Assuming the taste is similar to a conventional cigarette, smokers may very well increase their quit attempts or simply smoke less. Naturally, this course of action could lead to less demand for cigarettes and lower prices, due to a shift in the demand curve.
Second, should the tobacco regulatory authorities mandate VLN cigarettes be distributed commercially, there might be a shift away from cigarettes and into alternative forms of nicotine distribution (think vape pens or tobacco heating products). On a less positive note, it is possible that a black market for conventional cigarettes could develop, undercutting the very process that XXII owns intellectual property on.
Third, the FDA, National Institutes of Health, and researchers could conclude via study that VLN cigarettes simply don't have the intended effect. The amount of time and research involved on the part of regulatory agencies are extensive, and there is no telling exactly when or how the FDA will accept VLN tobacco into its mandate. There is an uncertain regulatory timeline at play here.
Fourth, there have been numerous bullish articles for XXII recently, both on and outside of Seeking Alpha, which should be a consideration before making a decision on investment. For my part, I first came across 22nd Century last April, and being intrigued with the opportunity, I took a small position. While I do my best to read most (if not all) the articles and press releases, my intention here is not to pump up the stock, but to let my research "do the talking". Similarly, appropriate portfolio sizing has been a great way for me to minimize exposure due to XXII's speculative nature.
Even with all of these risks considered, XXII remains a fascinating plant biotech story with multiple moving parts. The investment is complex and has an unknown time frame, with small market participants and regulatory uncertainty. These factors are quite possibly reasons for undervaluation, as opposed to investment risk. There are several growth drivers 22nd Century is working on, most notably with VLN tobacco. Management may not hit on all the catalysts - VLN cigarettes, BRAND B, reducing THC content in cannabinoids, licensing the company's IP to Big Tobacco, developing its own commercial brand through RED SUN & MAGIC, and the X-22 smoking cessation aid - but there is ample opportunity to capture value in any one of them. With the FDA's current mandate to focus on nicotine in cigarettes, XXII may very well hold the solution to one of the largest public health crises in history.
Point-Counterpoint Epilogue
Shareholder Dilution Counterpoint. With no profits and only ~$16 million in revenues, how can a company be valued at $7 billion? The history of shareholder dilution is clear, and the share count has doubled in only 3 years. The only way to keep the company going is to dilute shareholders even further, and if the VLN catalyst doesn't play out, the company could be worth zero. Point-Counterpoint. This is one of the biggest risks to investing in a small-to-microcap stock, especially one that is a biotech company. While there is a consumer goods aspect to creating value, the VLN driver for XXII is largely dependent upon the regulatory framework surrounding tobacco. Shareholders may indeed be diluted further, but considering the FDA mandate came out in July, there is reason to believe some sort of catalyst will present itself in the next 12 months, be it through M&A, licensing agreements, or the like.
Confirmation Bias Counterpoint. As a shareholder in XXII, and having been through two company presentations in addition to being in contact with investor relations and management, I have a bias toward the potential success of the company. If I hear good news from the company via press release or earnings call, I believe it. In other words, 22nd Century tells me it will be successful, therefore it will be. Point-Counterpoint. Even though I am a shareholder, I must work to be as diligent as possible in my research and use that research as a barrier to irrational exuberance. It is definitely a growth opportunity, but it helps to mitigate risk through both research and appropriate portfolio sizing.
Editor's Note: This article discusses one or more securities that do not trade on a major U.S. exchange. Please be aware of the risks associated with these stocks.