This article first appeared on Trend Investing on October 16, therefore all data is as of that date.
The electric vehicle (EV) boom is now well underway and I have written extensively on the EV battery metals - lithium, cobalt, graphite and nickel; however, this time I will take a look at the EV magnet metals. These are coming under increasing demand pressures, due to demand for powerful permanent magnet motors, which typically contain neodymium, and praseodymium.
Rare Earths
It has often been said - "Rare Earths are the "vitamins" required for the shift from a carbon based economy to the new 21st century electron economy." This is why China has focused on them in the past and restricted their export, and dominate rare earths production. China also dominates rare earths resources and use, as they have successfully moved up the end use supply chain.
There are 17 rare earth elements - either heavy rare earths or light rare earths depending on their atomic weight. China dominates the rare earth industry with 105,000 MT of production in 2016 (NB: Australia is second with a mere 14,000 MT). China has recently cracked down on illegal rare earth mining and China is expected to put an annual limit on its rare earths production beginning in 2020. Both of these events help rare earth pricing, and should help support non-China rare earth companies.
Three rare earths are commonly used in magnets, used to help power many electric vehicle motors. Rare earth magnets are the most powerful of all magnets known to man, and mostly use neodymium and praseodymium (NdPr).
Dysprosium ("Dy")
Dysprosium is a rare earth element used in magnets. It is resistant to demagnetization at high temperatures.
Neodymium ("Nd")

Neodymium is also a rare earth element used to make permanent magnets, the most widely used type of rare-earth magnet. Neodymium magnets are used in stereo loudspeakers, TVs, turbine systems, car parts, science instruments, smartphones, and many electric vehicles.
Praseodymium ("Pr")

Praseodymium is also a rare earth element used to make permanent magnets.
Note: Until now Tesla (NASDAQ:TSLA) has used only induction magnet motors, so no neodymium or praseodymium in their motors. However, recent reports have said Tesla has switched to permanent magnet motors for the Model 3.
Rare earth minerals uses
Rare earths are a key part of many modern devices. They are used in the drives of computers, mobile phones, mp3 players and cameras. They are also used in hybrid electric motors, luxury electric car motors, wind turbines, aerospace, military applications, mag-lev trains, and other consumer products (TVs, washing machines, vacuum cleaners etc).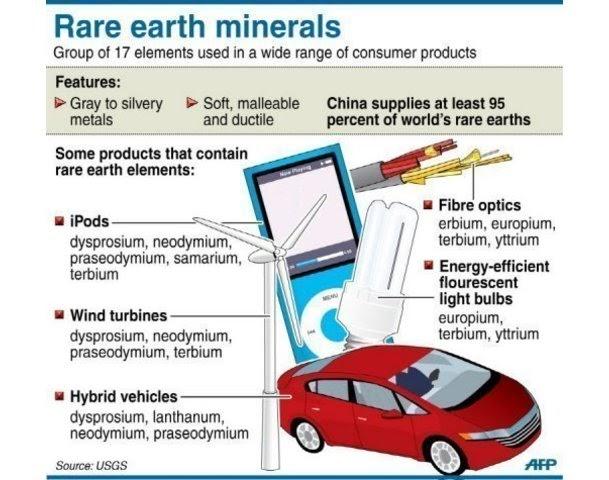 Rare earths are used in most hybrid EVs and some (battery) BEVs
Some current EV models use induction motors (Tesla models S and X) with no rare earths; however, the majority of hybrid EV models and most BEV models use permanent magnet motors, for their space/weight-saving benefits and their added performance. Of interest Tesla has now changed to using permanent magnet motors for the Model 3, due to their better performance.
Roskill states:
The smaller size/weight, higher torque density and improved efficiency of permanent magnet motors compared to induction motors make them attractive for use in HEV and EVs, as they provide better acceleration, reduce vehicle weight and allow greater space for other components. The majority of HEV models use permanent magnet motors, solely for their space/weight saving benefits as vehicles must also include an internal combustion engine and associated equipment, unlike pure EV models. Some EV models already use permanent magnet motors, either as the traction motor or generator, including the Chevrolet Bolt. It is expected that other models will introduce permanent magnet motors to improve their performance and range as the EV market becomes more competitive.
The risk is that the increased cost of rare earths can lead to BEV makers choosing induction motors over permanent magnet motors, despite the loss in performance.
UBS says of rare earths (REs) in their excellent Bolt tear down report:
Supply highly dependent on China, which dominates the global trade; new experimental magnets with less/no REs may help the global RE supply chain meet EV demand growth.
A standard car uses around 1kg of rare earth magnets, whereas EVs typically use 2kgs+. A Toyota Prius uses roughly 25 lbs (11kgs) of rare earths.
Neodymium/Praseodymium (NdPr) amount per use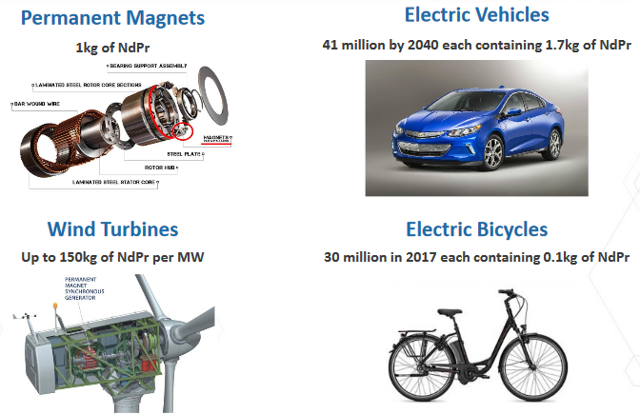 Pricing
Roskilll states, "Neodymium (Nd) and praseodymium (Pr), the two rare earth elements which form the majority of rare earth permanent magnets, have seen prices increase significantly in 2017. Nd oxide (FOB China) prices averaged US$48.7/kg in July, compared to US$38.9/kg in January, an increase of 21.1%. Prices for NdPr alloys (FOB China) have increased by 34.3% over the same period reaching US$66.76/kg in July. Prices are expected to increase further in 2017 as demand increases and the Chinese dominance of supply restricts availability for many consumers."
PrNd Mischmetal 99% min Nd 75% FOB China USD/kg
The graph below shows the neodymium/praseodymium speculative price boom in 2011 (China halted rare earths exports to Japan), and the recent rise in 2017 following the China crackdown of illegal rare earth mining.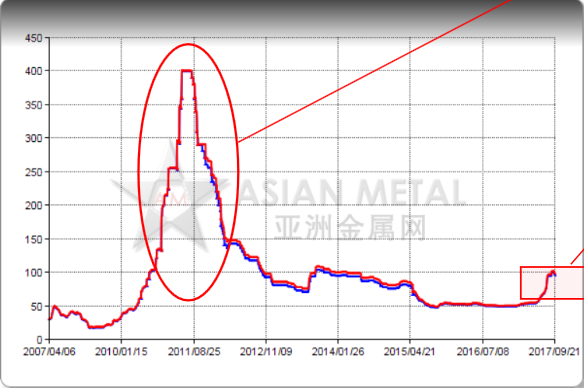 Neodymium metal 99% FOB China
Neodymium prices are up 47% in the past year, helped by the China crackdown on illegal rare earth production.
Praseodymium prices have followed Neodymium and are up 45% in the past year.
Rare earths demand vs. supply
Rare earths demand forecast by UBS to increase by 6.55 fold in a 100% EV world

Source: UBS Bolt teardown (no link)
Rare earth demand drivers - magnets will be the key driver

We see below that in 2016 total rare earth ore (REO) consumption was 159,500 tonnes, with magnets representing the major share at 27%, and magnets set to grow by 6-12%pa, as the main growth driver. Also notable is that the magnets segment delivers most of the value.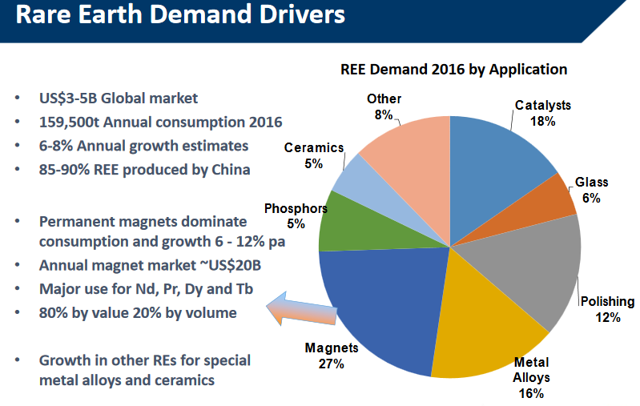 Source: Alkane Resources company presentation
China demand forecast to increase strongly
Interesting that the forecast sees increasing China illegal demand. If the China crackdown succeeds, then higher prices would continue until demand destruction occurs - similar in many ways to cobalt.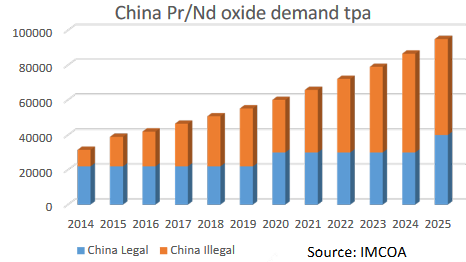 Rare earths supply has supposedly been reducing recently due to the China crackdown on illegal rare earth mining. 50% of rare earths supply is non-quota or illegal. This has caused a price spike in 2017, which now appears to be retreating slightly. China supplies ~90% of global rare earths.
The rare earth miners
Alkane Resources [ASX:ALK] - Price AUD 0.34

Alkane Resources Ltd. is a multi-commodity mining and exploration company with a focus on gold, copper, zirconium, hafnium, niobium and heavy rare earth elements. Australian Strategic Materials Ltd. [ASM] is their rare earths 100%-owned subsidiary. Their rare minerals earth project is located at Dubbo in the Central West of New South Wales, Australia. The project is currently at the financing stage. The company has proposed a two stage production start-up so as to lessen the first stage CapEx from an estimated US$930M to US$480M.
Alkane's Tomingley gold project produces around 65,000 ounces of gold per year and is important in providing a revenue stream for Alkane funding corporate and exploration expenditures.
Alkane's Toongi Pastoral Company comprises 3,500 hectares 25km south of Dubbo, and runs sheep and cattle. The current market cap for Alkane Resources is AUD 177m, and an enterprise value of AUD 499m. 2018 P/E is 15.9.
A July 2017 Edison broker report with a valuation of AUD 0.71 can be read here.
Arafura Resources [ASX:ARU] (OTCPK:ARAFF) - Price = AUD 0.15

Arafura Resources 100% owns the Nolans rare earth project 135kms from Alice Springs in the Northern Territory of Australia. The company states that "the Nolans project contains one of the world's largest neodymium and praseodymium deposits."
The deposit contains a JORC 2012-compliant Mineral Resources of 56 million tonnes at an average grade of 2.6% total rare earth oxides (TREO). 26.4% of the mix is represented by NdPr. Annual production is estimated to be 3,600 tonnes of NdPr oxide, 2,660 tonnes of La oxide and 660 tonnes of SEG-HRE concentrate. CapEx is estimated at $USD 680m for a 30+ year mine life with an estimated OPEX of US$6.23/kg TREO, and planned to start production by 2020.
The company is currently at the pilot plants stage of the project, to prove they can successfully process their product.
Current market cap is AUD 82m.
Investors can view an investor presentation here.
Chinese rare earth companies
The Sichuan region is where China produces the majority of their rare earths. There are six main rare earth producers in China, which are typically not accessible for most western investors.

Lynas Corporation [ASX:LYC] (OTCPK:LYSCF) (OTCPK:LYSDY) - Price AUD 0.21

Lynas owns the Mount Weld rare earths mine (the Mt. Weld concentration plant, and the Malaysian advanced materials plant), which is currently in production. The company states - "The company's resource deposit in Mt Weld, Western Australia, is acknowledged as the highest grade rare earths mine in the world. The ore reserves are sufficient to sustain economic total production of 22ktpa REO for 25 years."
They also state "they are the only miner and processor of rare earths outside of China, and the 2nd largest global producer of rare earths." The company also has tenements containing niobium, and others containing heavy rare earths. Apart from rare earths, they have some aluminum, iron and zinc by-products.
Lynas has a high PrNd content average of 23.6% - PrNd are the most valuable rare earths and a key for powerful permanent magnets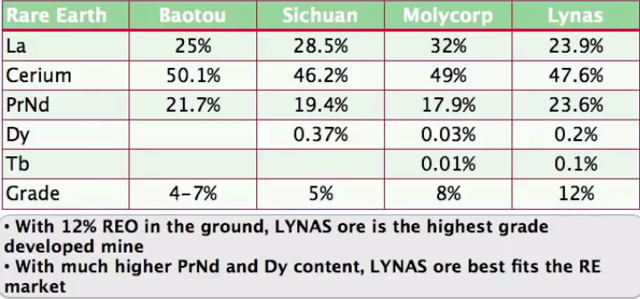 NB: Molycorp no longer exists.
The stock price has rallied 275% in the past year. Market cap is AUD 1.1b. Investors can watch a June 2017 video interview of Amanda Lacaze, Managing Director of Lynas, here. She mentions the company has secured very low interest rates on their debt, the company is now cash flow positive, and highly leveraged to rare earth prices (particularly neodymium, praseodymium, and cerium). Note cerium is used in catalytic converters.
Analysts target is AUD 0.23, with a buy rating.
Northern Minerals [ASX:NTU] - Price AUD 0.12
Northern Minerals owns the Browns Range heavy rare earth minerals project currently in the pilot plant stage.
The graph shows their majority rare earth is Yttrium, which is mostly used in LEDs and phosphors. The current company market cap is AUD 92m.
Browns Range rare earths distribution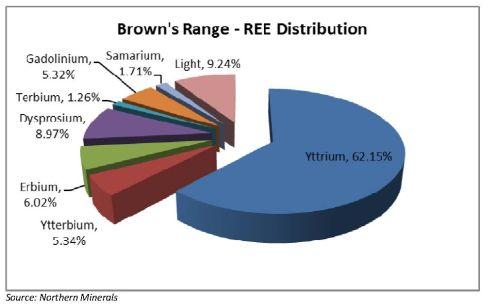 Peak Resources [ASX:PEK] (OTC:PKREF) - Price = AUD 0.04
Peak Resources 75% owns their Ngualla Tanzania rare earth project, which is one of the world's highest grade rare earth projects, currently at the funding stage having completed their BFS. The company expects once in production that 90% of their revenues will be coming from NdPr, as they have developed a process to remove the less valuable rare earths such as cerium.
The Ngualla project has ore reserves of 18.5 million tonnes at 4.8% REO; 22% of the total mineral resource, with an expected 26-year life of mine. CapEx is estimated at a total USD 366m (USD 201m for the mine and USD 165m for their US refinery). Production is forecast to be oxide - 2,810 tpa NdPr 2N, Carbonate - 7,995 tpa La, 3,475 tpa Ce and 625 tpa SEG/HRE.
The company states - "Peak to become one of the world's lowest cost rare earth producers based on the delivered BFS results." The updated BFS resulted in a pre-tax NPV8% of USD 1.13b, or USD 776m post tax and royalties, and a 24% post tax IRR. Forecast OPEX was USD 32.24/kg NdPr oxide for the life of mine.
The company is currently awaiting their mining license approval.
Market cap is AUD 21m. Investors can view an October 2017 company presentation video here.
Rare Element Resources (GR:R8V) (OTCQB:REEMF) - Price = USD 0.32
Rare Element Resources 100% owns the Bear Lodge Project in Wyoming USA, which has key critical rare earths, as well as an estimated 40+ year mine life. The company states they have "unique and proprietary RE recovery/processing technology."
Their resource size is 18mt @ 3.05% total rare earth oxide for 498m kgs of contained total rare earth oxide.
Market cap is USD 17m. Investors can view the March 2016 company presentation here.
Ucore Rare Metals Inc. [TSXV:UCU] (OTCQX:UURAF) [FSE: U9U] Price = CAD 0.31

Ucore has developed a new technology to process rare earths and other metals (lithium, cobalt etc.) at a cost-competitive basis. The potential exists also for recycling from scrap materials or tailings.
Current market cap is CAD 84m.
Investors can learn more with the Jack Lifton video "Lifton says Ucore's rare earth technology will be innovative and disruptive."
Summary of major global projects

Rare earth ETFs
As you can see from the top ten holdings below, the fund is not very specific to rare earths, and even less so to the EV battery metals, so not ideal in this situation.

Risks
China has a history of manipulation of the rare earth market due to their dominant role in the supply chain. Also investors should be aware that rare earths are not in fact rare; however, because of their geochemical properties, it is difficult to find them in sufficient concentrations where they can be profitably mined and processed.
Electric vehicle manufacturers may opt for cheaper lower performance induction electric motors, not requiring rare earths.
Technology change and price demand destruction. Due to the high price of rare earths new experimental magnets with less or no rare earths may be developed. Despite this UBS still forecasts overall rare earth demand to rise 655% in a 100% EV world.
The usual mining risks. Rare earth projects often require very high upfront CapEx leading to funding difficulties, and the extraction process is not easy as rare earths are hard to separate from each other.
Fierce Chinese competition. Rare earths' oversupply due to illegal Chinese or other miners dumping onto the market.
Investors can view a 60-minute video on rare earths here, and a BBC video here. You can also learn more from an Investorintel interview with rare earths experts Professor Kingsnorth here and here, and with Jack Lifton here. Professor Kingsnorth's preferred stocks likely to make it to production are for heavy rare earths - Alkane Resources and Northern Minerals, and for light rare earths (includes NdPr) - Peak Resources and Rare Element Resources.
Conclusion
China dominates the rare earth market. Neodymium and praseodymium (NdPr) are the two main rare earths used in EV magnets for most hybrid EV motors and many fully electric EV motors. Demand for these may increase strongly as permanent magnet electric motors offer greater performance albeit at slightly higher prices. However, if the EV industry chooses to move backwards to the induction motor with no rare earths for cost-saving reasons, then this will be a negative for neodymium and praseodymium miners. UBS has forecast a 655% increase in rare earths demand in a 100% EV world.
Neodymium and praseodymium prices have risen 47% and 45% respectively in the past year due to supply weakness (China crackdown on illegal mining) and increased demand. Prices may retreat a little in the short term as supply stabilizes but should remain strong going forward as demand benefits from the EV boom often requiring permanent magnet motors. This will be enhanced by growing demand for rare earth magnets in wind turbines, as well as a steady increase in demand from consumer products (laptops, cell phones, etc.).
Given increasing demand from the green economy and constraints to new supply (large CapEx to start a new mine etc.), it would be a good time for investors to start to build positions in their favorite rare earth miners - in particular those that have a focus on neodymium, and praseodymium. Dysprosium can also do well, as can niobium as it may have a future place in the electric vehicle battery anodes as per Toshiba's latest move towards a titanium niobium oxide anode.
I am still researching my top 3 EV magnet metals miners. My current preference is leaning toward those that are focused on the light rare earths NdPr such as Lynas Corporation (producer), Peak Resources (developer) and Rare Element Resources (developer). I also like Ucore Rare Metals from a technology processor perspective. Given the difficulty to raise CapEx investors should invest cautiously in the non-producers.
I am happy to get commenters input and any NdPr projects I may have missed. As usual all comments are welcome.
Trend Investing
Thanks for reading this article. If you want to go to the next level, sign up for Trend Investing, my Marketplace service. I share my best investing ideas on the latest trends that are going to change the business world. I'd love to have you join our community as we look to take advantage of the hundreds of hours of work we've done to analyze the best opportunities in emerging industries. You can access via here.
My latest Trend Investing articles are:
Disclosure: I am/we are long LYNAS CORPORATION [ASX:LYC].
I wrote this article myself, and it expresses my own opinions. I am not receiving compensation for it (other than from Seeking Alpha). I have no business relationship with any company whose stock is mentioned in this article.
Additional disclosure: The information in this article is general in nature and should not be relied upon as personal financial advice.
Editor's Note: This article covers one or more stocks trading at less than $1 per share and/or with less than a $100 million market cap. Please be aware of the risks associated with these stocks.